In the six years SimsVIP has been around delivering news, never have I seen a level of hypocrisy, bias, unethical, disrespectful, despicable, and unprofessional behavior coming from the office of the Community Manager at Electronic Arts.
After SimsVIP reported on the status of the "Ask a Guru" threads, Global Sims Community Manager, Amanda Drake (SimGuruDrake), reached out to SimsVIP demanding we censor the contents of the post. In the six years I have run this website, I have never once been previously contacted by any representatives of EA to alter the contents or tone of a post.
Timeline of Recent Events
After returning from a week-long vacation, SimGuruDrake lambasted the entire community (including fansites) for internal leaks of the upcoming expansion pack. These comments were made in response to a fellow simmer asking whether communications would improve.


Her responses stated that she attempted to open communications with the Ask a Guru threads, but that the "spoiled apple" (City Living leaks) were the reason for the threads being put on hiatus. Her responses are dated September 7th and 8th respectively, and this news was widely reported by a multitude of fansites within days of her comments.
Moreover, SimGuruDrake took to Twitter on September 12, 2016 to harass and berate another Sims fansite, spinning it as "this isn't really news". Note that the tweets were not from SimGuruDrake personal twitter, but were posted from her official EA twitter Account, SimGuruDrake.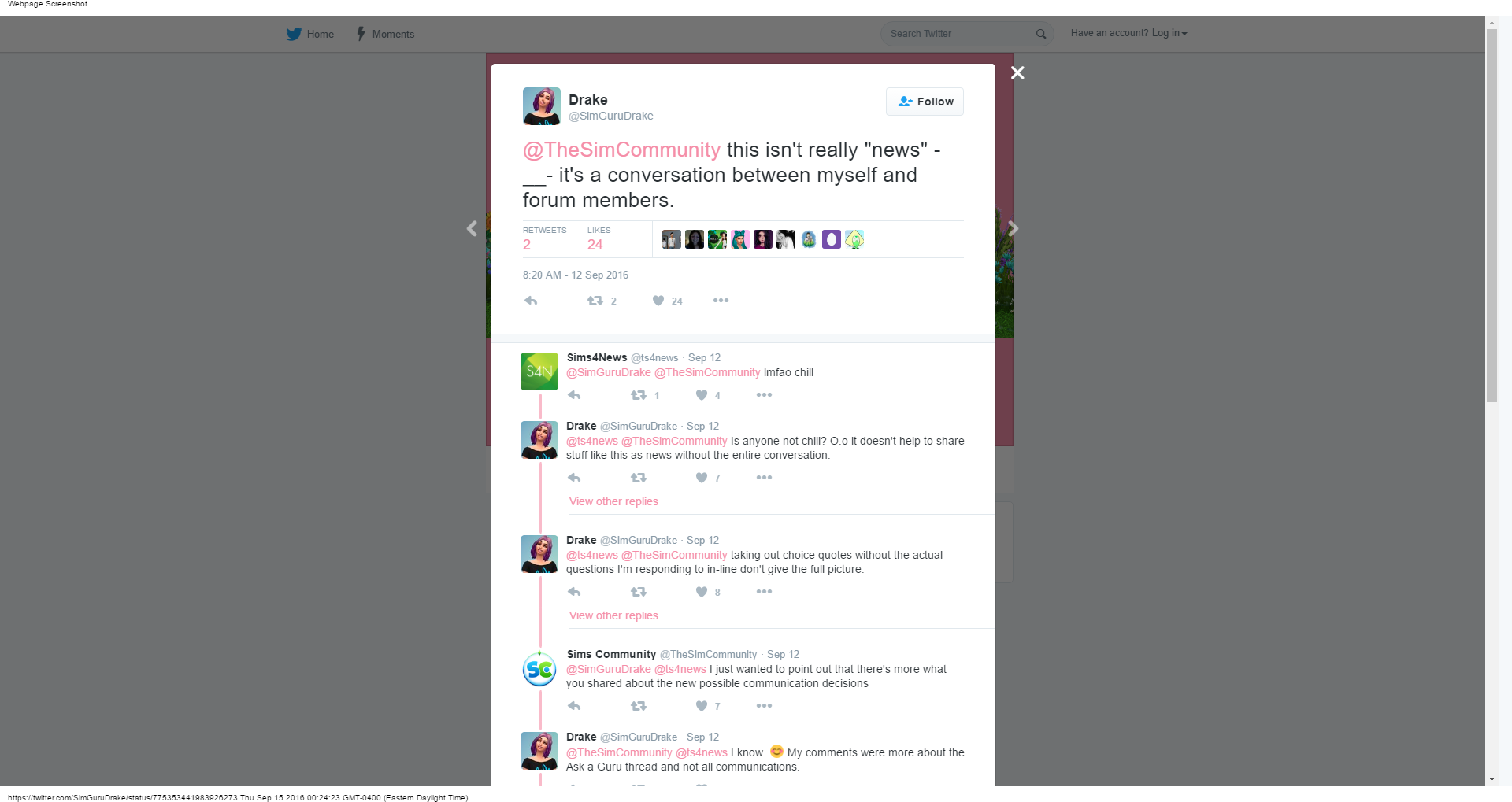 Public statements made from official accounts representing a company like Electronic Arts – are considered an official statement and position.
Two days later on September 14th, SimsVIP picked up the story in order to update readers on the status of Ask a Guru threads. Immediately upon reporting, SimGuruDrake quickly deleted the thread and her comments from public viewing. She then followed with a knee-jerk reaction thread to attempt to distract from comments she had previously made.
Also on the same day, SimGuruDrake contacted SimsVIP in an effort to censor the article we posted and focus only on the message they wanted; not the truth.
Hello Alexis,

I'm reaching out on behalf of the forum member you highlighted in the quote you covered.

This particular user is very upset to be included in a post that is quoting something that was cleared up days ago. I normally would not reach out about something like this but as they are afraid you would post their email to you as part of the article and the fact it was a quote of a conversation I was having with them in the thread I'd like to ask if you could adjust the article to focus on my forum wide announcement rather than an almost week old conversation.

As I said, I normally would not reach about this but as this could affect how other users engage in the forums with me going forward I have to think about the community I manage there as I'm working to mend relationships between us and our forum members.

I hope you understand my position and we can work together to focus on the positive rather than the negative.
First off, SimGuruDrake comments were publicly available for over a week, and EA had plenty of ample time to correct her comments and update their fans. It wasn't until after SimsVIP reported the news that EA and SimGuruDrake decided to go full blown damage control.
Next, SimsVIP did not focus on any comments made by other users, and SimsVIP only posted the comments that were publicly available to everyone. SimsVIP does not redact peoples comments when they are both public comments, and part of the story. Doing so would cause confusion and amount to total censorship by EA.
SimsVIP will not tolerate censorship nor will it cave to the editorial demands from Electronic Arts or any of their employees or its representatives.
In light of the recent events that has transpired, SimsVIP has decided to respectfully decline an invitation to an upcoming Sims Press Event to uphold our editorial standards and maintain our integrity and ethics within the community. 
Editor's Note: We have updated the article with a screenshot of the email. We have redacted the email address for privacy reasons.