SimsVIP provides in depth, detailed game guides to the community. If our guides have helped you with your game and you want to support our work, use the links below to contribute to the site! Thank you for your continued support and dedication. 
The Sims 4 StrangerVille Guide
It is illegal to duplicate or copy this guide to other sites without prior authorization. Any unauthorized use of this guide will result in legal action.

Copyright ©2011-2019 SimsVIP – All rights reserved




Contributors: Simserasera (StrangerVille Mystery), Paul Bentley (The Mother), and Alexis of SimsVIP.


Special Thanks to Ines for the PDF's!

❗ To leave comments, suggestions and feedback, please see this post.
—————————————————————————————–
Table of Contents

Basic Info




New Game Additions

StrangerVille Mystery

Military Career
—————————————————————————————–
Icon

Game Cover
Game Summary
Start your investigation and solve the mystery of a desert town that holds a deep, dark secret in The Sims 4 StrangerVille. In this ominous town, Sims are acting strange for unknown reasons. Is there a conspiracy? Will this seemingly odd force possess your Sim? Uncover the story of the secret lab where Sims will encounter strange plants and interact with peculiar devices. Can you solve the mystery?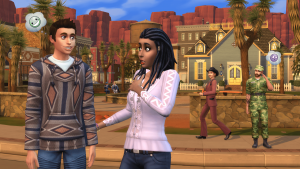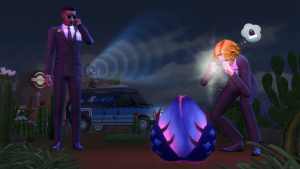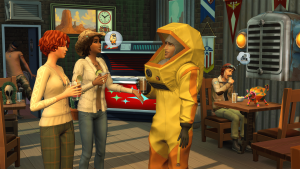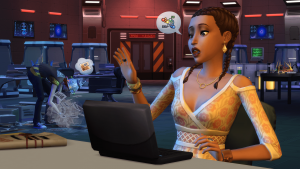 —————————————————————————————–
Aspirations
The Sims 4 StrangerVille adds a new Aspiration to the "Location" category.
StrangerVille Mystery – StrangerVille is holding some deep dark secret, and this Sim wants to uncover why all the townsfolk are acting a bit strange.
—————————————————————————————–
Traits
The Sims 4 StrangerVille Game Pack adds 3 new traits for Sims. These new traits are either found in Create-a-Sim, earned by completing the new aspiration, or becoming infected.
Paranoid – Paranoid Sims feel that danger is around every corner, and that people are always talking about them. Paranoid Sims feel a sense of security while hanging out in basements.


Infected – Infected Sims have been exposed to the StrangerVille Infection. Sims might exhibit strange behavior, or even become Possessed. (From Consuming Bizarre Fruit or Spores)


Hero of StrangerVille

– As the Hero of StrangerVille you will receive fan mail as well as being able to retell the tale of how you defeated the source of the Infection. (From Completing The StrangerVille Mystery)


Consumed by the Mother – This Sim has been consumed by the Mother Plant and will forever reap her benefits of zero Need Decay. (From Being Consumed by the Mother Plant)
—————————————————————————————–
Create A Sim Fashions

Female Adult/Teen/Elder – 5 Hairstyles & Hats, 9 Tops, 6 Bottoms, 4 Outfits, 3 Accessories, 2 Pairs of Shoes

Female Children – 1 Top, 1 Outfit



Male Adult/Teen/Elder – 4 Hairstyles & Hats, 7 Tops, 3 Bottoms, 2 Outfits, 1 Accessory, 1 Pair of Shoes

Male Children – 1 Top

Hairstyles and Hats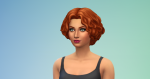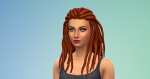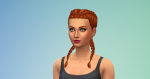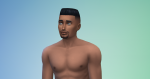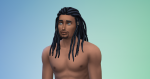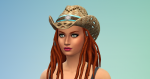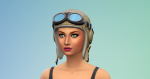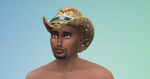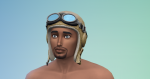 Clothing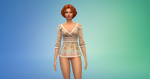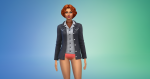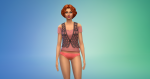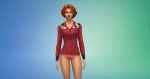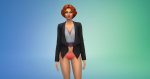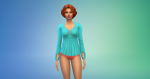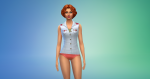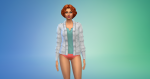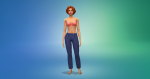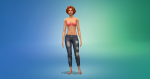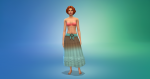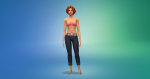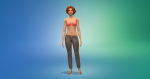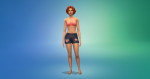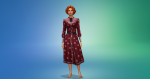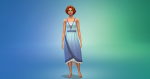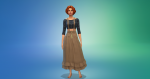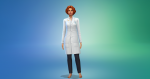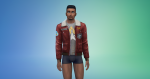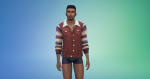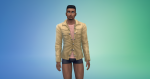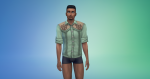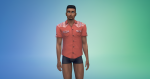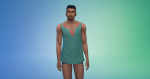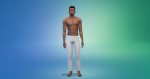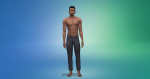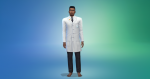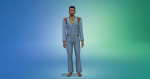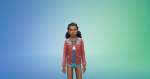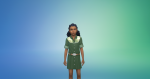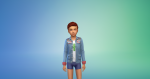 Accessories and Shoes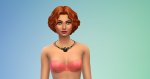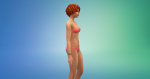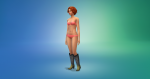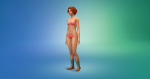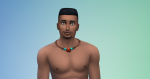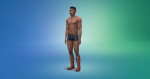 —————————————————————————————–
New Game Options & Interactions
This section goes into detail on all the new game options available with The Sims 4 StrangerVille. Images have been sized down, so click images for a larger view.



Club Requirements
If you own The Sims 4 Get Together Expansion, you will receive one Club Requirement with StrangerVille. The "Paranoid" trait is a new club requirement option.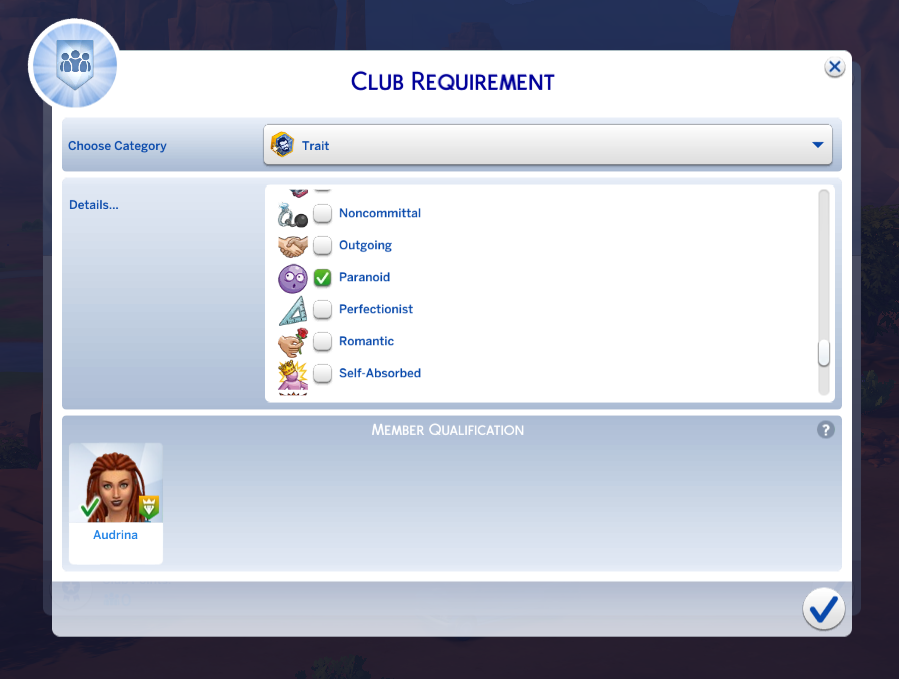 Music Genres
The Sims 4 StrangerVille adds the brand new "Strange Tunes" Radio Station. You can listen to the new channels on Stereos and Wall Speakers.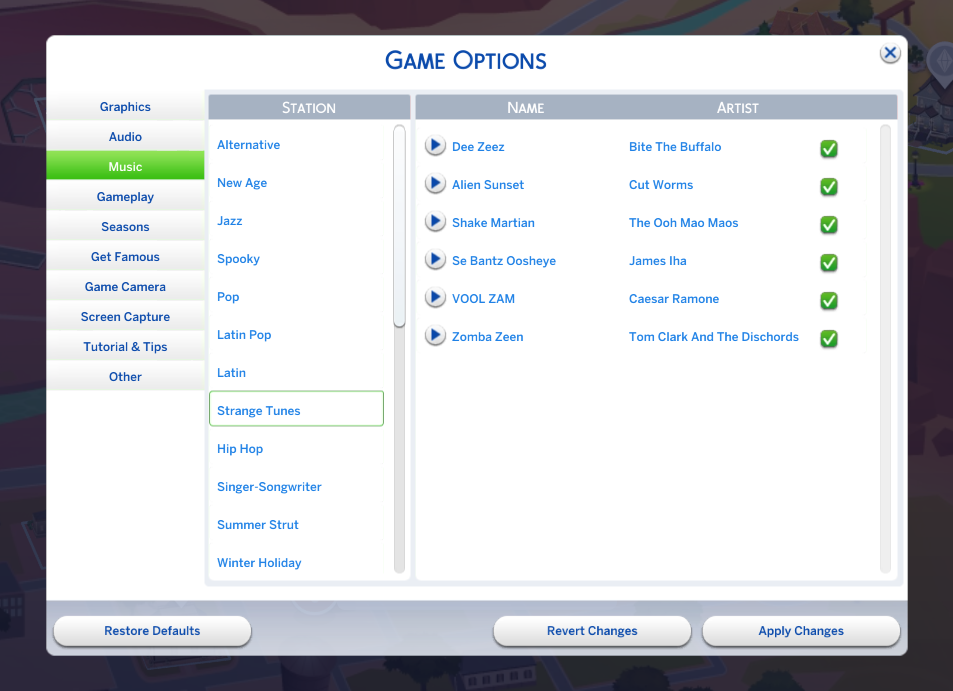 Laptops
The Sims 4 StrangerVille introduces laptops to the game. Laptops work exactly like their desktop counterparts, except that they can be placed almost anywhere. Laptops are also a convenient way for Sims to work on the go as they can be placed in their inventory.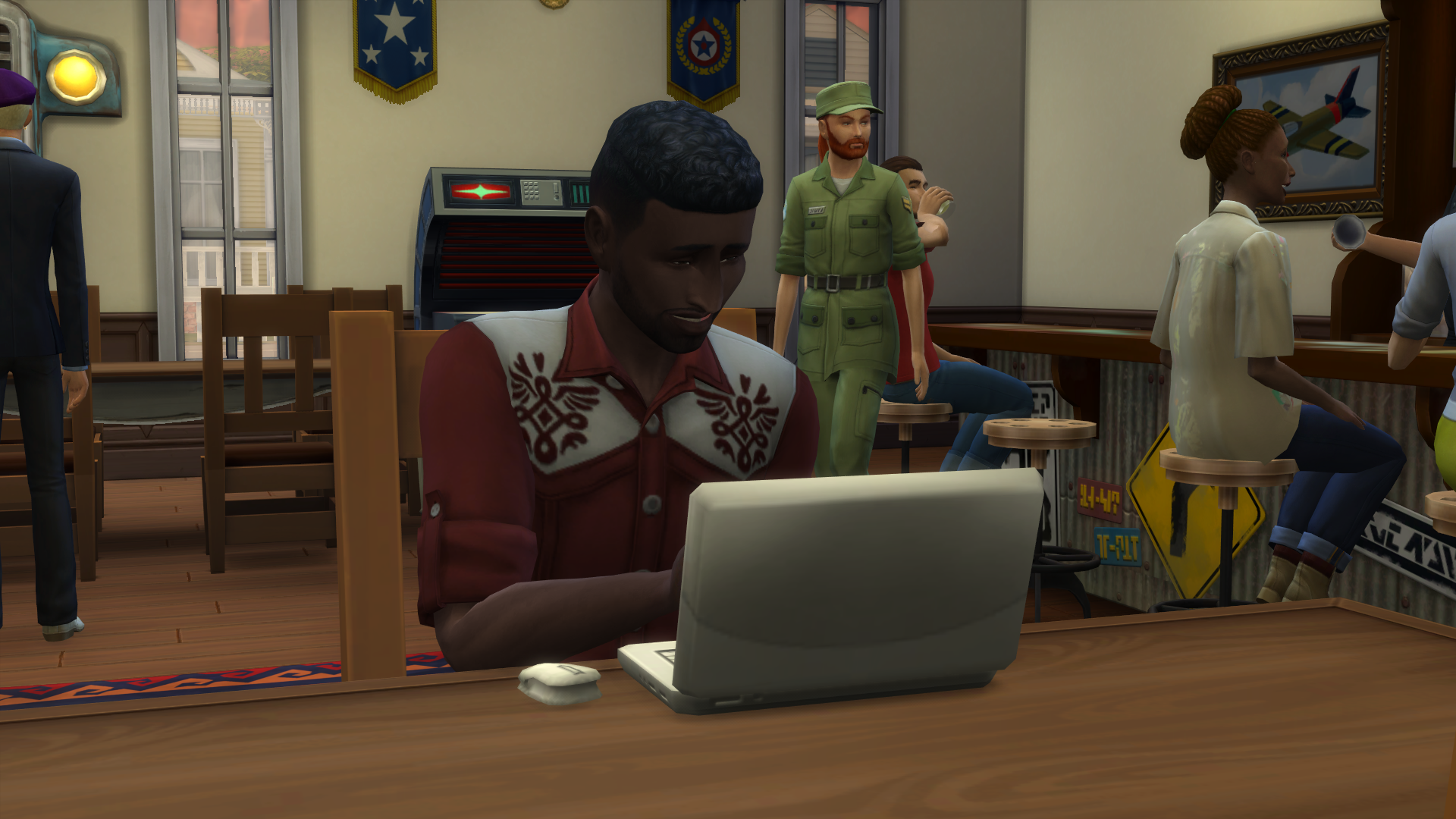 Curio Shop
In the StrangerVille Plaza near the trailer park, there is a small stand called the Curio Shop. The shop is run by a conspiracy theorist (typically) Erwin Pries, who has a signal coming off of him indicating he's has been bugged. The Curio Shop is open from 9am to 3am.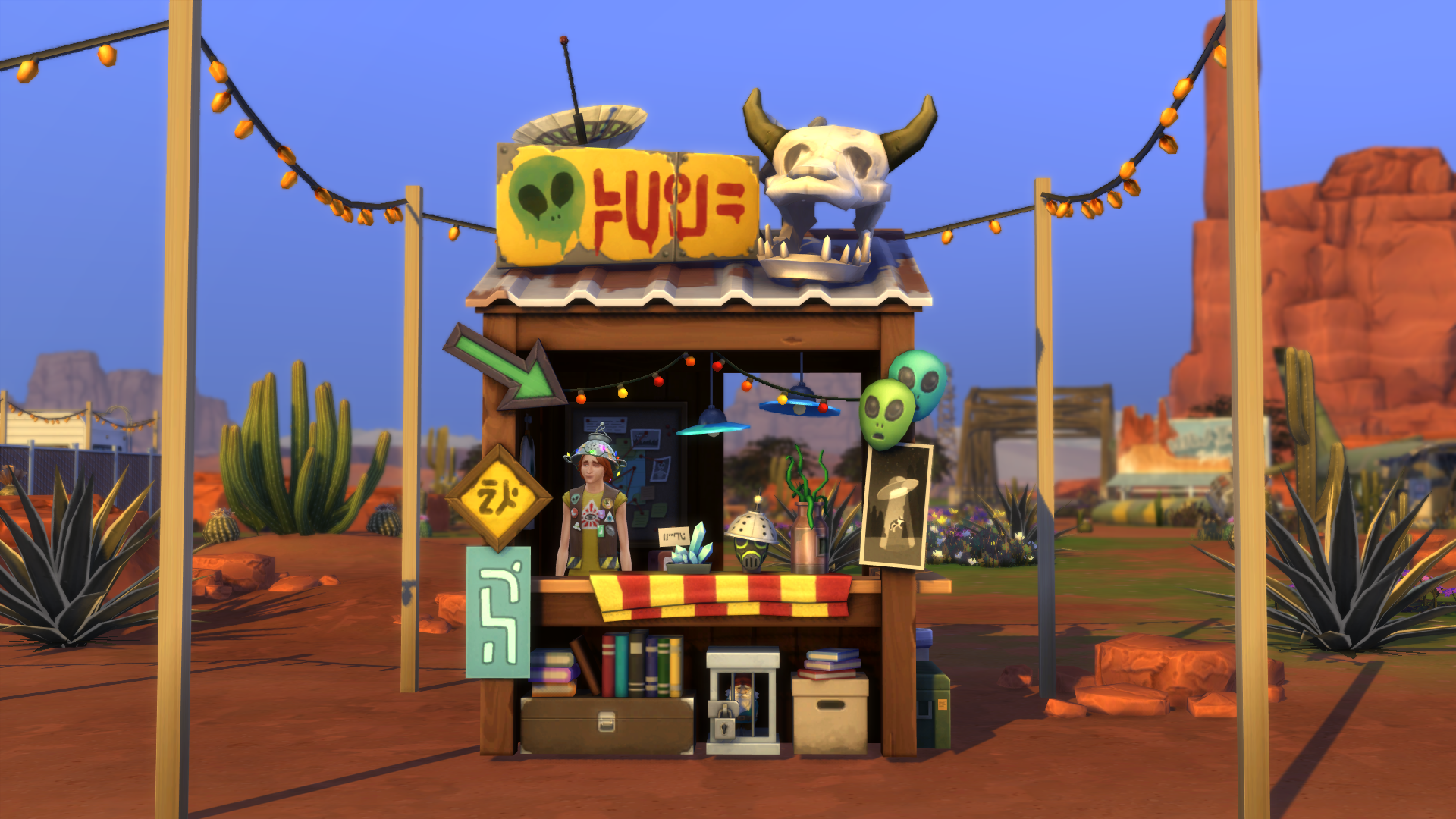 Sims can purchase a variety of items here, many of which are required in order to complete and investigate the Mystery of StrangerVille. The following items are available:
Miscellaneous

51M5 Spy Bug –

§25

Bizarre Fruit –

§

9

Books

Avoiding the Watchful Eye –

§

20
Crystal Vu's Top Secret Inventions –

§

20
Fortune Telling for Goofballs –

§

20
Untold Mysteries of StrangerVille –

§

50
Why are We Here? –

§

20

Posters

Cowplant Dissected –

§

25
Emily! –

§

25
Lone Road –

§

25
Simmanatti –

§

25
Where Did it Go? –

§

25

Decorative Items

Crabby Bottom Armadillo –

§

125
The Lava Beacon (lighting) –

§

100
Wacky Wonderful Carnival Sock –

§

50

Clothing

Tin-foil Hat

– §25

Novelty T-Shirt –

§

25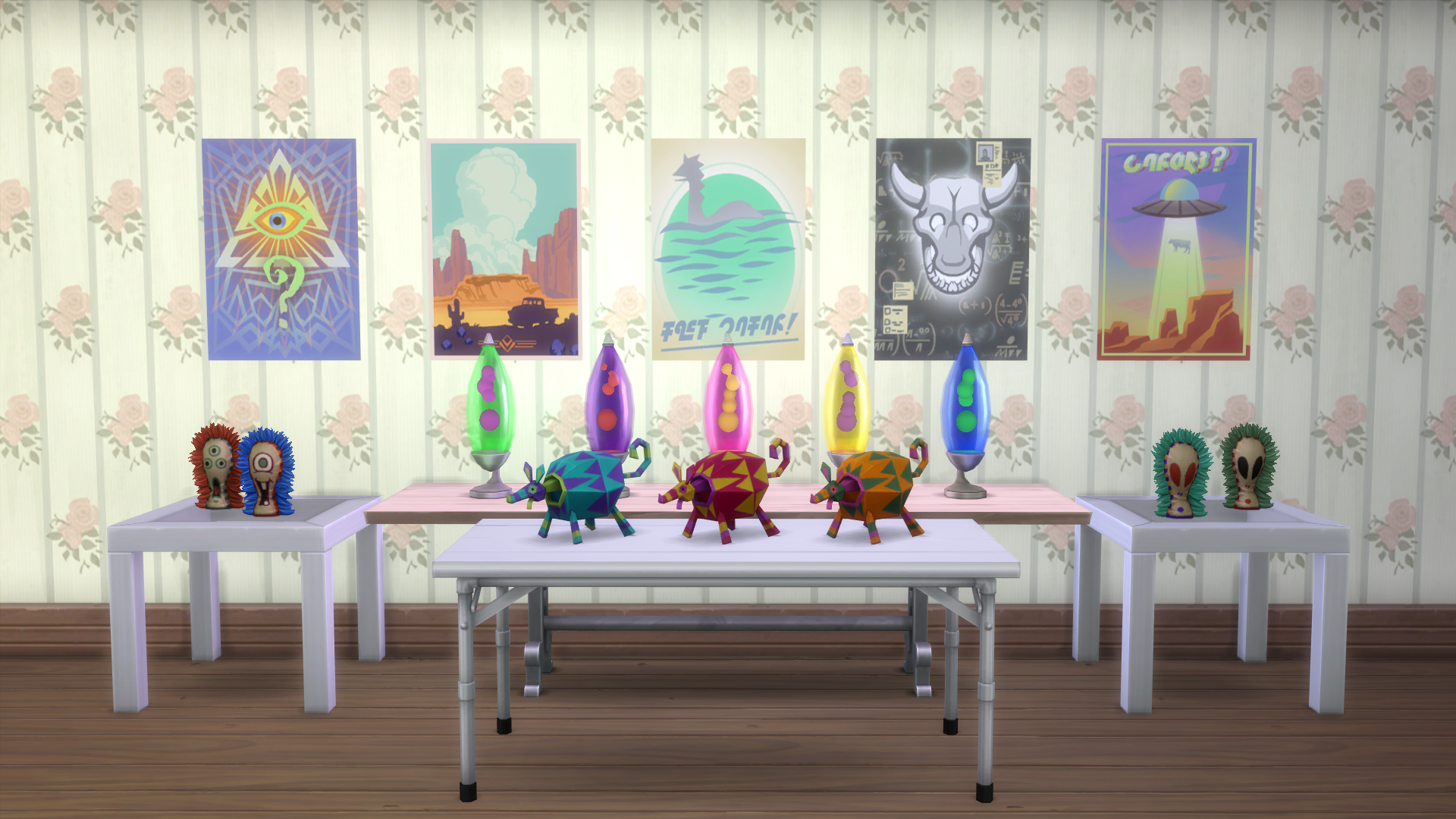 There is also a secret inventory that you can purchase from, too, to help along with your StrangerVille investigation. Sims can trade the Curio Shop owner a Secret Dossier to obtain the §250 Keycard that opens the sealed door in the Secret Lab.
Sims can also question the Curio Shop owner about the spores in the Secret Lab, which will allow them to buy the Incomplete Hazmat Suit in the secret inventory for §1,000. They can complete the Hazmat suit by combining it with a Spore Filter created by Scientists. The suit will help protect Sims from the dangerous spores found in the Secret Lab.
Last but not least, Sims looking to make some quick money off of their investigation can sell the mysterious evidence they find for §10 each.



Strange Infection
It's not called StrangerVille for nothing. When you move into town, you will notice that the residents of this town are a bit…odd. These Sims walking around town are possessed and infected by a mysterious illness that plagues the world.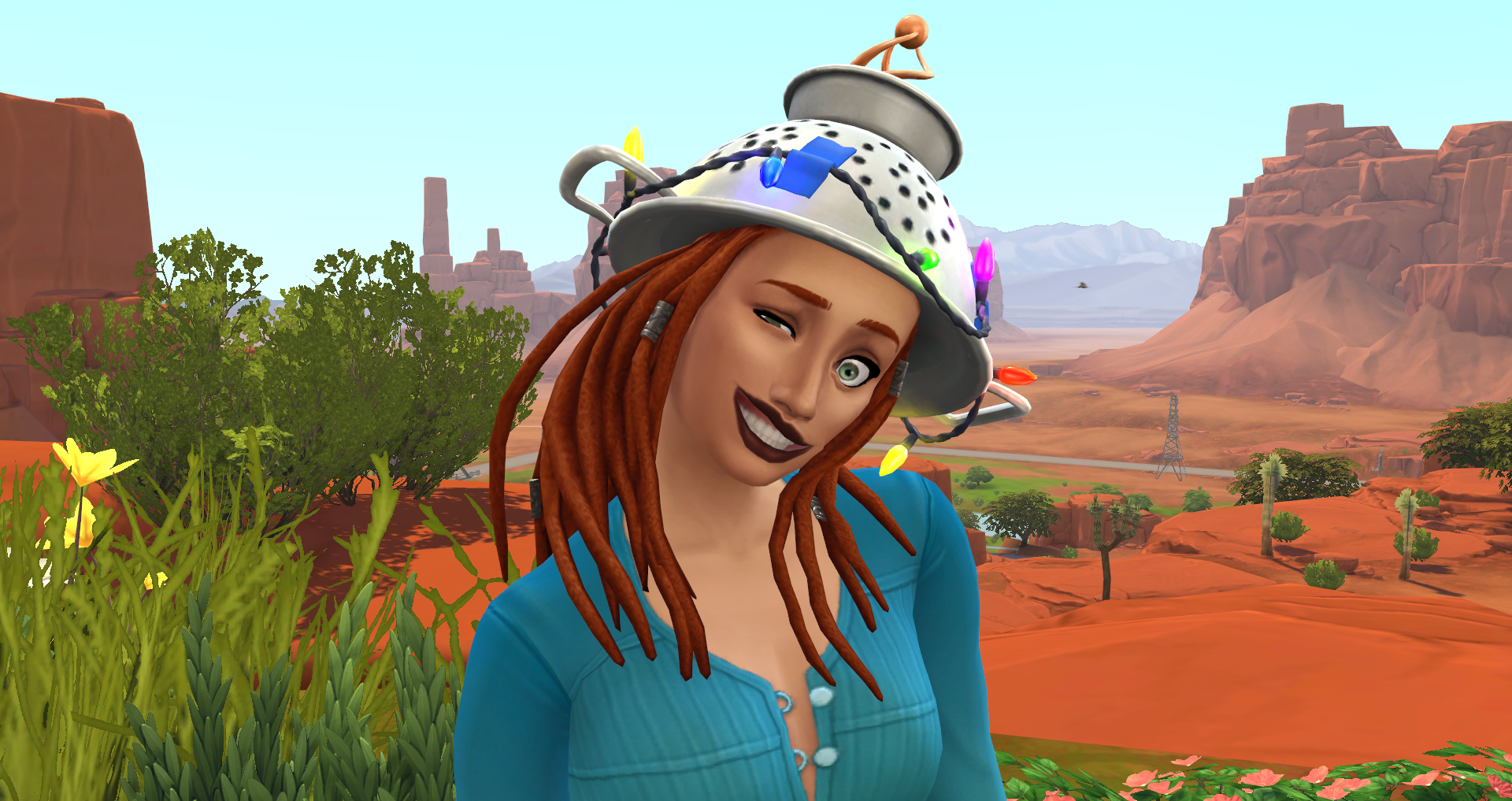 Sims end up with this mysterious infection when they consume bizarre fruit or walk into the spore cluster at the Secret Lab without a Hazmat suit. These Sims will permanently retain the "Infected" trait which forces the Possessed moodlet on them every 24 hours.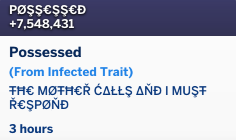 Infected Sims will act bizarre and will be unable to perform most normal tasks until the side effects of the infection wear off. In the meantime, they can plant Bizarre Plants around the world and have strange interactions with other sims.
The following social interactions are available with infected Sims
Welcome to StrangerVille
Complain about Normal Human Problems

Discuss Human Things
Enthuse about Human Hobbies
Praise the Great Mother
Talk about Plants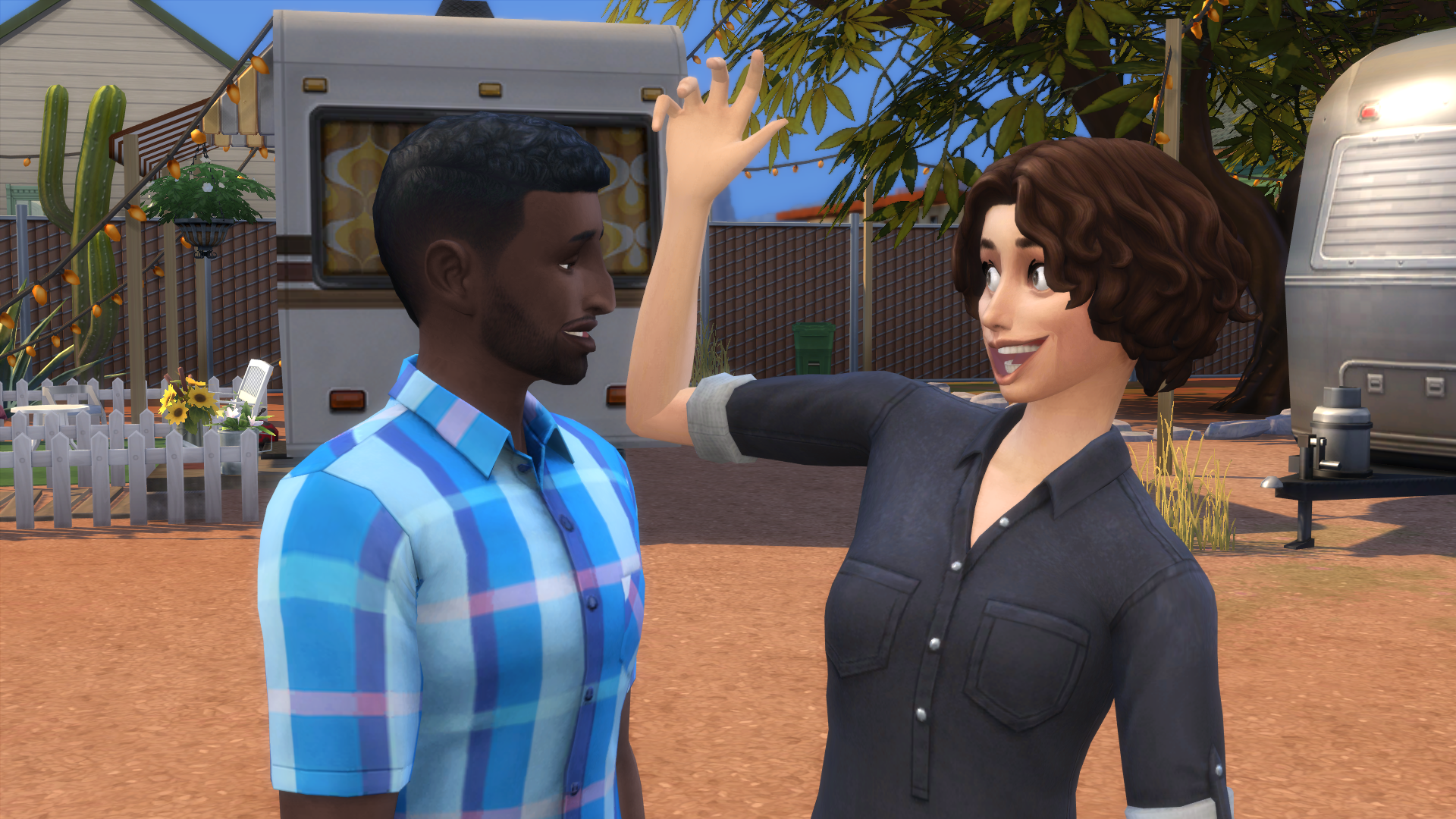 While the side effects may wear off, the infection doesn't. The only way to cure Sims of the StrangerVille infection is to create the Infection Vaccines in the secret lab.


—————————————————————————————–
StrangerVille (New World)
"The only thing stranger than the people is the flora!" StrangerVille is a quiet little town with a strange problem. The residence are very friendly, but at night things start to get more interesting. If you want to find out more about this town you can find Military Personnel hanging out at the Local Bar, Scientists researching at the Local Library, and that Curio Shop stand is sure to have some strange odds and ends by the trailer park.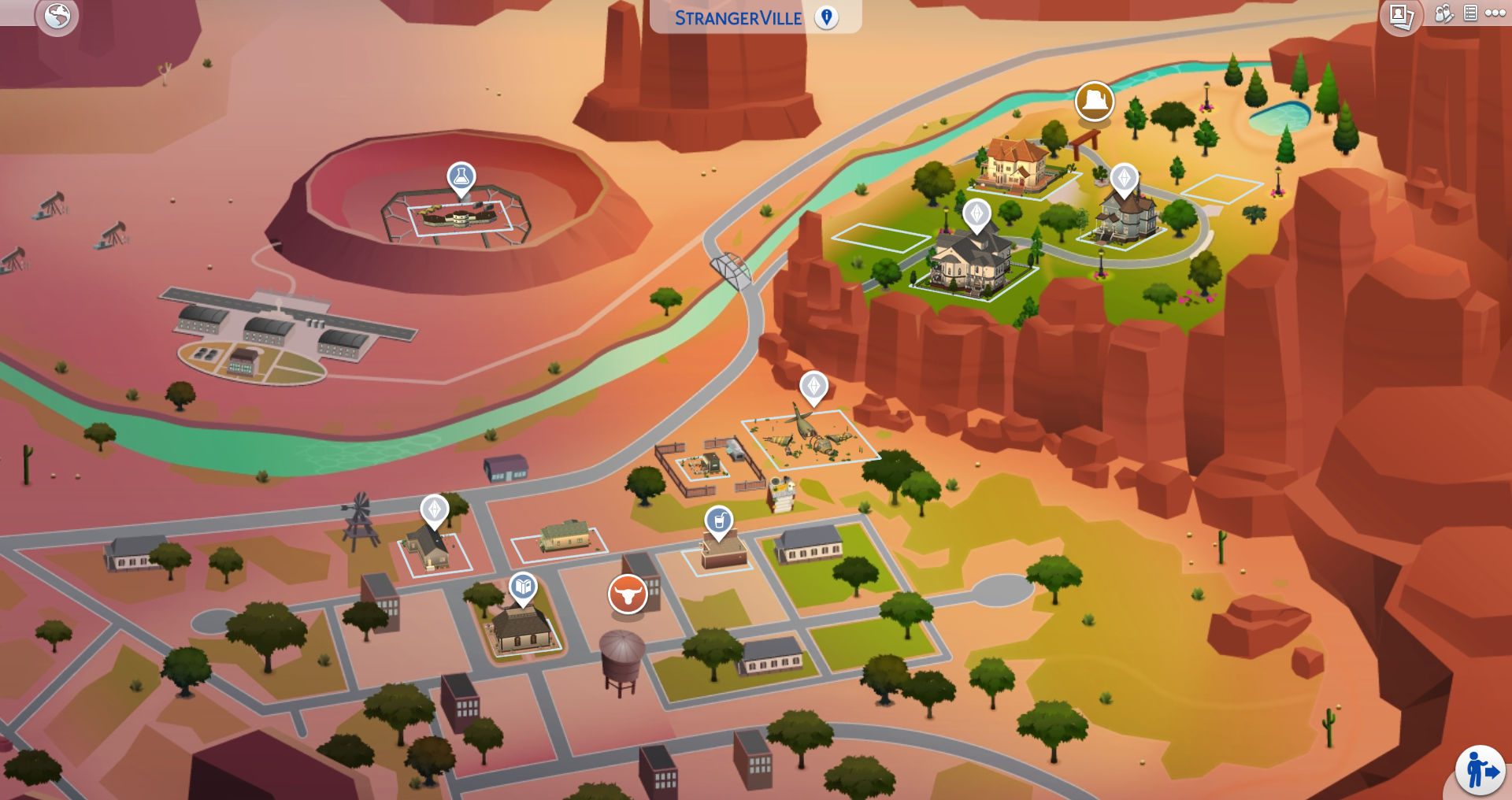 StrangerVille is divided into 3 neighborhoods with a total of 11 lots. "Shady Acres" is home to the more wealthy locals, "StrangerVille Plaza" is where the locals like to hang out, and the "Secret (REDACTED) Lab" holds some deep dark secrets.

World Screenshots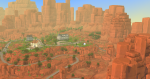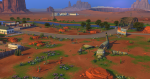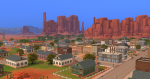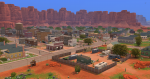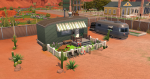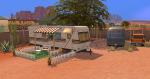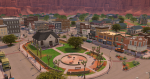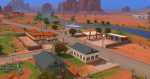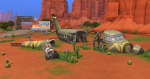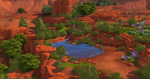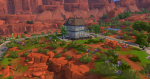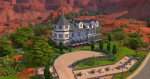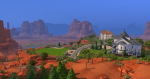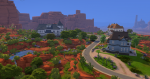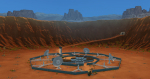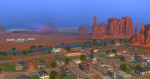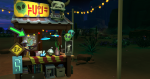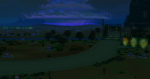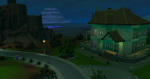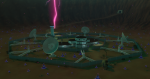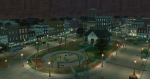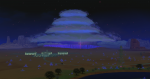 Neighborhood Lots & Info
StrangerVille includes 3 neighborhoods with pre-built residential and commercial lots. This section of the guide gives you information on all lots from each neighborhood.

StrangerVille Plaza
StrangerVille Plaza is where the locals like to hang out. You can find Scientists at the Library, Military Personnel at the Bar, and The Curio Shop near the trailer park. You can buy some strange odds and ends here and you will find all the information you need.


• Riverside Grove (Residential, Sigworth Household, 30×20, 2 Bed 1 Bath, §33,495) – Located on a spacious corner lot in the StrangerVille Plaza The Riverside Grove is a quaint home for a small family.




• Old Penelope (Residential, Cahill Household, 50×40, 1 Bed 1 Bath, §25,895) – Old Penelope is the tried and true cargo plane of George Cahill. She has put in many long years shuttling goods back and forth across the world. Unfortunately a freak storm while flying over StrangerVille has put her out of commission. Hopefully one day George will muster up enough energy to put the old horse back together.




• Slip 42 (Residential, Vacant, 20×15, 1 Bed 1 Bath, §16,604) – Slip 42 used to be home to a local Conspiracy Theorist. One day they just decided to leave, no warning or notice, they were just gone. Upon inspection we found a strange note saying something about finding the Answer to the Ultimate Question of Life, The Universe, and Everything. The tenant even left all of their belongings behind. Those Conspiracy Theorists are definitely a strange bunch, but lucky for you Slip 42 is now vacant.




• Carpophagous Corner (Residential, Vacant, 30×20, 1 Bed 1 Bath, §18,338) – Nestled in the the heart of the StrangerVille Plaza, this quaint home is perfect for anyone new in town. Right across from the StrangerVille Library and the hottest bar in town Carpophagous Corner will put you right next to all the best attractions StrangerVille has to offer.




• StrangerVille Information Center (Library, 20×20, §32,246) – The StrangerVille Information Center is a great place to hang out and study. We have a massive StrangerVille Archive where anyone can browse till their heart is content. The archives contain information about all the weird and unusual phenomena that has happened in our lovely little town. You can always find local Scientists here trying to brush up on research.




• 8 Bells (Bar, 20×20, §29,075) – 8 Bells is the hottest bar in StrangerVille. Though they have little competition, the locals swear by the drinks. Located just near the StrangerVille National Base, you can always find Military Personnel winding down after a hard days work. The staff is friendly and are always looking to tell stories of StrangerVille.
Shady Acres
Pristine, secluded, and nestled high atop a plateau, Shady Acres is home to the more wealthy locals of StrangerVille. Curious how some of them came into their wealth?


• Cliff Side Crest (Vacant Land, 30×20, §4,500) – Providing the best views overlooking StrangerVille, Cliff Side Crest is the perfect place to build your dream home. Just ignore the strange lights coming from that crater.




• Creek Corner Cove (Vacant Land, 30×20, §4,500) – Nestled slightly outside of town, and overlooking the StrangerVille creek. This quaint cliff side plot is bound to make the perfect foundation for any home.




• StrangerVille Overlook (Residential, Roswell Household, 40×30, 5 Bed 4 Bath, §160,567) – With the best views of the StrangerVille Plaza the StrangerVille Overlook is the perfect place to keep a watchful eye on the tiny town of StrangerVille.




• Dream Weavers Way (Residential, Eclectic Arts Household, 30×20, 2 Bed 2 Bath, §160,567) – Dream Weavers Way is tucked high atop a plateau where you can hear the babbling brook and embrace your inner creative self. Perfect for any starving artist that is just looking to get away from it all.




• Plateau Place (Residential, Vacant, 40×30, 3 Bed 3 Bath, §104,855) – StrangerVille is known for its plateaus and unique rock formations. There is no better place like Plateau Place to take all of that in.
Secret Lab Location



• The ██████ Lab (Secret Lab, 64×64, §20,115) – The residents of StrangerVille say that this mysterious lab holds some deep dark secrets. Though there are many rumours, no one has ever set foot in the Secret Lab since the explosion. The Military seems to be keeping a close watch to ensure nothing goes in or out. Although security is tight around the lab, the locals say there is a small crack in the back of the fence that someone might be able to slip through undetected.
—————————————————————————————–
Bizarre Fruit (New Collectible)
The Sims 4 StrangerVille has added 1 brand new harvestable to the already existing Gardening Collection. The new harvestable is exclusive to StrangerVille.
| Image | Name | Rarity | Value | Season | Description |
| --- | --- | --- | --- | --- | --- |
| | Bizarre Fruit | Rare | §1 | All | This Bizarre Fruit has an ominous glow to it. As if it contains some living spore... This thing should probably not be eaten. |
There are several ways to collect Bizarre Fruit in StrangerVille:
Curio Shop – Sims can purchase Bizarre Fruit from the Curio Shop for 

§

9 each.

Welcome Wagon – When you first move into StrangerVille, the Welcome Wagon that arrives to greet you will come bearing gifts, and it's not just fruit cake either. Invite the strange Sims into your home and they will leave several Bizarre Fruits in your fridge.

Bizarre Fruit Plants – Once acquired, bizarre fruit can be planted and harvest. Additionally, there are several wild bizarre plants located around StrangerVille, Once you have released spores from the secret lab, the wild plants can be nurtured and harvested.

Mother Plant – When completing the StrangerVille Mystery investigation and meeting the Mother, Sims can befriend her and ask for fruit. This requires a positive relationship.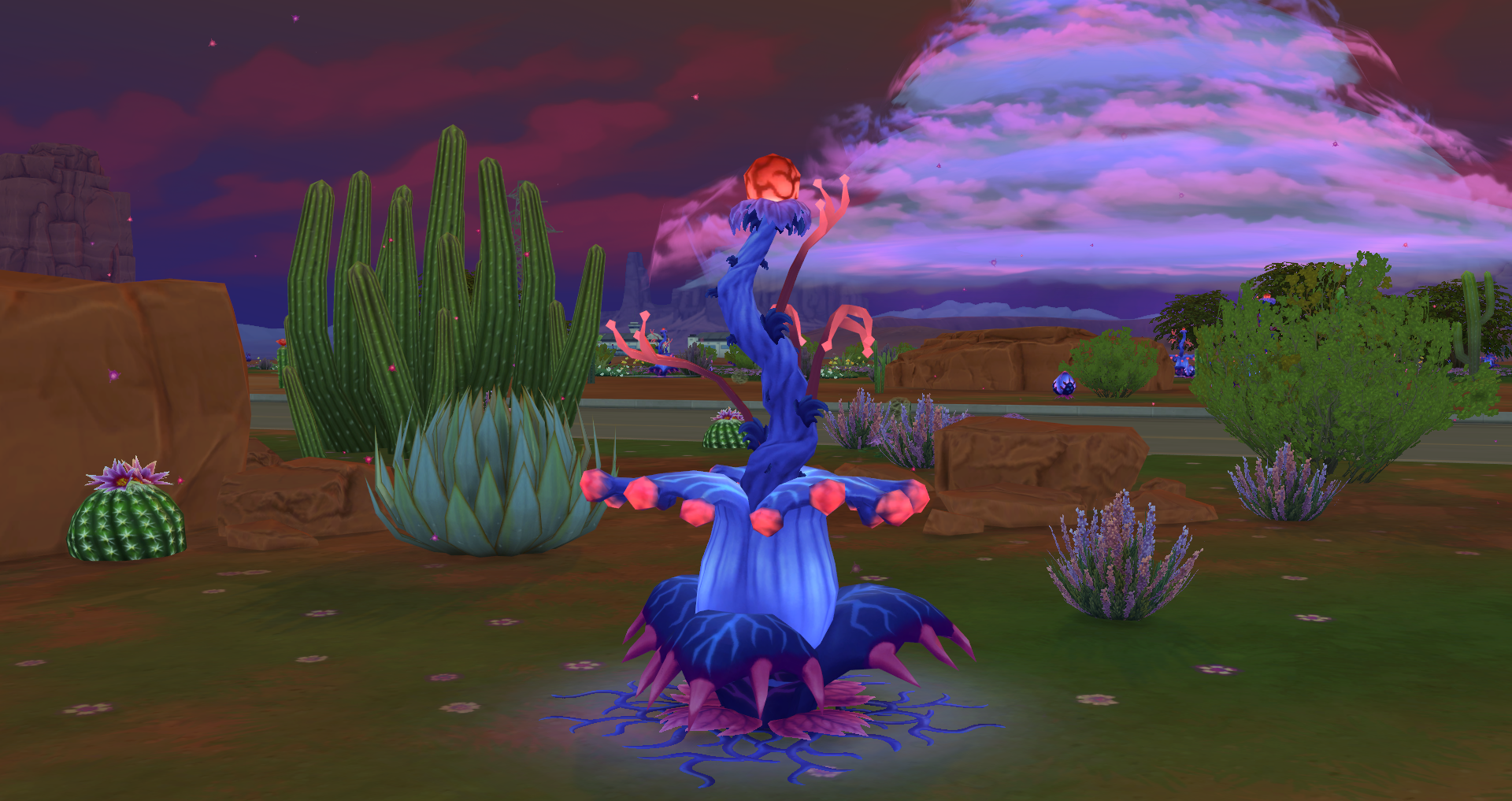 —————————————————————————————–
Military Career
Mysterious happenings in StrangerVille have attracted the attention of the Military. They claim it's only a coincidence they built the StrangerVille National Base next to a suspicious crater, and clearly, they have nothing to do with the [name redacted] lab that was built inside said crater. There is only one way to find out the real truth… join their ranks and uncover what the Military Career is hiding.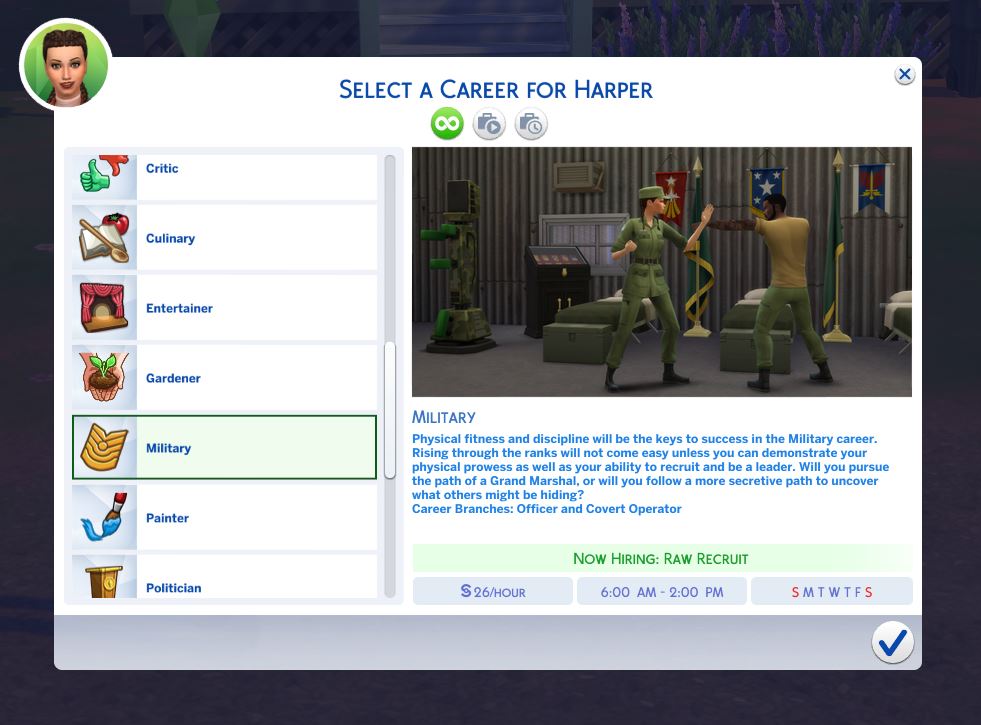 You can choose the new Military Career from your Sim's phone or computer. If your Sim is currently unemployed you can just click 'Join A Career' in their career panel to bring up the career menu. The Military Career is a hybrid career, allowing your Sim to either work from home or go off to work for the day. You'll receive a notification on the phone an hour before your Sim's shift begins where you can make this choice.  The Military is a passive career, so you are not able to join your Sim if they chose to go off to work.
The Military Career unlocks several new interactions for your Sim. Your Sim can use the computer to Research Historic Battles, Submit/Write Reports or Requisition a Keycard (for the StrangerVille Mystery). When interacting with other Sims they can now use a Military Introduction, Salute, Give an Inspirational Speech or Share War Stories. Finally you can have your Sim "March Around" or they can Order other Sims to "Attention!", "Clean This Place Up", "Drop and Give Me 20", "Run Laps" or "Spar Against".
Level
Rank
Pay
Promotion Task
Promotion Bonus
1
Raw Recruit
§26/Hour
Reach Level 2 Fitness
Tech Team Excellence Award
2
Private Fourth Class
§34/Hour
Reach Level 3 Fitness
§581
Medal Display Case
Bravery Heart
3
Lacking Corporal
§54/Hour
Reach Level 4 Fitness
§756
Medal of Questioning
New Clothes!
4
Sergeant Minor
§71/Hour
Reach Level 5 Fitness
§869
Construction Engineering Award
5
Warrant Officer
§96/Hour
Reach Level 6 Fitness
§1,130
Eagle Eye Award
New Clothes!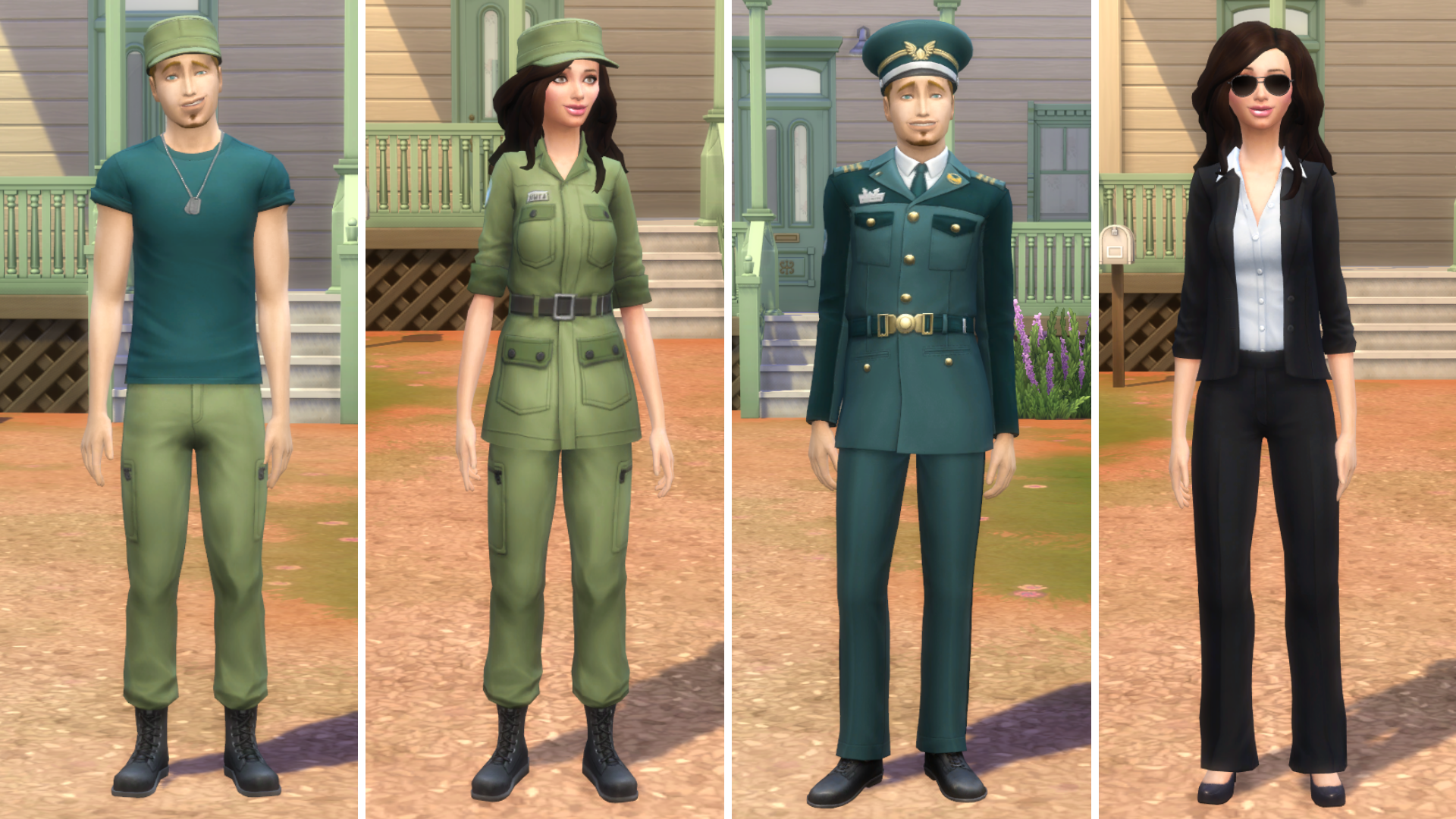 Once you reach level 6 in the Military Career, you will be prompted to pick a branch. You can choose the Covert Operator Branch or the Officer Branch.
Covert Operator Branch
"The Covert Ops Branch is the part of the Military that no one talks about. You will be required to undergo secret tasks, by planting bugs and listening in on the unsuspecting. You will need to interrogate any and all suspicious individuals. No one can be trusted, and everyone is up to something. Are you up to the task?"
Level
Rank
Pay
Promotion Task
Promotion Bonus
6
Evidence Eraser
§104/Hour
Reach Level 4 Logic
§1,299
Air Award
New Clothes!
7
Conspiracy Squelcher
§119/Hour
Reach Level 6 Logic
§1,689
Listening Device
Medal of Supreme Bravery
8
Clandestine Investigator
§179/Hour
Reach Level 8 Logic
§1,790
Ranking Rug
Medal of Discipline
New Clothes!
9
[Redacted]
§297/Hour
Reach Level 10 Logic Skill
§3,149
Tactical Genius Medal
New Clothes!
10
Sim-In-Black
§422/Hour
§4,567
Medal of Courage
New Clothes!

Officer
"In the Officer Branch you will continue to earn medals while you rise through the formal ranks of the Military. The Officer path will see you earning the highest rant possible and becoming a Grand Marshal. To build your leadership skills you will be tasked to order others and build to peak physical fitness. No grand Marshall can be outdone by a Raw Recruit!"
Level
Rank
Pay
Promotion Task
Promotion Bonus
6
Fourth Lieutenant
§114/Hour
Reach Level 4 Charisma
§1,299
Military Grade Flagpole
Air Award
New Clothes!
7
Courageous Captain
§130/Hour
Reach Level 6 Charisma
§1,689
Medal of Supreme Bravery
8
Lieutenant Colonel
§196/Hour
Reach Level 8 Charisma
§1,790
Modified B64 Training Bot
Medal of Discipline
9
Brigadier
§326/Hour
Reach Level 10 Charisma
§3,149
Tactical Genius Medal
New Clothes!
10
Grand Marshal
§464/Hour
§4,567
Medal of Courage
New Clothes!
Medals and Awards
Sims in the Military Career will received a unique medal with each promotion, regardless of which branch they choose. Medals can be displayed in the new Medal Display Case.
Medal
Medal Name
Given to
Tech Team Excellence Award
Raw Recruit, Military (1)
Bravery Heart
Private Fourth Class, Military (2)
Medal of Questioning
Lacking Corporal, Military (3)
Construction Engineering Award
Sergeant Minor, Military (4)
Eagle Eye Award
Warrant Officer, Military (5)
Air Award
Fourth Lieutenant -or-
Evidence Eraser, Military (6)
Medal of Supreme Bravery
Courageous Captain -or-
Conspiracy Squelcher, Military (7)
Medal of Discipline
Lieutenant Colonel -or-
Clandestine Investigator, Military (8)
Tactical Genius Medal
Brigadier -or-
[Redacted], Military (9)
Medal of Courage
Grand Marshal -or-
Sim-In-Black, Military (10)
—————————————————————————————–
StrangerVille Mystery
StrangerVille is strange. From strange residents to strange happenings, it's up to you to figure out how to bring normalcy to this strange place. You can start to uncover the secrets of StrangerVille by completing the all new 'StrangerVille Mystery' aspiration. Completing the aspiration milestones will help advance the story mode.



StrangerVille Mystery (Part 1)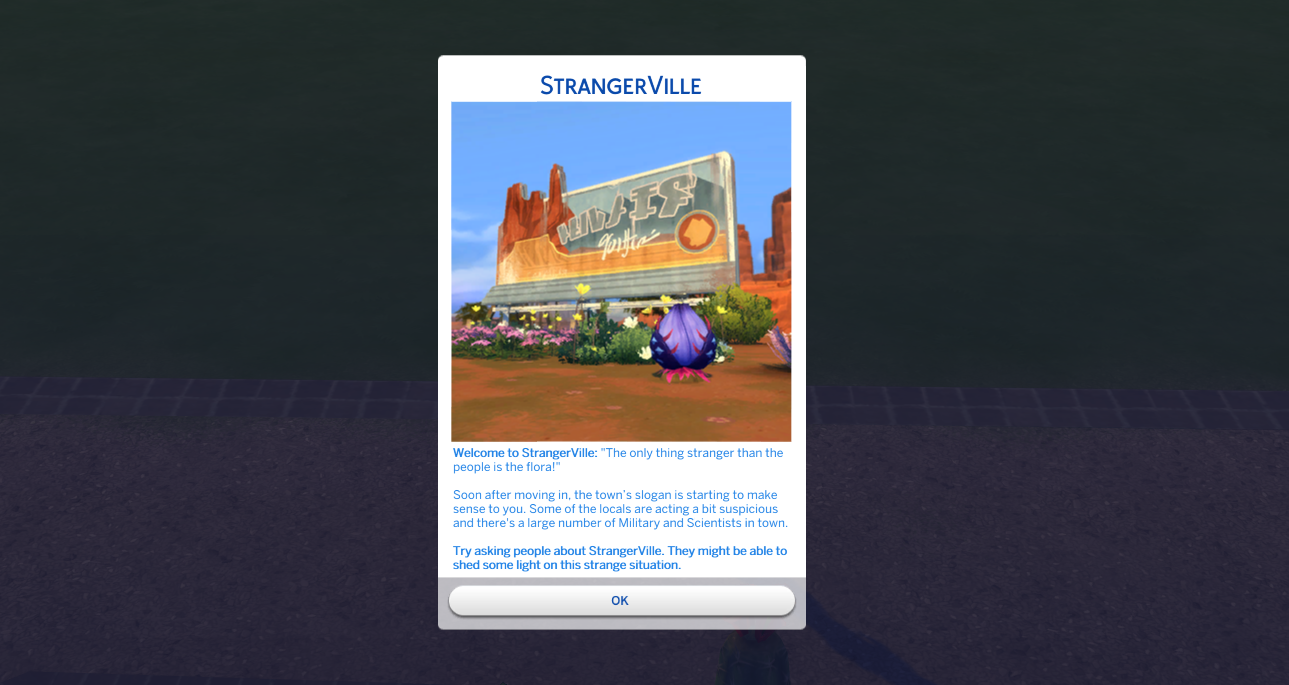 To kick off the all new adventure, you'll see the "Welcome to StrangerVille" popup letting you know there is something, well… strange going on in StrangerVille. It also suggests maybe talking to a few of the locals for more information. This brings us to the first aspiration milestone, "New Resident".
MILESTONE 1: NEW RESIDENT
– Talk about StrangerVille with 5 Sims
– Buy Curio from the Curio Shop
– Examine Sealed Door at Secret Lab
Completing this milestone is fairly straight forward. When interacting with the residents of StrangerVille you'll see an option to "Talk about StrangerVille". Most of the special interactions specific to the StrangerVille Mystery have a purple icon of the strange plant. You only need to speak with five random Sims to complete these tasks. Their response will appear in the notifications menu and can very from comments about the strange plants around town to mentions of the crater and secret lab.
Residents of StrangerVille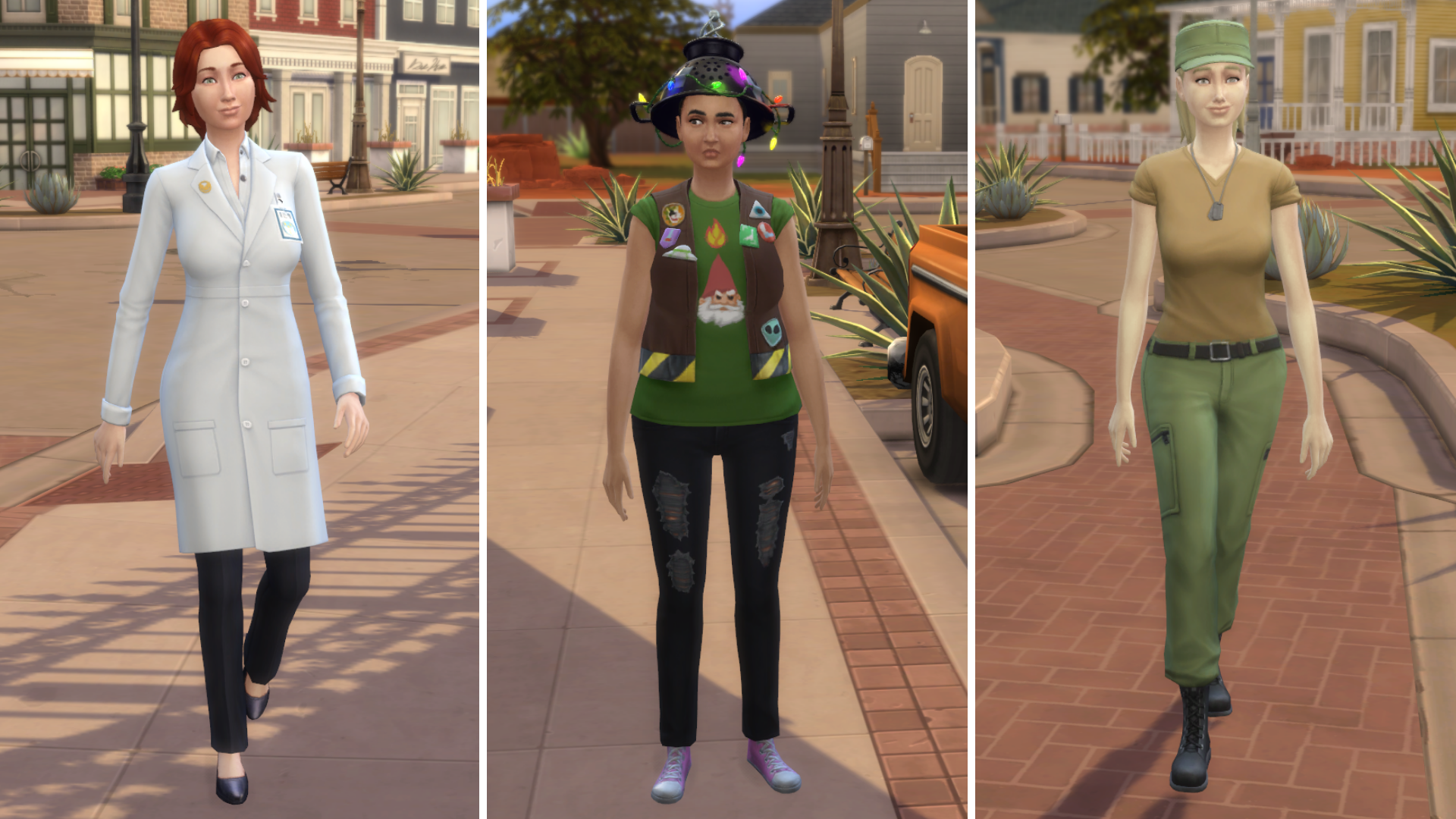 You'll notice their are three main groups of residents living and walking in town: Scientists, Conspiracy Theorists, and Military Personnel. You can spot these special characters roaming around town in fairly identifiable attire.
Scientists will sport white lab coats and hang out by the StrangerVille Information Center (Library), Conspiracy Theorists have some combination of an eccentric vest and tin-foil hat, and Military personnel will be wearing one of the military uniforms. The 8 Bells Bar in town is the most popular place to find local Military Personnel. If you hover your cursor over these Sims you'll also see a red text about their name stating which group they belong to.
Buy Curio
To complete the next task, you'll want to visit a lot in the StrangerVille Plaza and locate the Curio Shop. The Curio Shop is a vendor stall, not a lot of its own, in the top right of the neighborhood. There you'll find Erwin Pries selling his odds and ends. Select "Buy Curio Items…" to view the Curio Shop's current inventory.
You can purchase any item to complete the aspiration task, but you'll find a 51M5 Spy Bug or Bizarre Fruit the most helpful for completing the StrangerVille Mystery aspiration. For detailed information on the Curio Shop, click here.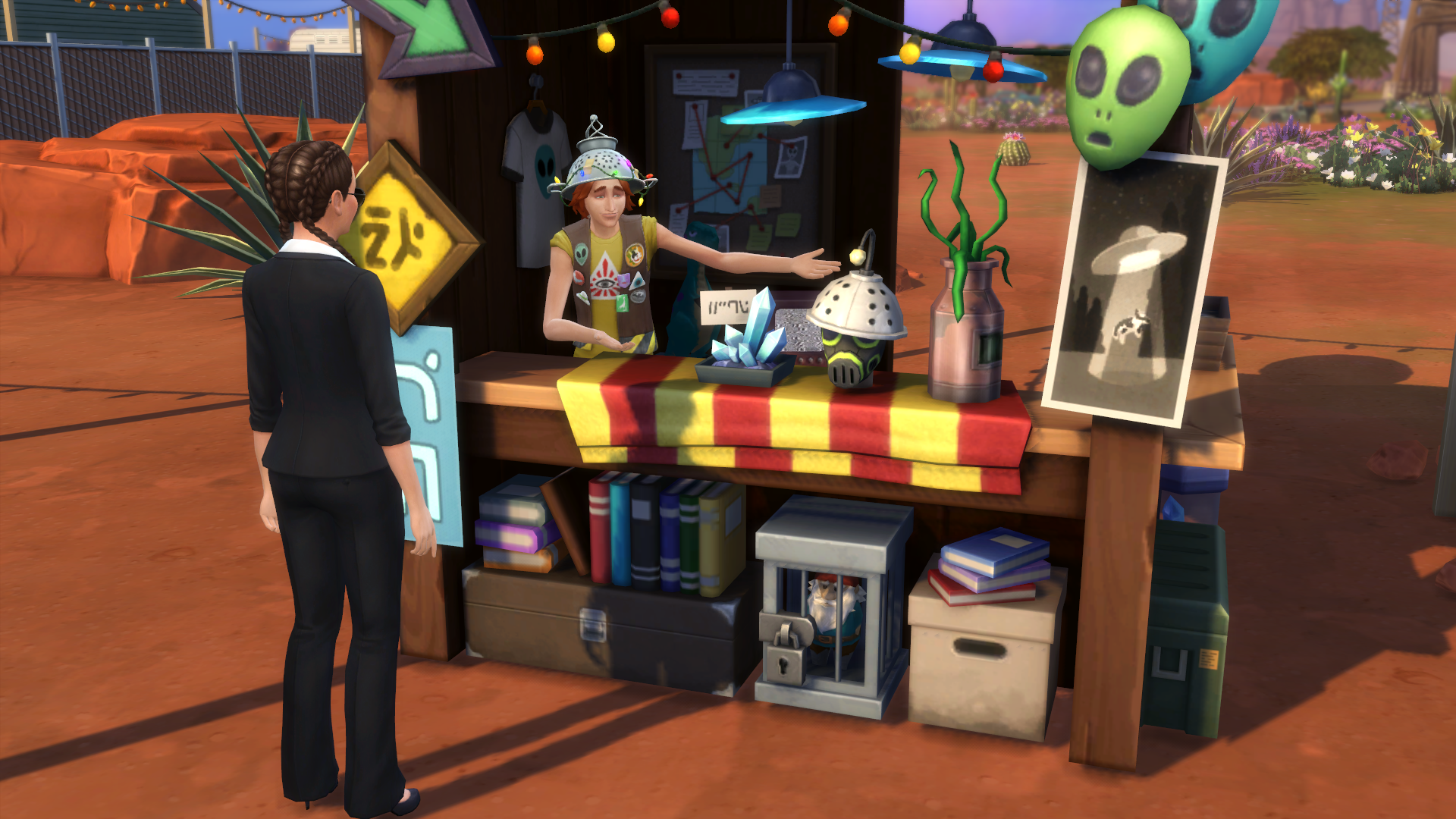 Examine the Secret Lab Door
For the final task of this milestone, you'll want to visit The [Name Redacted] Lab located in the crater outside of town. Your Sim can enter the Secret Lab lot through a damaged section of fencing behind the main building, and can access the building through one of the unlocked side doors. The place looks like it was abandoned in a hurry. In the center of the building you'll find a large reinforced door with a security access panel. Sims should use the "Examine" interaction on this door to complete the final milestone one task.
StrangerVille Mystery (Part 2)
For the next milestone, your goal is to obtain a keycard to open the sealed door your Sim just examined. Once you've examined the Sealed Door, you'll notice a few stacks of papers scattered around the building have a red blinking outline. This is your hint to begin the next task: gather 15 pieces of evidence.
MILESTONE 2: PERSONAL SPY
– Gather 15 Pieces of Evidence
– Compile a StrangerVille Secret Dossier
– Open the Sealed Door in the Secret Lab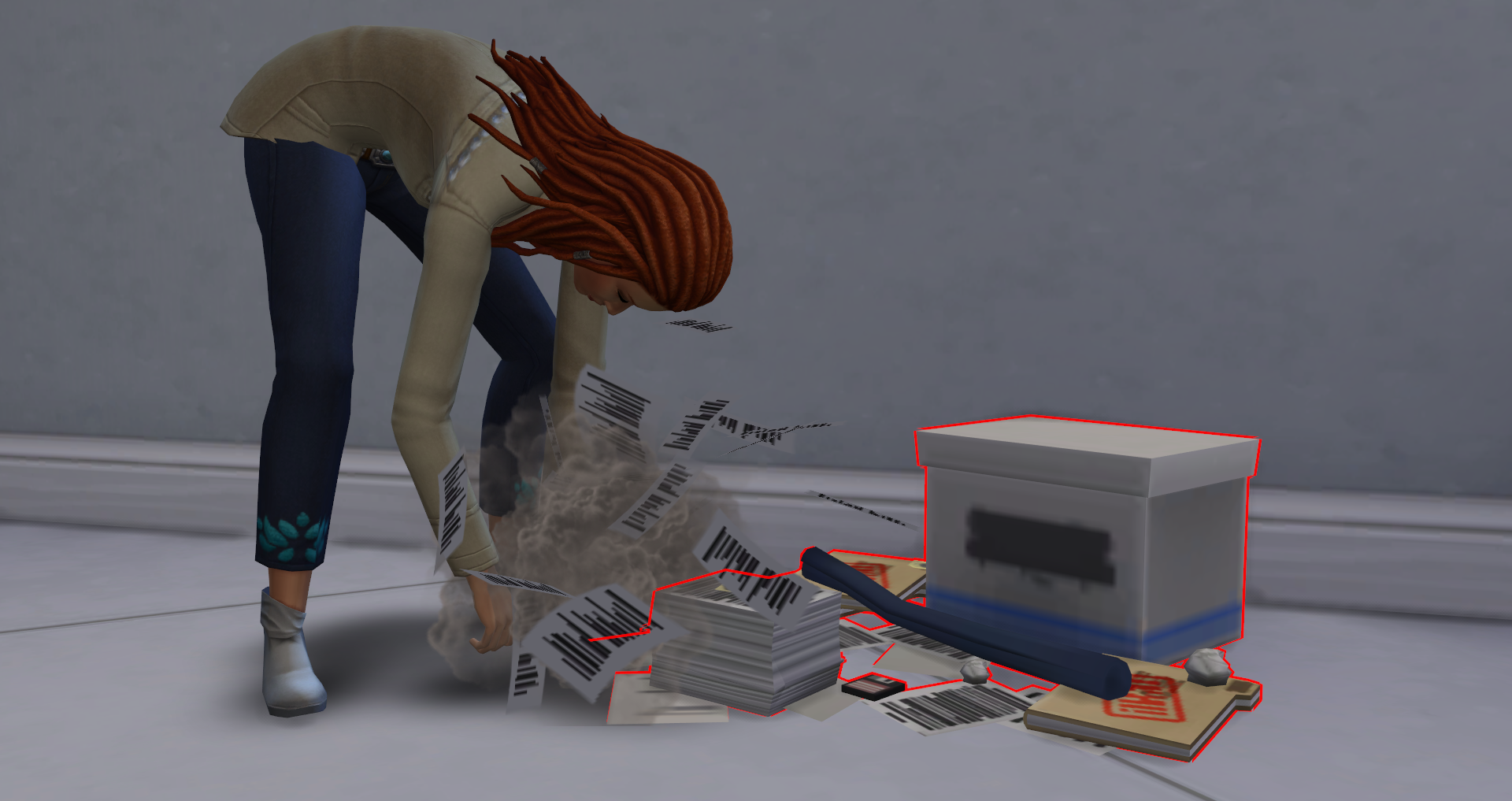 Collecting Evidence
There are a few ways to collect evidence around town. The easiest way to start is to click on one of the strange plants and select the "Take Picture" interaction. This is the only type of evidence you can collect only once, although you can remove this evidence from a Sim's inventory and take another photo.

Searching the piles and boxes around the Secret Lab is the faster way to collect a lot of evidence. The type of evidence is random but you will always find something. If Sims have a Programming Skill of level 3 or higher, they can attempt to hack the computers around the Secret Lab for more evidence. This will not always result in finding evidence though, and the computer will automatically self-destruct after one attempt.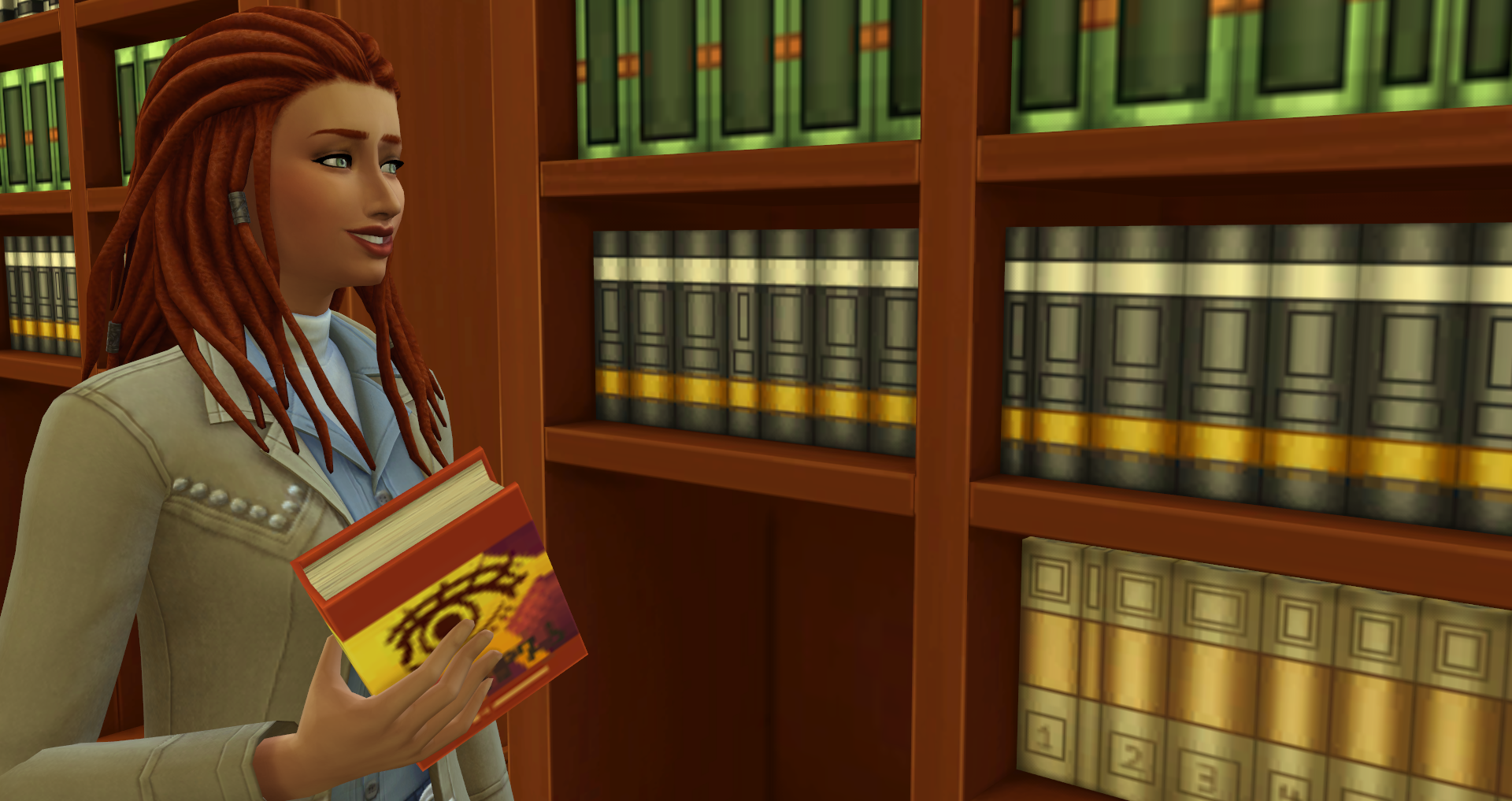 At the town library you can click on a bookshelf and select "Search StrangerVille Archives". This takes a little longer as your Sim reads through one of the archives, and it also doesn't guarantee a piece of evidence. There is some great anecdotal evidence in the notifications menu about the history of StrangerVille though. While you're at the library, an additional method to gather evidence is to get to know the local residents of StrangerVille until you have a high enough friendship to "Request Evidence for StrangerVille Mystery".
The final way to collect evidence is to plant bugs on Sims and use a listening device to create a recording of their comments. This only works on Scientists, Military Personnel and Conspiracy Theorists. Bugging "normal" Sims will not count as evidence, but it can be used to blackmail Sims. For more on planting bugs and the listening station, click here.
The Secret Dossier and Key Card
Once Sims have collected 15 pieces of evidence, it's time to create a dossier. Click on the stack of evidence in your Sim's inventory and select "Compile Secret Dossier". Another way to obtain the Secret Dossier is by finding the Encrypted USB Device (evidence) while searching the Secret Lab. If a Sim has a level 10 Programming Skill they can use the "Decrypt" interaction on the USB to obtain the Secret Dossier.
Once a Sim has put together the Secret Dossier, they can trade it for a keycard to unlock the Sealed Door in the Secret Lab. The first method is to use a computer or laptop to upload the Secret Dossier to a Hacker Forum and wait for the keycard in the mail soon after. Sims can also visit the Curio Shop and ask about the Secret Lab. In the Curio Shop's Secret Inventory Sims can use the "Buy Keycard and Give Dossier" interaction and buy the keycard for §250.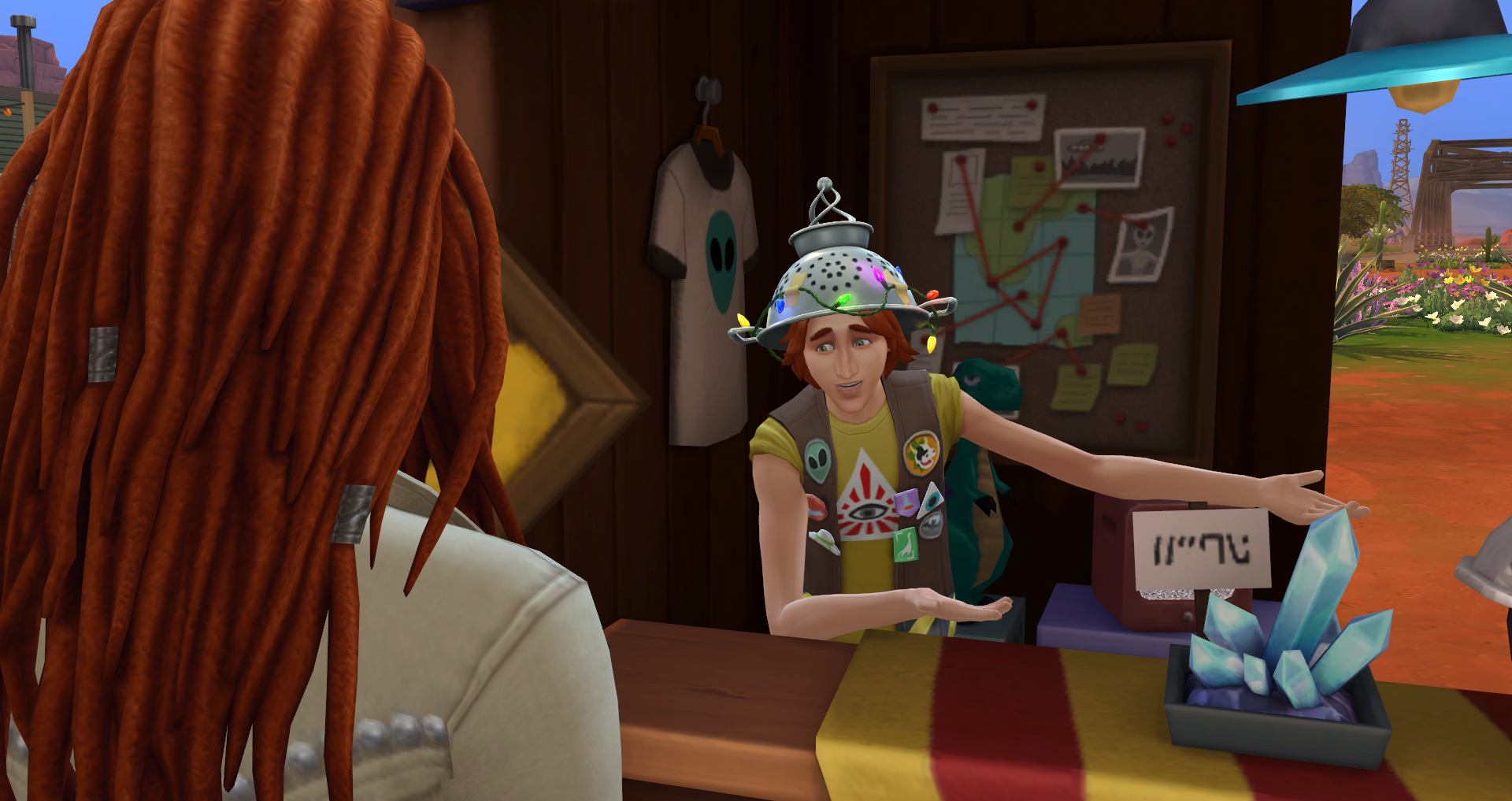 Compiling the Secret Dossier is a task of the second milestone, but it is not necessary for obtaining the keycard. Sims who have joined the Military Career, and have a rank of level 5 or higher, can use the computer to request a key card. If the request is approved it will be delivered in the mail within 2 days. Lastly, Sims that have a great relationship with Scientists or Military Personnel, can ask them for a keycard.
Opening the Sealed Door
Once your Sims have acquired a keycard, return to the Secret Lab to complete the final task of opening the Sealed Door. Sims will then be able to go down to the lower level of the lab, but the air is heavy with mysterious spores, making it to difficult to breathe.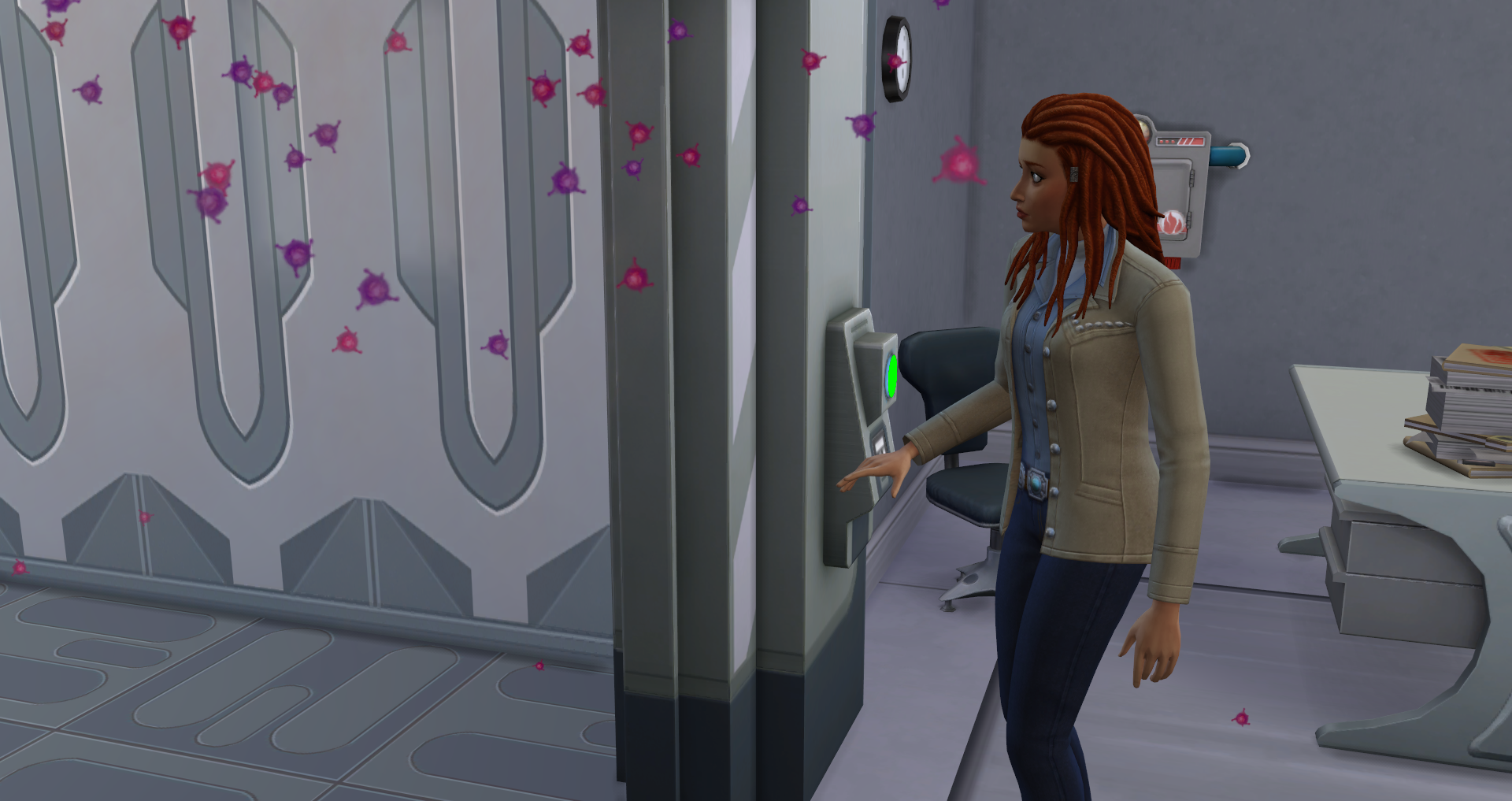 Opening the sealed door sets the stage for part 3 of the investigation, releasing mysterious spores into the atmosphere. Toxins will fill the air outdoors, and the sky becomes an eerie color. Sims will need to talk to a few people in town in order to pass through and go deeper into the Secret Lab.



StrangerVille Mystery (Part 3)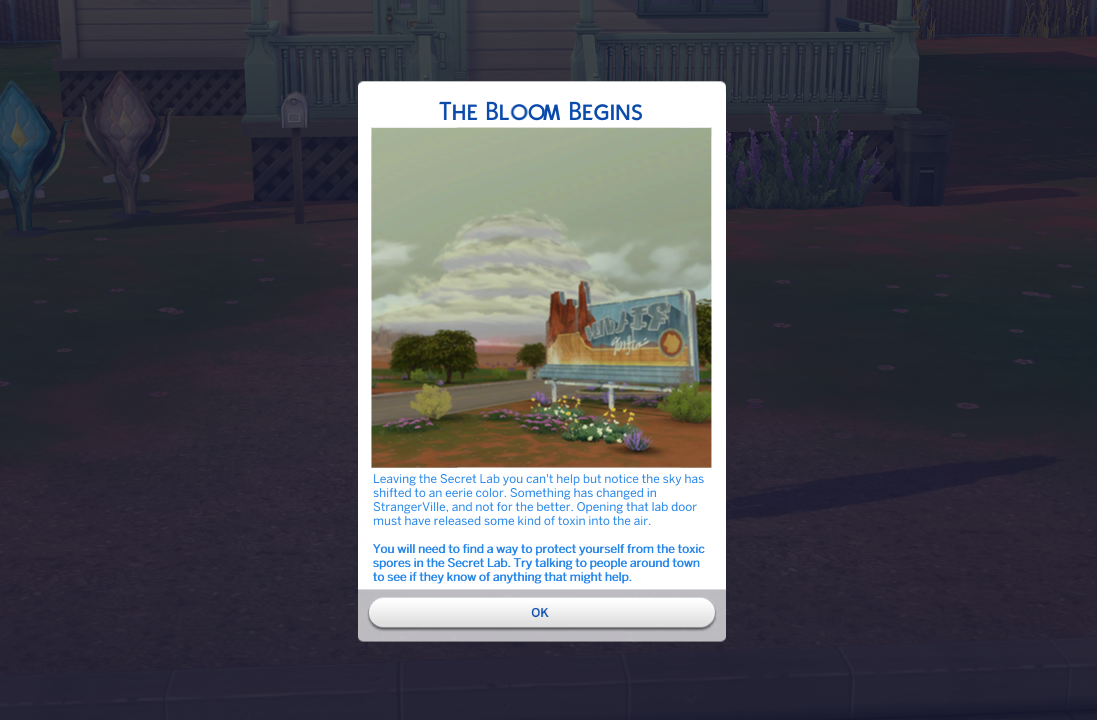 For the third milestone, the goal is to assemble a Hazmat Suit to pass through the toxic hallways of the Secret Lab. To do this, you're going to need an Infection Scanner.
MILESTONE 3: PATHOGENIC INVESTIGATOR
– Collect 15 Spore Cluster
– Assemble the Hazmat Suit
– Traverse to the deepest part of the Secret Lab
Infection Scanner
Infection Scanners are acquired by talking to the Military Personnel in town. Simply ask about the Spores in the Lab and they will mention they were recently given an Infection Scanner. From there you have a few choices to convince them to give you their Infection Scanner. If you are in the Military Career you can even "Pull Rank for Infection Scanner".

After the Infection Scanner has been acquired by a Sim, they can scan the area for spores. They'll need to collect at least 15 spores to complete the first task. Spores are found in town, but Sims will rarely find more than one spore. It is much simpler to visit the Secret Lab and scan the outside area near the strange plants. This will yield five spores per scan, getting to the required goal of 15 much quicker.
The Spore Filter and Hazmat Suit
Once Sims collect 15 spores, they can use the chemical analyzer in the Secret lab to "Construct Infection Profile Data". Next, they should talk to one of the scientists in town and "Question about Spores in Lab". They will then inform the Sim that they can craft a breathing filter with Spore Profile Data to protect Sims from infection.
If the Sim has a high enough friendship, they can use the "Ask to Craft Spore Filter" interaction and give the scientist the Infection Profile Data. Scientists will then craft a spore filter and send it via snail mail.
While your Sim waits for the spore filter, they should head over to the Curio Shop and question Erwin Pries about the Spores in the Lab. He will let them know he happens to have a Hazmat Suit to sell. The Hazmat Suit will then become available for purchase in his Secret Inventory for §1,000.
Once a Sim acquires the hazmat suit, they can collect the Spore Filter from the mailbox and click the items in the inventory to "Combine With Hazmat Suit". They now have a Modified Hazmat Suit that will allow them to pass through the Toxic Spores in the Secret Lab. Select the suit in a Sim's inventory and click "Wear Hazmat Suit."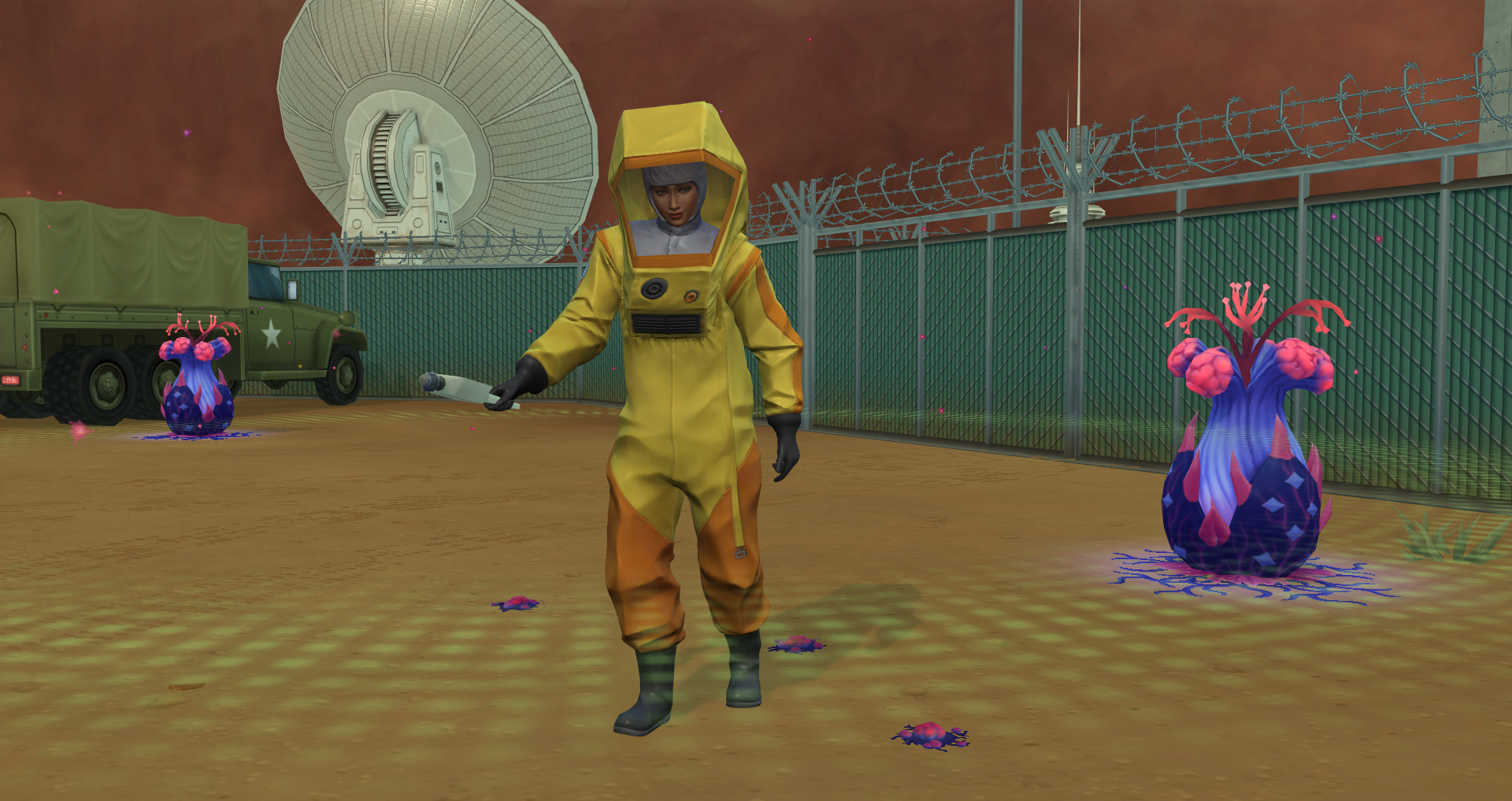 Unlocking the Secrets of the Lab
Now that you have the modified Hazmat Suit, you're ready to explore the depths of the Secret Lab. The keycard is required to open two additional sealed doors within the secret lab. Once you get to the second sealed door, you're ready to reveal the source of all the weirdness in StrangerVille: The Mother Plant.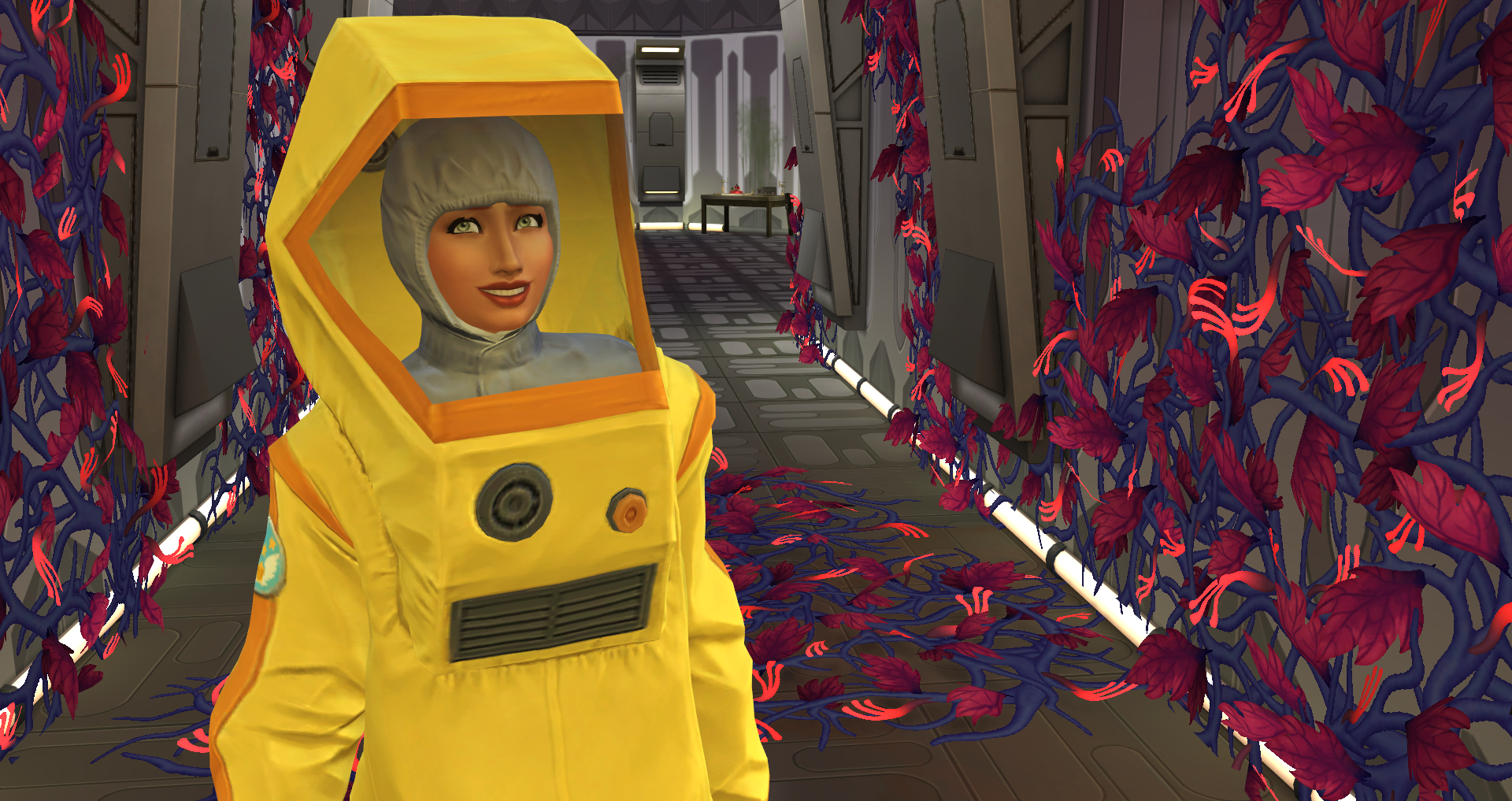 Congratulations, you've uncovered the town's big secret. Now it's up to you to stop the Mother Plant and save the world…or not.



StrangerVille Mystery (Part 4)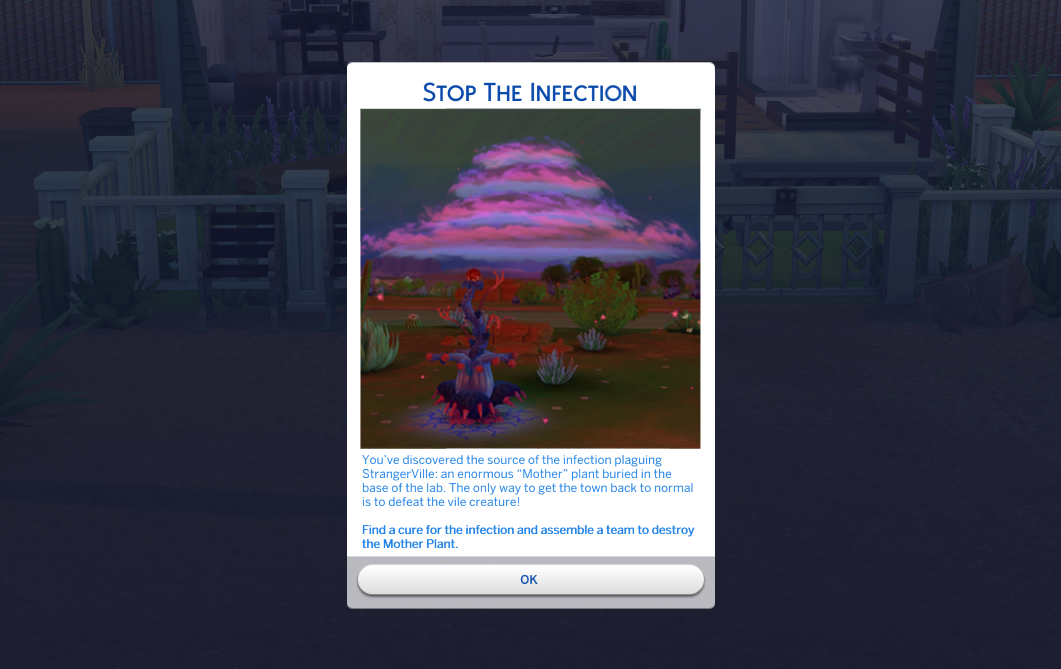 So you've reached the source of the infection. Now what? It's time to take on the Mother Plant and rid her infectious ways once and for all. For the final part of this investigation, Sims will need to learn how to create vaccines, recruit other Sims to defeat The Mother, and last but not least, actually defeat the Mother.
MILESTONE 4: STRANGERVILLE HERO
– Vaccinate 3 Sims
– Recruit 3 Sims to Help Stop the Source of the Infection
– Defeat the source of the Infection
Vaccines
When a Sim discovers the Mother Plant deep down in the secret lab, they will unlock the ability to create Experimental Vaccines on the chemical analyzer. Experimental vaccines require five spore clusters and one Bizarre Fruit.
❗ Spores are collected by scanning the ground using the Infection Scanner, which can be obtained from military personnel. Areas with a higher concentration of spores, such as the Secret Lab, will produce more spores than other areas. 

❗ Bizarre Fruit can be obtained by nurturing and harvesting a fully bloomed Bizarre Plant, or by purchasing one at the Curio Shop for §9.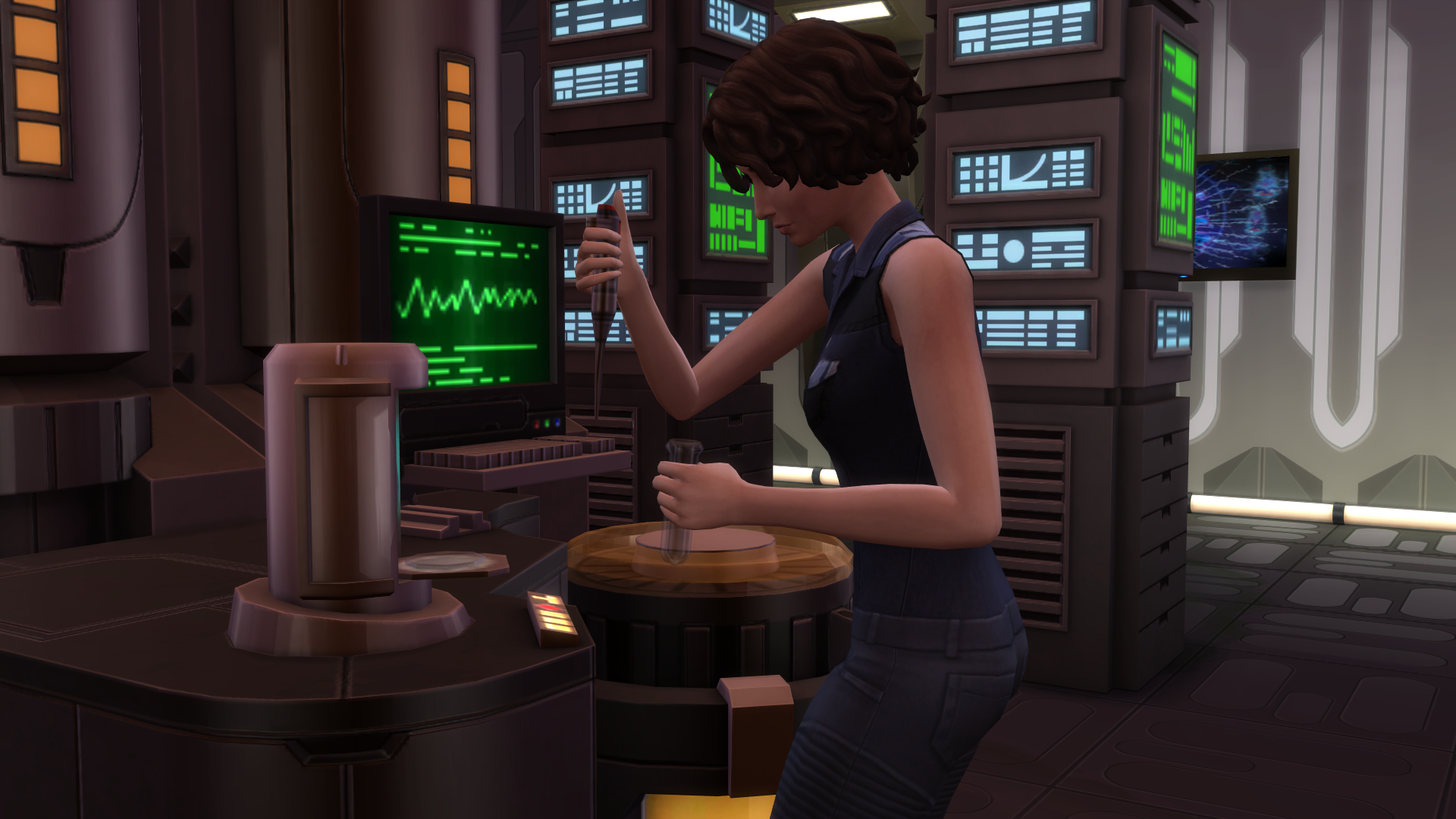 Experimental vaccines can be tested on Sims who are "possessed". These Sims will always immediately faint as a reaction to the vaccine, but that doesn't guarantee it will isolate the infection. It might take a few tries of using the experimental vaccine on Possessed Sims to succeed.
After you successfully cure a Sim from their possessed state with an experimental vaccine, you can then create the new Infection Vaccine on the chemical analyzer. Using Infection Vaccines on Sims will cure and protect them from infection.
Just like the experimental version, infection vaccines require five spore clusters and one Bizarre Fruit in order to create. Unused Experimental Vaccines can be converted into Infection Vaccines on the chemical analyzer as well.
Mother Plant
When you enter the deepest part of the secret lab basement, you will be greeted by the giant Mother Plant. She has been the one spreading the infection with her spores, causing Sims all around StrangerVille to become possessed. Now, it is up to your Sim to discover a vaccine and recruit a group of people to help you defeat the source of this infection.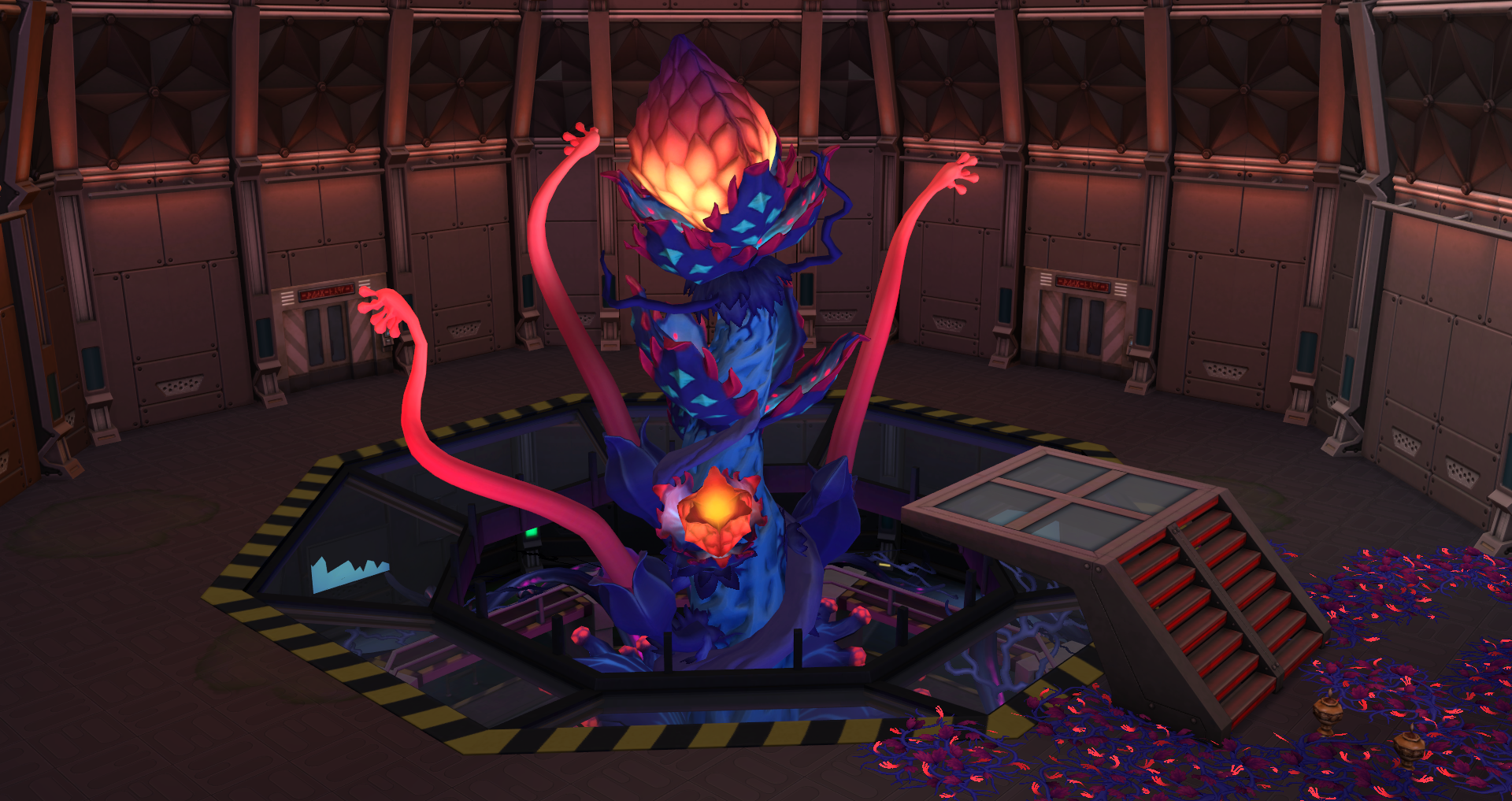 When Sims first encounter the Mother Plant, they will be unsure of what they just walked in on. Do they fight her? Do they communicate with her? There are a few preliminary things to remember when dealing with the Mother. For starters, Sims can build a relationship with the Mother. When the first approach and "Attempt to Communicate" with her, the Mother will be quite displeased and instantly set the relationship to despised.
❗ If your Sims have not been infected with StrangerVille's plague, be sure they wear the hazmat suit when interacting with the Mother. One wrong interaction and they will become infected, possessed, and unable to fight her without being vaccinated.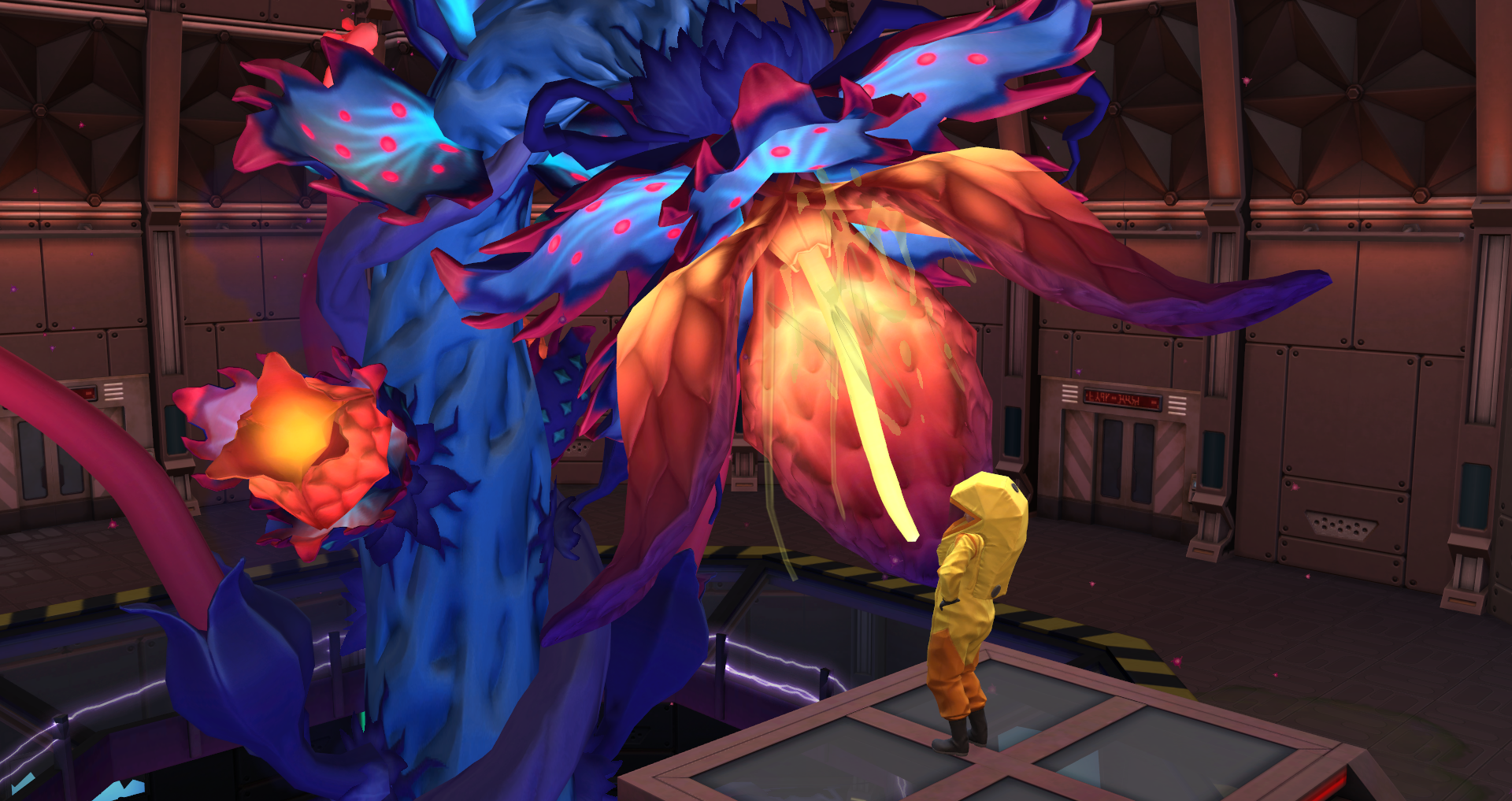 Sims can work on making a positive change to their relationship with the Mother by using the communicate interaction. Not only does a positive relationship make life in the secret lab more pleasant, it also unlocks special interactions with the Mother.
Below is a list of interactions available with the Mother: 
Attempt to Communicate

Ask for Fruit (Requires Positive Relationship)
Taunt

Taunting the Mother will result in Sims becoming infected. Make sure they are wearing their Hazmat suit before attempting this.

Attempt to Fight 
Fight Mother Plant with…

Select up to three sims that you have recruited to fight Mother Plant with your sim (requires 1-3 allies)

Request Gifts…(Requires Positive Relationship – One gift per day)

Request Career Success – Your sim will receive an "Overwhelming Focus" +3 focused moodlet that lasts for 24 hours
Request Energy – Your sim's energy bar will fill, and they will receive an "Overwhelming Power" +3 energized moodlet that lasts for 24 hours
Request Life Extension – Your sim's age will revert to the first day of their life stage, making it longer for them to age up
Request Riches – Simoleons will be added to your household funds
As you can see, there are plenty of interaction that await your Sims when they finally visit the Mother. What they decide to do with their relationship is a another story. If Sims want to go even further and destroy the Mother for good, it's time to gear up for a fight.
Fighting the Mother Plant
It's time to save StrangerVille. If your Sim wants to help the residents of StrangerVille and eradicate the infection, your Sims will need to take on the Mother. This is not an easy task, but with a little help and some infection vaccines, Sims can cure StrangerVille.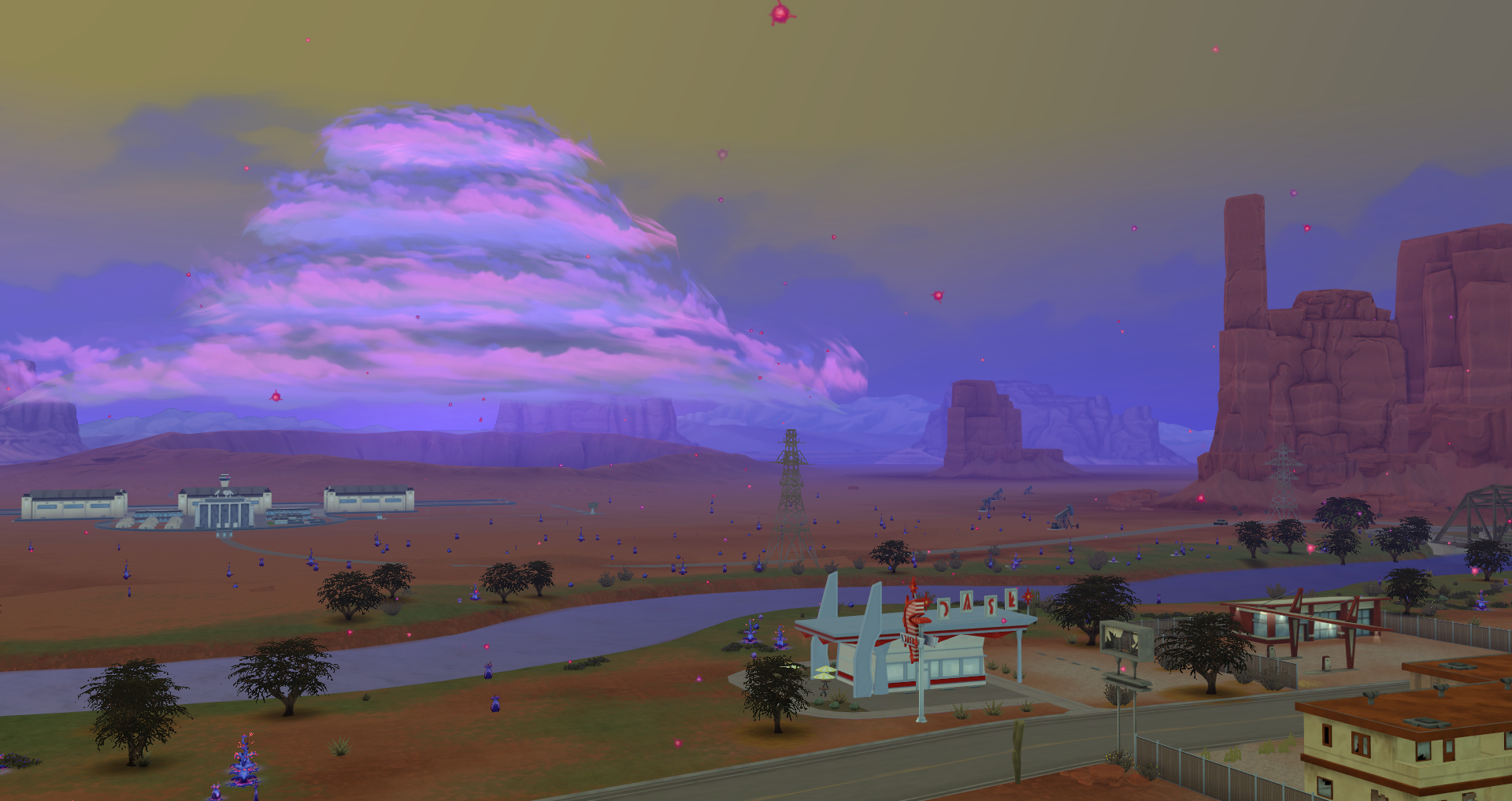 Fighting the Mother Plant can only be selected if the current Sim does not have the infected trait. Sims can protect themselves by not eating the Bizarre Fruit, and by making sure to protect themselves with a Hazmat suit when entering the secret lab. Lastly, Sims can cure themselves and others by creating infection vaccines on the Chemical Analyzer.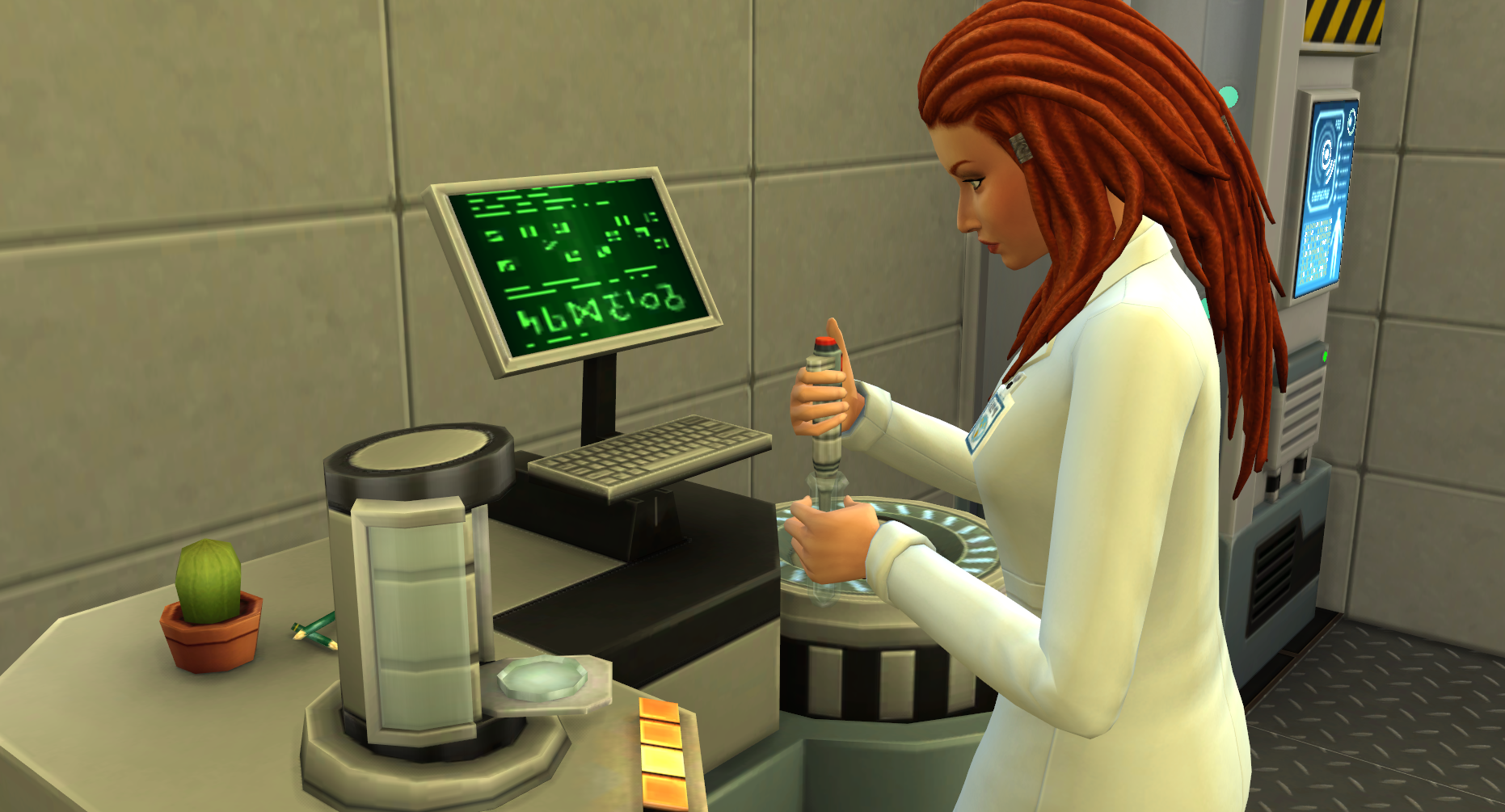 Using infection vaccines on other Sims will allow them to be recruited to fight the Mother Plant. This will protect them from becoming infected and joining the dark side. However, if you do not have a strong enough relationship with the Sim you're trying to recruit, they will refuse to fight the plant with you. It is best you first become friends with the vaccinated Sims before asking them to put their lives on the line.
❗ Only three Sims can fight the Mother Plant at one time, but Sims can recruit as many as they'd like.
The fight against the Mother Plant involves your Sim and their team surrounding the plant, and trying to attack it with sprayers and vaccines to deal the most damage. The Mother will fight back with a vengeance though, so be ready in case she infects your team.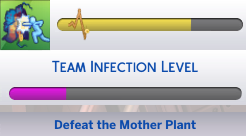 During the Mother Plant boss fight, you'll have to pay attention to the two bars on the top left of the screen. The yellow bar on top is the health bar of the Mother Plant, and the pink bar is the infection level of your team. If the pink bar fills, your team will lose the fight.
❗ You can perform special interactions during the fight to lower the Mother's health. The goal is to completely deplete it, which will allow you to defeat the source of the Infection in StrangerVille.

❗ Keep an eye our for the Mother's possessed minions that will attempt to derail your team during the fight. It is best to have several infection vaccines available to toss at the Mother.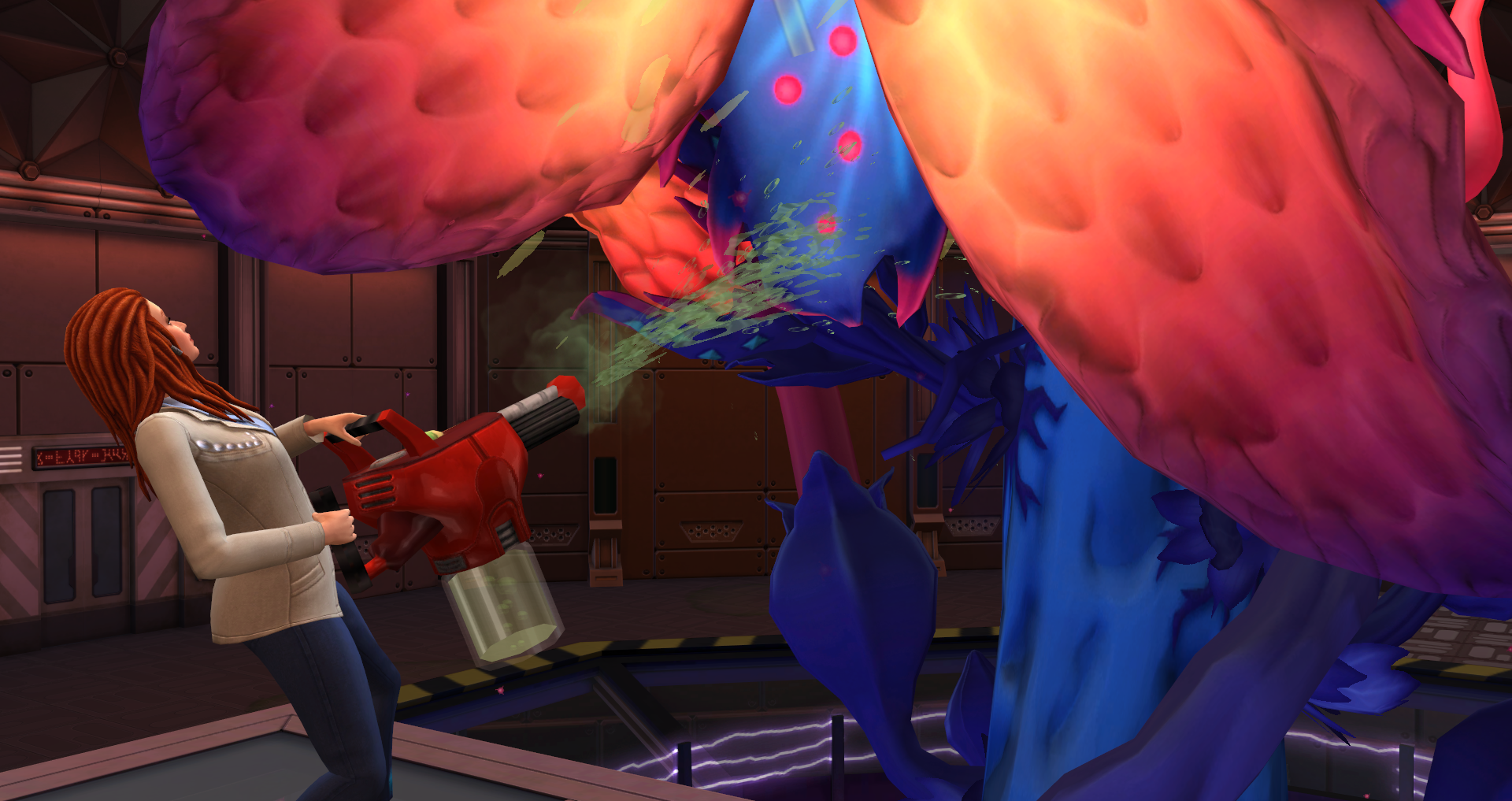 The following interactions are available when fighting the Mother Plant:
Group Commands…

Be Careful!

Your team resists the infection, but deals less damage.

Charge!

Your team deals more damage, but becomes infected faster!

Warbling War Cry!

Your team scares off the Mother Plant's minions, but does less damage.

Take a Breather

Your team heals some of their infection, but does no damage.

Mega Spray
Throw Infection Vaccine

Throwing several vaccines can deal severe damage to the Mother.

Retreat

This ends the fight prematurely.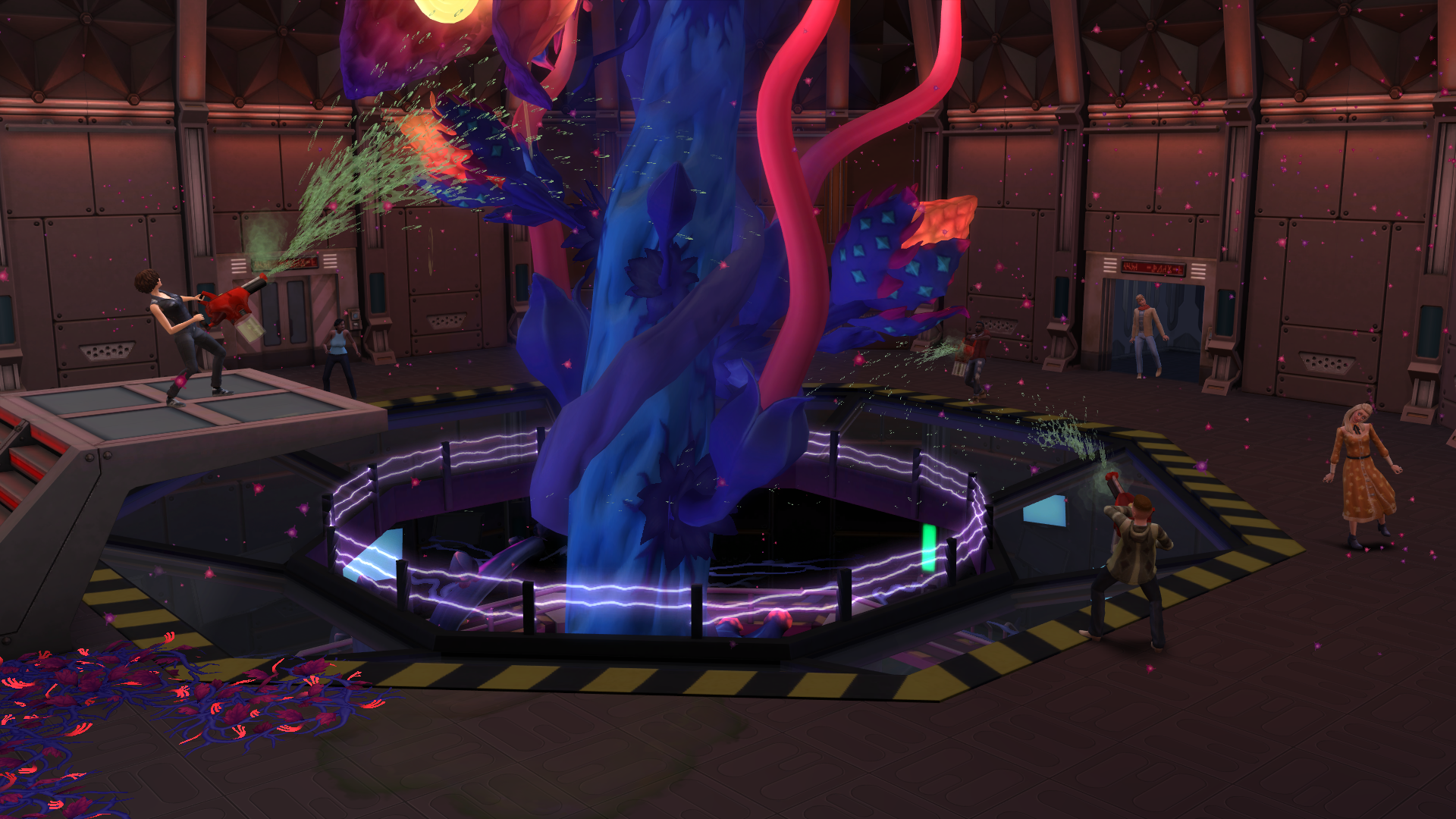 If your team becomes too infected and loses the fight, the Mother Plant will pick your sim up and slam them into the ground. You can always try to fight her again, though, using a different strategy, more vaccinations, and different allies.
If you are able to deal enough damage to the Mother and she is defeated, she'll collapse and die. Once this happens StrangerVille becomes infection-free and turns back to normal. Sims will no longer be possessed, there will be no more spores covering StrangerVille, and Bizarre Plants will disappear. What to do next? That is up to you.
Choosing to leave Mother defeated and dead forever is one way to end the story…but what if you want to play with the lives of others? It's time to befriend the Mother.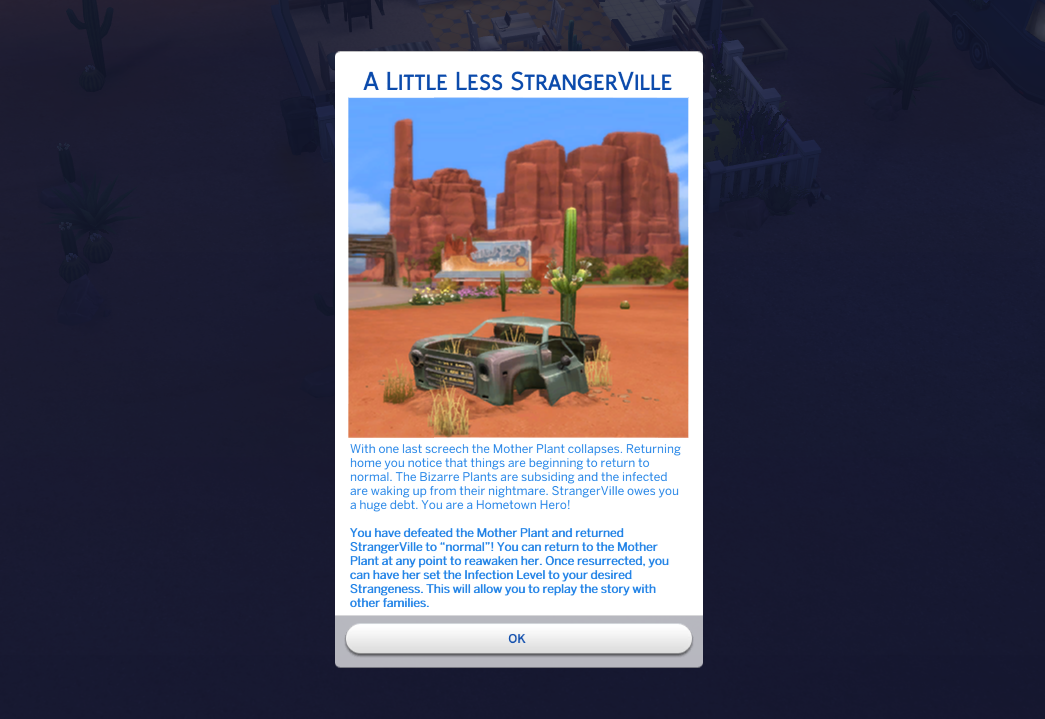 Death by Mother Plant
The Sims 4 StrangerVille adds a new way for Sims to die: Death by Mother Plant. This death occurs to Sims who are devoured by the Mother Plant when attempting to fight her in the Secret Lab. Since Mother Plant is extremely powerful, Sims who try to fight her alone will get tossed around and become Dazed. Attempting to fight the Mother Plant again while in this dazed state will result in a Sim being consumed and killed.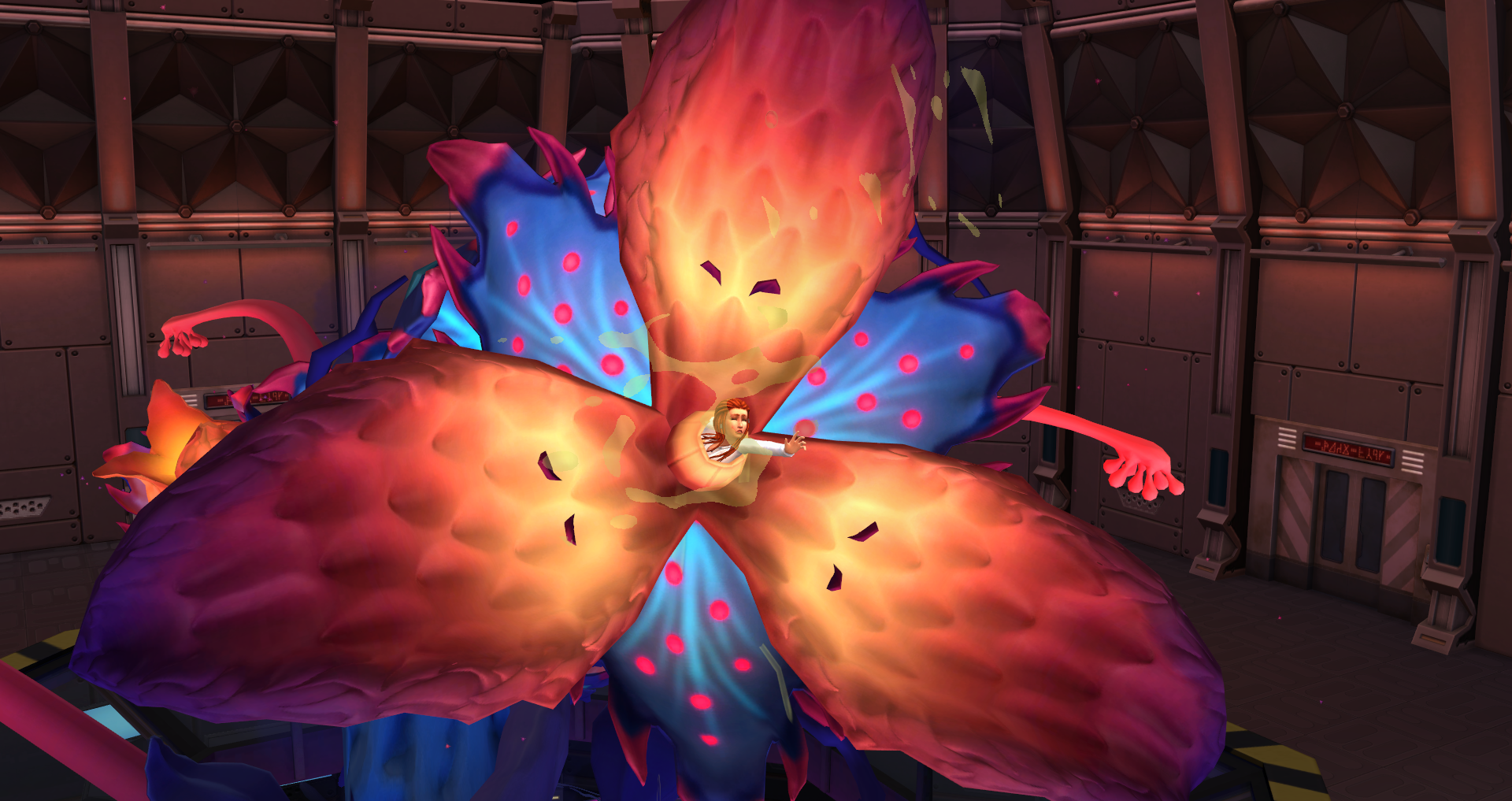 The ghost of a Sim who dies as a result of being consumed by the Mother Plant will appear with plant spores floating around them. They also receive a special "Consumed by the Mother" trait that grants them zero Need Decay benefits.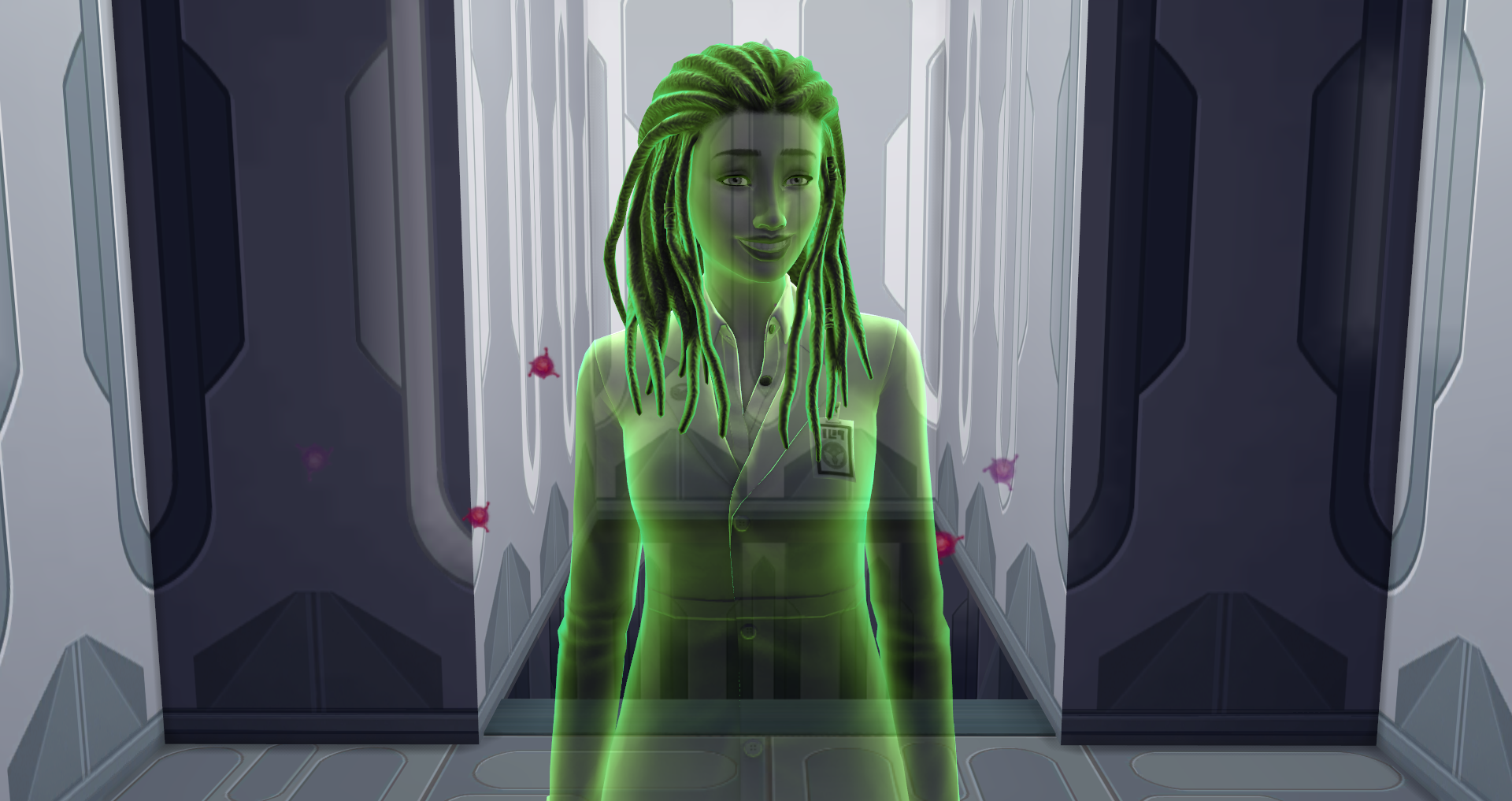 Reviving the Mother Plant
The story continues. Even when the Mother is defeated and left for dead, that doesn't mean Sims can't bring her back to life. Is this something they want to do? It's up to you.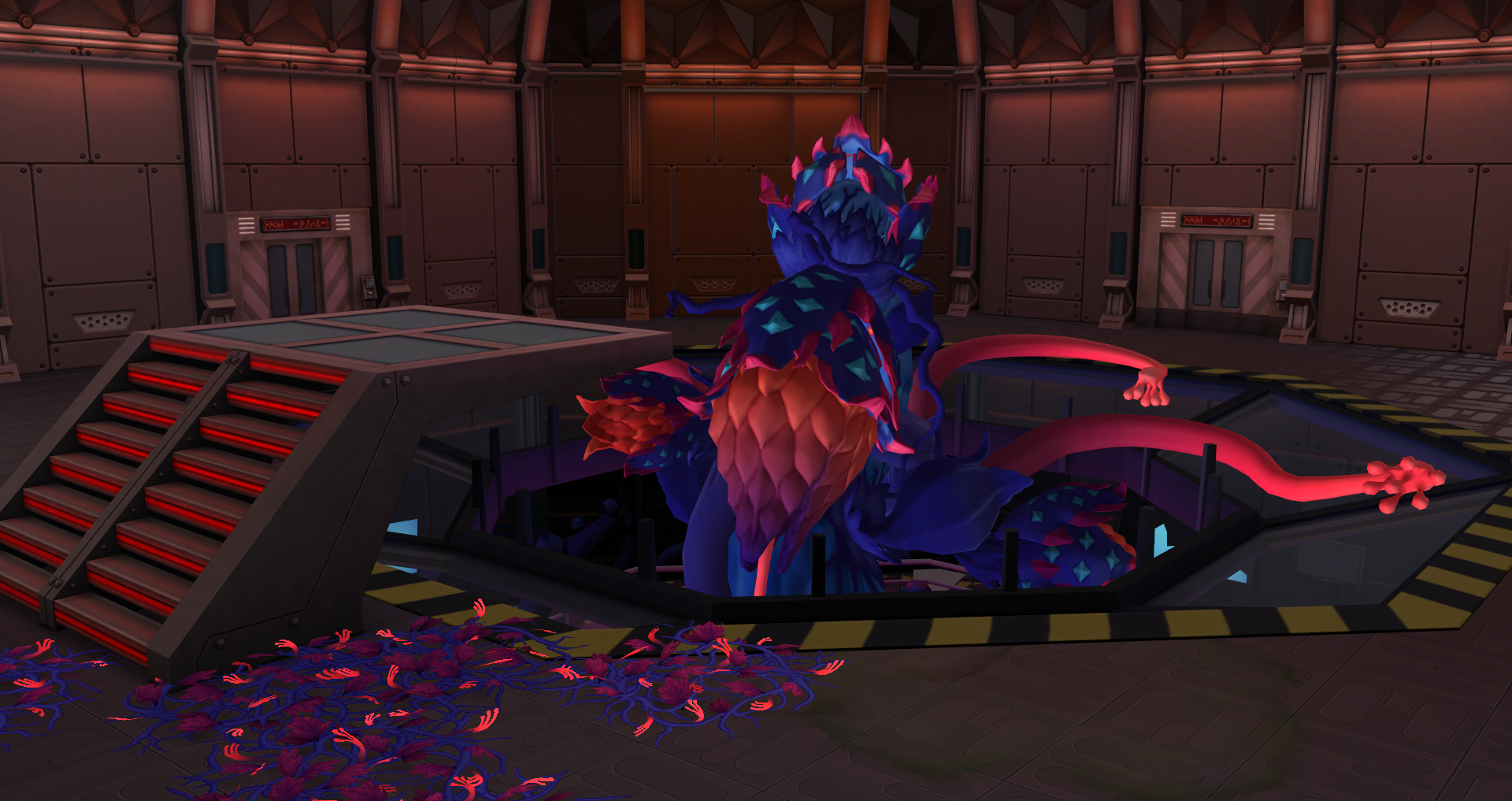 Once the Mother is defeated, Sims can bring her back to life. The only way to revive Mother is to use the "Revive Mother Plant" interaction. This interaction is only available when Sims have Bizarre Fruit in their inventories. Offer the fruit and back she comes!
You may be thinking that doing this will immediately return StrangerVille into an infected mess of Sims, but this is not the case. Because Sims took the time to defeat and bring her back to life, they will now have an additional interaction available: "Request Weirdness".
This interaction offers Sims a way to increase and decrease the level of infection the Mother spread into StrangerVille. By default the weirdness levels are set to "off", so the infectious spores will not once again contaminate the town and its residents. That doesn't stop a Sim from creating another epidemic around StrangerVille.
The following interactions are available when reviving the Mother: 
Request Weirdness…

Request Weirdness

A small amount of spores will be spread over StrangerVille, a small number of Possessed Sims will walk the streets, and Bizarre Plants will return to their sprout form.

Request Moderate Weirdness

A medium amount of spores will be spread over StrangerVille, a medium number of Possessed Sims will walk the streets, and Bizarre Plants will return to their blooming form.

Request Maximum Weirdness

A large amount of spores will be spread over StrangerVille, a large number of Possessed Sims will walk the streets, and Bizarre Plants will return to their blooming form.

Request Normality

All spores will be removed from StrangerVille, there will be no more Possessed Sims walking in the streets, and Bizarre Plants will be eradicated.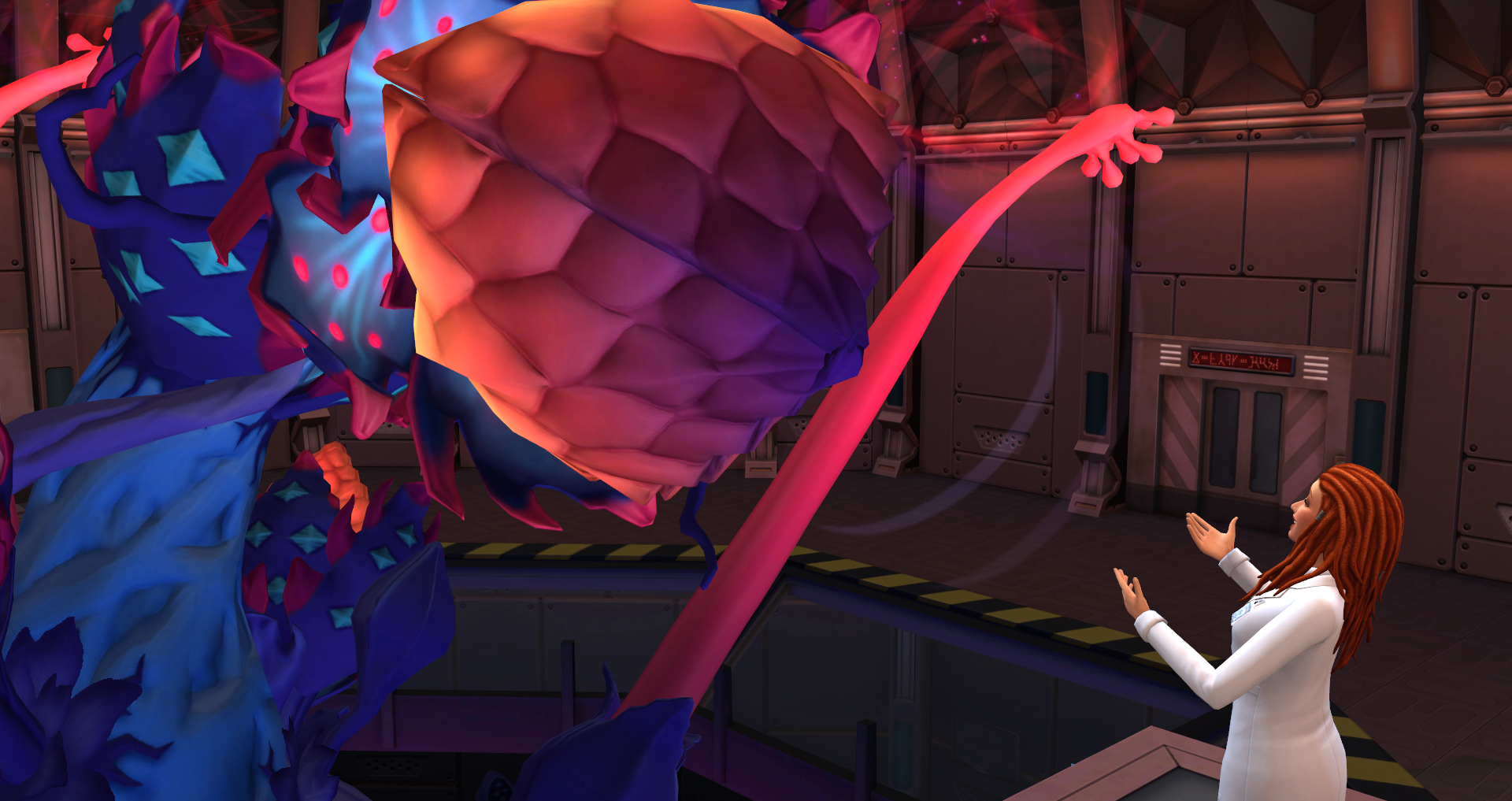 —————————————————————————————–
Build/Buy Mode Objects
The Sims 4 StrangerVille includes 114 buy and build mode items. This includes objects, build items, styled rooms, and every other item that was included with the game. The slideshow below contains 110 of these objects, with the "Styled Rooms" listed below.
The slideshow begins with the "Top Secret Monitor Display" and ends with the "Over-Sized Metal Wall Bracket". If you prefer to view the images individually, check out this album.
This slideshow requires JavaScript.
—————————————————————————————–
Styled Rooms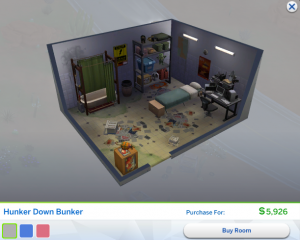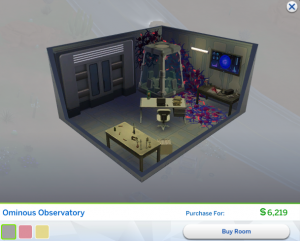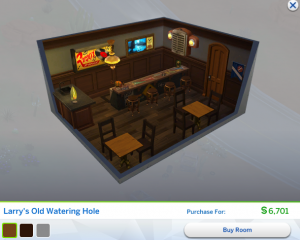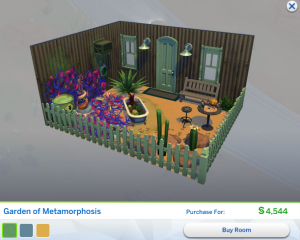 —————————————————————————————–
Interactive Objects
The Sims 4 StrangerVille adds a variety of new interactive objects. These objects allow for new game play not previously available in game. Details on these objects below.



Listening Device
The Listening Device allows Sims to collect evidence, blackmail other Sims, and gain logic skill by planting spy bugs and secretly listening in on what Sims are saying.
To use this device, Sims must purchase the 51M5 Spy Bug and place it on other Sims. Spy Bugs can be purchased for §25 from the Curio Shop or directly from the Listening Device. With a spy bug on hand, Sims can perform the "Plant Bug" interaction on another Sim. 
Once a Sim is bugged, the "Listen in On" interaction will unlock on the device. Bugged Sims will appear as targets when using this interaction. If the Sim you listen in on is relevant to the StrangerVille Mystery investigation (Scientists, Military Personnel, Conspiracy Theorists, or a Possessed Sims), a Top Secret Recording is obtained as evidence for the secret dossier.
❗ Pop up notifications indicate whether the Sim you have spied on was worth the bug

❗ If the target Sim becomes aware they're being spied on, connections will be blocked.
However, if the Sim you planted a bug on is not part of the StrangerVille mystery, you may obtain a scandalous Basic Audio Recording from them.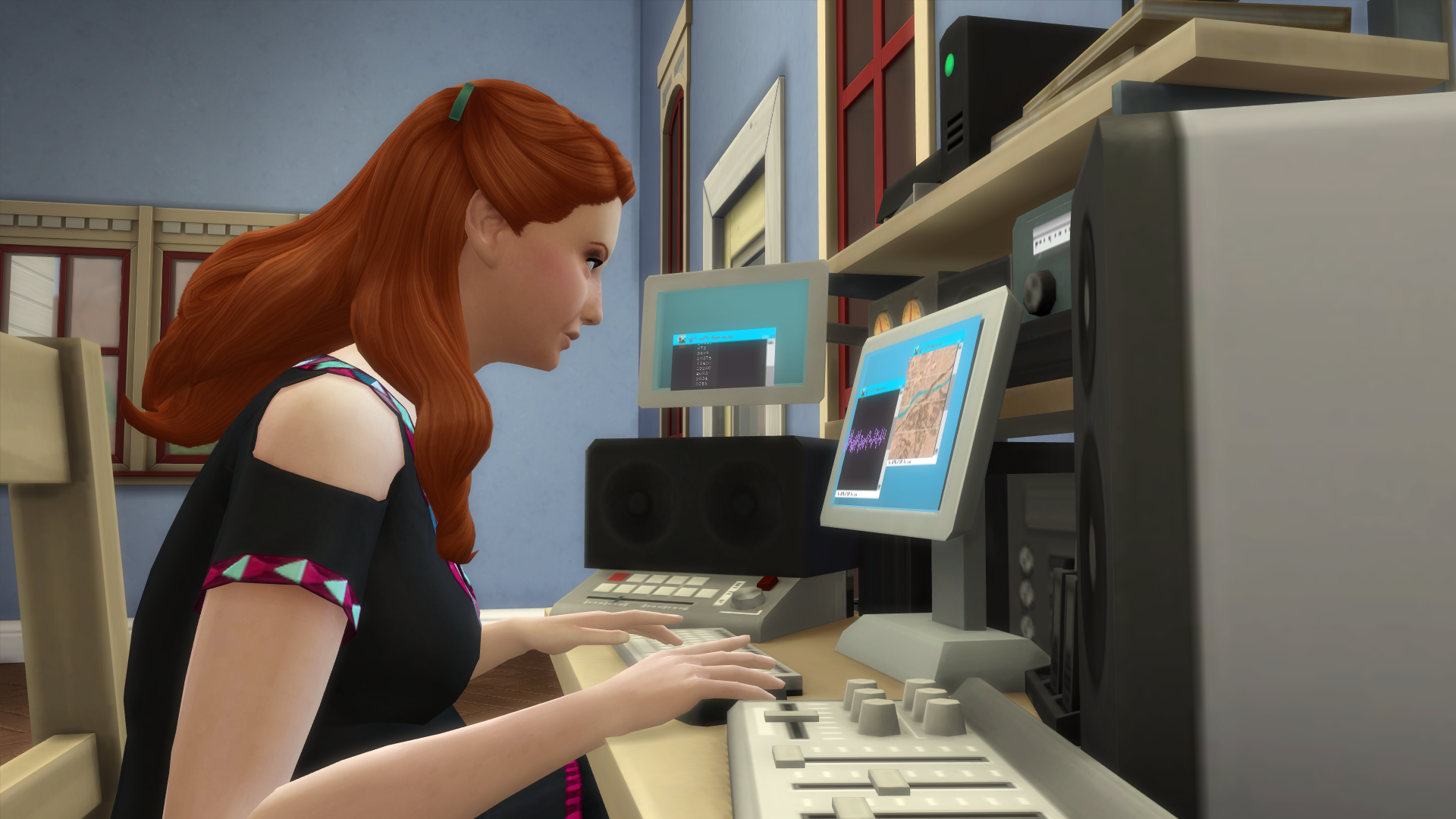 Recordings received through spying can be used as a way to blackmail Sims. Need some extra money pay some bills? Threaten to release a recording of a Sim in exchange for money. The blackmailed Sim will not be happy about this, but some Sims are willing to pay the price to keep their reputation intact.



Training Bot
The Sims 4 StrangerVille introduces a new Fitness related object for the game. The Training bots are a great way for Sims to increase their Fitness Skill, and also serve as a task for Sims who join the Military Career. There are two versions in the game, one found in buy mode, the other unlocks at level 8 of the Military career while in the Officer Branch.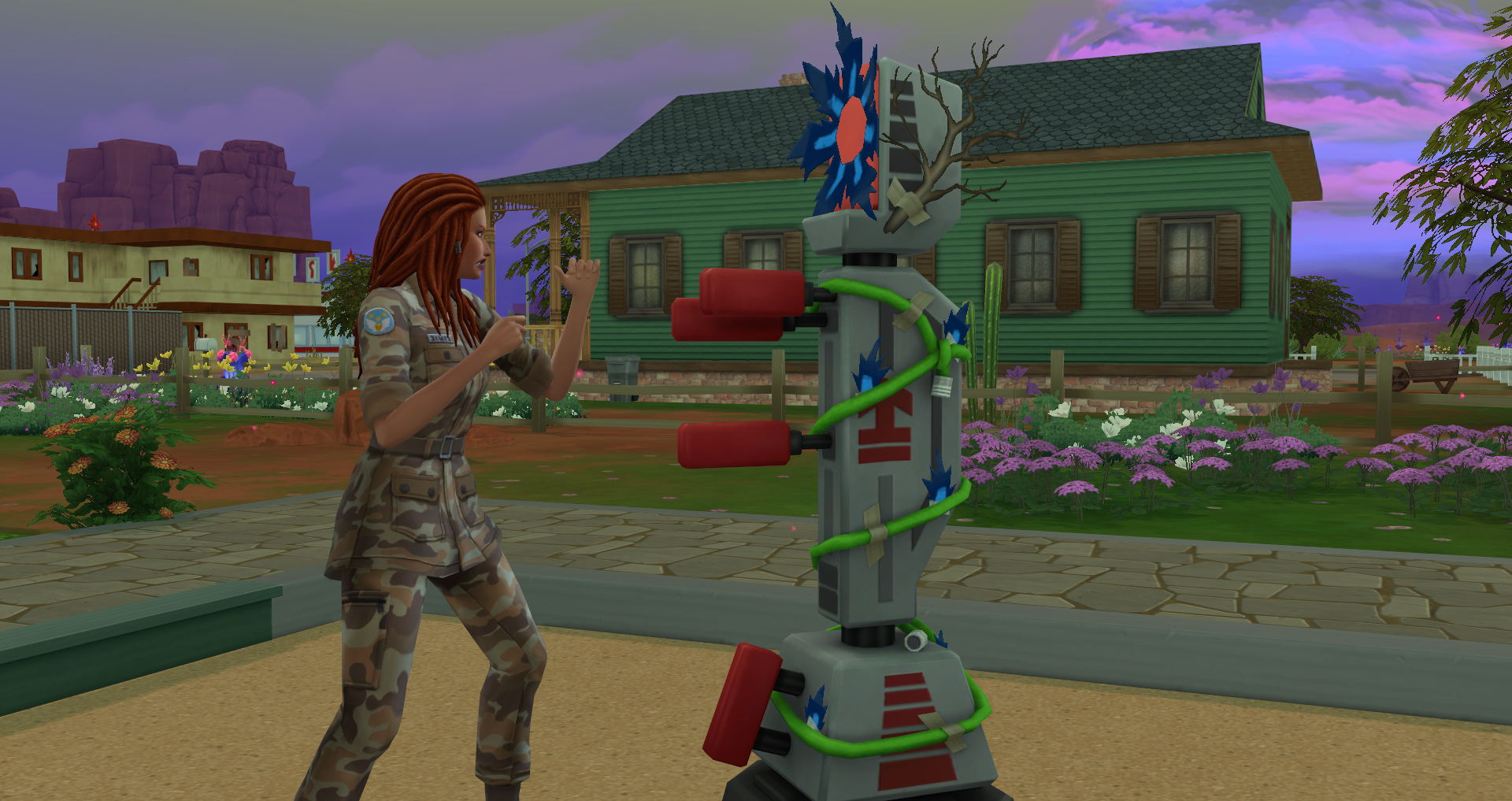 Medal Display Case
Sims who advance in the Military Career will receive medals for their rank achievements. These medals can be displayed proudly in the special Medal Display Case.