CVG Interview with Ryan Vaughan
EA's announced the fourth expansion for its insanely popular PC virtual people abuser, The Sim 3: Generations, for release this spring on PC and Mac.
The fourth Sims 3 add-on lets players take the reins and act out "life's most humorous and memorable moments from childhood to teenage years to adulthood," says EA.
To explain what it's adding in the expansion, how its drawn ideas from the community and our chances of seeing add-ons on console, we got in touch with producer Ryan Vaughan…
So far we've had three expansion packs for The Sims 3. What new features will the fourth expansion introduce?
With The Sims 3 Generations, we've added tons of new age specific content that will not only allow players to create more interesting Sims, but it will allow players to tell deeper, richer, and more complete stories with their Sims and their families. From a child's imagination, to a rebellious teen's angst, to an adult's Mid-Life Crises, Generations is packed with loads of new life moments that your Sims shouldn't be without!
The expansion takes you through the different periods of a Sim's life, how is each period differentiated from the next?
The great thing about The Sims 3 is that you as a player get to tell the story, so it's really up to you how you want to differentiate your Sims' years. With that being said, we geared some of our new features to represent a few specific themes for each life phase.
For Children, it's all about imagination and make believe. For Teens, it's about those moody, rebelious years you face as you grow up. As a Young Adult and Adult, we have a bunch of new features and content that focus on your Sims' relationships with others; from getting married to having children of their own. Elders get to enjoy their time reminiscing about the golden years and the joys of watching their grandchildren grow up.
For the people out there who enjoy trapping Sims in rooms without doors and introducing hazards, what new mischief making opportunities does the expansion provide?
Child and Teen Sims can take advantage of the brand new Pranks feature. Complete with booby traps, pranks you can play on your neighbors, and some Stink Juice, players will have the opportunity to cause more mischief than ever before! Just don't get caught or else your Sim might end up grounded!
How important is the community to The Sims generally?
It's extremely important to The Sims 3 team and the entire Sims Studio in general. We invest a great amount of time listening to suggestions on The Sims 3 Forums, holding Town Hall style meetings, and even inviting community members to our Studio for exclusive demos and hands on events. We love hearing from the Sims community and doing our best to deliver what they're looking for in Sims games!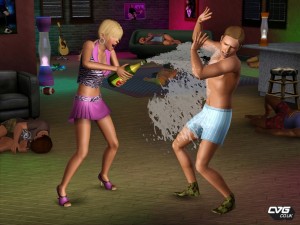 Do you have any plans to make use of social networks such as Twitter and Facebook for The Sims 3 or its expansions?
In The Sýms 3 Generations, Sims can now track Memories of significant life moments in their Scrapbook, and for the first time ever in The Sims, players can upload and share their Sims' memories on Facebook and TheSims3.com! Your Sim's first kiss? First WooHoo? It can all be uploaded and shared online with a screenshot and custom description of your Sim's memory. You can even create you own memories in the game and share them as well!
Will any new content be added to the Sims Store to coincide with the new expansion pack?
I can't speak specifically about any future plans for The Sims 3 Store, but we always try to create content that compliments and supports the features we include in Expansion Packs.
When planning a new expansion how much input do you take from your fanbase?
A lot! We spend a great deal of time in the Sims 3 Forums researching what our players like, what they don't, and what they want to see in the future.
Where does the team draw its inspiration from when coming up with ideas and scenarios?
The Sims 3 development team is a very diverse group of people and we draw a lot of inspiration from the different life experiences we've all had. However, I do have to say that Sims really do have a life of their own, and a lot of the funny moments come from the decisions they make and the things they do. We're constantly laughing as we make a game when we see a Sim do something hilarious that we never thought they could do!
The Sims 3 is available on consoles as well as PC. Do you have any plans to allow these players to enjoy the content from any of the post-release Sims 3 expansions?
There are no plans for this at this time and right now we're focused on making a great experience with The Sims 3 Generations for PC/Mac players.