With the release of The Sims 4 Cats & Dogs Expansion Pack, EA & Maxis have pledged to donate $20,000 to the SPCAI. Each week for the next month, The Sims team will release a "challenge" on EA's Sims 4 Hub, giving players a task to complete for the week.
This week's challenge asks that you head into The Sims 4 Gallery and vote for your favorite Ruby the Dog outfit. To do this, search MaxisCreator_01 on the gallery, and this will display the uploaded creations. To select your favorite outfit, use the "Favorite Household" button.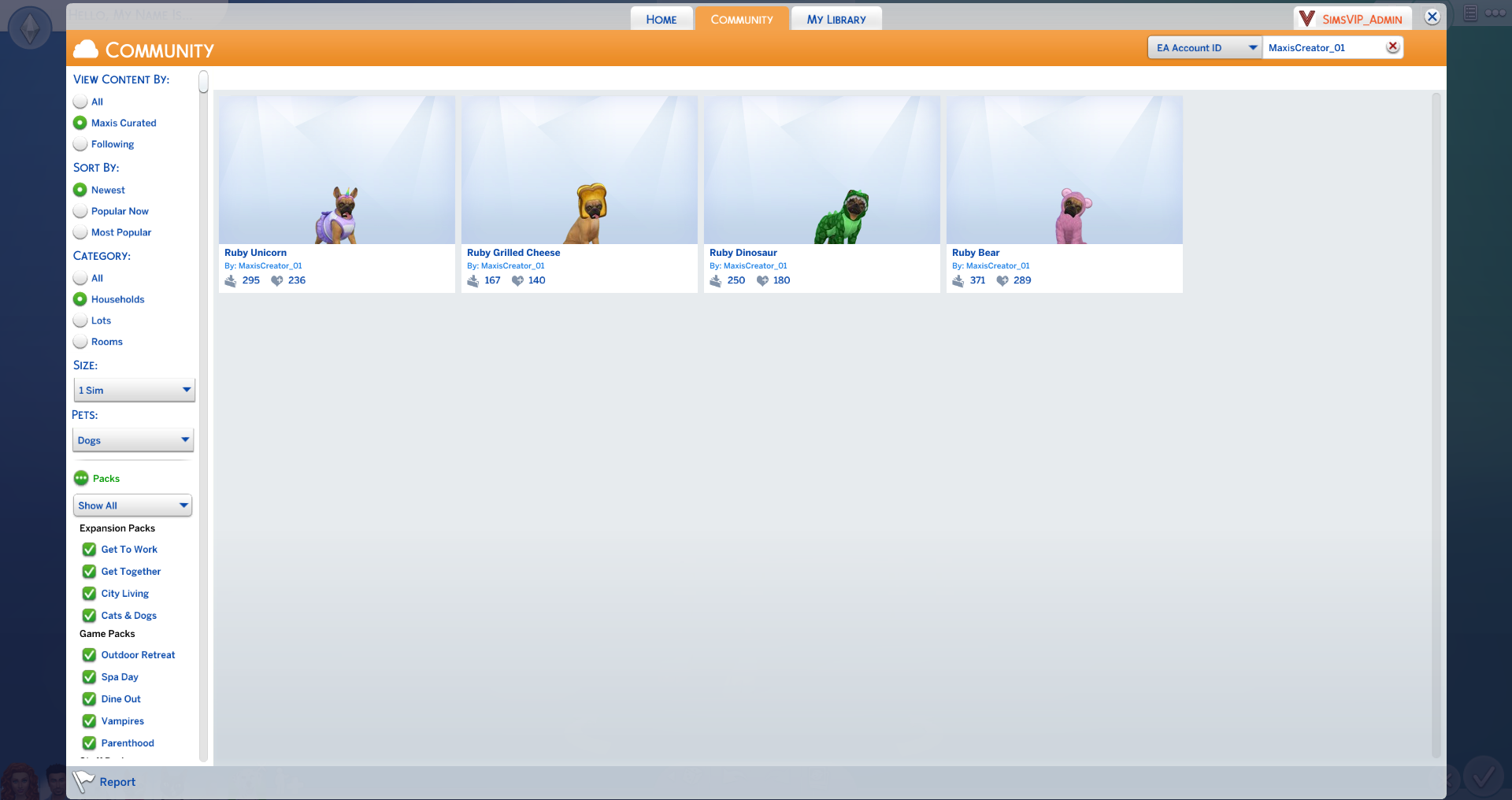 For the next four weeks, we are donating $5,000 each week to the SPCAI to help pets in need! This week we are focusing on little Ruby, help her choose an outfit by voting for your favorite. Check back each week to see what new fun challenges await while helping to build awareness for pets in need.

With the release of The Sims™ 4 Cats & Dogs Expansion Pack* (and the holidays just around the corner), we are embracing the season of giving by helping Pets in need.

Starting today, we are kicking-off a wonderful collaboration with the SPCAI where we give them $5,000 a week for four weeks (totaling $20,000). These donations will go towards the Shelter Support Fund grants, which provides assistance to shelters throughout the United States and all over the world, and the Disaster Relief Fund program, which provides animal shelters with financial assistance when they need it most.

We would love for you to help us spread the word about this amazing program by joining in on one of four fun community challenges, with the first one launching today!

Our cute little pup Ruby (whom you may recognize from the announce trailer for The Sims 4 Cats & Dogs Expansion Pack), is looking for help on deciding which of her two outfits is the best. To vote on your favorite outfit for Ruby be sure to visit our web gallery, login to your EA account, and like your favorite Ruby outfit.

Want to make your own outfit for Ruby? You can download her from the gallery, but be sure to tag your creations with #RubyRocksSims4Paws.

Keep an eye out next week for a new challenge, which we will feature on our brand new hub page, and we look forward to seeing the amazing pets you create using The Sims 4 Cats & Dogs Expansion Pack.