UPDATE by SimsVIP: SimGuruGeorge has confirmed that this new render is not showcasing new content from Moschino. Being that users have reported a new Game Icon in the last few days, it is likely this render is part of a new branding launch for The Sims 4.

Este Icono me tiene desconcertado!!! 🙃😅@SimGuruRusskii sera que me podrías decir el por que de esto?? o al menos si no es nada malo? 🤷🏻‍♂️ pic.twitter.com/iMigJ0S6Sv

— 🦁Carlos🐬 (@LyonDolphin) June 23, 2019

They are messing with you, this is not our art for the Moschino pack.

That is all I will say.

— George Pigula (@SimGuruGeorge) July 11, 2019
According to @SimsHub on Twitter, a render sent out on an official EA email for players in Germany may have shown what is the first look players are getting at the already confirmed The Sims 4 Moschino Stuff Pack.
The image shows four sims and one of them, the girl on the left, has what seems to be new CAS items – a new hairstyle and jacket. Given the size of the render, it's difficult to tell if other items on the image are new as well, though most of them look like things we already have.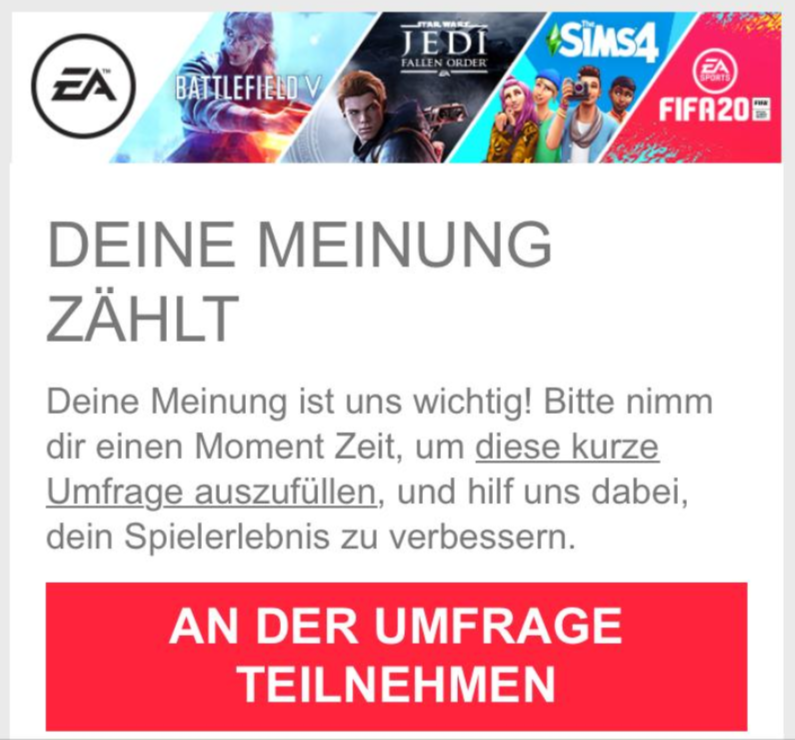 These are the original tweets from SimsHub.

We are all familiar with EA's survey emails in which we are asked about our player experience and satisfaction with the game.

Also this week the German players received such an email. The special feature is not the email itself but the picture above. #thesims4 #quicknews pic.twitter.com/4iozdzOR9u

— SimsHub (@SimsHub) 11 de julho de 2019
EA may have leaked the new render for the upcoming Moschino Stuff Pack. This render hasn't shown up yet. On the other hand some aspects are taken up here which were already mentioned as upcoming features for the pack.

What do you think? #thesims4 #quicknews pic.twitter.com/MHbp5Z1AGK

— SimsHub (@SimsHub) 11 de julho de 2019
People on Twitter were quick to notice that the plumbob on The Sims 4 logo also looks a little different than the one we know. Maybe a new look for the game is what will be presented at this Friday's Maxis Monthly, a livestream that, according to SimGuruJoystick, will have exciting news about the game.
Tune it tomorrow for the "Maxis Monthly" for exciting news coming up for Sims 4! https://t.co/m0onmThwyR

— SimGuruJoystick (@SimGuruJoystick) 11 de julho de 2019
SimGuruLyndsay was quick to add that the exciting stuff is not surprise new content.

Less exciting than new surprise content (it's not that) but more exciting than watching paint dry (it's not that either). Approximately.

— Island Lyndsay 🌴☀️🐬 (@SimGuruLyndsay) 11 de julho de 2019
Knowing that tomorrow's livestream won't bring any hints on future content, it doesn't seem like we'll be getting an official peek at The Sims 4 Moschino Stuff Pack just yet. All we know is that the pack is coming out "later this Summer", according to the official announcement back in June.