The Sims 4 Discover University is finally here! No longer are your Sims forced to enter the scary world of adulthood as soon as they leave high school, they can now pack their bags, head to Britechester, and discover everything university life has to offer! From robots and bicycles, to art classes and secret societies, this Expansion Pack provides plenty of new gameplay for you and your Sims to enjoy.
But what does Discover University have to offer those players who would rather spend their time building a library than studying in one? I've created three distinct builds to give you some inspiration and guidance on how to make the most of Britechester and the objects that came with it!
Foxbury Commons
I've always been a huge fan of contemporary builds and so I was thrilled to discover that a good percentage of the objects included in this Pack are modern in style. I'm especially in love with the new windows. As soon as I saw them in the catalogue, I knew I had to head over to the Foxbury Institute's campus and create something bold, modern, and stylish that would show them off perfectly!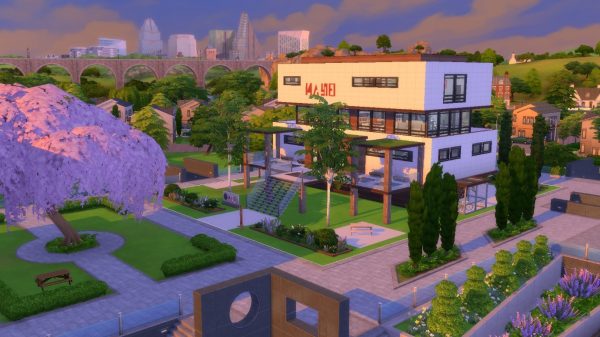 After looking around the neighbourhood, I decided it would be fun to try and rebuild the Foxbury Commons! Taking inspiration from the buildings that surround this lot, I opted for a simple rectangular build. This was really easy to create (it is essentially four rectangles on top of one another) but looks super effective!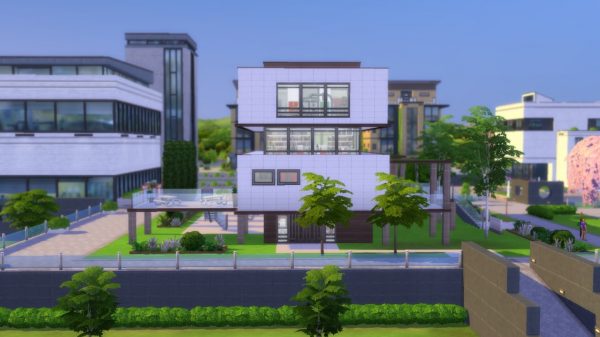 I was really happy to discover that bikes were making a comeback to The Sims. Placing a bike by the side of your Sims house, in their garage, or in front of a retail store or café is an easy way to add a sense of realism to your builds! I was able to create this sheltered and secure area for students to park their bikes using a fence from Get to Work and the glass floor pieces added with Island Living!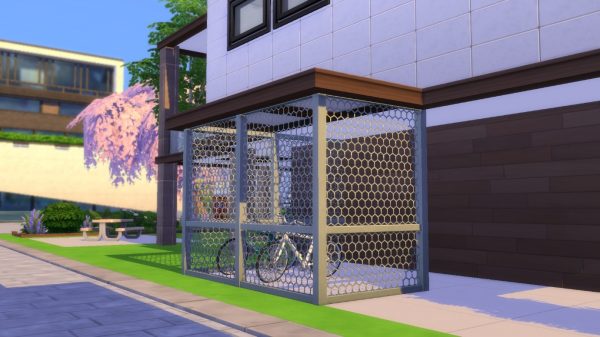 So that my build would match the Foxbury Institute's logo and merchandise, I opted for a red colour scheme. The new sofas, chairs, wall-decorations, and carpet each come with a wide variety colour swatches and so it was relatively easy to choose furnishings that looked at home on campus!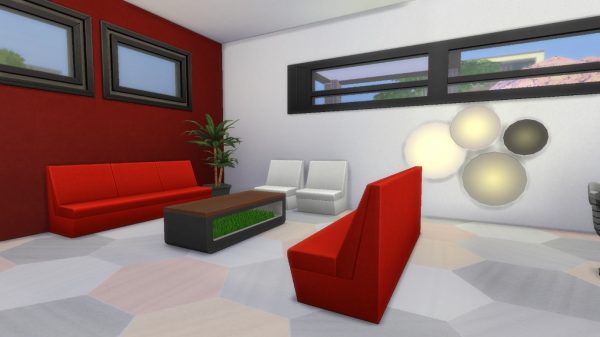 Foxbury Commons is a place for students to eat, study, and socialise and so you will find a variety of different spaces in this build. There are a few relaxed study spots, a library area, and, of course, a cafeteria.
Although it's not a very glamourous object, one of my favourite additions to the Game are the toilet stalls. This is an object I know I will be using time and time again in all of my Community Lots!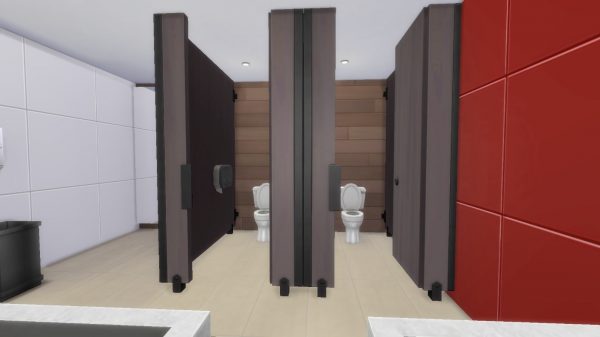 If you're going to use a toilet stall in your own build, you should note that the stalls will not automatically snap to walls placed on either side of the object – there will be space in between the stall and the wall. The only way to get the stalls to sit flush with a wall is to hold down the Alt Key whilst placing the stall. Holding down Alt enables you to place objects off-grid and should help you to create the same effect I have in this bathroom.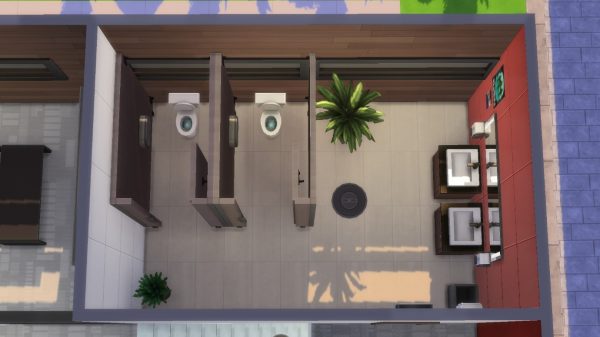 In order for my build to function properly as the Foxbury Institute's Commons, I had to add in 2 Robotics Labs. I absolutely love this section of the build and had a lot of fun filling the space with laboratory equipment. I found most of the objects in this room by filtering the Buy Mode category by Get to Work and StrangerVille (both of which added a lot of science-themed items to the game). Although most of these objects can't be interacted with, they help this room to feel like a high-tech research lab!
University Housing
As soon as I saw the trailer for Discover University I knew that I would have to try my hand at building some University accommodation! 'University Housing' is a new Lot Type and can be added to any lot in the game.
Although you are able to edit the apartment-style dormitories included with Discover University in Build Mode, I wanted to challenge myself to build some University Housing from scratch. I decided to rebuild Darkwing House which can be found on the University of Britechester's campus. The house that was originally on this lot didn't really match its surroundings and felt a bit out of place amongst UBrite's grand and stately lecture halls and dormitories.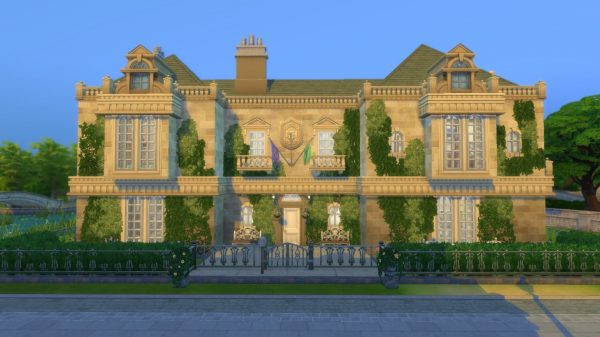 Whilst, as usual, Discover University does not include all of the architectural features you can see out and about in Britechester, most of the windows, doors, and wall coverings found on the rabbit-hole and non-interactive buildings are included in the Game. It was surprisingly easy to match my build to those surrounding it. The wall-covering and roof-tiles I chose are identical to those found in the world!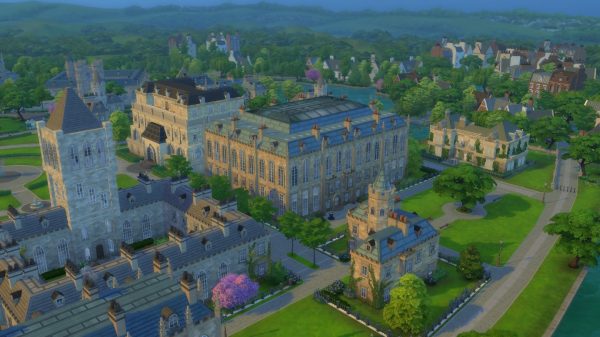 I'm really pleased with how the exterior of this build turned out. The addition of a large frieze, balconies, dormers, and plenty of windows transformed this basic rectangular structure into a grand home worthy of UBrite's distinguished scholars.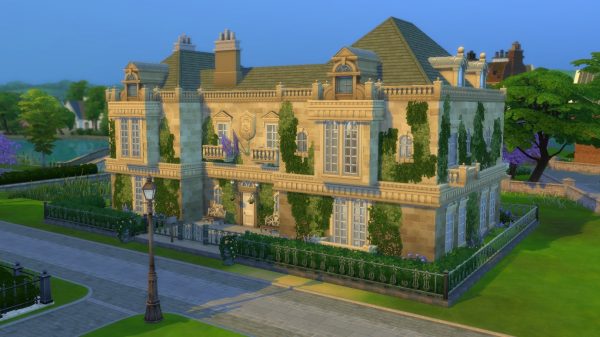 Designing the floorplan of this house was a fun challenge. As there's no need for a kitchen, dining-room, or even a traditional living room in University Housing, I had to think outside the box in order to determine what kind of spaces I wanted to create. In addition to the large number of bedrooms, I opted for a laundry room, study space, common room and, as UBrite is a Arts and Humanities based University, a music room!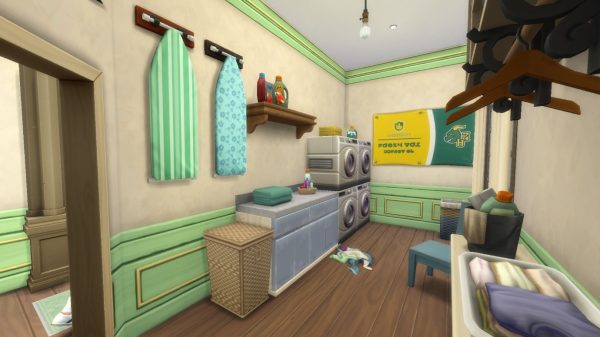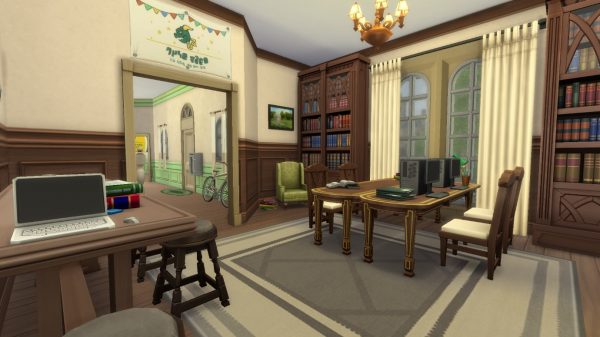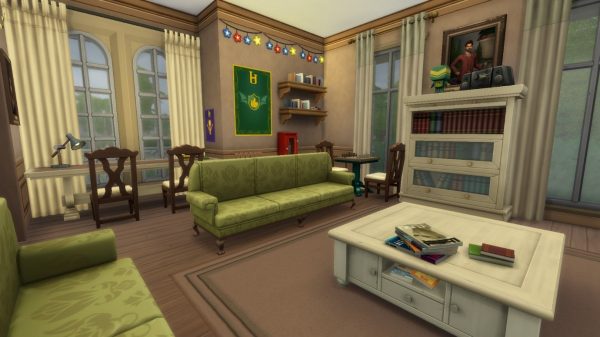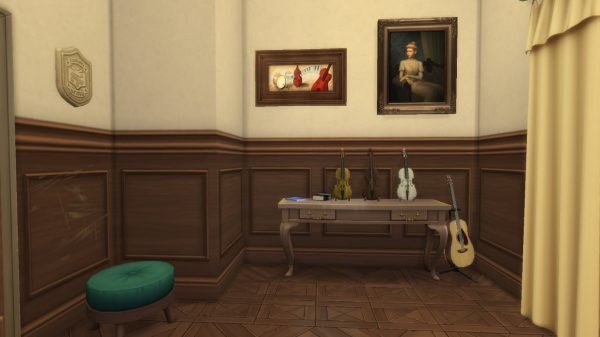 Whilst the outside of this build is grand and extravagant, I wanted the inside to feel worn and lived in. The University of Britechester is the oldest University in town and so I wanted this build to feel as if hundreds of students had lived here over the years. The wallpaper, flooring, and much of the furniture is old-fashioned, there are holes and scuff marks all over the walls, and the bathroom cabinets look like they're in need of a good clean. If you want to create a similar, dishevelled vibe in your own builds, I recommend filtering the Buy Mode catalogue by City Living and Vampires. City Living came with a lot of objects designed for a dingy and rundown apartment and Vampires added a large number of wall decals including water stains, cracks, and holes.
I did add some modern touches to this build, however. In the common spaces around the house, there are posters, string lights and banners. I wanted it to feel as if the students living here had put their own stamp on the place!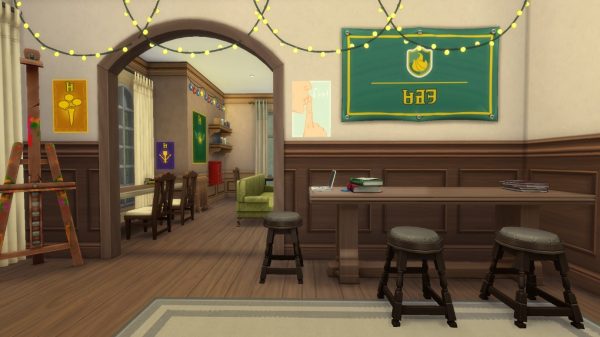 I really enjoyed decorating each of the bedrooms in this build. To maintain a sense of realism, I wanted each of the dorm rooms to have roughly the same set of furniture. Each student has a bed, a desk, somewhere to store their clothes, a mini-fridge and a microwave. This definitely posed some issues in terms of furnishing. I was forced to get creative with where I placed objects and play around with my floorplans much more than usual.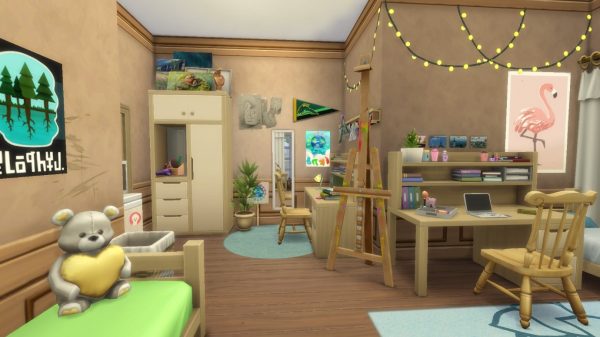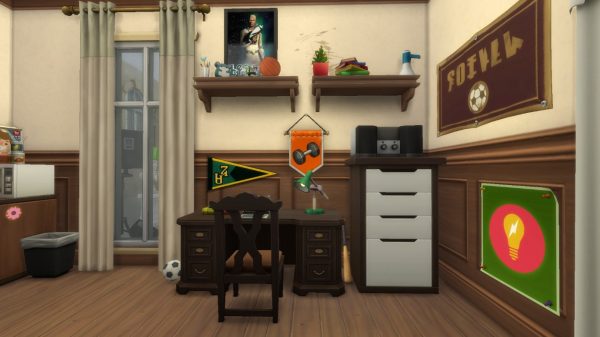 Giving each student the same furniture also made it harder to make each space look individual. Rather than relying on furnishings, flooring, and wall-coverings to distinguish one room from another, I had to use plants, wall decorations, and clutter objects.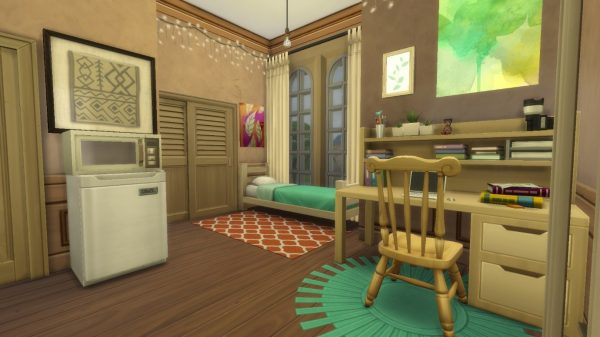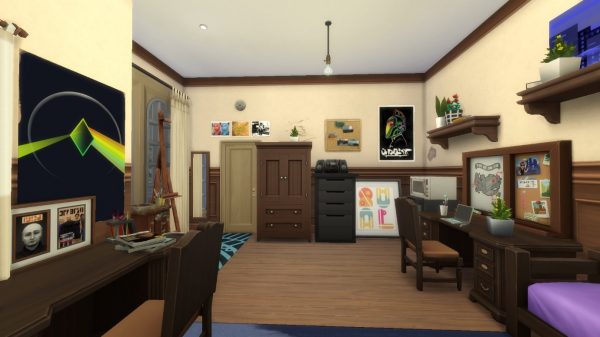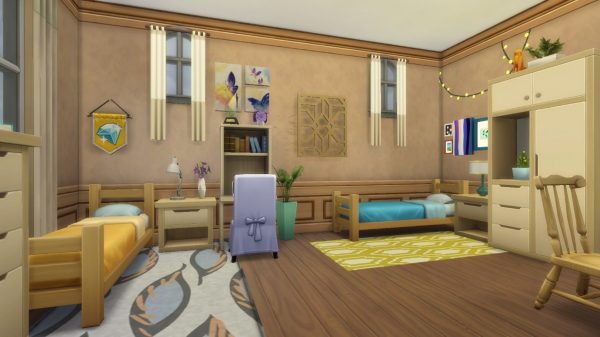 The bathroom in this build makes use of the new shower added with Discover University. I'm so pleased to finally have a wall panel shower back in the Game and I loved designing a room around it. Using half-walls, archways and curtains, I was able to create a series of completely functional shower cubicles. These showers make it possible to create a more realistic looking communal space. I will definitely be using this technique next time I build a swimming pool or spa!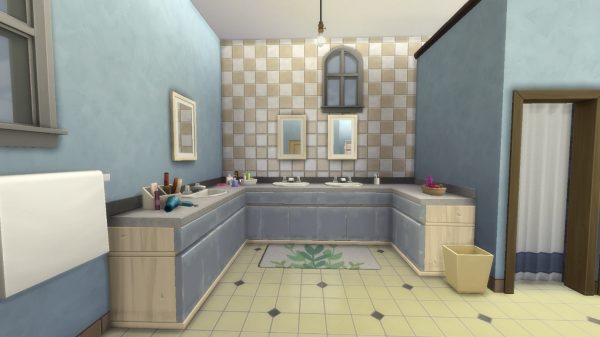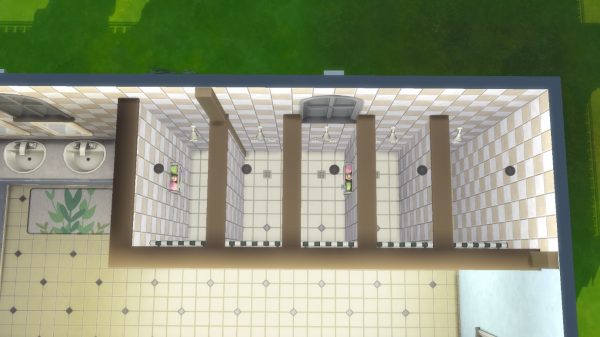 Wall panel showers don't have to be used in dingy student accommodation, however. Below is an example of how this shower can be used in a slightly more upmarket space. Enclosing a wall panel shower with walls (and windows) is a quick and easy way to create a spacious and modern-looking walk-in shower.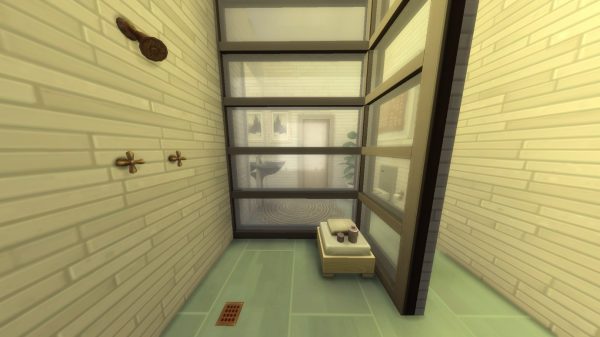 Opulent Bedroom
One of the things I like about this Pack is that the objects included aren't all University-themed. I was inspired by the new double-bed added with Discover University to create an opulent and regal bedroom, but it would be just as easy to create a modern residential space using the objects designed for the Foxbury Institute.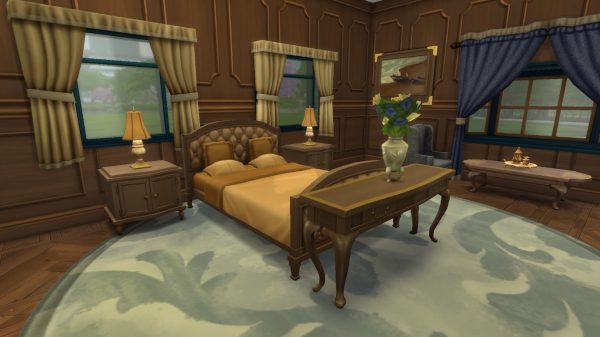 The bed, side tables, fireplace, bookshelves, coffee table, and armchairs found in this room are all new with Discover University. As you can see, the more traditional-style items included in this Pack match well with a lot of the objects already in Game. Most of the other items in this space came with the Base Game!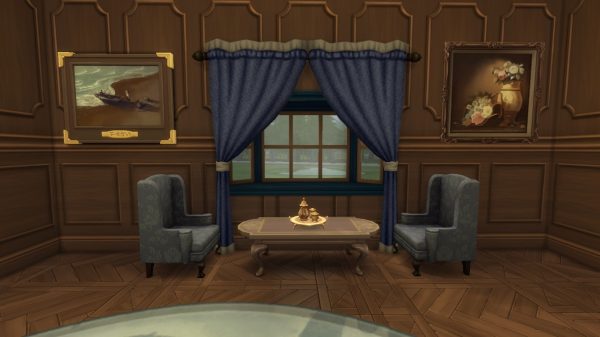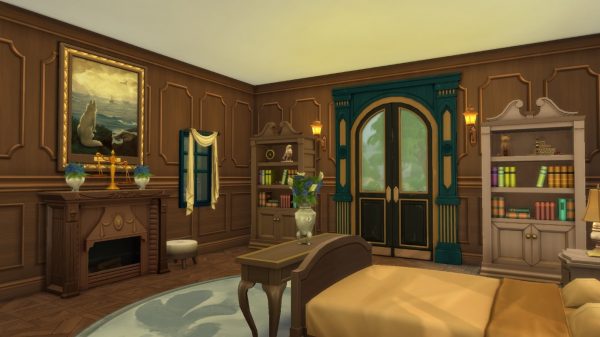 I absolutely love the doors and windows used in this room. This dark blue swatch is my favourite by far. It's really different to anything else we have in Game and is something I know I'll use a lot!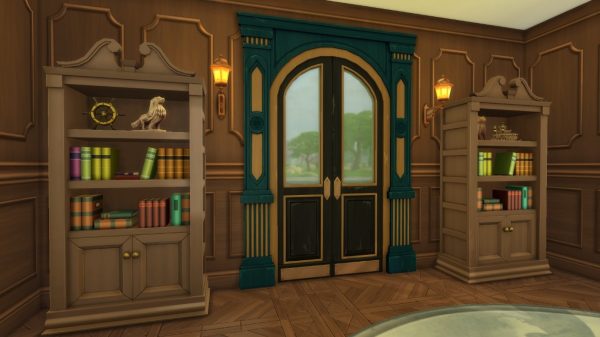 Making the most of an Expansion Pack is all about getting creative with what's on offer! Try your hand at building one of the new Lot Types, combine new items with objects from previous Packs, and be innovative with the styles you choose. Happy Building!
Click Here to Download the Foxbury Commons!
Click Here to Download the University Housing!
Click Here to Download the Opulent Bedroom!