Whenever a new Expansion Pack is released, my first thought is always Build Mode. Sure, it's fun to take your Sims on a skiing holiday, or visit the local hot springs, but, for me, nothing will ever be as enjoyable as exploring the new furniture and decorations the Sims team have added to the Game.
But just how do you ensure you're making the most of the everything a pack has to offer? With hundreds of new items at your disposable, it's easy to feel overwhelmed. By thinking creatively, trying your hand at a new style, and experimenting with different designs, however, you'll soon find the inspiration you need to build something amazing!
To help spark your imagination, I've created three vastly different builds in the beautiful world of Mt. Komorebi! Hopefully, I'll be able to provide you with some tips and tricks for making the most of Build Mode in The Sims 4 Snowy Escape.
Modern Home
The Sims 4 Snowy Escape adds a variety of new furnishings to the Game. Although these items are, for the most part, modern, they've all been inspired by Japanese interior design. This is a style we haven't really seen in the Game before and is a nice contrast to the other contemporary objects in the catalogue.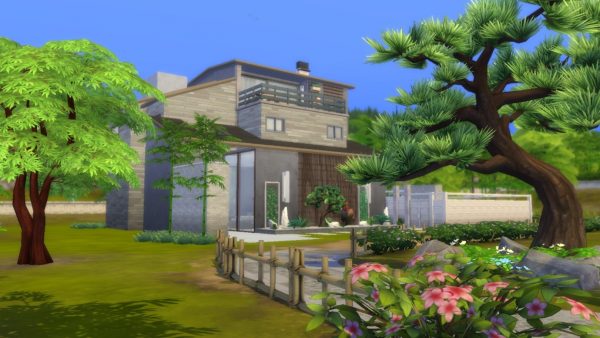 As soon as I saw the Snowy Escape trailer, I couldn't wait to jump into my Game and build a sleek and modern home for one of Mt. Komorebi's salary-focused Sims!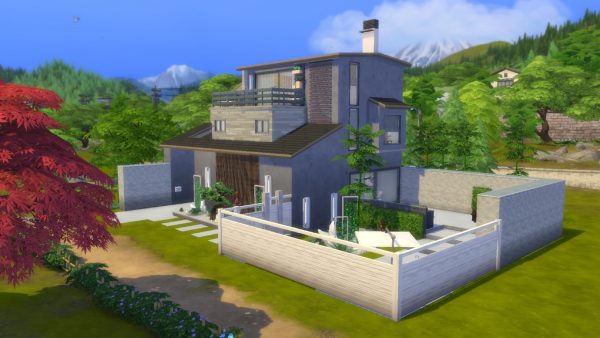 Because I knew that the interior of this build was going to be modern in design, it was important to create a suitably contemporary exterior. I wanted this build to fit in well in amongst the Japanese-inspired homes of Mt. Komorebi but it also needed to feel fashionable and up-to-date.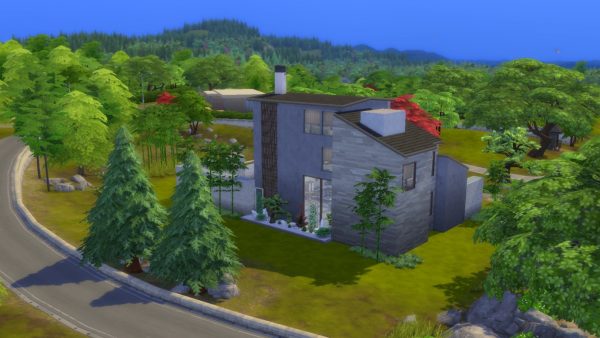 Using some reference images of Japanese homes, I created a simple geometric build. I used earthy tones and natural materials to match the warm and neutral colours of most of the Snowy Escape furnishings, and reduced the height of the roof pieces in order to emulate traditional Japanese architecture.
The interior of this build is also a mix of old and new. Although I wanted this house to feel ultra-modern, I had fun incorporating some more traditional Japanese decorations into my design. The objects that came with Snowy Escape are actually pretty versatile. Most of the items have both modern and traditional swatches, allowing you to use the same paintings and pieces of furniture in a variety of different builds.
I really enjoyed playing around with platforms in this build. Creating distinct spaces in a open-plan room can often be tricky. By using platforms, I was able to much more effectively separate the kitchen, dining, and living areas of this ground floor space. I'm really happy with the end result.
For more information on using platforms in your Game, you can check out our Platforms Tutorial.
The addition of new kitchen counters to the Game is always cause for excitement. Kitchens can be one of the most difficult rooms to furnish in The Sims 4 so new options are definitely welcome! I particularly like the fact that these specific counters have shelving space underneath the countertop. This is something brand new for The Sims 4 and allows you to more easily add detail and decoration to your builds.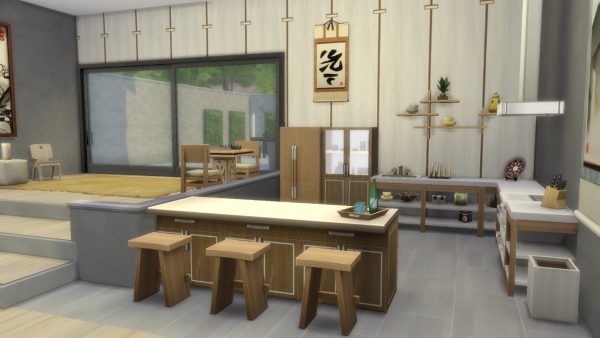 I really like the fact that the Sims team added some colourful swatches to one of the new doors in the Game. As you can see in the screenshots below, I've used the plainer version of this double-door in the house's living room. This door looks great in a stylish and sophisticated environment but can also be used in more avant-garde spaces.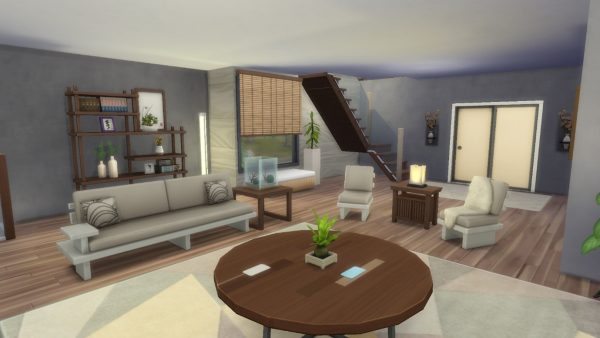 In the master bedroom, I used a more colourful version of the same door. This bright yellow, heron design was the inspiration for this room's colour scheme. Using a wall covering from Eco Lifestyle alongside some of the new Snowy Escape furnishings, I was able to create a warm and welcoming master bedroom.
The Sims 4 Snowy Escape adds another wall-panel shower to the Game. Wall-panel showers are always a favourite amongst builders because they allow you to create custom showers. Custom showers are super fun to make and look great in all manner of builds. Although I've used the Discover University shower in many of my houses and community lots, the design of the shower-head means it doesn't always look appropriate in modern spaces; it's really nice to have a more contemporary wall-panel shower available!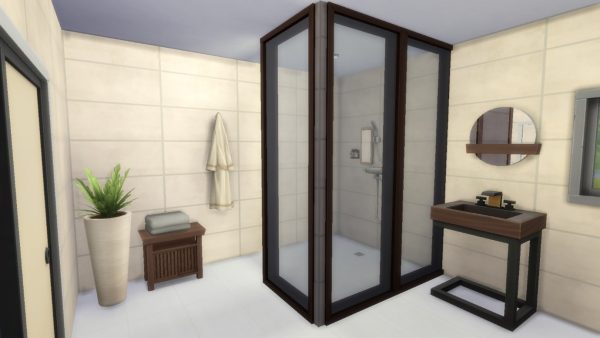 Ski-Lodge Cafe
I wouldn't be making the most of Build Mode in The Sims 4 Snowy Escape if I didn't try my hand at building something ski related. This Expansion Pack brings with it a number of winter sports themed items. These objects are perfect for Ski Centre builds, alpine rental properties, and, as I've demonstrated here, mountain-top cafés!
As soon as I decided to create a café, I knew I would have to build in Yukimatsu. Yukimatsu is the mountainous region of Mt. Komorebi and is home to the town's ski slopes, hiking routes, and cable cars. A Ski Lodge Café would fit right in!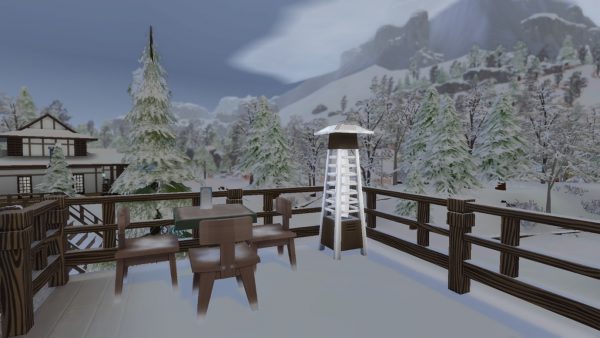 Building in the Yukimatsu neighbourhood of Mt. Komorebi presents its own challenges. This neighbourhood is perpetually snowy. Even if you have Seasons installed, this area of the world is always going to be covered in a layer of snow.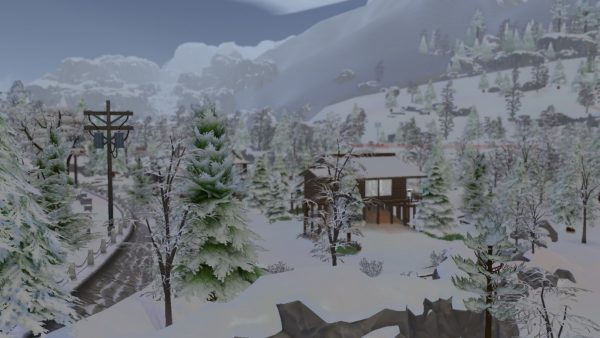 Because of this, I had to get creative with my use of colour. I didn't want this build to feel monochromatic so I used a dark wood tone on the café's exterior. This contrasts really nicely with the snowy surroundings and helps the build to stand out.
Snowy Escape comes with a lot of Build Mode items that are designed to be used on a commercial lot. There are plenty of new signs and banners, a recycling bin, and even quite a few vending machines. These are really handy items to have in the Game. I just know I'll be using them in many of my Community Lots in the future.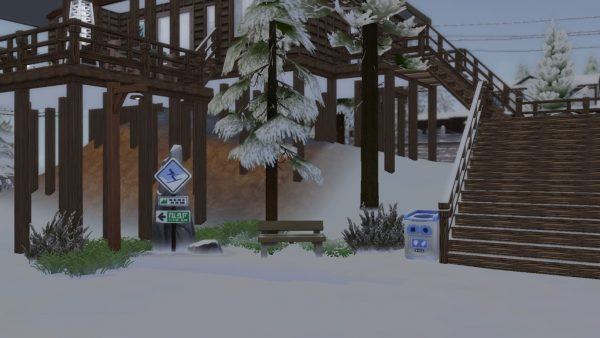 I really wanted this café to feel warm and inviting – somewhere for your Sims to escape to after an exhilarating snowboarding session. Using the new kotatsu tables and space heaters gives the impression that this room is super comfortable and cosy.
This Ski Lodge Café also gave me an excuse to use the snowboard shaped end table and ski-themed wall decorations! Although these items are a little niche, and I probably won't be using them too regularly, they do look great in this space.
Onsen Bathhouse
I'm always really excited when the Sims team decides to add a new lot type to The Sims 4. Community Lots can be a lot of fun to build and often provide their own unique set of challenges. This Onsen Bathhouse was no exception. Of the three builds I created for this article, the bathhouse was the most time-consuming. It was also, however, the lot I enjoyed building the most!
This build is heavily inspired by Japanese gardens. These kinds of spaces are known for their intricate bridges, beautiful lakes and ponds, and vibrant plant life. I wanted to try my best to recreate this in The Sims 4.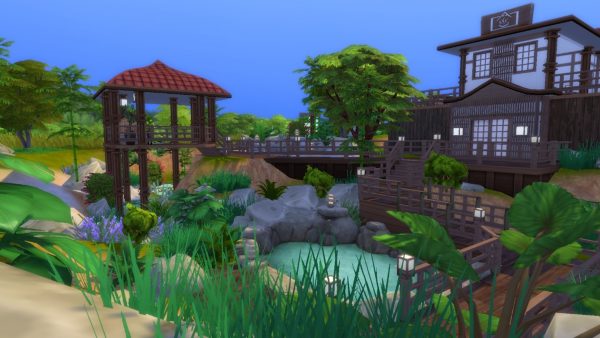 Whilst it would've been possible to use one of the BuydeBug bridges in this build, I wanted to ensure that the bridges on this lot were usable. Usually this would mean making do with a flat, horizontal bridge but, thanks to the addition of platforms, I was able to create a convincing arched shape.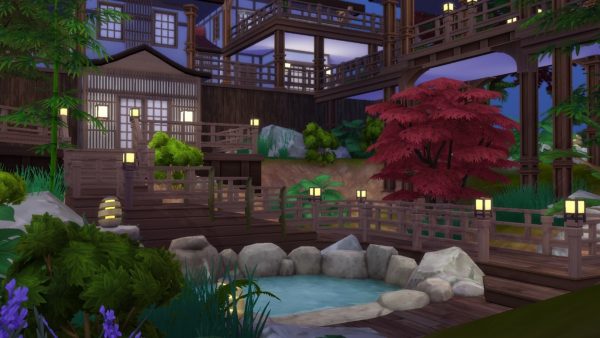 This effect was created by adding a one step high platform to the middle of my bridge. Once I was happy with the overall shape, I used columns, fences and exterior trims to decorate the bridge and disguise the platform.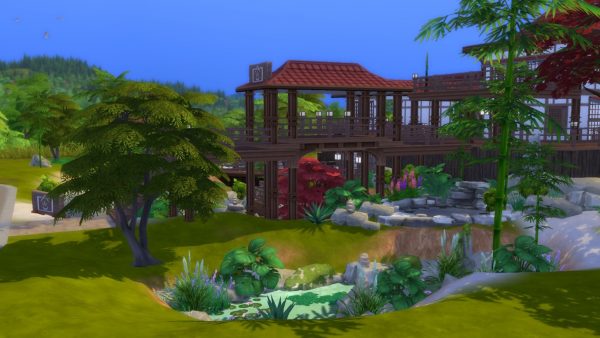 This bridge really started to come together when I added in some corbels (the wooden support pieces underneath the platform). As this corbel from Get Together is arched, adding a few of them to the underside of the bridge gave the impression of a curved structure.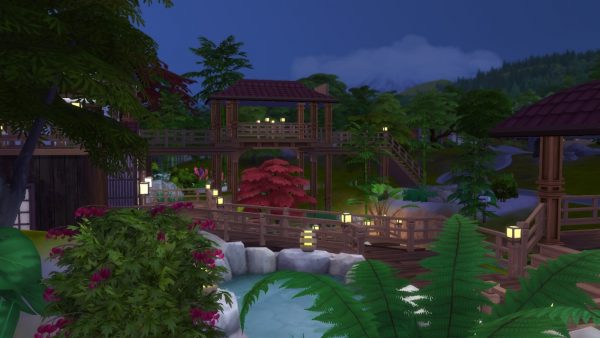 I spent a lot of time landscaping this build. I really wanted the area surrounding my bathhouse to feel extremely lush and almost overgrown. I used a variety of different flowers, shrubs, and trees, and made sure MoveObjects was enabled so I could layer plants on top of each other.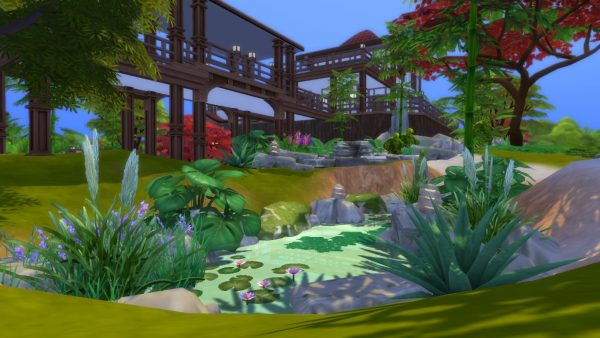 The colour scheme of this build is almost entirely inspired by the new Japanese Maple Tree. The bright red leaves look amazing against the Mt. Komorebi backdrop and complement the green grass and shrubbery really well. I couldn't help but use a similar red colour on the roofing throughout this lot!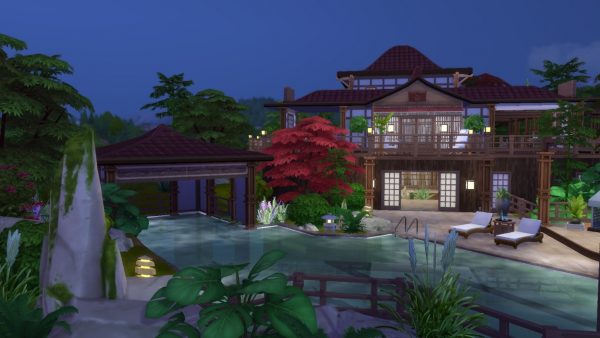 This build wouldn't be a bathhouse without some hot springs. The Sims 4 Snowy Escape comes with two versions of the hot springs. You can find both of them in this build.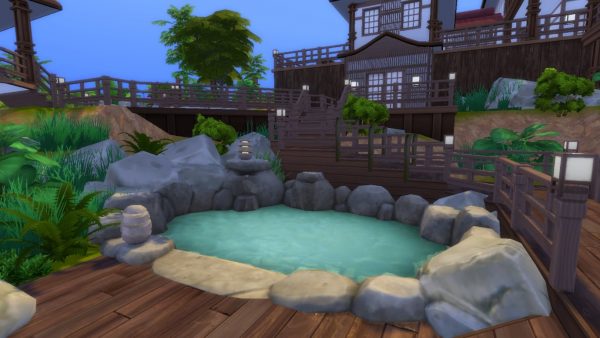 I used the more natural looking hot spring outdoors. I was excited to use this item throughout my build but I didn't want the lot to feel overwhelmed. I found that interspersing the hot springs with custom fountains, pools, and even the pond that was added with Get Famous, helped the springs to feel like a natural part of the environment.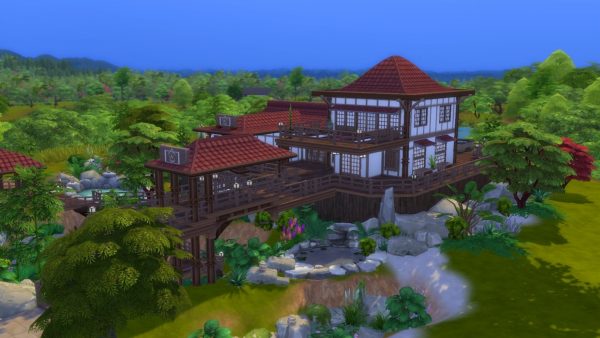 Using the mist and bubble grates that came with Get Together, I was able to make it appear as if the pool was also heated by geothermal energy. I love the effect this creates, especially on a cold, wintery day in Mt. Komorebi.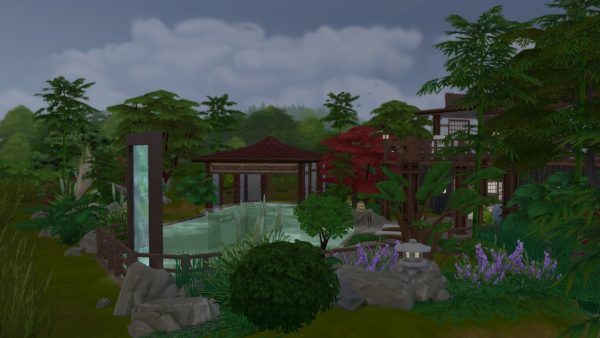 I also changed the colour of the pool and fountain water. This greenish blue is really similar to the colour of the onsen themselves! Interestingly, this pool water style is actually called 'Hot Spring.'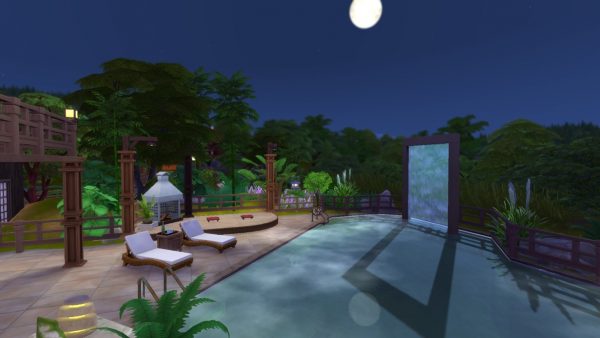 You can find the other version of the hot springs in this indoor bathing space.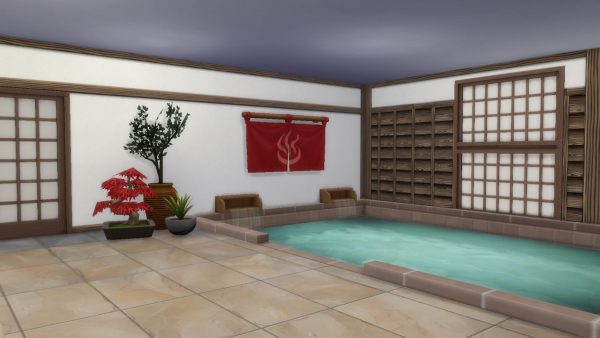 I love this area of the build. The warm colour palette, rock gardens, and steam-filled air make the space feel super relaxing and peaceful.
You might notice that some of this floor is blocked off and inaccessible to Sims. Because of the design of this build, I wanted it to appear as if the bathhouse itself was built out of the terrain. As we're unable to build rooms into manipulated terrain in The Sims 4, I often make use of resized rocks to make it look as if the walls have been built through stone.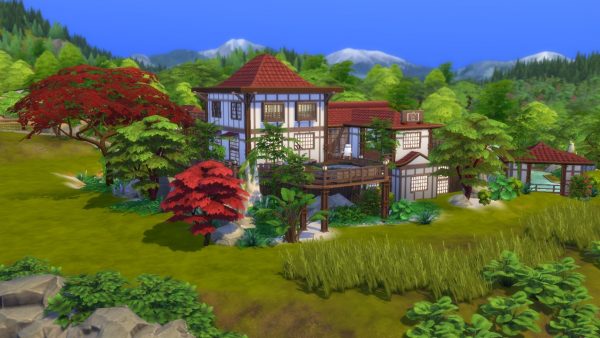 This means using MoveObjects to place rocks inside my build's walls. While it's entirely possible to integrate the rocks into the design of your interior spaces (for an example of what this looks like, check out my Mountain and Cliff Lots Tutorial), for this particular build, I decided to block off the areas where rocks were clipping through the walls.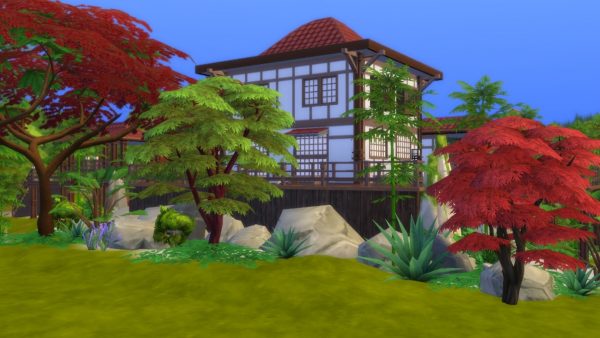 Using a black flooring and wall covering is a great way to block out unwanted spaces. The dark colour means your eyes won't be drawn to those areas while playing.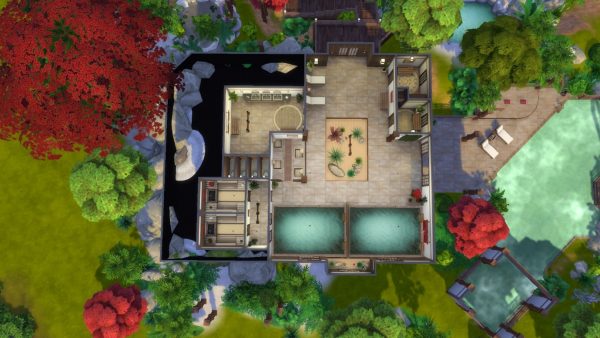 One of the ways to make the most of a new Expansion Pack is to combine the new objects with items from other Packs. This bathhouse build utilises quite a few items from The Sims 4 Spa Day. Not only do these objects fit the theme of the build, the swatches available for these items also, thankfully, match really well with the Snowy Escape furnishings.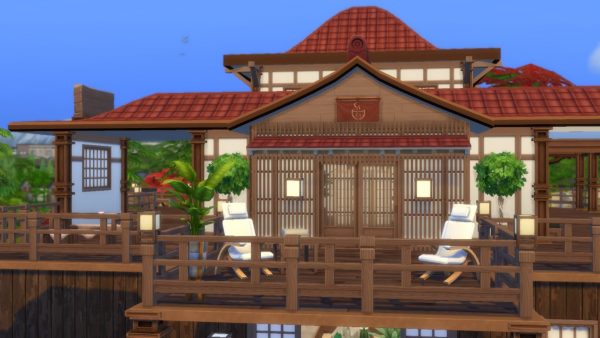 I had a lot of fun creating a massage space, a meditation room, and a couple of saunas. This is a huge lot so it was nice to be able to fill it with a variety of different activities and interactable objects.
The new flooring that was added with Snowy Escape looks absolutely perfect alongside Spa Day's meditation stools!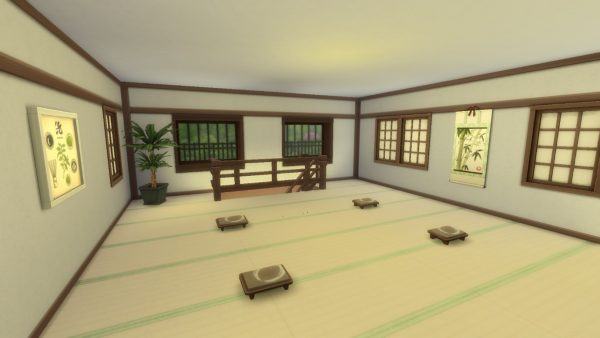 This build also features a hot tub from Perfect Patio Stuff. I love the location of this jacuzzi. It has a great view over the beautiful lake and waterfall found in Mt. Komorebi's Wakaba neighbourhood.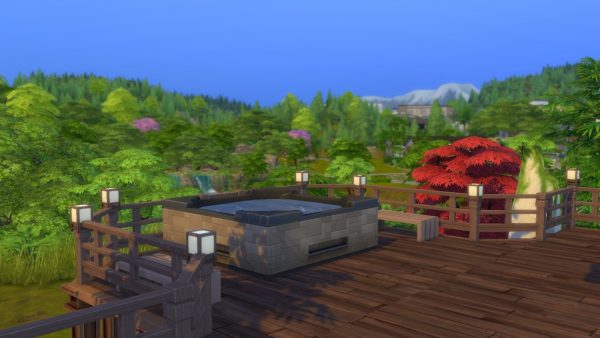 Hopefully this article has inspired you to jump into your own Games and get creative with the new objects that came with The Sims 4 Snowy Escape! Happy Building!
Click here to download the Modern Home!
Click here to download the Ski-Lodge Cafe!
 Click here to download the Onsen Bathhouse!