The Sims 3 Facebook page finally announced their Super Secret Surprise x2!  (took long enough) 😛 They have already added The Official Forum Section on The Sims 3 website and showed us a new photo from Generations!
"Enjoy new ways to be creative with The Sims™ 3 Generations! Activate your Sim's imagination and become King/Queen of the Day by presiding over a royal court."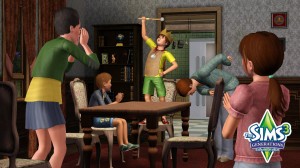 This post will be updated as more screens and information become available.