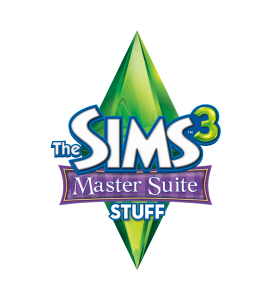 Since this Stuff Pack doesn't really have anything but clothing and a few furniture pieces, I have summed them up into one article.

Summary
Home is where the heart is! Whether your Sims relax in a bubble bath in their luxurious bathroom, enjoy some down time in their exquisitely furnished bedroom, or wear new intimate apparel for their special someone, The Sims 3 Master Suite Stuff adds some sizzle to their home life!From stylish bedroom sets to spa-inspired bathroom furnishings to romantic new lingerie and hairstyles, your Sims will relax in comfort and style.
Add some spark and sizzle to your Sims' home life! Featuring stylish bedroom sets, spa-inspired bathroom furnishings, romantic new intimate wear, and fabulous new hairstyles, The Sims 3 Master Suite Stuff lets your Sims relax in comfort and style.
Clothing/Hairstyles (35 total)
♦ 2  Hairstyles for men
♦ 4  Hairstyles for women
♦ 5  Outfits for men
♦ 24  Outfits for women
♦ Sleeping Masks
Objects (31 total)
♦ Dresser
♦ End Table
♦ 3 Mirrors
♦ 3 Wall paintings/hangings
♦ Bed
♦ Door
♦ Love Seat
♦ 9 Decor items including Candles, Plant Decor, Table Flowers & a photo frame
♦ 2 Lights
♦ Fireplace
♦ 2 Curtains, 1 Window & 1 Build Column
♦ 1 Shower, 1 Bathtub
♦ 1 Toilet & 1 Sink
Official Photos
Simcookie has provided screenshots from the Live Chat, which I have put into a slideshow. For all 160 Screenshots from this chat, see the full album here.