The last poll asked readers to give their opinion on the newest Katy Perry Endorsement/Collaboration with The Sims 3. Would players prefer the KP items in the Sims 3 Store, Games or None at all? The winner with 1,324 votes is "Neither!". Which did you vote, and why?
I personally would prefer the items in the Sims 3 Store, this way the Sims team can focus on games that add new gameplay and "freshness" to the Sims 3. I'm not sure how many more Katy Perry 'Sweet Treats' Stuff Packs I can handle. Bring on the Garden stuff!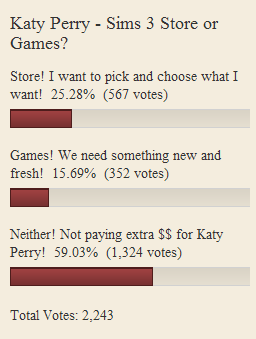 The newest poll asks players which is/are their favorite Expansion pack(s) this far into the series. It is a multiple choice question, so pick and choose as you please!