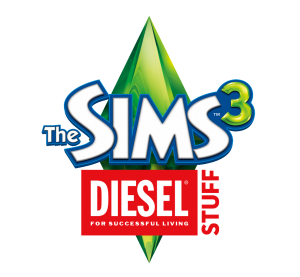 ————————————————————————————————————————————–
Summary of the Game
Find the look that fits your Sim's style and get ready for successful living! The Maxis Label of Electronic Arts Inc.and Diesel today announced a collaboration between The Sims™ and the iconic apparel and lifestyle design company that will give players clothing and furniture from Diesel's 2012 Spring/Summer collection, which is currently available in Diesel stores and online. InThe Sims 3 Diesel Stuff Pack*, players will have access to Diesel and their younger lifestyle brand 55DSL's apparel for men and women as well as Diesel's home furnishings so anyone can recreate the hottest looks and decorate their Sims' homes with the distinctive furniture that makes Diesel one of the most popular lifestyle brands in the world.

"We always look to create content in stuff packs for The Sims that give our players cool items that play into their inherent creativity and give them new tools to play with life," said Jennifer Lane, Producer within The Sims Studio. "Diesel's brand of rock-and-roll meets refined denim fashion style speaks to our fans' love of clothing and home furnishings. What is particularly exciting is you can see the latest fashions in the Diesel stores, wear them in real life and bring them into the virtual world of The Sims to enrich your Sims' lives and modernize their neighborhood."

Dress to impress! The Sims 3 Diesel Stuff Pack includes over three dozen clothing items like dresses, jackets and the brand's iconic denim collection that allows Sims to be who they want to be whether they are cool, chic, modern or casual. Complete the look at home and give the Sims a fabulous lifestyle with over a dozen objects including coffee tables, a bed and a sofa from Diesel home collection. Appealing to fans of Diesel and 55DSL clothing, many of the items found in-game are also available as real life items in Diesel stores and diesel.com.
 ————————————————————————————————————————————–
Create A Sim
❗ SimGuruJenn has confirmed there are not any hairstyles included in this pack.
Adult Clothin

g

(Females)
♦ One (1) Swimsuit
♦ One (1) Bra/Underwear Outfit
♦ Five (5) Full Outfits
♦ Seven (7) Tops
♦ Five (5) Pairs of Jeans
♦ Three (3) Pairs of Shoes
Adult Clothing (Males)
♦ One (1) Underwear
♦ Eleven (11) Tops
♦ Seven (7) Pairs of Jeans
♦ Two (2) Outfits
♦ Two (2) Pairs of Shoes ❓
————————————————————————————————————————————–
Build/Buy Mode
❗ The amount of content listed below is an eye-balled estimate based on the initial screenshots. When any confirmations/additions are made, updates will be completed.
♦ One (1) Bed
♦ Five (5) Surfaces
♦ Four (4) Comfort Items (Chairs/Sofa's/Loveseat)
♦ Four (4) Lighting Fixtures
♦ One (1) Mirror
————————————————————————————————————————————–
In Game Screenshots