One of the most exciting moments in any Sim's life is giving birth. However, as players, we all have a little bit of a different reaction to The Big News! Some of us plop the bassinet down and age the baby up immediately because we ain't got time for that! But the rest of us, whether we are clearing out one of our beloved hobby rooms with an abundance of tears or building on a brand new addition to the house, love to create a nursery to welcome our bundle of joy into the world.
❗ Please note that installing 3rd party content may cause problems with your game. It is a good idea to properly research the use of mods and custom content before putting them into your game.

❗ While EA unofficially supports the modding community, they will not be held liable should any 3rd party content damage your PC or game. 

❗ The content in this article is for information purposes only. SimsVIP does not assume any liability should 3rd party content damage your PC or game.

❗ Always remember to remove mods and custom content before updating your game.
---
1. Baby Without Crib by Li.Ko
Everyone knows that to have a baby, your Sim will need a bassinet. However, for those Simmers that love to play outside the rules, this mod will free your babies from their cribs! This is a default replacement of the bassinet that will make it invisible, allowing you to use the MoveObjects On cheat and place your baby anywhere you desire. Many content creators have made new cribs with this mod in mind, allowing for the perfect nursery decorating to commence! All interactions with the baby even work as intended!



---
2. Miralke Nursery, Toys, Walls, and Decals by DreamCatcherSims4
DreamCatcher has taken genuine care to provide a large variety of color for their nursery conversions. The Miralke Nursery set has a changing table, wardrobe, and a crib that works well with the Baby Without Crib mod by Li.Ko. Each of the set even comes in twenty-six different recolors. But that doesn't even touch the tip of the iceberg! Their toy conversions not only bring back the teddy bears from The Sims 3, but provides two new meshes from Toy Story 3 and recolors our EA favorites with a whopping total of eighteen objects to decorate the baby room with. Just to add a finishing touch, two similar wallpapers offer your baby a fun and playful accent wall and can be coupled with the four small animal wall decals.

Miralke Nursery | Toys | Wallpaper | Wall Decals
---
3. Toddler Clutter by ajOya
This creator has been exstatically hopeful for the return of toddlers in The Sims 4 but until then they have converted some of our baby necessities! While these are decoration only, your Sims will adore having a few of these pieces to truly immerse themselves in the feel of the nursery. In addition, they converted Geoffrey the Giraffe, a beloved "Toys R Us" mascot, to decorate the new baby's nursery.

High Chairs & Potties | Geoffrey the Giraffe | Snugabunny Deluxe Baby Swing



---
4. Awesims Broyhill Nursery by Loree
This set comes with a large variety of unique color patterns for a modern and bright nursery! It comes with a dresser, diaper changing deco, crib, rocking chair, standing chair, and a padded bench.The chairs both come in fifty-two swatches that all are able to compliment the vibrant patterns of the crib and changing deco. The dresser works as intended to plan outfits and it can either be used standalone or the changing deco can easily slide on top of it for the baby's needs.



---
5. TS2 Nursery Conversion by Mony Sims
If you're looking for variety for your Sims, this is the spot for you! Your baby won't go wanting for anything more than the large amount of content and colors available from Mony Sims! Using the meshes from The Sims 2 content creators, Mony has brought back to life the customization of the nursery. The cribs, day bed, changing table, and even the chair all have draggable mattresses and decorations to make each build your own unique creation! With toys, rugs, mobiles, books, and more, your Nooboo will be delighted in their new home!

Nusery Bedroom Conversion TS2-TS4



---
6. Crib and Bookshelf by fATI
These two conversions from The Sims 3 are wonderful additions to any nursery! The crib works well with the Baby Without Crib mod by Lo.Ki and the bookshelf has working interactions for your Sims to pull out their baby's favorite first stories.

Baby Crib and Pillow | Generations Bookshelf



---
7. Animal Nursery Set by Wingly
Straight from The SIms 3, this set includes a crib, bookshelf, dresser, and curtains themed in one of five animal swatches: Panda, Tiger, Leopard, Koala, and Teddy Bear. Wonderful for an ongoing theme for the nursery, the bookshelf and dresser have all the necessary interactions and the sheer curtains bring together the room!



---
8. Totoro Nursery Set by Reivan
Converted originally from a mesh created by Noora and Rasha for The Sims 2, these soft and pastel conversions are ideal for the gentler side of nursery decorating. It comes with a diaper box, a canister of wipes, a diaper bag with bottle, and three different pillows. The pillows are directly representative of My Neighbor Totoro, a Japanese animated fantasy film created by Hayao Miyazaki.



---
9. Baby Clutter by Sims4Fun
For the more colorful baby clutter, this collection contains a multitude of small objects including diaper boxes, diapers, baby wipes, baby brushes, and stacks of folded clothes. Every object comes in a few different colors and brings your baby's room to life!



---
10. Royal Nursery by Severinka
This royally beautiful set comes complete with framed pictures, cribs, pillows, rocking horses, chairs, functional lamps, decorative bottle, royal carriage clutter, and curtains for the crib and chair! The objects all come in a choice of pastel pink, blue, or green.



---
Celebrating the joy of birth has never been more fun for builders! We would love to see your nurseries too! Share your screenshots on our forum and join the conversation!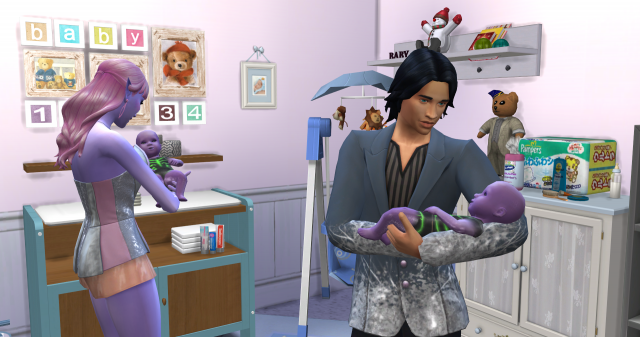 All models can be found on The Sims 4 Gallery!
– Lane by Sorceress2696
Do you have an idea for a Custom Content Showcase, questions, and/or Sims to volunteer?
Contact me: [email protected]