Do you feel the burn?! Some Sims spend more time in the gym than they do in their own homes. Or better yet, build an at-home gym to build up that endurance, tone those muscles, and shed those extra pounds!
❗ Please note that installing 3rd party content may cause problems with your game. It is a good idea to properly research the use of mods and custom content before putting them into your game.

❗ While EA unofficially supports the modding community, they will not be held liable should any 3rd party content damage your PC or game. 

❗ The content in this article is for information purposes only. SimsVIP does not assume any liability should 3rd party content damage your PC or game.

❗ Always remember to remove mods and custom content before updating your game.
---
Powerhouse Trait by Drew Shivers
Build your Sim to be a Powerhouse! This custom trait makes your Sim into a beast! They like to get pumped up and energized, increase the fitness skill faster, and take lots of showers. Never let your Sim be Tense, Playful, or Dazed again! With abs as hard as bricks, they'll love to show off their muscles with their new friends at the gym!
---
Weekend Run Set by Dreaming 4 Sims
Fitness and style? Yes! Your lady Sims can now dress to hit the pavement with these rather fashionable jogging suits! They come in six different colors and can be found as a full body outfit.



---
Gym Accessory Bag & Deco by InABadRomance
Need a place to cram all of your yoga mats, water bottles, and tennis shoes in? Try some of these unisex gym bags! They come in a full rainbow of nine colors for both the accessory and clutter object. Either have your Sim carry them in their left or right hand, found in the body accessories, or place them on your Sims' lots for some colorful fitness decorating.



---
Ballet and Fitness Wall Decals by Limoncella
These simple monochromatic decorations for your wall are perfect for promoting fitness, wellbeing, and dance! There are nine in total and can be placed on any gym, dance studio, spa, or even residential walls!

Sticker Ballet & Fitness Mix Set



---
Ballet Bar and Shoes by Tinkle / Ballet Pose by dolcissimasirenetta
Working out and fitness isn't just about lifting weights and keeping your Sims' heart rates high. For more artistic and music loving Sims, these pieces allow them to pose at the ballet bar and stretch the limits of their flexibility, balance, and discipline. Bellissimo!

Dance With Me | Training Dance Pose



---
Body Language by SIMcredible Designs
Is there just not enough clutter for your Sims' fitness center for your taste? This SIMcredible set includes eleven decorations for just that purpose! Simified inspiring posters, dumbbells, weights, fitness balls, trampolines, steps, benches, mats, and water bottles all perfect for any type of exercise your Sim needs from toning to cardio.



---
More People at the Gym by SimmyTheSim
Just because your SIm is focused on becoming more fit and active, doesn't mean they want to be anti-social! This mod will increase the number of Sims spawned for your gym lot. You might even have to build a bigger gym!



---
Insta-Fit by SimmyTheSim
Who needs all that work though? Especially when you can simply purchase this miracle working potion straight from the Build./Buy catalog for the low price of 750 Simoleons! Place on your lot and give your Sims the body they need by just drinking the Insta-Fit elixir! (Disclaimer: Insta-Fit is not for everyone. Side effects may include bulging arms, ripped abs, and a sense of self-confidence. Do not take with juice.)



---
Get your Sim's lazy bum off their computer and step foot in the gym for some fitness, socialization, and healthy fun!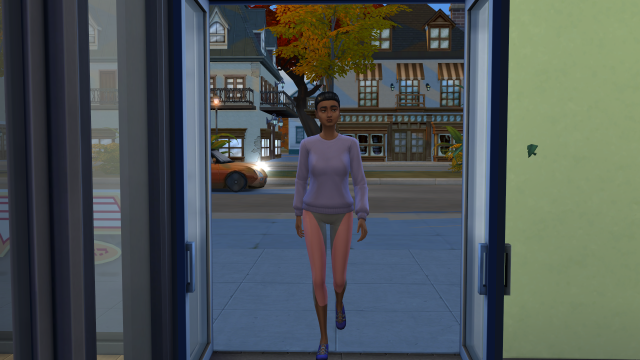 All models can be found on The Sims 4 Gallery!
– Dude by Georgiebick
– Bodybuilder by batx64
Do you have an idea for a Custom Content Showcase, questions, and/or Sims to volunteer?
Contact me: [email protected]