SimGuruJill and SimGuruRomeo graced us with their prescence on the newest broadcast for The Sims 4 City Living. This time, they focused almost entirely on neighborhoods. Or at least they tried to as the topics seemed to range in variety from city landscapes, gameplay objects, a CAS fashion show, and the destruction of the karaoke bar to make way for the biggest painting to ship with The Sims 4 yet. Sound like an entertaining livestream? It was!
World View
Last broadcast, we got a quick look at the map for San Myshuno. What we didn't see was the change in selecting your active household. While in the world view, you will be able to click on an apartment building. It will pop up a thumbnail preview of the first apartment then you can page through the others until you find the household you want to play, visit, build, etc. Another change is the addition of neighborhood descriptions to show more detail into the overall theme and personality of the area. Every apartment complex includes at least one premade family.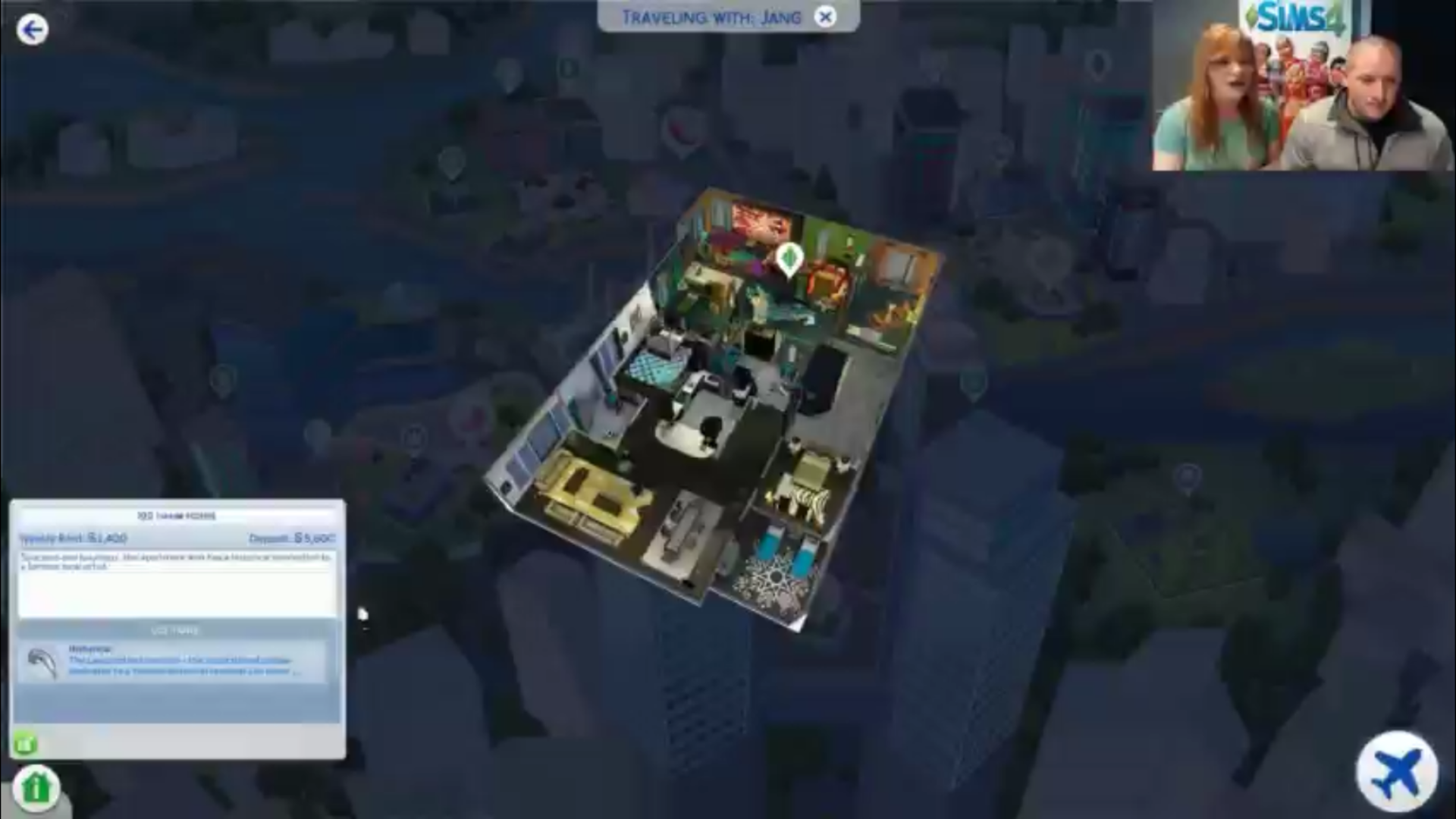 Myshuno Meadows
Similar to special lots in Get Together, this space is a unique area that your Sims can visit. It comes with a large 64×64 lot that is shipping with a premade wedding lot. It's worth noting that it isn't a new venue, only a public lot with a wedding area set up and swans swimming on the water. It also highlights a tweak that the Sims team has added to weddings: If you have a firework placed near a wedding arch, it will fire off when your Sims kiss during the ceremony.
Myshuno also has beautiful butterfly gardens to look at and six scupture memorials across the area that tell more about the background of the city. One of them even tells about a horrible meteor strike incident!
Between 2-6 am in the morning, you'll see what SimGuruJill calls "weirdos" coming out. Including 'old people in pajamas, a dude in a luchadora mask, and the trash raccoon'. The Trash Raccoon will start fights and pick up litter around the city.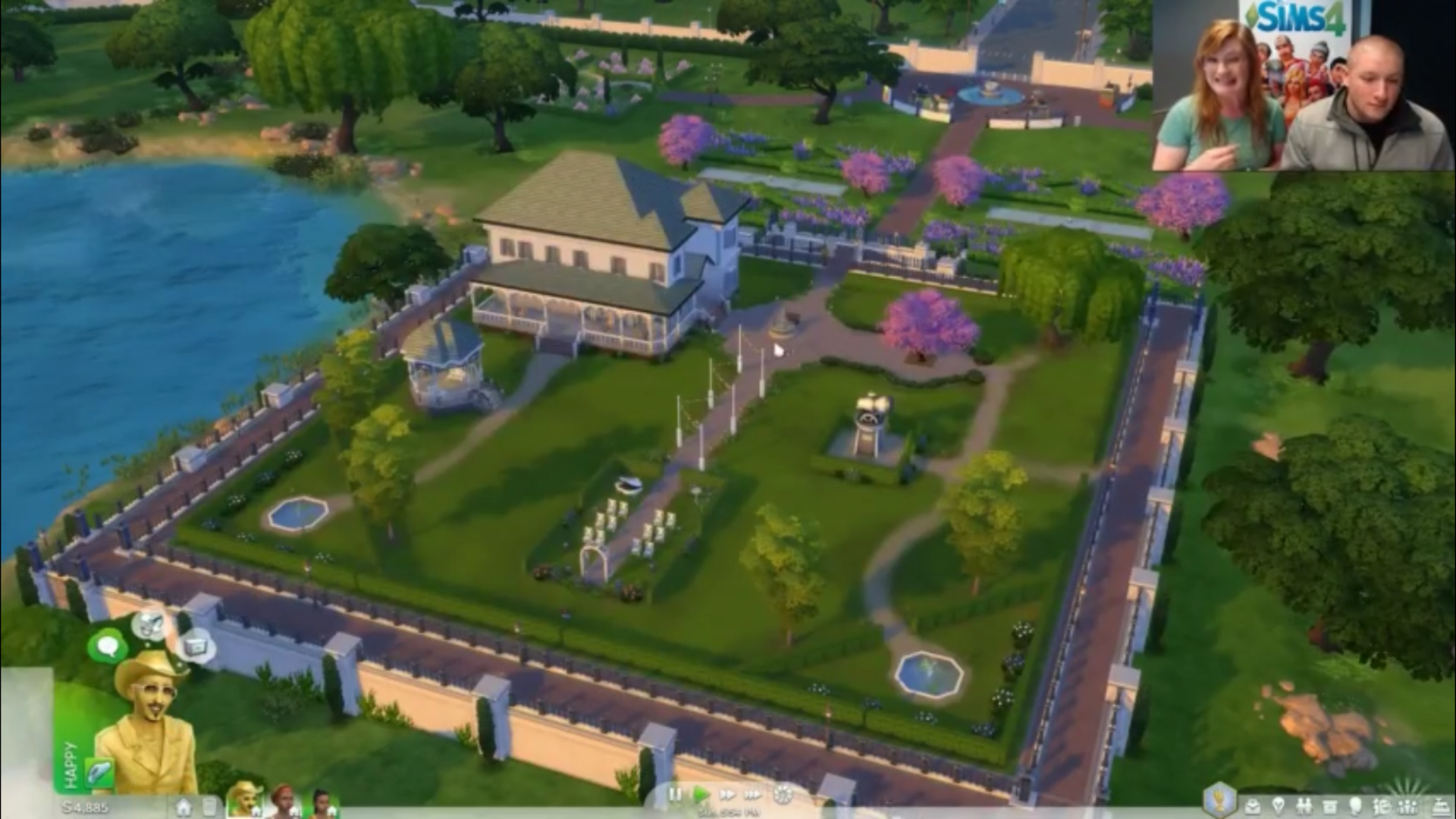 Food Carts
There are quite a few new food carts each witha  specific type of food theme: Ramen, Chinese, Japanese, Mexican, and even a Cupcake cart found in UpTown. The Japanese cart introduces sushi and pufferfish (which can kill your Sim if it is poor quality). There are approximately 26 new recipes across all of the food carts. Somewhat like Dine Out, you need to order these foods and eat them before you can unlock the recipe.
Carts can be put on your lots and you'll be able to hire an NPC for them.
Across all districts, there will be a dynamic street change. Food carts that close up in one spot will make way for carts to open up in other areas of the public area.
Arts Quarter
First we got to see the Arts Quarter. The gurus explained the district was fashioned after Moroccan influence with a a lot of vibrant colors and a huge scupture piece int he center of the district.
This is where you'll see the new venue called the Arts Center. It will display art, obviously, of every type such as a paper station to draw on, clay ball molding, wood working tables, and so on. Sims can go here to appreciate the arts compared to the previous museum venue we had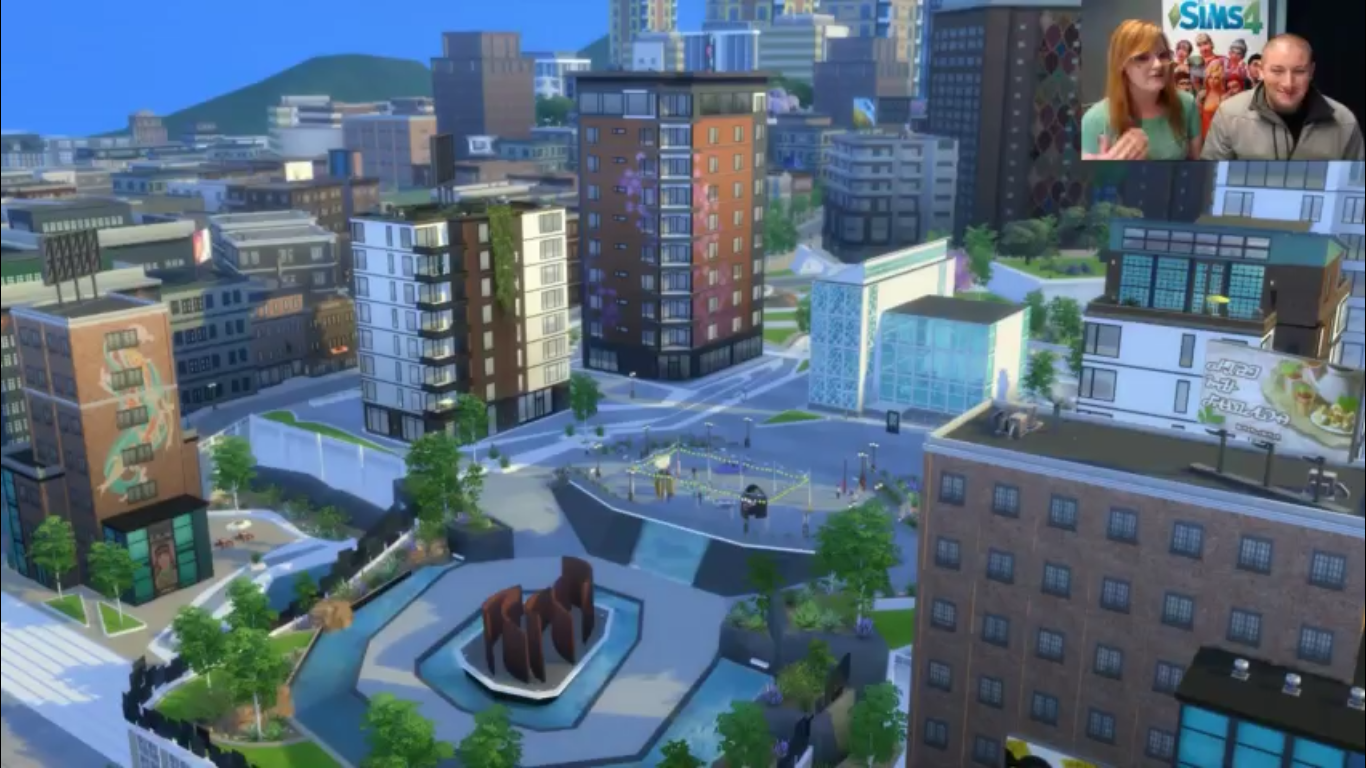 Fashion District
This flashy neighborhood was inspired mostly by Tokyo. This is the area where the main premade Karaoke venue named Honey Pop will be with the Great Acoustics lot trait.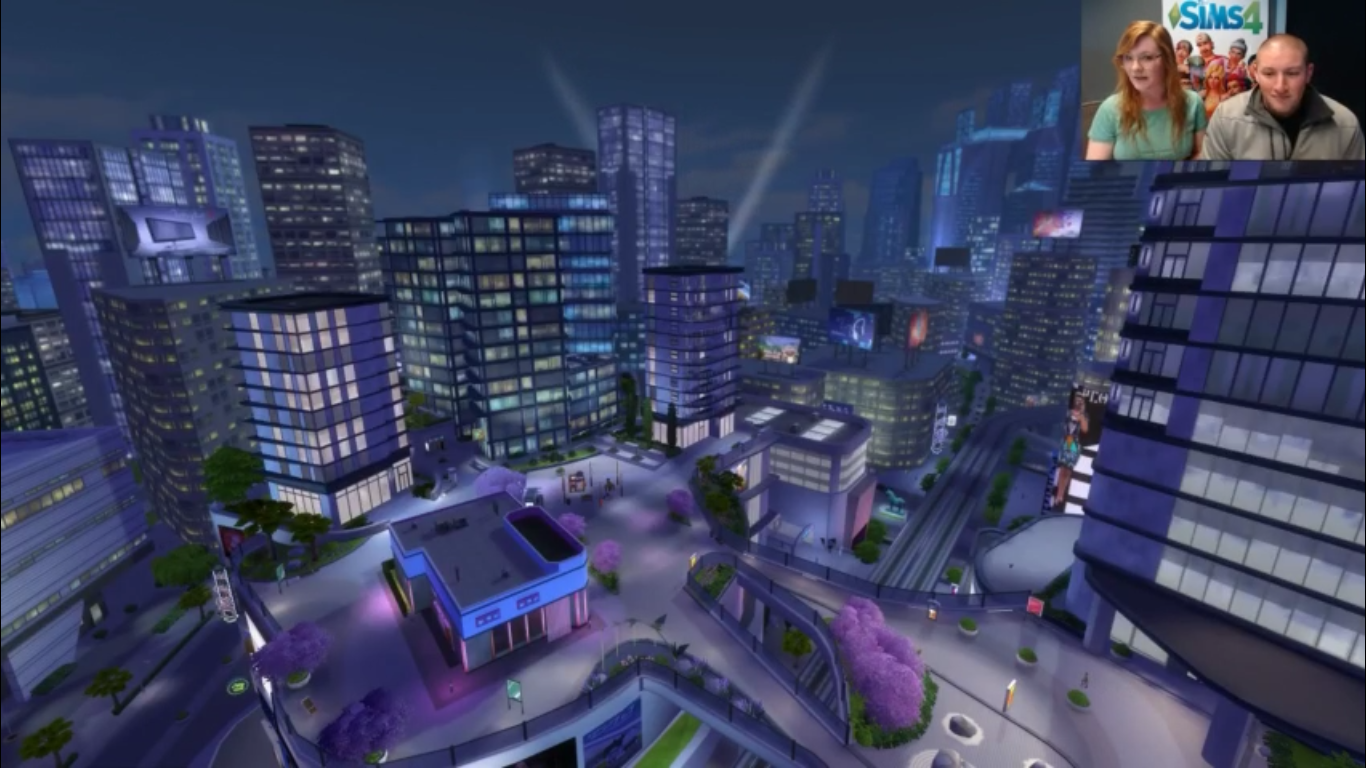 Spice Market
Nestled onto the docks near the large bridge that lights up at night, the Spice Market is a very old school district.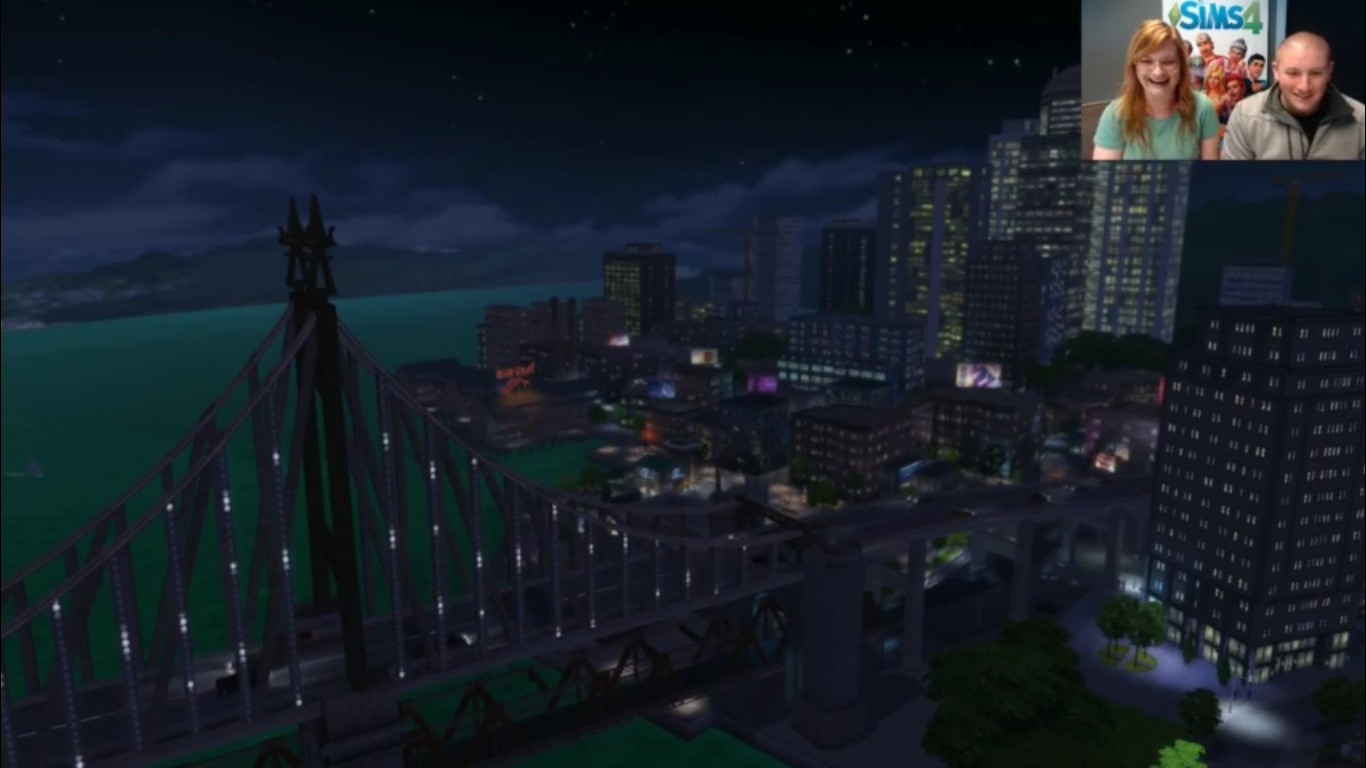 Uptown
Uptown is hovering over much of the city and has ambiance with a helecopter pad.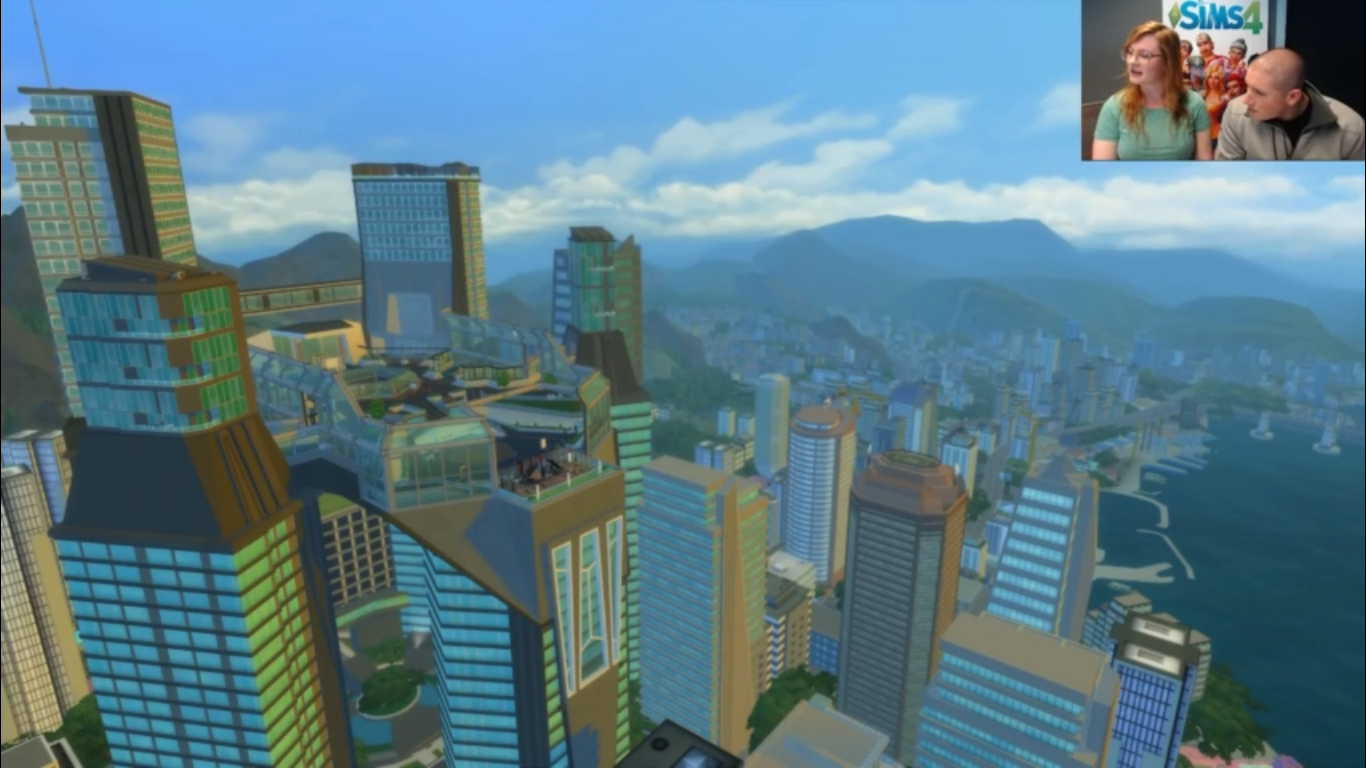 Mural/Graffiti
You'll see the new Mural object littered through the city. This is a rather small square that you can place in Build/Buy Mode that indicates where Sims will be allowed to express themselves with political propaganda, graffiti, mosaics, and more. The Mural is tied into the Painting Skill and like using a canvas, you determine the type of mural you want to paint and are surprised by the piece of art after. Perhaps the best part about the Mural is that it can be scaled up and down so you can paint the whole lot floor if you want. But be careful, someone that isn't too happy just might come by and deface it.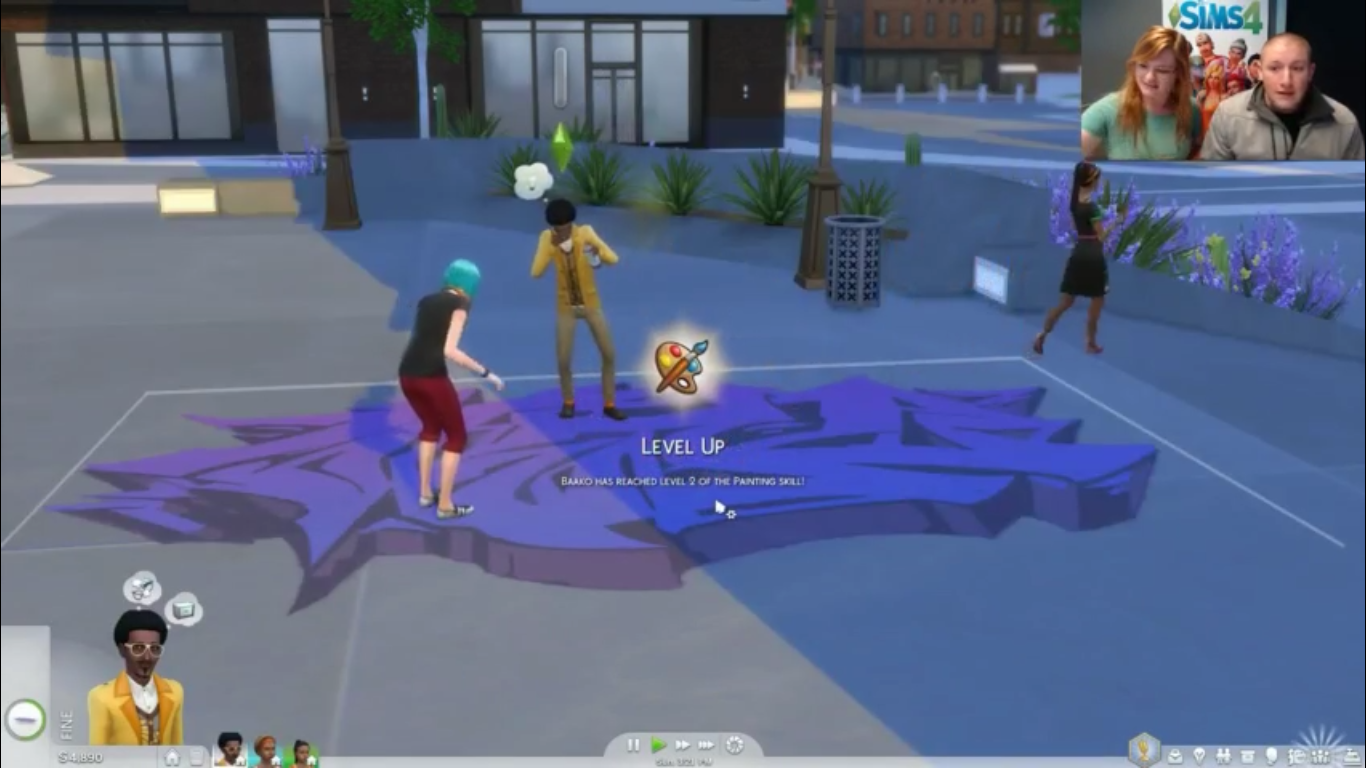 Street Selling
An object that is seen often in the Arts Quarter is the Street Gallery object. Painters can bring their artwork to this and set them for sale for the general public. Perfect for the 'starving artist' plot for your Sims.
Likewise, Craft Sales tables can be the place to sell your collections and crafts. If it can go into your Sims' inventories, it can be sold on the streets. Mark prices up and down or give a great sales pitch. Your Sim can also place these on their lots for a 'Lot Sale' like a yard/garage sale. Yes, kids -can- set this up as a lemonade stand!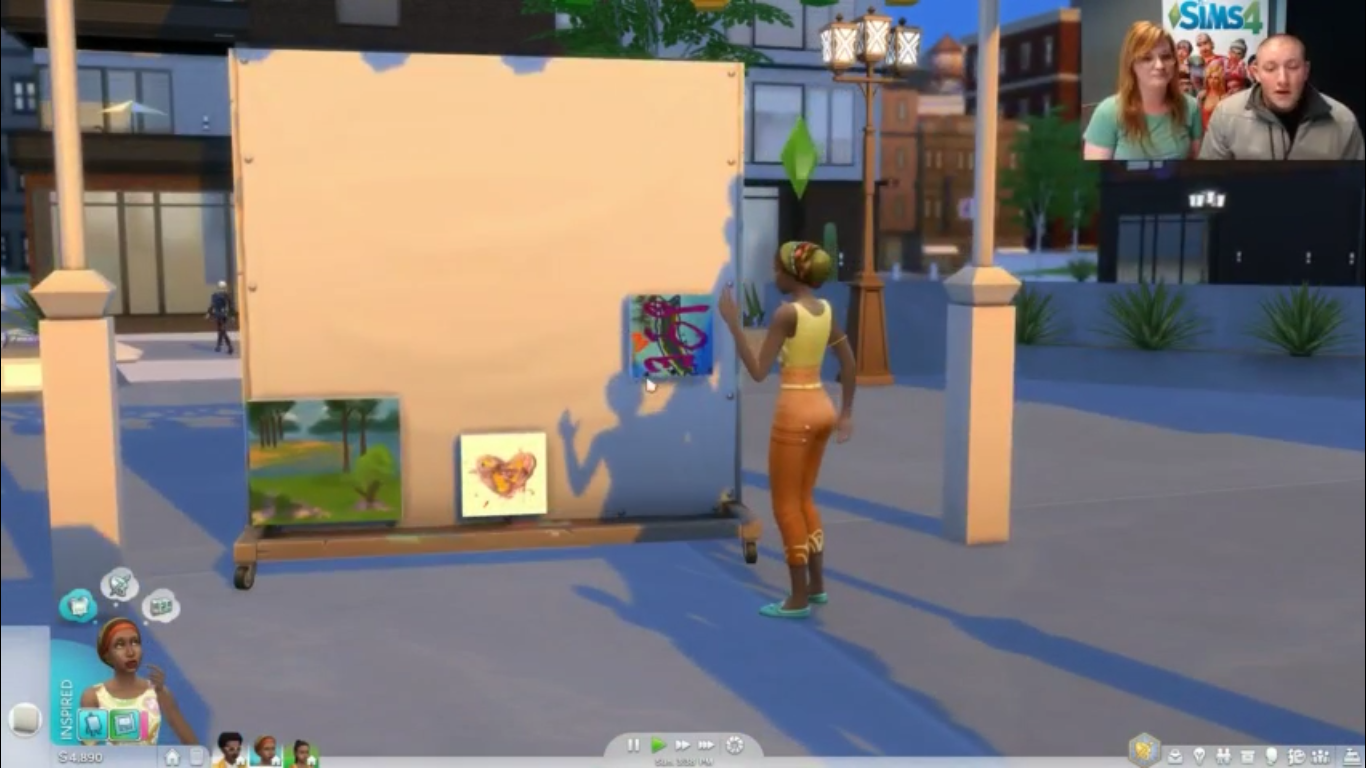 Basketball
Much to many fans' excitement, basketball doesn't have to be queued up by one Sim at a time. The object can be used by multiple Sims where they can socialize and play. The hoop is sepearted from the half court mat which lets your Sims walk in all different directions to maneuver their shots. Clicking on the basketball hoops lets you select what kind of shot you want to try like Dream Big, Dribble, Shoot Around, Dunk, and more. You can also challenge other Sims like the Grim Reaper to a game. A little note was mentioned that your Sims can even get a sprained ankle.
You can unlock an achievement by making 73 baskets. The Torch of '73 isn't only shiny but lights on fire too.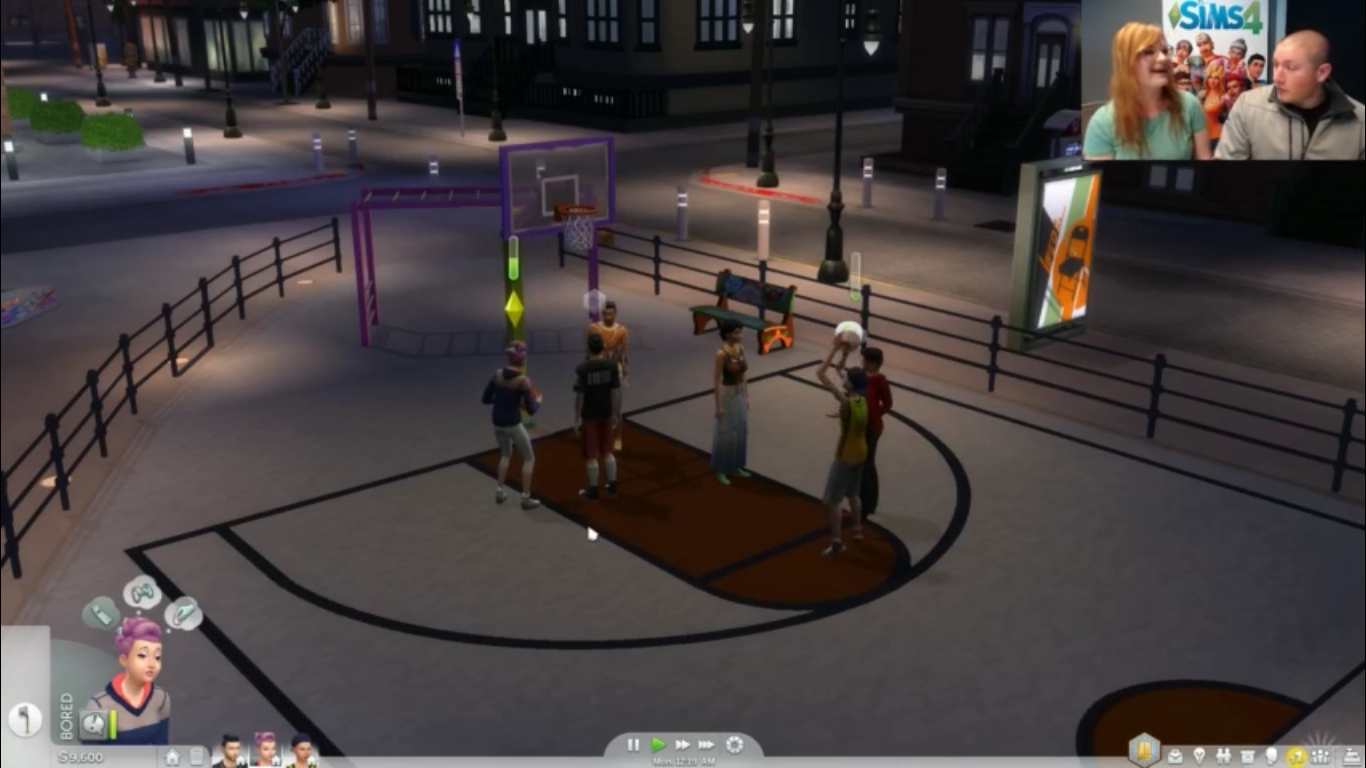 Performance Space
You can use a guitar of violin with the performance space object to busk for Simeoleons. It requires a skill of 3 or 4 to perform on the streets, the gurus weren't sure.
Living Statue
The Living Statue performer will be a randomly generated Sim that can don one of two outfits: the astronaut or the cowboy outfit. Onlooker Sims can cheer at them, scare them, tease them, etc. If you give the Living Statue a tip, you will unlock the outfit for your own Sim. This means that you can play as a Living Statue and while wearing the outfit, you can use a new interaction to 'Busk for Tips'.
Podium
Politicians are able to make their stand with the podium and lead protests. It can be placed in the inventory and dragged anywhere you want. Even if your Sim isn't in the Politician career, they can give speeches.
Create A Sim
We were given a deep look at the CAS outfits and hairs. Since there is so many, we can't include them all in this post. We know you want to see them so for this purpose, you should check out the broadcast screenshots that we'll be posting later to see them all. Otherwise, the CAS had a lot of variety with different cultures, hairwraps, a new raccoon outfit, and more.
Curiously put in a 'Location' category, the City Native Aspiration is 'all about the City'. It includes goals to paint murals, critique art, attend festivals, and otherwise take part in all the city has to offer. As the gurus put it, it's a great way to go through the new content.
Vegetarian Trait will also come with new recipes. With this trait, Sims will get grossed out by food with meat in it and they will get uncomfortable if you force them to eat a lot of meat. A new UI note will let you know if a food is vegetarian by hovering over it.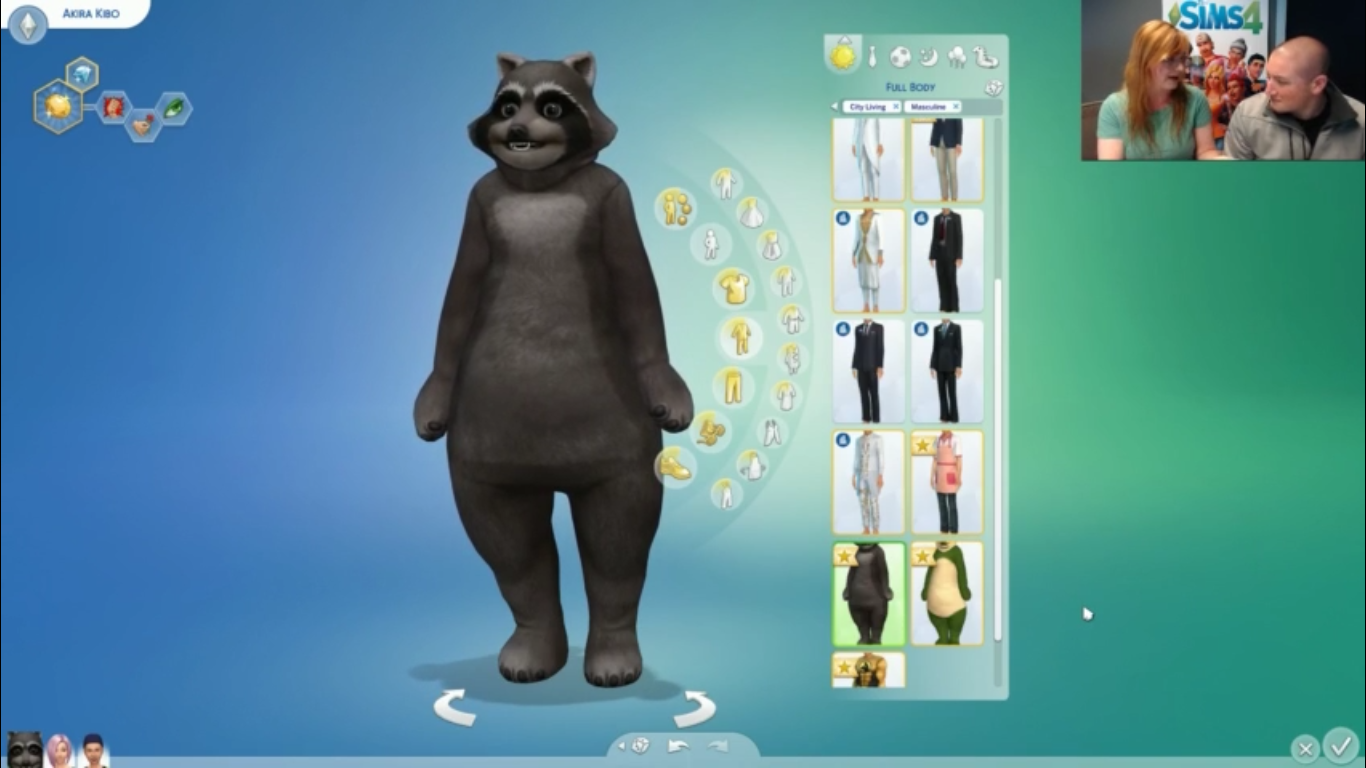 A Peek Into Festivals
The Gurus did tell us that next livestream will be focused on Festivals. However, they couldn't help but share some snippets of it today. During festivals, there will be more food carts around the world than normal including the exclusive Swag Stall. That is where you collect the snowglobes mentioned in the blog post yesterday.
Each festival has a unique snowglobe from the swag stalls. Boxes of collectibles will be around the city on the side of the street (similar to diging and looking for frogs.)
When you eat pufferfish could be poor quality and die from it. There's a "secret" to that though.Festivals will be advertised on a advertisement board. dynamic sign
Miscellaneous
The stream kind of went all over the place but here are some little tidbits that didn't really have a home in our notes:
String lights
Fireworks close to a wedding arch will automatically fire when the Sims kiss.
"State of the Art Pigeon Technology" to improve the AI of pigeons to make them fly and flock instead of a looped pecking animation.
There is a 'new technology' where premade Sims can now start the game pregnant.
New Cultural radio station that has vibes of Moroccan/Japanese music and was described as 'zesty'.
The largest painting ever shipped in content for The Sims 4 is in this EP.
There are club rules for basketball, video game consoles, and possibly singing. Murals is still a paint rule.
Trash or Treasure collectibles can be found during the Flea Market only, including old grimy desk lamps, chairs, sofas, and more.
There are 'a lot of new beds'.
It's a lot of information to take in from one livestream but we're happy to have seen more gameplay of The Sims 4 City Living. What district do you want to live in?