Today, the Maxis team gave a look at their upcoming release on Twitch: The Sims 4 Vintage Glamour Stuff Pack. Graham Nardone (a.k.a SimGuruGraham) and Thomas introduced the pack and many of it's features.
They revealed that Vintage Glamour was originally conceived as a Red Carpet stuff pack focused on Hollywood, but the team wanted to focus on day to day gameplay in the home with a vintage theme.
Create A Sim
Outfits in Vintage Glamour Stuff revolves around styles ranging from the 30's to 50's era. All adults will have a new butler outfit available to them that won't need to be unlocked.
Adult Feminine

3 Full Outfits
2 Tops
1 Skirt
2 Watches (one for each side)
3 shoes
2 hairstyles
2 earrings, 1 glasses, 1 necklace

Adult Masculine

2 Tops
3 Full Outfits
2 Pairs of Shoes
1 Hairstyle
1 Glasses

Boys

1 Top (a jacket)
1 Hairstyle

Girls
Build/Buy
Some highlights of the new objects include:
Chandeliers that are single tile and high enough for Sims to maneuver under them at all room heights.
Monochromatic pop art with three swatches that resemble popular celebrities (like Marilyn Monroe)
Metallic wallpapers with sheen when the camera moves
Windows and doors with gold trim swatches
Curtains with two options: paisley lace border and one without
Two large beds with high headboards
Full-length single tile mirror from floor to ceiling for all wall heights
Mirrored Beverage Cart end table
Two square dressers, short and tall
Long sofa with ten swatches
Globe Bar
The Globe Bar works similarly as any other bar including with club activities. It has five recipes in total but some will need to be unlocked once with the Mixology Skill. Your Sim can pour a single drink or themselves or make a tray with four glasses of the chosen drink.
Kids can use the Study Globe interaction to spin and play with. A failure animation includes spinning it too hard and breaking glasses inside of it.
While talking about the Globe Bar, Graham did mention that there would be an easter egg in Vintage Glamour Stuff pack that mentions the Sims of the Past. Simmers everywhere will be getting their magnifying glasses ready.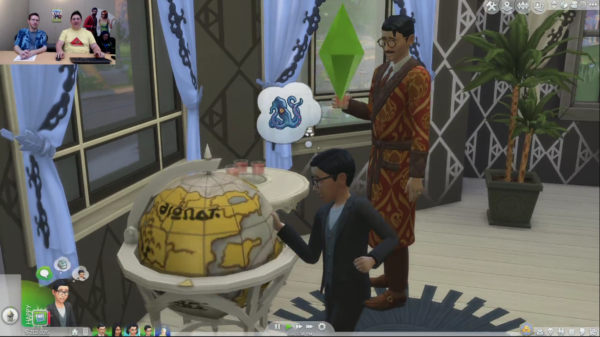 Vanity Table
As one of the gameplay objects, the vanity table comes with new interactions. It has two versions: one plain and one fancier. Adult Sims (male and female) are able to use the Apply Makeup interaction to reveal a large amount of options on the pie menu. Choose from a color or style to place temporary makeup options on your Sim.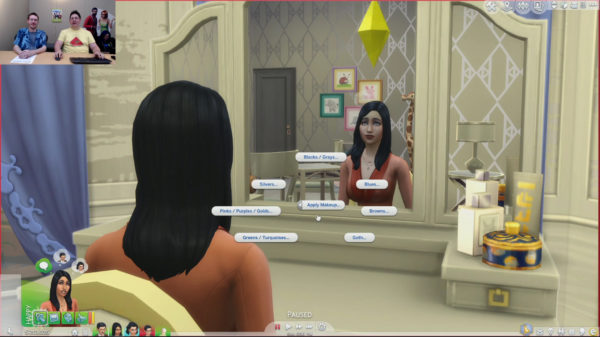 A Goth style is also available with heavy eyeliner and dark colors. All makeup options can be found currently in CAS.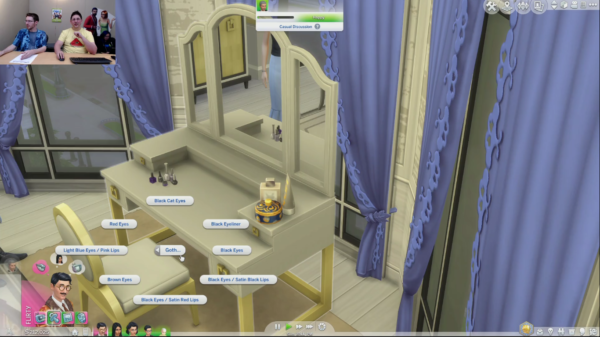 Children are able to use the Play With Makeup interaction. Sometimes it will look decent, other times it will fail.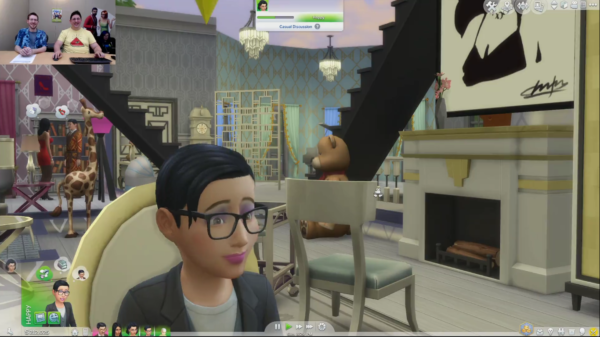 The makeup from the vanity table will be washed off through some interactions such as sleeping, taking a bath/shower, or jumping into the pool.
Butlers
Butlers are the new NPC Service Sim for Vintage Glamour. Once they are hired by the phone menu, these randomly generated Sims will arrive in their specific butler outfit ready for work. All traits might be used for spawned butlers with a variety of skill levels, but all come with high levels for the basic household work. They will have a variety of ages, genders, and ethnicities or the player can edit them with the cas.fulleditmode cheat.
One butler can be hired per household for $175 upfront fee and a $12/hr maintenance cost. Upon hiring a butler, a notification will remind the player to assign a bed to them. If the player doesn't assign the butler a bed, they will nap on the sofa and quite possibly the tent. Players can interact with a door to set the lock to Everyone But Butler to have some privacy.
Sims can interact with the butler with all of the traditional interactions including WooHoo if they are so inclined. However, to move a butler in, they will need to be dismissed first. Butler specific interactions have their own pie menu with four options:
Management – Reprimand, Praise, or Fire the butler.
Visitors – Tell the butler to Ignore Front Door, Let All Visitors In, or Turn Away All Visitors.
Assign Tasks – Tell the butler to play the violin/piano or to cook a meal for the family, parties, or yourself.
Responsibilities – Tell the butler to start or stop Repairing, Caring for Minors, Cleaning, or Gardening. (Butlers will ignore all of these tasks if they are told to except for assisting babies in distress.)
Be careful about reprimanding a butler that your Sim has a poor relationship with or they might set up some sabotage or leave the household.
Assigning tasks for the butler will have a bell animation but these won't wake the butler up when he is asleep. This is because the butler has motives too, but not the same as every other Sim. These professional workaholics only need to upkeep their Energy, Hunger, and Fun motives. They will not go on vacations or travel with the family to other lots (including destination worlds). Instead, when they are alone, they will indulge in fun activities such as getting a drink from the bar, taking bubble baths, reading books, etc. and will become embarrassed if they are caught in the act.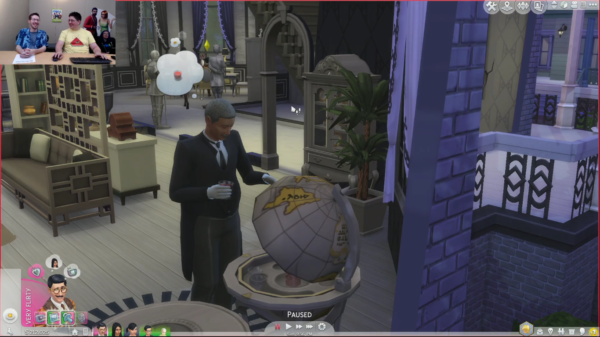 When a player is ready to get rid of the butler, they can dismiss the service by using the phone interaction. This might bring back the same butler again if the service is reinstated. The surefire way of getting a brand new butler is by firing them. If your butler just happens to die, a new one will also be sent to replace them automatically. Management settings for a butler will reset when a new one is hired.
Other notes:
Butlers cannot be shared across the gallery and can work inside of apartments.
They will not cook vegetarian specific meals nor will they be able to cook the Pufferfish Nigiri and accidentally kill your Sims.
When a butler makes his own meal, the household funds will not be charged.
You can hire other service Sims while having a butler.
Other small additions to the game include four styled rooms themed around the pack. Also, a new TV station is being added called TV Classics with black and white shows.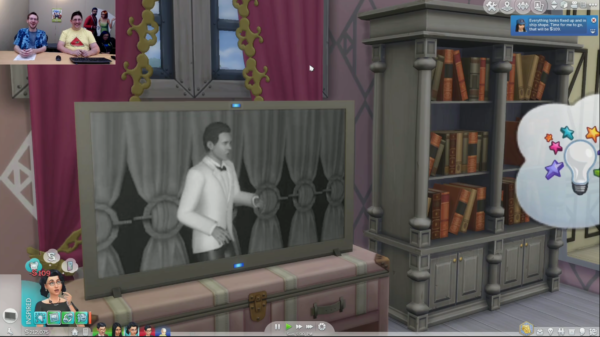 It's worth noting that Graham said there are not any new club activities or lot traits in Vintage Glamour Stuff. Although, new lot traits are "not off the table for future stuff packs" according to the guru.
The new pack  is releasing globally on Tuesday, December 6th. Will you be purchasing The Sims 4 Vintage Glamour Stuff? Let us know what you think in the comments below and be sure to catch up with the livestream replay available on Twitch.