Vampires are here! And luckily for the builders of the community they've brought a fair few Build and Buy Mode items with them. From Gothic kitchen counters and Victorian Wallpapers to creepy coffins and a life-size portrait of Vladislaus Straud himself, there's plenty to get your hands on even if supernatural gameplay is not for you!
New Styles
One of my favourite things about this Game Pack is the amount of swatches available for most of the new items. Although it can be loads of fun to create some dark and creepy Vampire lairs, your building options definitely extend beyond black and red!
If vampiric castles aren't your style, experiment with the swatches on offer and try your hand at making a Victorian mansion. All of the wallpapers, floorings and furniture pieces come with lighter recolours and can be used to create some really pretty old-fashioned builds. The amount of swatches available mean that using this Pack's items doesn't mean building something Gothic. Affluent looking chairs, an ornate grandfather clock and even a new bassinet all add a level of decadence and expand our options when it comes to building something a little more traditional.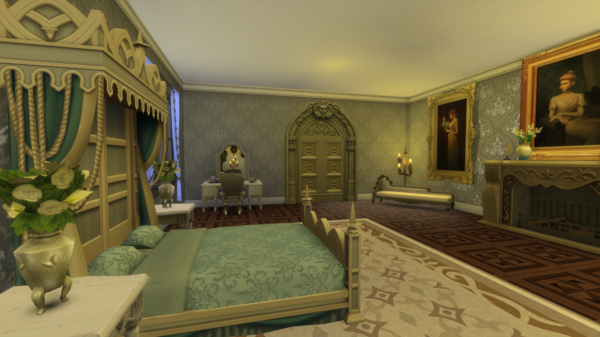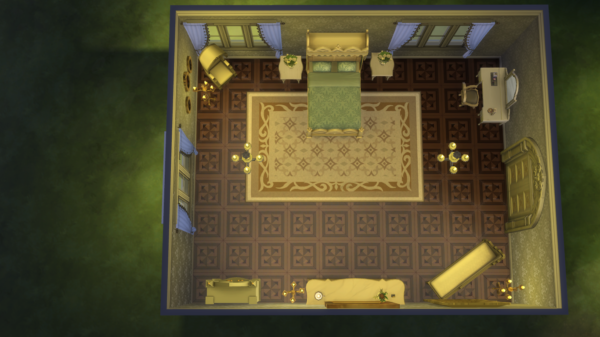 Alongside the Victorian themed items in this pack, Vampires also provides you with the ability to create something a little more avant-garde. I had a lot of fun experimenting with the colours and patterns in this Game Pack and was able to create an Art Deco themed room. The new floor tiles, bar and sofas all lend themselves to a vintage aesthetic and when combined with the Sims 4 Vintage Glamour Stuff can create a quirky new style. The brick wallpaper I used here was undoubtedly envisioned to be a part of a creepy crypt or underground hide-out but it works just as well in my sophisticated living room. Just because this Game Pack is called Vampires doesn't mean your limited to vampiric builds. Try things out and see what can work where, you're bound to discover something interesting and innovative!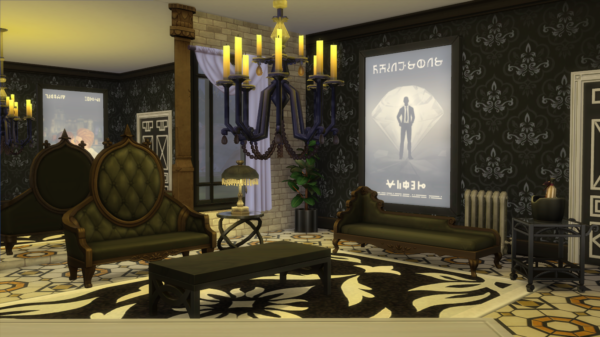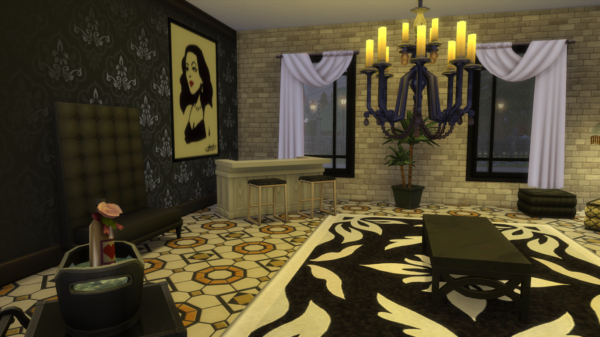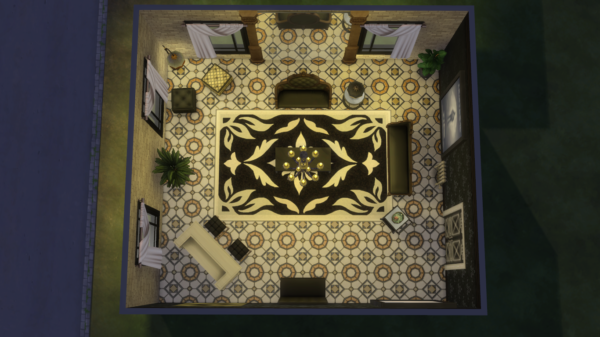 Graveyards
Although the Sims 4 Vampires didn't come with any new lot types the Game Pack did provide us with a host of new items that are perfect for creating your very own Graveyard.  In addition to the two added to the base game in the latest update, Vampires included a host of brand new decorative headstones which allow you to create realistic looking cemeteries. As each gravestone design comes with 2 different versions (one upright and one broken and tilted) the game gives you the option to experiment with styles. If you feel like it you can immerse yourself in the Vampire theme and create a creepy and overgrown graveyard. I really enjoyed building something genuinely frightening and dark. Utilising the statues, plant-life and, of course, the coffins, I was able to build in a style that's not really been possible previously. If your interests lie in something a little less sinister, however, there's nothing to stop you from making a more civilised cemetery. Escape from the darkness of Forgotten Hollow and use this Pack's items to create a tranquil place for your Sims to visit their dearly departed.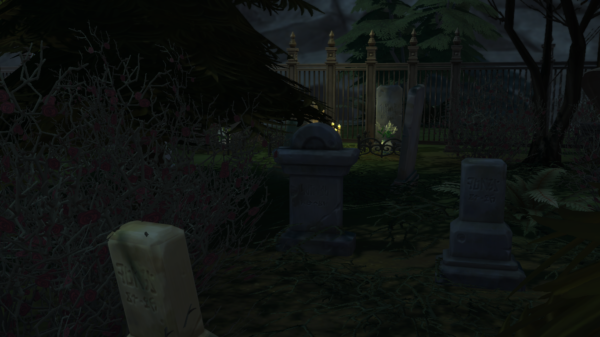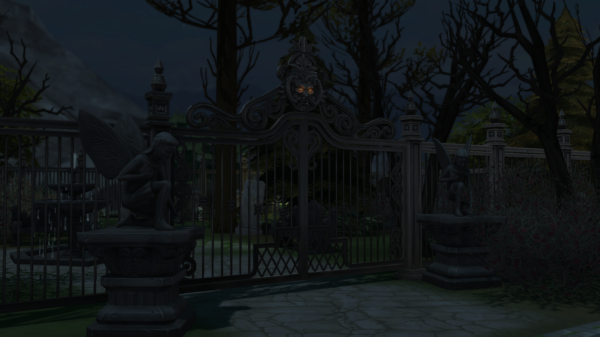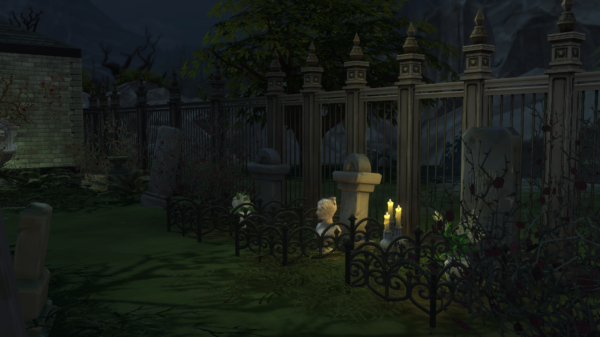 Dishevelled and Dirty
A great aspect of this Game Pack is the addition of wall decals that aim to make your games look less than perfect. With new decals such as water stains, cracks and decrepit holes, it's easier than ever to create that rundown, abandoned vibe in Build Mode. These items are not just resigned to Forgotten Hollow but are objects I can see myself using again and again on things like starter homes and broken down apartments. While all of the decals do come in a variety of sizes they also size up really well. With MoveObjects enabled, and the object selected, pressing the right-hand square bracket key will scale up your decal and help make your room look even more neglected than it did before.
Although we've had cobwebs in the game previously, the ones that come with Vampires have a much more realistic look than their Spooky Stuff counterparts. These cobwebs look great in a creepy mansion but they can be useful in other build styles too. I've had fun using them in my Sims garages, sheds and attics. After all what house is complete without a couple of stray spiders?
The Sims 4 Vampires comes with a selection of trees and plants that are unlike anything we've had in the game so far. Withered rose bushes, creeping thorns and dead trees all make an appearance in this Game Pack. Like the wall decals these items make it much easier to achieve a dilapidated aesthetic in the Sims 4, providing a whole new option for landscaping. With these items at your disposal there's nothing stopping you from creating overgrown forests, unkempt houses and ivy-ridden countryside cottages!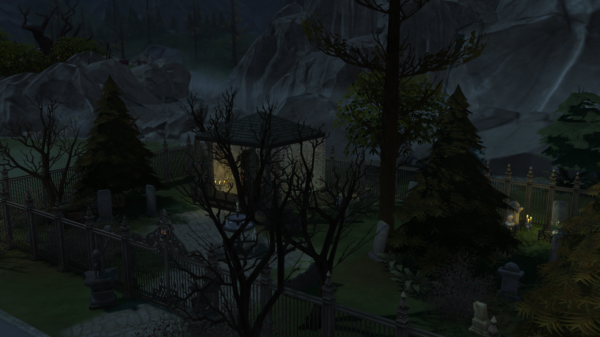 With the Sims 4 Vampires it isn't all about crypts and coffins, there are plenty of items to experiment with, colours to use and styles to create. The dark mists and early evenings of Forgotten Hollow feel a million miles away from the suburbs of Willow Creek and serve as a great backdrop for some inventive new building styles. Dive into your game, play around with the theme and explore what's on offer!