Create A Mod – More Programs for Modding will prepare you with a few more programs that you need for upcoming tutorials.
---
7-Zip
7-Zip is just another extracting program. However, it is required to extract S4PE.
Click the link above.
Download the 32-bit or the 64-bit based on your computer:

Find where you downloaded it to on your computer, then double-click to install.
Now that it's installed, you'll be able to right-click on any compressed file and see this: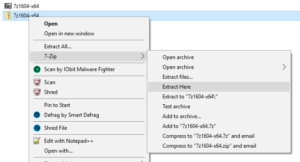 If 7-Zip is not listed when you right-click a compressed file:

From your Desktop, click on the Start Menu and find the 7-zip folder
Open the 7-Zip folder and double-click on 7-zip File Manager

Go to Tools > Options then click on the 7-Zip tab
Make sure that the Integrate 7-Zip to shell context menu is checked. Then click Apply.
Mod Constructor
Mod Constructor by Zerbu is a handy tool that you can use to create traits, buffs, aspirations and more!
Create a new folder named Mod Constructor in the location that you want to keep the program.
Download Mod Constructor and save it in your new Mod Constructor folder:


Right-click on the download and select Extract Here (may be different depending on your extracting program):

(Optional) – Right-click on Constructor2.exe select Send to > Desktop (create shortcut) so you can find it more quickly and easily.
S4PE
S4PE is a package editor, that we will occasionally need to use instead of Sims 4 Studio.
Download S4PE. You'll want the latest release which will be at the top:

Note – Extract with 7-zip ONLY!
Move your new s4pe folder to your desired location. For example, I keep my s4pe folder in my Documents > TS4 Programs folder that I created.
Open the s4pe folder and double-click s4pe to open:


Note – For easier access later, now would be a good time to create a shortcut to it by right-clicking on the s4pe shown above and select Send to > Desktop (create shortcut).
Don't worry about the Hex Editor for now, just make sure the Text editor is set.
---
Now the programs are set up and ready to go for the next tutorial, which will be released within a week!