Supersolid, a London-based mobile games developer, has officially launched Home Street Game, a new home decoration and life simulation game. Supersolid is well known for its other popular mobile games Food Street and Super Penguins.
Supersolid's Home Street was created by a highly experienced team from EA, Playfish, and other leading studios, who have created dozens of award-winning mobile and social games together. One of the more notable games created by members of the team is EA's Sims Social game on Facebook, so the team knows how to cater to simmers!
Home Street Game is a free mobile app that allows you to create unique characters, build your dream home, visit friends, complete tasks/jobs/quests, build up your neighborhood, and tell your story with regularly updated game quests.
If you are looking for a game that has a "Sims" feel without the burden of keeping your character's needs a priority, this is a game you want to check out. The game focuses on fun event goals and hobby jobs that make for a great time.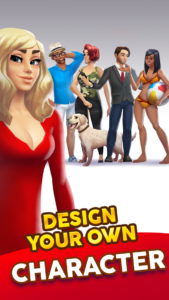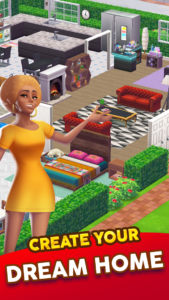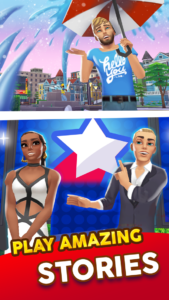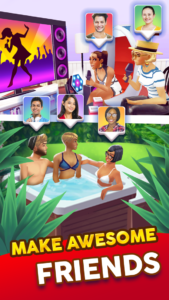 As all free-to-play mobile games, Home Street is free to download. However, purchases can be made in the game for real money in order to quickly complete goals and events. To give you an idea of the many features included with the game, here is the official description from the download page on Google Play and the App Store:
Enjoy life simulator games and want to decorate a house? Create your dream house in Home Street! Supersolid brings you a brand new Home Decoration and Life Sim Game where you can build your dream home, be who you want to be, and bring it all to life in a town built on friendship! Design your dream life in the perfect town with the perfect house! Live alongside neighbors and create your story with Home Street!

🏡 CREATE YOUR DREAM HOME
✓ Design a home and extend or remodel your house to create the perfect pad
✓ Decorate and fit your home with hundreds of designer styles, gadgets, and goodies
✓ Build a house with great amenities like a relaxing hot tub, big-screen TV, and much more! The choice is yours!

💇 DESIGN YOUR OWN CHARACTER
✓ Create a character and customize with different face shapes, eye color, hairstyles, makeup, body shapes, and more
✓ Designer clothes will help you perfect your style and create multiple outfits
✓ Express yourself in Home Street!

👫 MAKE AWESOME FRIENDS
✓ Choose the community you like most and meet your new neighbors from all around the world
✓ Build meaningful friendships by hanging out or helping neighbors to earn relationship rewards
✓ In your dream city, there's always someone ready to lend a hand!

😀 A FRIENDLY NEIGHBORHOOD AWAITS
✓ The town has tons of Neighborhoods to join so you can chat with friends in real-time (Level 10)
✓ Play fun Neighborhood competitions to win awesome prizes by collaborating with neighbors
✓ Neighborhood Events are constantly introduced with new and exciting themed decorations and outfits!

🎬 PLAY AMAZING STORIES
✓ Create your story and dive into life in Home Street where there's always something going on
✓ In the story, you'll meet interesting characters and follow their adventures
✓ Choose your own story and be the star!
✓ In your story, you can guest star on a TV game show, support your local community, or start your very own business in regularly updated quests!

🎤 DISCOVER YOUR TALENTS
✓ Design your life and unlock your inner artist, musician, baker, fashion designer…
✓ Choose your talent, turn it into an income and earn rewards to upgrade your abilities
✓ Learn new skills, unleash your creativity, and live your dreams!

Your new life and a friendly community await in Home Street! Create your story and build your dream house in this fun, entertaining simulation game! See what direction your story goes in when you play Home street!

Supersolid has raised $4 million in its latest round of investment, led by Index Ventures, with participation from prominent individual investors. The konta demo investment will be used to expand the company's 30 person team, and to enrich the experience of Home Street, bringing players richer features and more content through partnerships with entertainment, retail and lifestyle brands. The first partnership kicks off with a major Grammy Award winning artist, to be announced soon.

Although it's easy to pick up and play, with an intuitive user experience, players are able to express their creativity by creating their own character and designing their dream home down to the last detail. Players can look forward to fun character-led stories, the ability to build relationships with friends in game and collaborative and competitive features with real-time chat.

Supersolid's CEO Ed Chin, mobile gamers are a discerning audience with increasingly high expectations: "We are incredibly proud of this deep, engaging and interactive world we have created. To achieve success, we know how important it is to listen to our global community of players, and take their feedback on board. We hope they love what we've come up with in Home Street."

Ben Holmes, Venture Partner at Index Ventures, commented: "This investment underscores our belief in the team and their formula for making fun and distinctive games. We believe Home Street will be a big success and can elevate Supersolid to become one of Europe's leading mobile game studios."
As you can see, Supersolid wants to make sure players are kept in mind with fresh and rich experiences on a consistent basis. Home Street is available to download for free in 11 languages on Apple iOS and Android devices today. DOWNLOAD HERE!
Follow HomeStreet on social: 
Editor's Note: SimsVIP was given the opportunity to play the Home Street Game in advance via early access. The game is full of great quests, interactive objects, and in my opinion, is one of the funnest mobile simulation games I have played to date.

With that said, you can expect regular news and updates about Home Street Game on SimsVIP.com going forward. Follow the Home Street Game category for updates!