Wow, it's been too long since our last Inspiration Corner! Since then, seasons have changed, jungles have been adventured and first pets have likely died of old age – yes, it's been that long. So I thought for this comeback we should have something special that would encapsulate not only these last releases but also the whole game – yes, it's that ambitions. So I dug around an old idea and here it is, a small inspirational guide to dealing with different materials in game.
I have to start by saying that all these opinions are a product of my experiences in game and also in real life while dealing with different materials in a number of situations. You could have a different perception on how to use them while building and decorating, but these are my own – yes, it's that personal. And yes, I'll stop talking like that from now on.
Alright, so the first thing I like to think about when deciding if I should have glass, ceramics or wood in a home or public lot is where that place is located. I like to add a bit of realism to my game, so I imagine there would be more stuff made of clay in Oasis Springs and Selvadorada, while Granite Falls and Windenburg would abound in stone and timber. It's a small detail, but it makes somewhat of a difference in my choices.
Then we have to take in consideration certain materials that have a very direct impact on any environment. It's best when you visualize it three-dimensionally (length, height and depth), meaning it's not just objects, but also floors and walls. It's easy to understand how an entire wall or roof made of glass effects the whole room, but a wall of exposed bricks gives it an entirely different feel from one with wooden panels, for instance.
So now that we have that mindset covered, we're going to talk a little bit about how these materials behave when paired with others, what references come to mind when we use them and also how they look in my opinion. Don't judge me for that, I said this was coming from a personal point of view!
Wood
This can be the most common, or even basic, material when making objects or even entire homes, but there's a reason for that. No, I'm not talking about price or durability (though those are good points), it's because wood is just fantastic! You can pretty much mold it into any shape, you can combine its pieces by nailing, glueing or even just fitting them together to create an enormous variety of structures or items.
Coming from trees, wood evokes nature and all things that are organic. It has a very natural coziness to it and it usually brings a certain warmth. 
Now one thing that I really like about timber is that it has naturals designs that we see in the patterns that are natural to the wood. There are lines, curves and differences in color that add a lot of spontaneity to an object, and also make it unique. Even when we're using re-purposed wood or when it's chipped and run down, it still has character and charm.
So when I'm building with wood, I like to combine it with elements that represent nature, from a pattern on a rug or pillow to actual depictions of the outside world on paintings or even statues. In terms of man-made design, I find it interesting how you can pair lumber with even the craziest shapes and colors and it's never really overwhelming.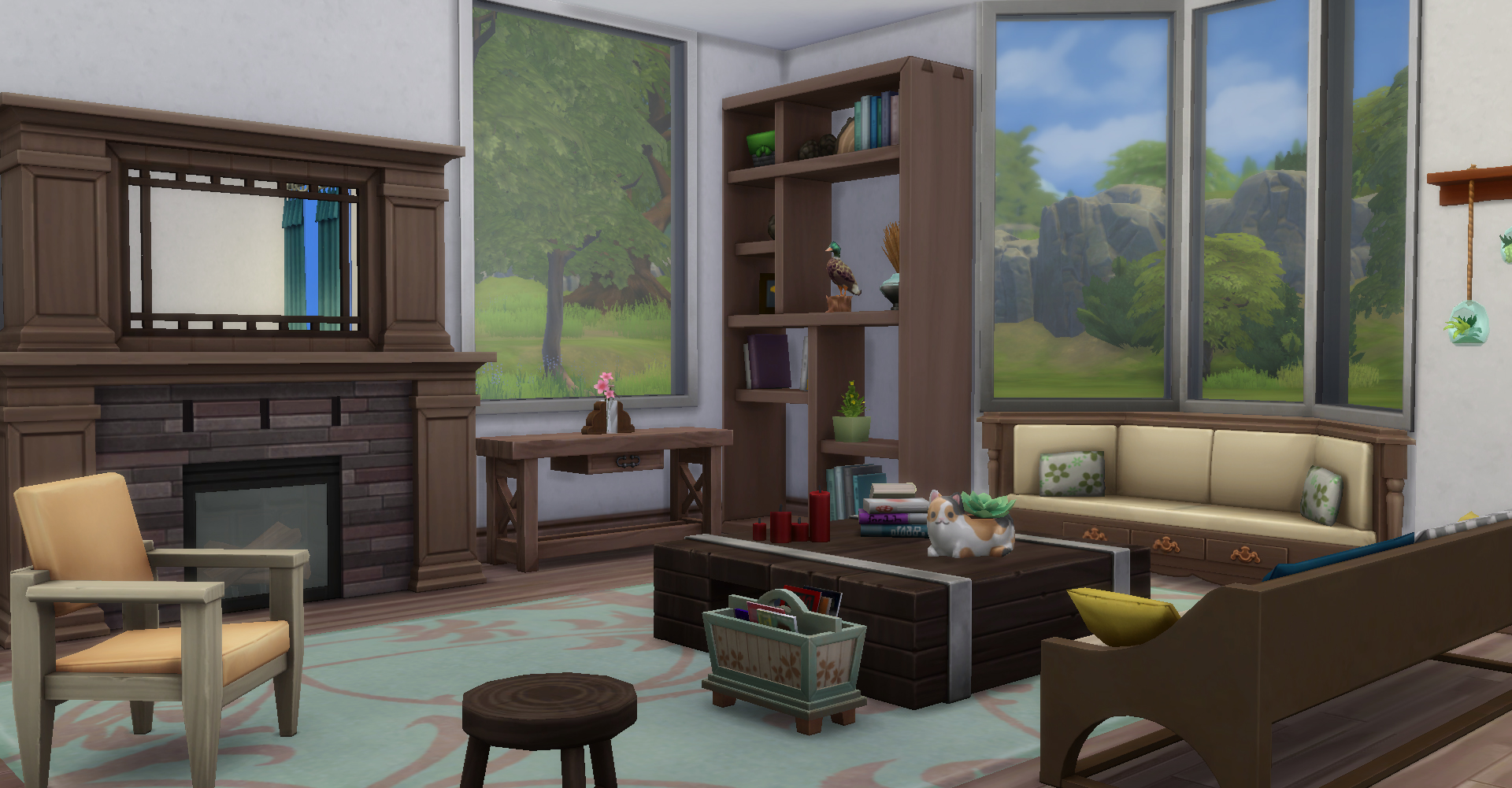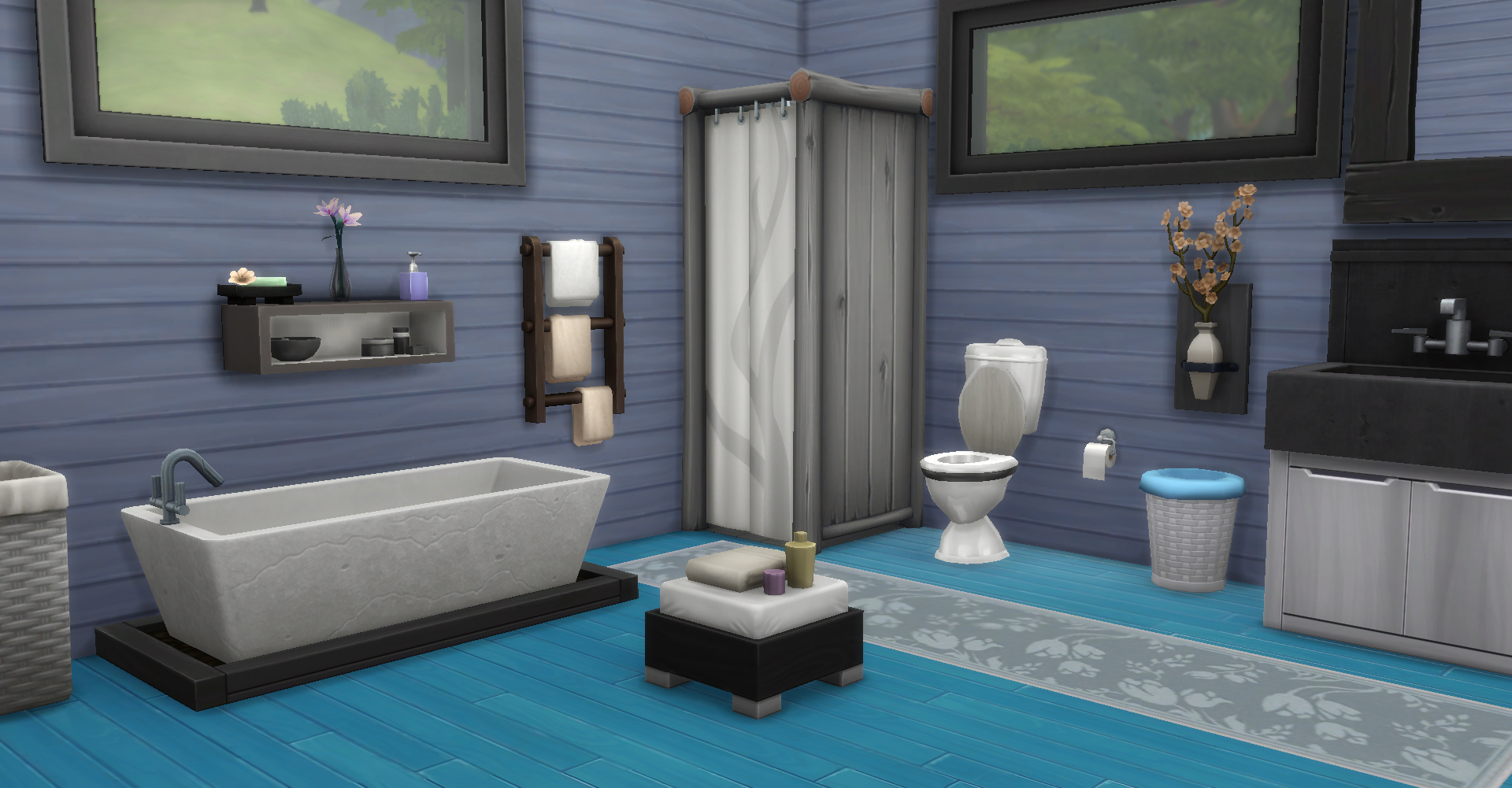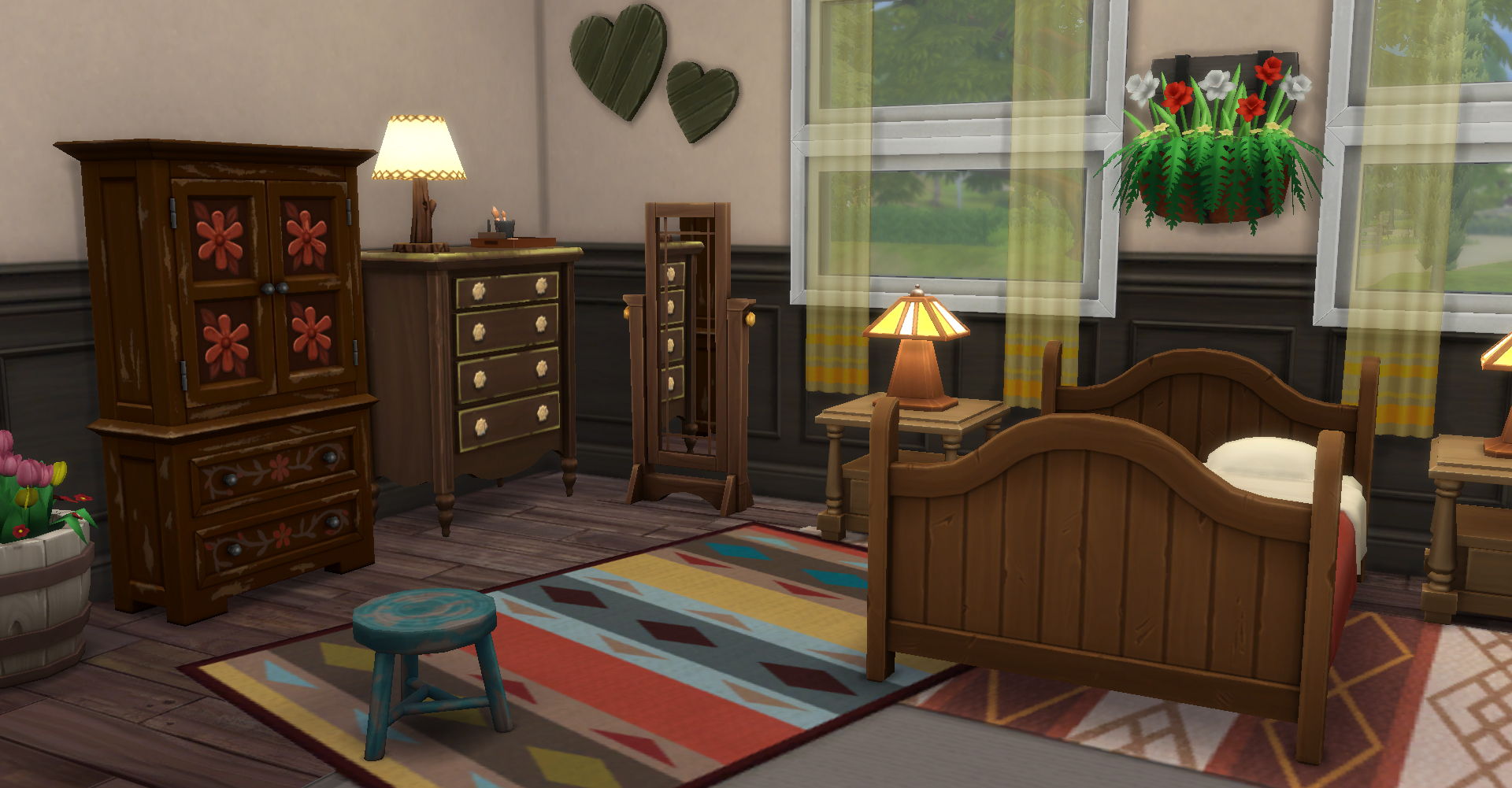 Stone
Speaking of evoking nature, you'll notice that adding pebbles, rock and boulders (or things made of them) to any room will also have that effect of bringing the outside world in. There are two huge differences between them.
The first one is that it's a naturally cold material. You can add some heat though through colors and also other materials, specially fabric. If you have a stone tiled floor, you'll need rugs around for a general cozy feel. But even though it could look cold and lifeless, stone looks really good. Which brings me to my next point.
Though rocks can have different shapes and shades of colors, they can also be seen as very plain. You can use this to your advantage by throwing some wild designs, as well as various colors, to bring even more life to your builds.
You'll find stone not only covering floors and walls, but also on surfaces and bathroom objects, like toilets, bathtubs, statues and other decorative items. Things made of stone are usually robust and powerful, enriching any environment with these characteristics. You'll notice that it goes really well with pretty much any other material – yet another thing stone has in common with wood.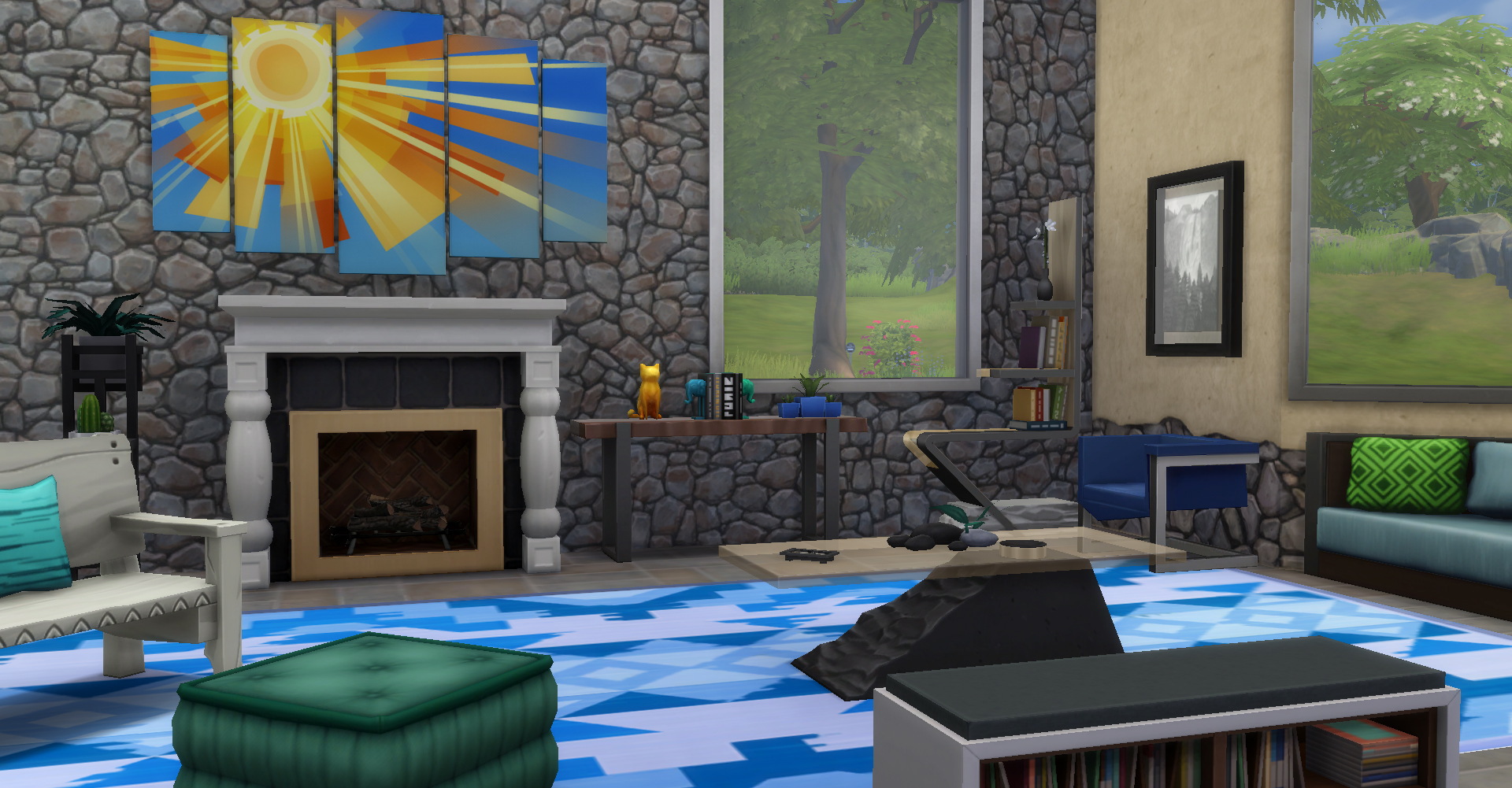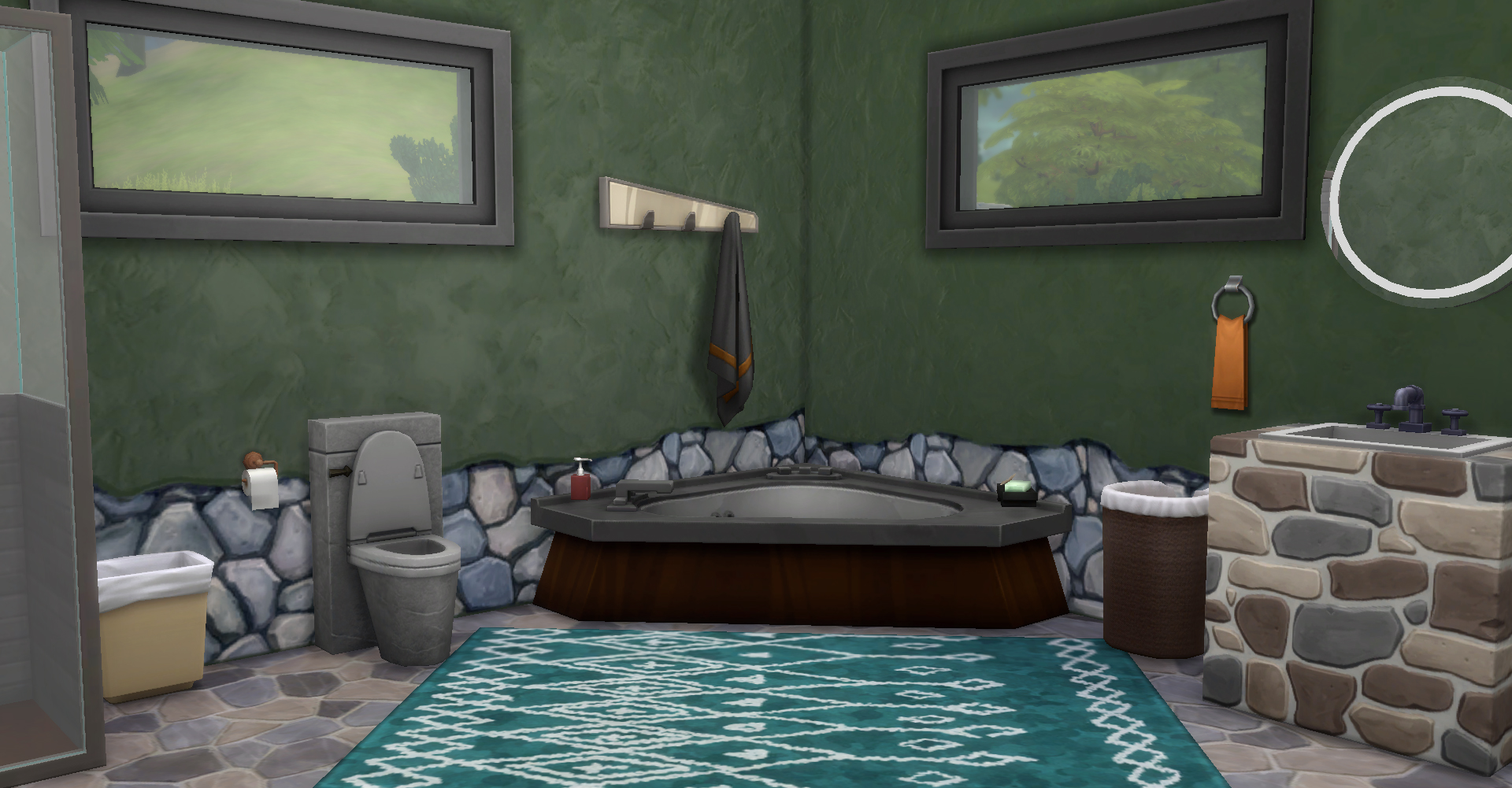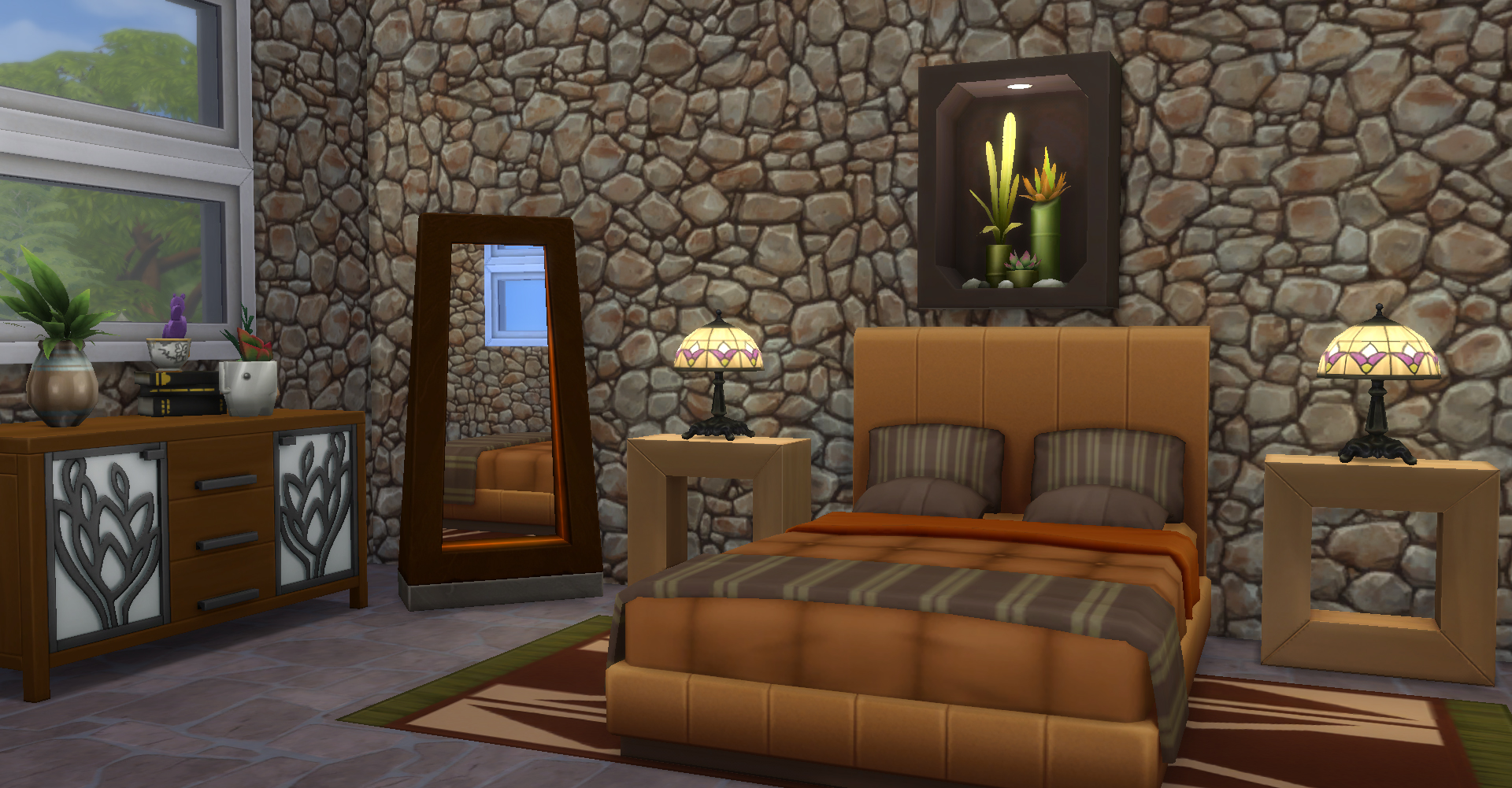 Ceramic
Unlike these previous two, ceramics is not a raw material. It's clay, or mud, that was molded and then burned to a certain degree. If it's varnished it becomes porcelain, which really changes the way it looks and feels. It can be either painted or used as it looks straight out of the oven. It's definitely versatile.
It's easy to identify its use in objects like plates, bowls and vases, but sometimes we forget that bricks and tiles are also made from burnt mud. It's common to use ceramic tiles for kitchens and bathrooms because of how resistant they are to humidity (and also they're usually easy to clean!), but they're great options to have them all over the house in warmer climates (Hello, Selvadorada).
Exposed bricks can also give an Industrial or Modern feel to a room. They're practical to build and also look good. Better yet, it's really easy to decorate in those rooms, making the most of their texture, whether it be rough surfaces or shiny porcelain.
Earthy tones are a safe, but efficient choice. I like taking it easy in terms of patterns when working with ceramics, although I find that abstract shapes go really well with them.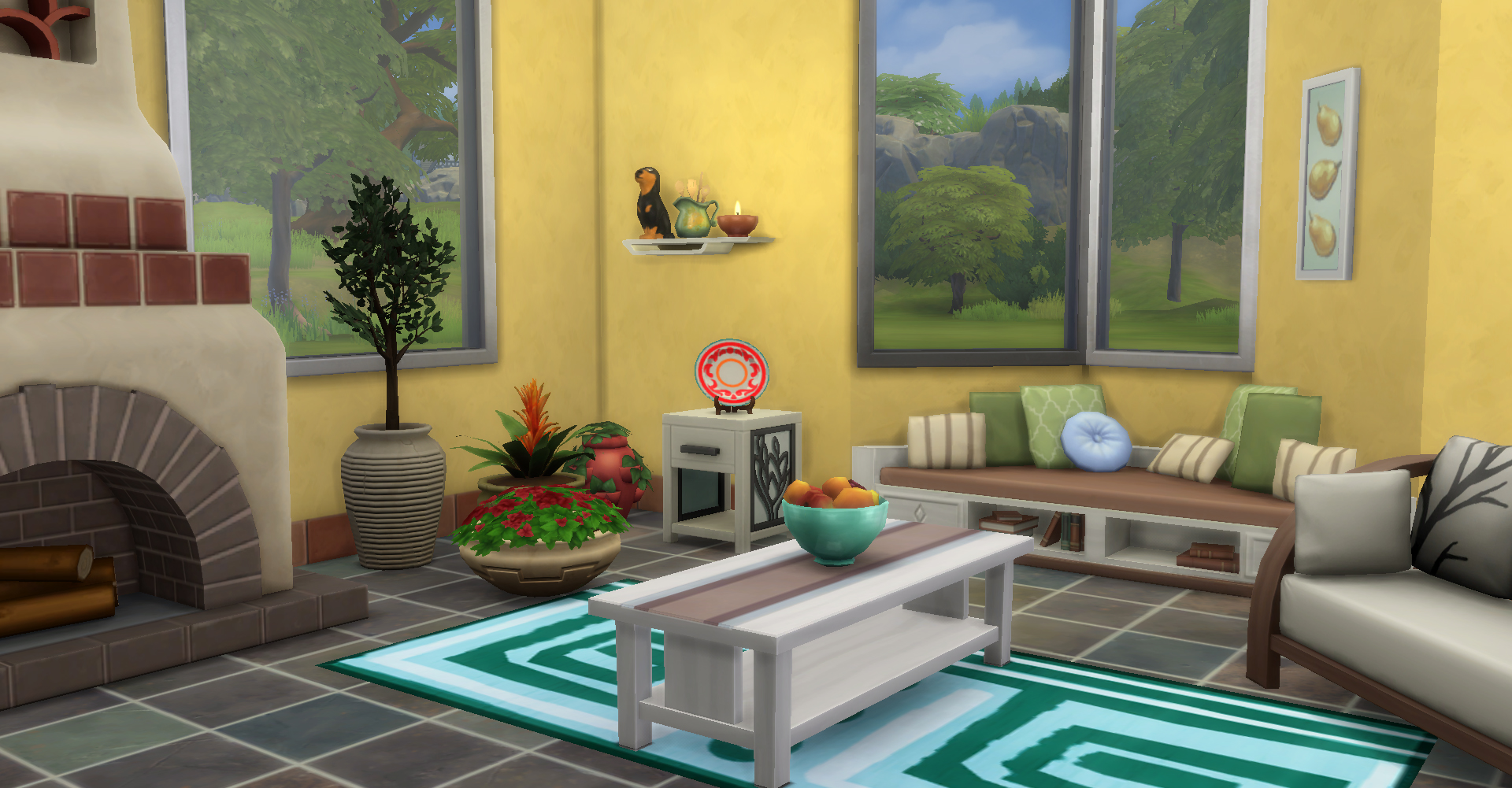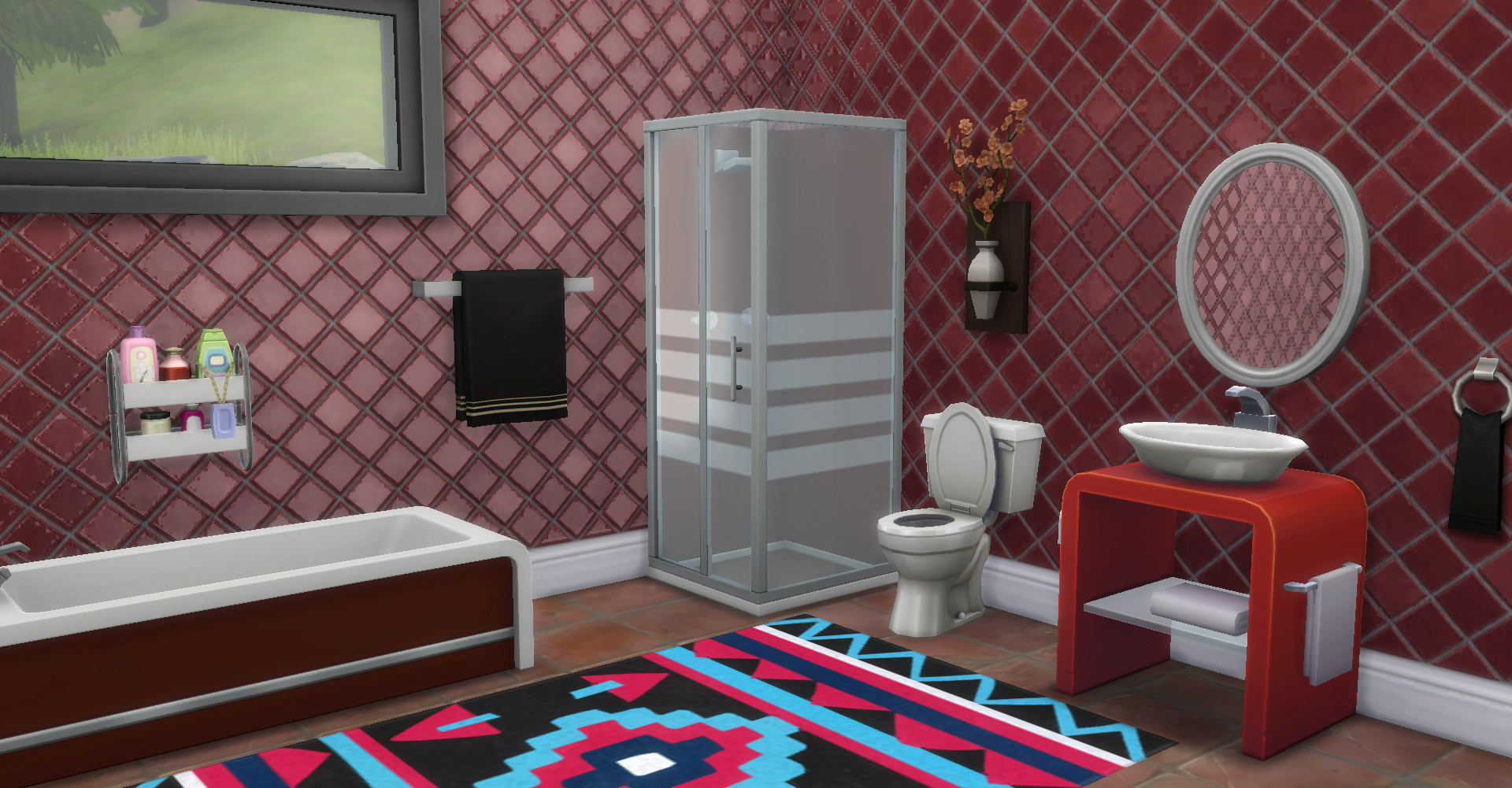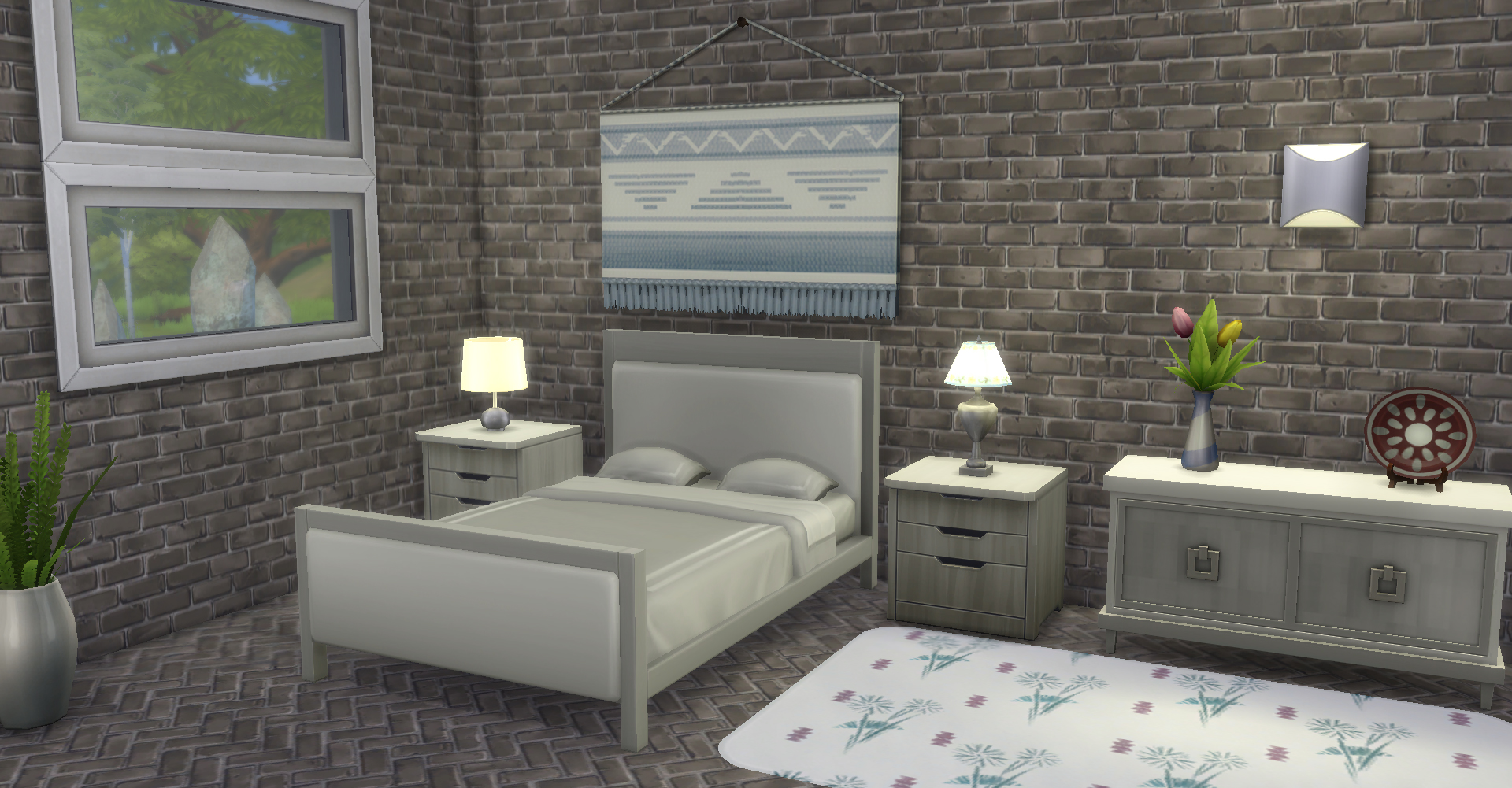 Concrete
Also not a natural material, but a very synthetic one. Concrete is made from a mix of cement, sand, ground rocks and other elements. It's cheap and durable with a very rough look to it.
I came to love concrete over the years. It goes incredibly well with glass and it's pale, opaque grayness makes it a perfect canvas for pretty much any color you want. Builds with exposed concrete are usually cold and sturdy, but its simplicity has its very own charm.
Unlike wood or metal, concrete isn't usually worked with much detail, so I like to combine it with other simple lines. Since every color really pops when used over concrete, I like to go for other grays and more opaque tones.
One other thing that looks really good on concrete is plants. Probably because there's a good contrast of ideas when you're putting nature in an object that is so synthetic.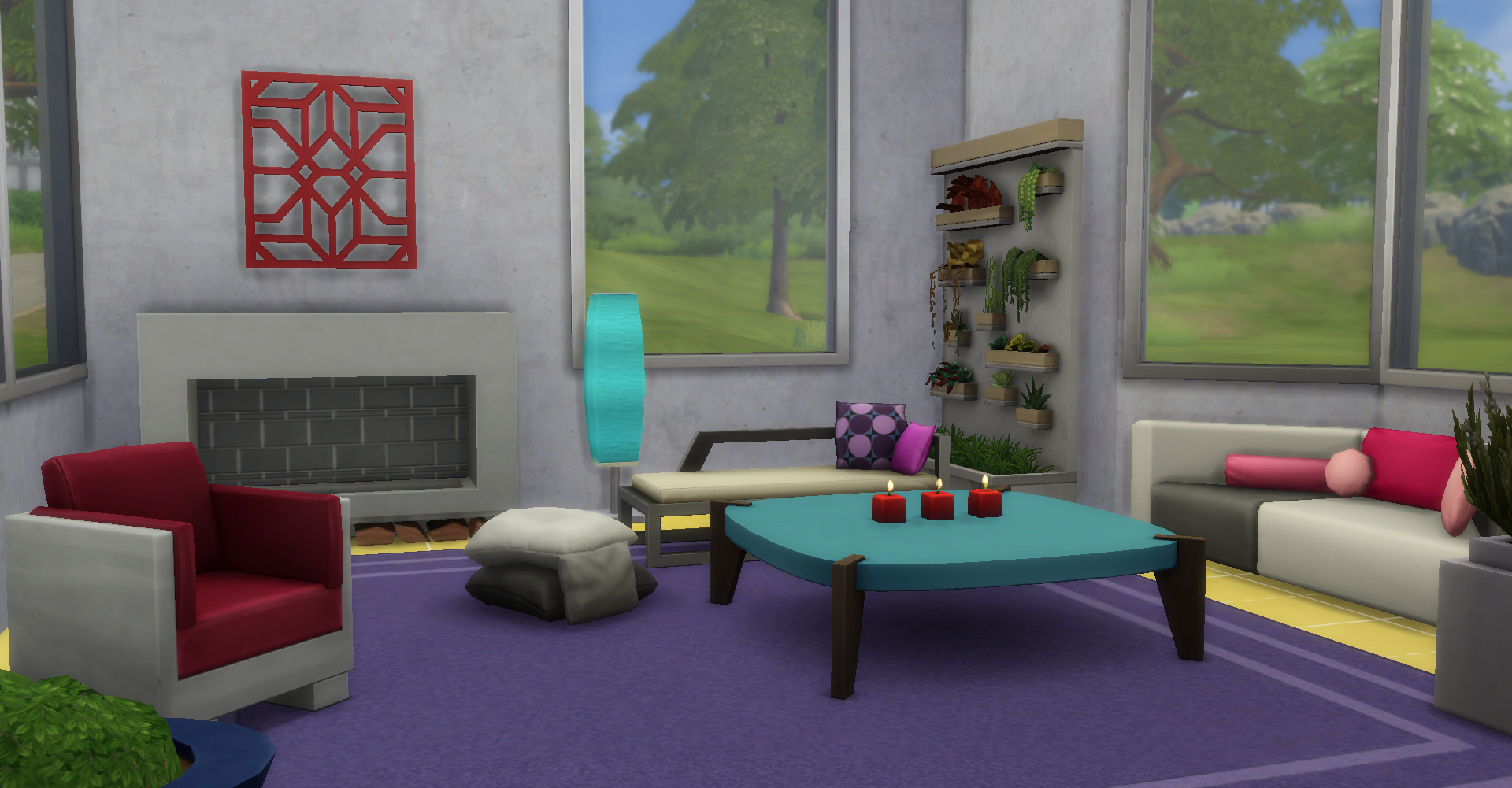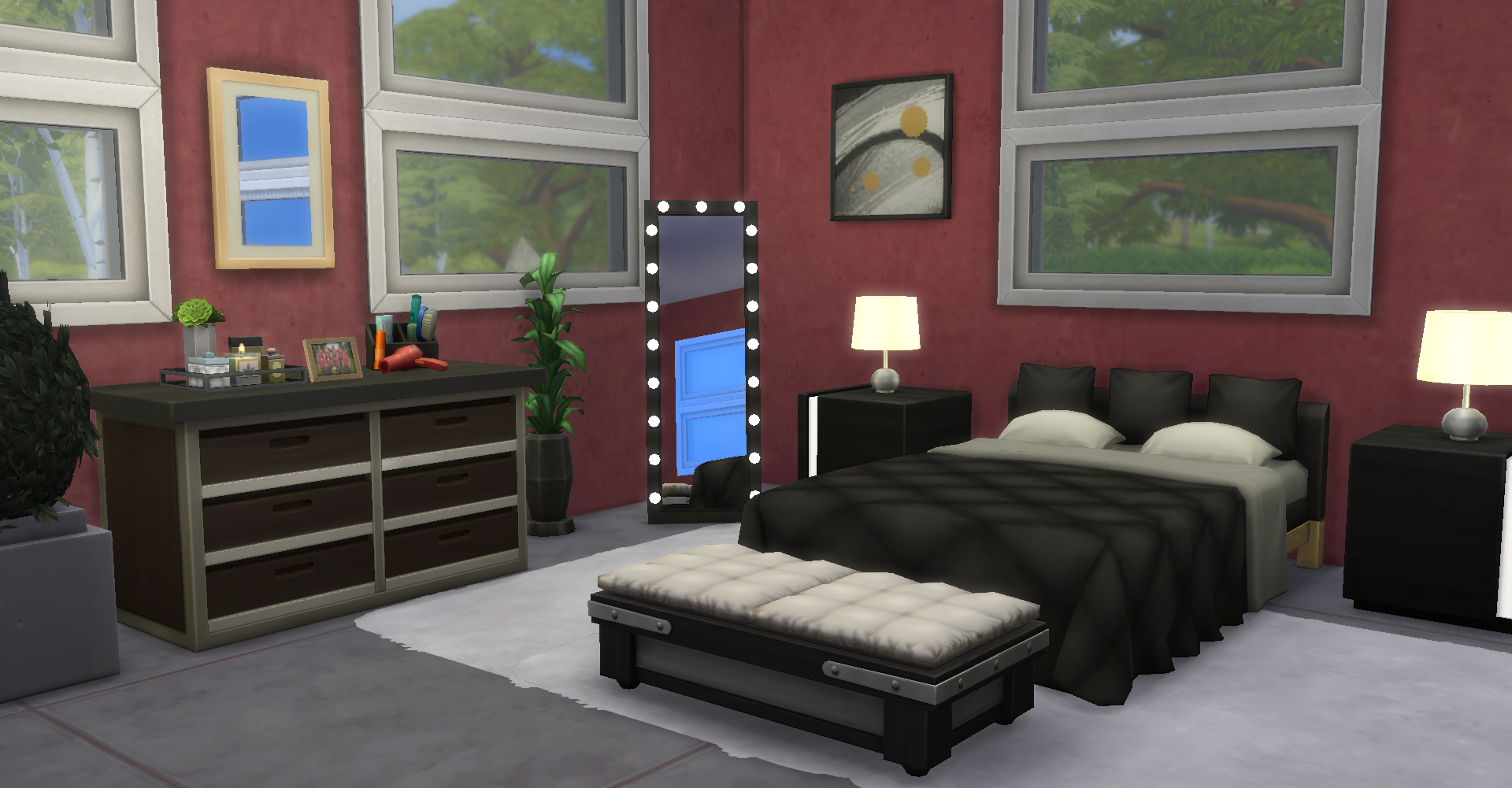 Metal and Glass
I decided to combine these two into one category because they are less common in The Sims 4. They both come from natural elements that are tamed through craftsmanship to mold them into whatever it is we need from them, even if it's just decoration.
Glass has an obvious characteristic, its transparency, which also defines its use. Glass reveals what's on the other side, combining the inside and the outside rather than separating them. Metal evokes engineering and science, which is why it makes any environment look very synthetic. These two go great together, giving us everything from lamps to tables, and railings to doors.
I'll admit… I don't really like what I came up with while building the rooms from the screenshots, but I know that's a matter of taste and also that the whole point of this article is to give you inspiration to go and make your own stuff. So maybe you'll look at these images and see something that will spark your creativity and what you'll build will end up looking fantastic also for my taste.
For me, the problem though is not in the use of those materials, but in the overuse of them for those builds. I think metal and glass have more supporting roles while wood, concrete and others are the real stars. Also, metal floors and walls rarely ever look good in my opinion.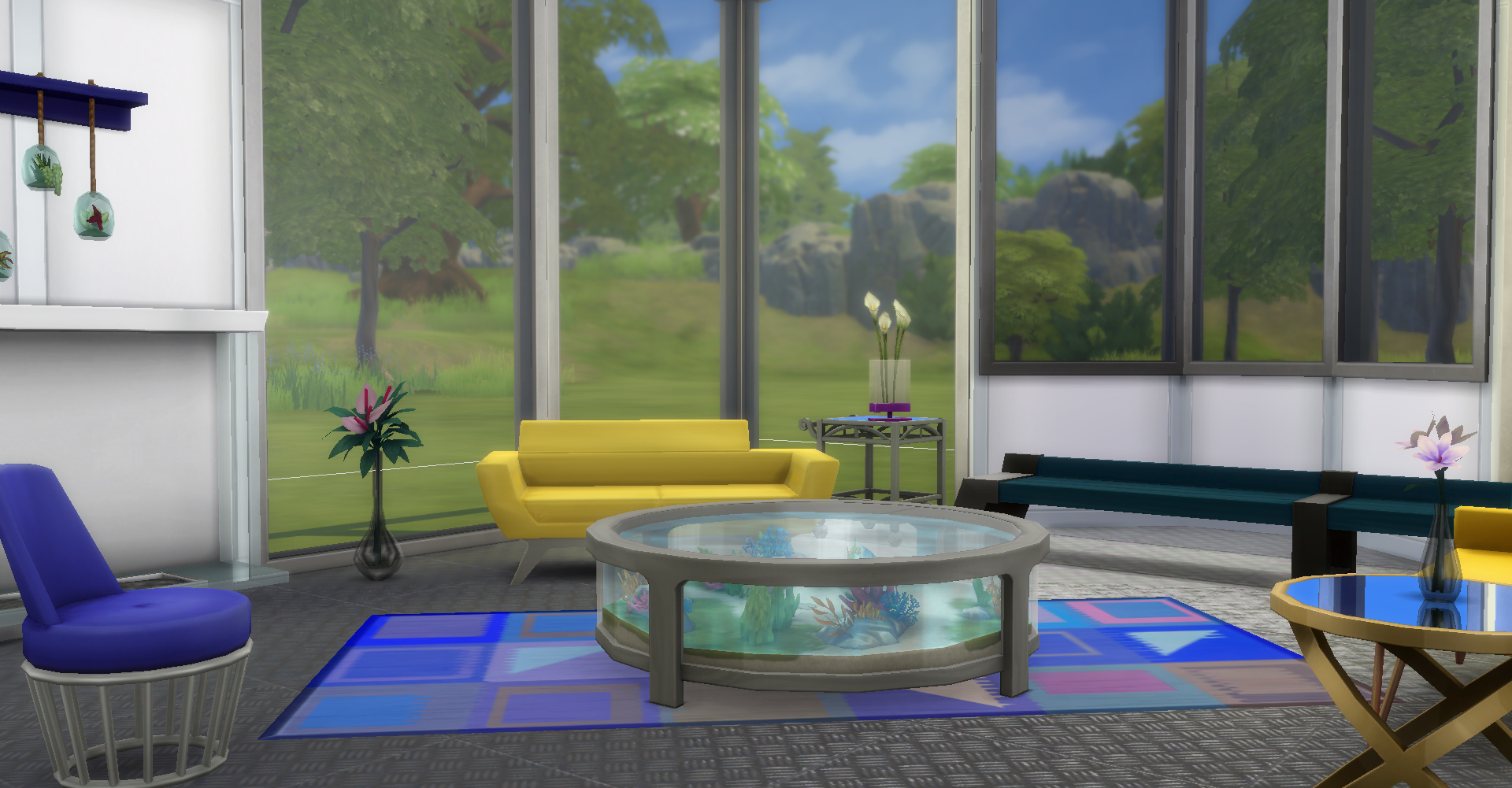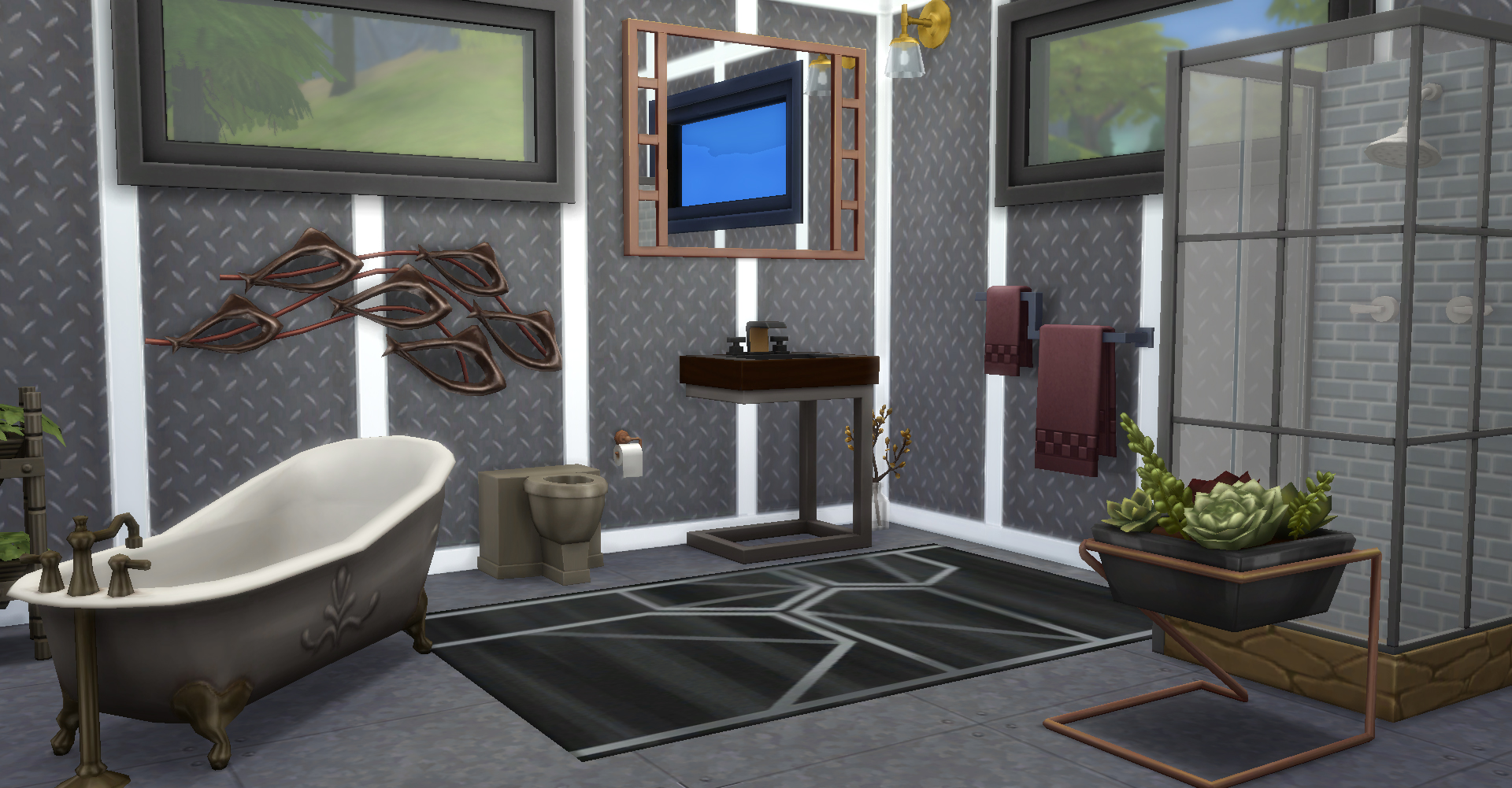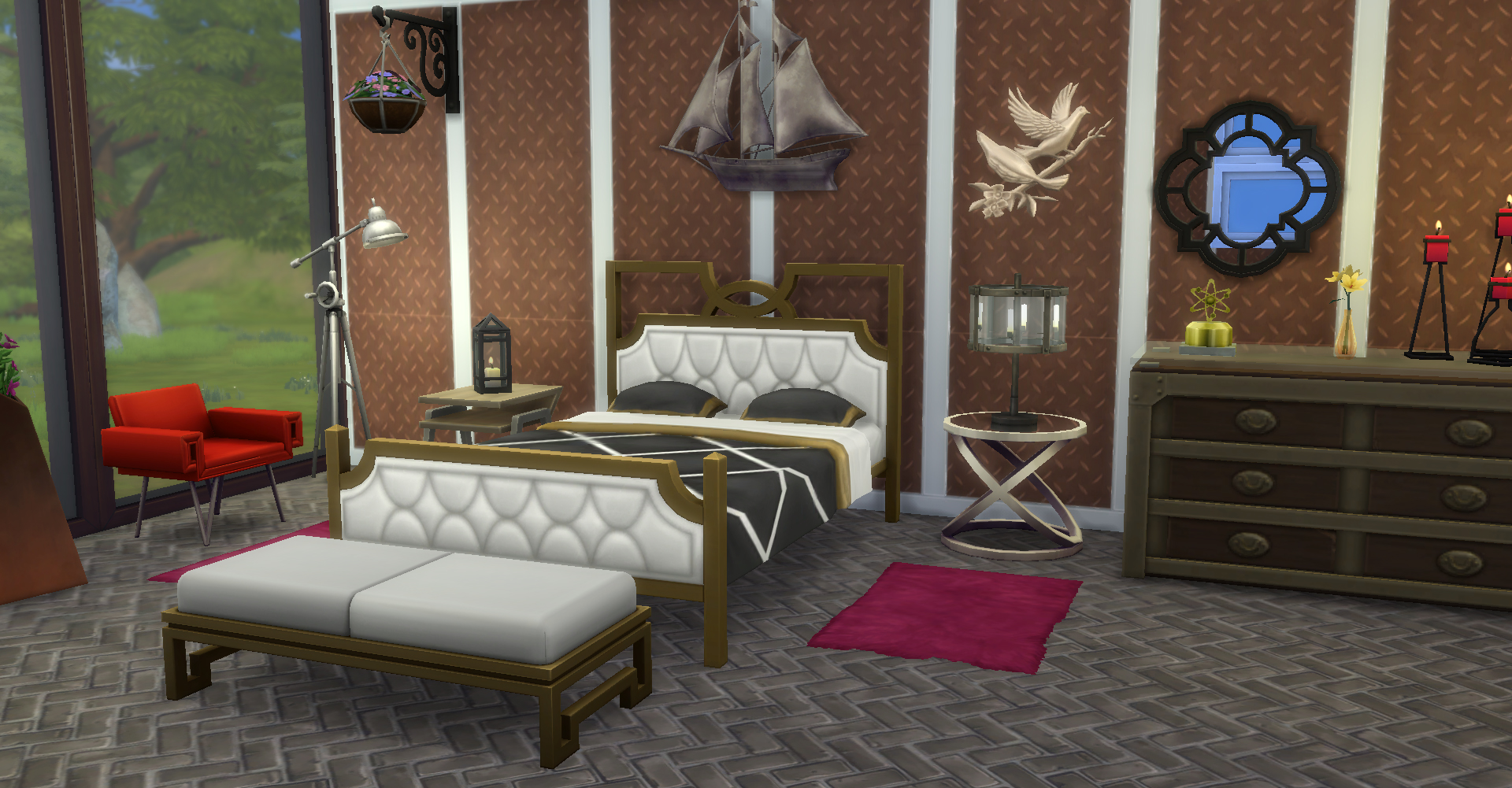 So these are some ideas that can enhance your next build. Don't forget that first and foremost your own personal taste should be the guide to how you build. One other thing that is always fun is trying to create specific styles for specific sims. Have you tried that yet?
What is your favorite material to use in game? How do you choose to build in The Sims 4? Tell us all in the comments below!