Community modder TwistedMexi has released a new mod that will make troubleshooting The Sims 4 more straightforward. Aptly named "Better Exceptions", the mod has the ability to monitor and alert players of exceptions the moment they occur, making it easier to correlate the error to the cause. If an exception occurs, the mod compares it to a list of both known EA bugs and mod issues. If it finds a match, it will let players know the reason and offer steps to correct it, such as linking an Answers HQ article or the modder's website.
Even if players encounter a new type of error, Better Exceptions will attempt to diagnose the most likely cause and let the player know. If there aren't any mods installed, it will recommend that players report it as a game bug which will hopefully increase the rate that issues are found and corrected.
Finally, because the nature of this mod might mean many changes in the future, TwistedMexi has built in an auto-update feature.  This helps ensure the mod remains as useful as possible without requiring players to manually check for updates frequently.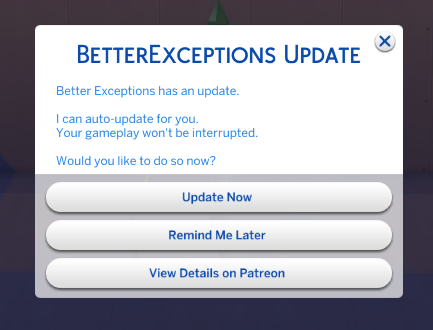 TwistedMexi has invited both modders and users of the mod to provide screenshots of alerts and the reports as a way to increase the accuracy of the mod. If you're a CC hoarder or mod fanatic, consider this mod an essential. Players can download the mod from his patreon.