The Sims 4 Island Living is here! Your Sims can now enjoy the sunny shores and vibrant reefs of Sulani, make best friends with a dolphin, and try not to get hit with a lava ball… A new expansion isn't all about new gameplay, however – for a fair few of the Game's players (myself included), it's the new additions to the Build and Buy Mode catalogue that really get us excited. Using everything this new expansion has to offer, I've created three very different builds to show you just a few of the ways you can make the most of Build Mode in The Sims 4 Island Living!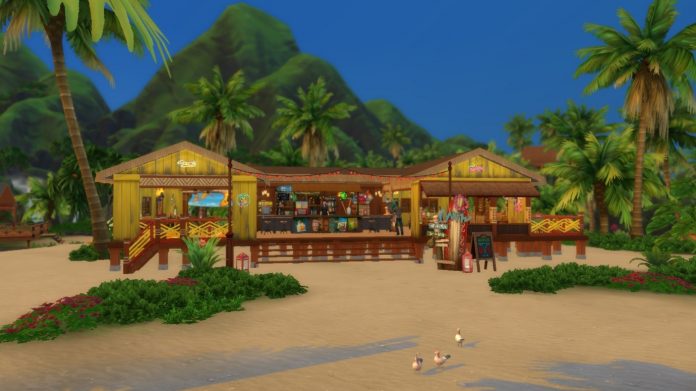 This build is almost entirely inspired by the new bar that came with this Expansion Pack. I really love how home-made and rustic it looks – it just had to become the centrepiece of a beach-side bar! Luckily, this expansion comes with a whole host of dingy and dishevelled looking furniture, wall-coverings and flooring – all of which match the bar perfectly. I love this aesthetic and the new items proved ideal for creating a weather-beaten, Hawaiian-style beach bar. I particularly like the way the paint on the new dining table, picnic bench, and wood-siding looks as if it has worn off over-time!
When I was creating this bar, I really wanted to make use of the new windows and doors included with Island Living. I was super excited by the idea of creating a space that was largely open to the elements and so, after I had built my initial structure, I deleted some of the walls and added in the new glassless windows. I love how open and airy this build feels.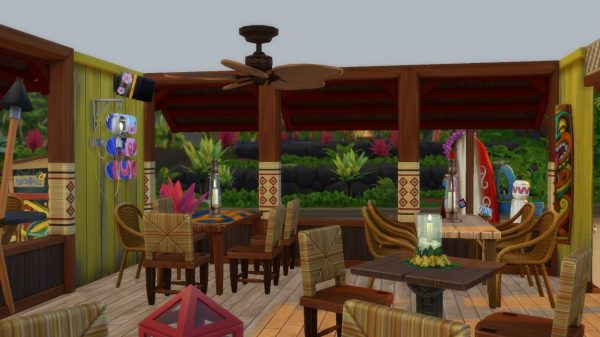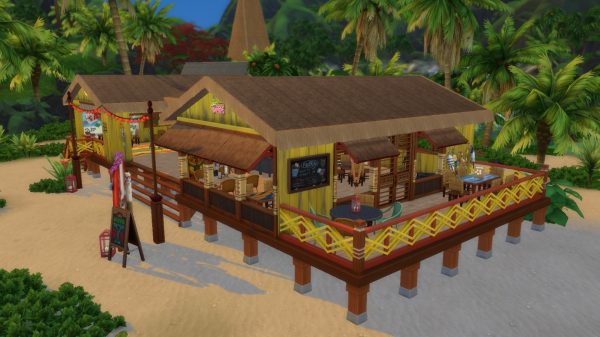 As Brindleton Bay is also a seaside world, I found myself utilising a large number of the wall decals from Cats and Dogs. A lot of the paintings, posters, and wall decorations that came with this expansion feature sea-creatures, anchors and ship's wheels – all of which look great in my beach-side bar.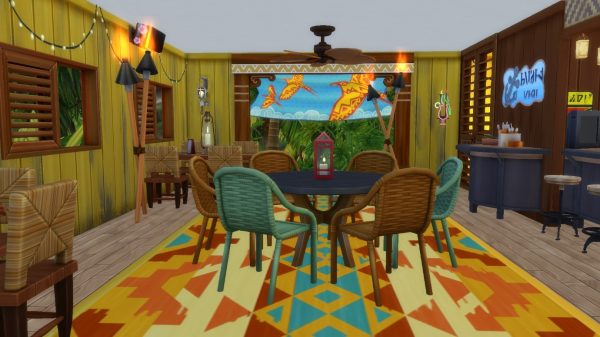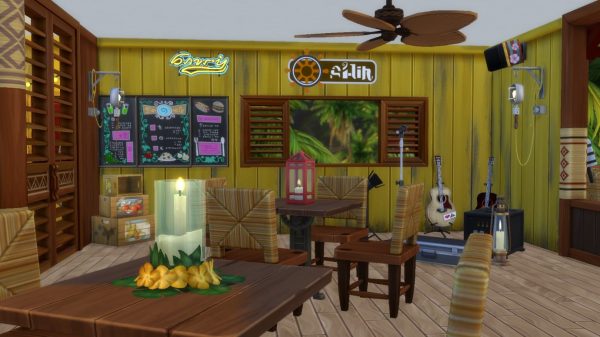 I combined these ocean-themed decals with a huge variety of clutter items and furnishings. I wanted this bar to feel mismatched, bright, and fun!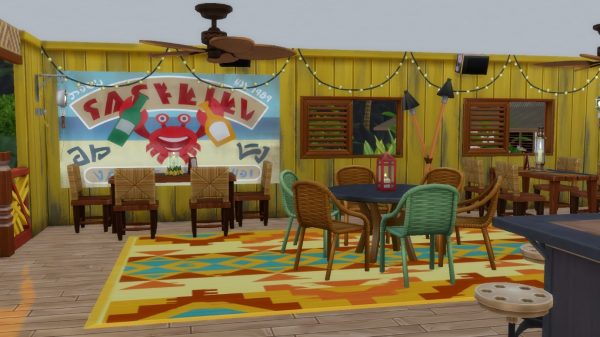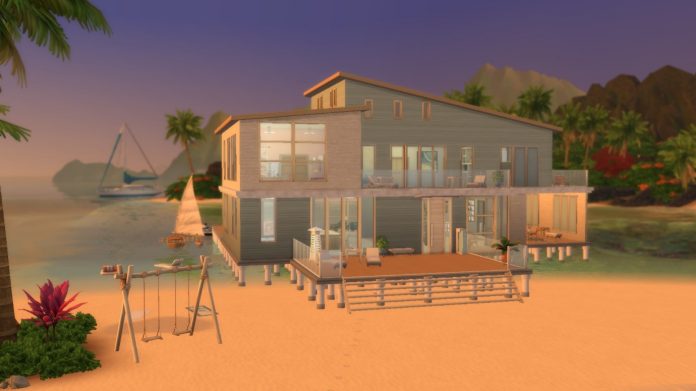 If rustic beach-chic isn't your style then don't fret, The Sims 4 Island Living also came with plenty of modern-looking items for your Sims to enjoy. Almost exclusively using items from the new Pack, I was able to create a contemporary build that fits in perfectly with its surroundings!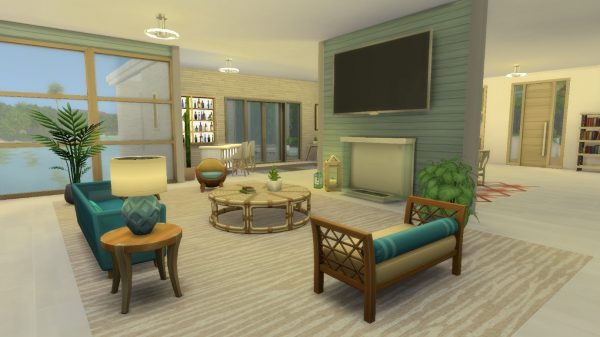 Whilst I really like the new kitchen counters that were added with this Expansion Pack, I was a little disappointed to see that there was no matching island counter or upper cabinet available. I quickly realised, however, that the Sims team had added a set of three shelving units that are designed to act as upper cabinets. This style of cabinet isn't something we've seen in the Sims 4 before so I was excited to have a play around with them – I can definitely see myself using them in future builds! You can find these units in the 'Displays' section of the Build Mode catalogue.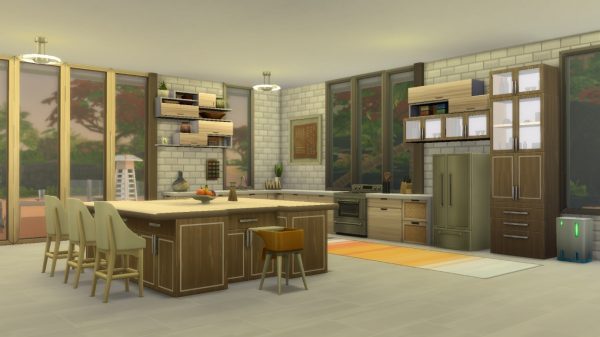 As there is no matching island counter, I chose to create an island using the cabinets that came with Cool Kitchen. The light brown wood-tone matches the new counters really well!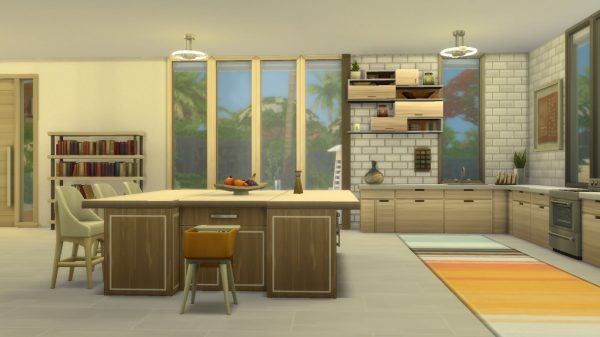 Island Living also comes with 4 new beds! Choosing the perfect bed is always a struggle, so I was thrilled to find out that we had been given some new options. I designed this master bedroom around the new canopy bed included in the Pack, opting for cream and dark green as a colour scheme. I really like the way that this bedroom looks beachy, with lots of natural colours and wood-tones, but still feels modern and contemporary.
Although these wicker beds are probably designed to be included in a rustic beach house, I think they look great here in this modern twin-girls room. Just because an item seems to fit a certain aesthetic doesn't mean it can't be used elsewhere – I would definitely recommend experimenting with everything the Game has on offer, you might be surprised by what you can create!
One of my favourite parts of this build is the outdoor gym/chill-out space. Building on a waterfront lot really inspired me to get creative with my architectural design and step outside of my comfort zone. I love that this space is sheltered and undercover but isn't entirely closed in! It's definitely a fun new take on a balcony or deck!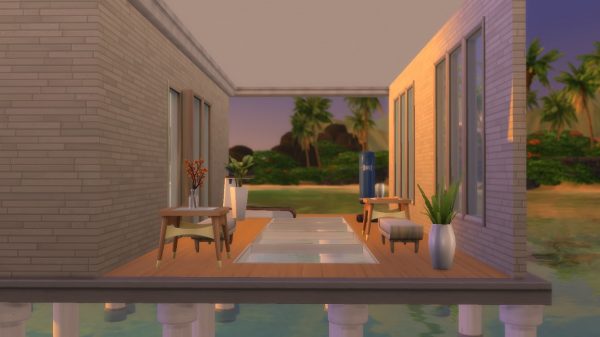 I also really enjoyed creating a dock where my Sims could moor their sailboat and jet ski. This is something I've never needed to build in the Sims 4 and was a really fun part of the building process!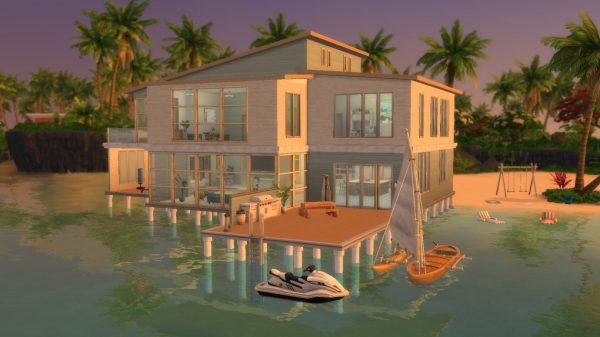 You'll also notice that this dock features one of the new outdoor showers. These objects will allow your Sims to shower in front of other Sims without getting an Embarrassed Moodlet and are perfect to add to the beaches and ocean-side lots of Sulani!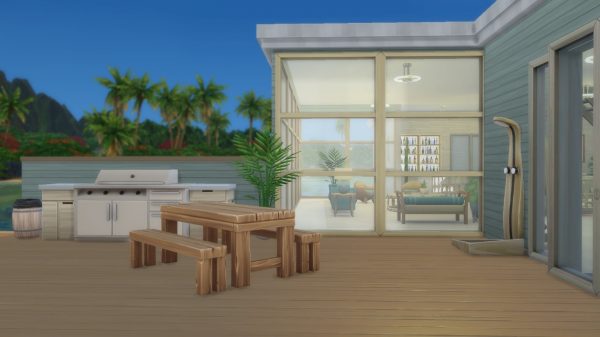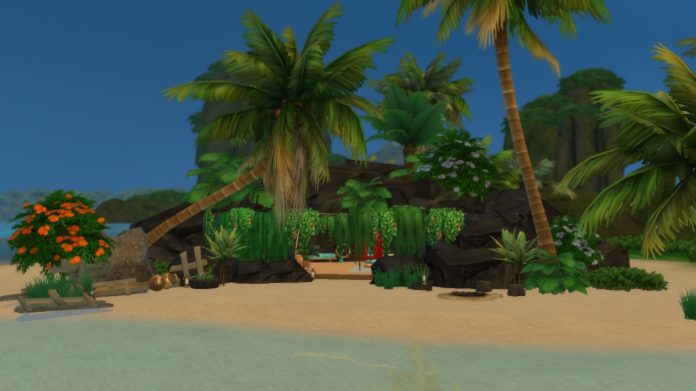 As soon as I heard that mermaids were returning to the Sims franchise, I couldn't wait to jump into my Game and create a secret mermaid hideout! I absolutely love the way this build turned out – this build was really easy to create but looks super effective!
To create this cave, I began by building a very simple rectangular room. Then, using the Right and Left Square Bracket Keys, I resized a selection of rocks and started to cover my rectangular structure with them (check out our Resizing Guide for more information). I made sure that each of the rocks I placed around the base of my room were clipping into the walls themselves. This ensured that the inside of the cave would look just as realistic as the outside. Instead of a perfect rectangle, I ended up with an irregular, uneven space.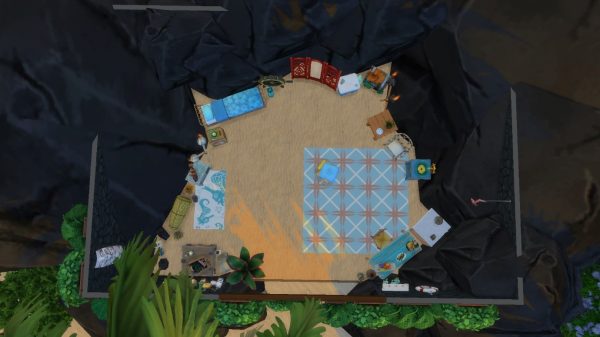 In order to disguise any walls, or exposed pieces of roof, I added a selection of plants and trees to the structure. Island Living came with a ton of new plants and trees (something I am very grateful for!), so this was an easy task. I had a lot of fun landscaping this lot and utilising all of the new options.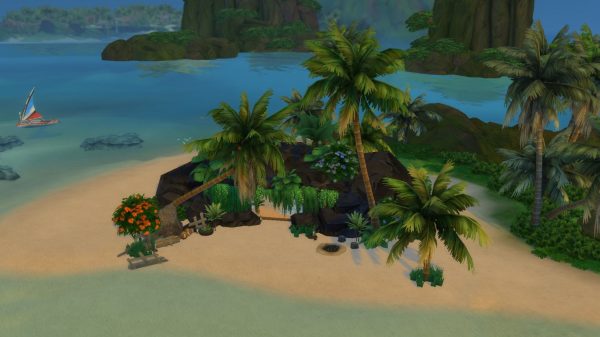 After playing around with mermaids in the Game for a while, I noticed that they can tend to most of their needs in the water. Mermaids can sleep, socialise and even relieve themselves without stepping a foot on land. Because of this, I knew that whatever home I built for my mermaid wouldn't have to be equipped with all the usual necessities – as long as she had somewhere to cook, I was good to go. I didn't have to create any separate rooms or fill my cave with a bunch of furniture and appliances – this lot would be completely functional even if I didn't include a toilet or shower!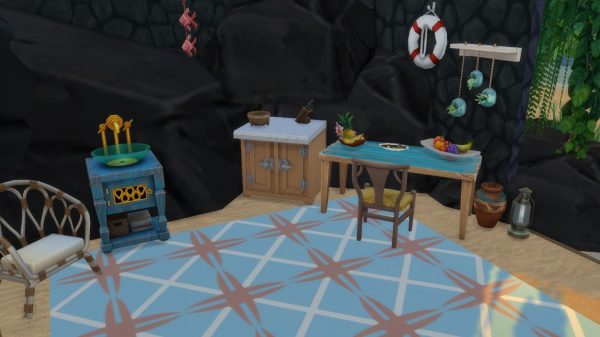 I love the idea that this mermaid has collected a large amount of objects from the Sims world and displayed them in her home – I was definitely inspired by Ariel! A lot of the items in this cave are ocean-themed but there is also a lot of random clutter. I figured that she would have mainly collected her treasures from the beach so she has things like beach-towels, fishing nets, and crates! My main goal was just to create a cluttered space, full to the brim with a random assortment of objects. I'm really happy with the way it turned out!
Making the most of a new Expansion Pack is all about experimentation. Have a look through the catalogue and see what catches your eye, combine new items with objects from previous packs, and get creative with the styles and designs you opt for! Happy Building!
Click here to download the Beach-Side Bar!
Click here to download the Modern Beach House!
Click here to download the Mermaid Cave!