The Sims 4 live stream on Friday, October 30th gave us the first glimpse of The Sims 4 Snowy Escape expansion pack gameplay.  SimGuruGraham, lead producer for Snowy Escape, presented with a host of producers, members of the design team, and the art director from Snowy Escape standing by on audio to assist with questions. Graham advised right away that the version being shown in the live was not the final version and could still need some finishing touches.
Graham started by showing a gorgeous overview of the world centered first on the neighborhood of Wakaba and pointing out that all of the neighborhoods had meaning behind them, noting that Mt. Komorebi itself translates to "the light filtering through the trees", which is the running theme for this pack. He zoomed in for a closer look at the neighborhood of Wakaba (translation – young leaves) a more modern touristy section of the world.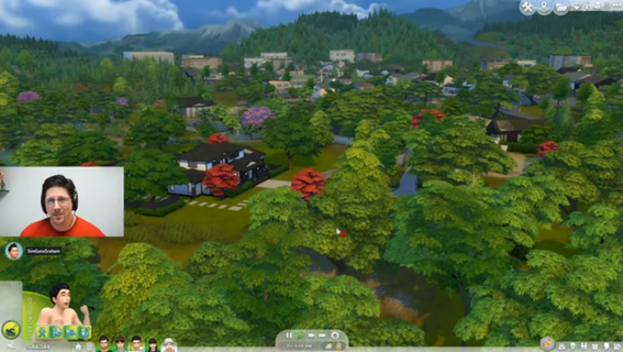 Grant paused to note that all of the lots in Mt. Komorebi were created by the Sims players that collaborated with the team on this pack – James Turner, Deligracy, lilsimsie, and Simlicy.
The art director provided some insight on how she helped direct the collaborating Sims players when building the lots for Mt. Komorebi. The content creators were provided reference pictures, layouts, and worked to build contrast within the world creating more contemporary architecture with Japanese inspired touches.
Live gameplay started with some swimming in Wakaba's river. Swimming in the river is one of the goals for the new Mt. Komorebi Sightseer Aspiration.  Over in the Wakaba plaza, we find Mt. Komorebi's mascot, Yamachan. SimGuruPopcorn provides a short backstory on the ramen-loving Yamachan, leader of the Voidcritter Hunt. This plaza, in Wakaba, will house The Festival of Youth where kids will hunt for Voidcritters, enjoy festival snacks, and other activities.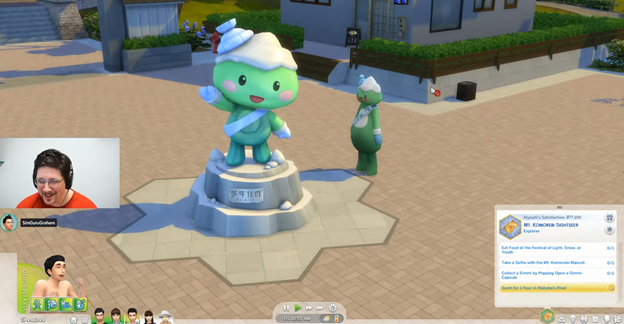 Next, we see a child sim ready for school dressed in a traditional school uniform, a unique and new feature to Mt. Komorebi, and a glimpse of the new science table included in the pack.
A new cultural addition with this pack is the ability to have sims remove their shoes when entering a lot. You'll have the ability to set a rule for shoes off or removing shoes and putting on slippers for any lot. During the live play, we see the child sim disobey this rule and receive an embarrassed moodlet called "So Shoe Me!" for the blunder.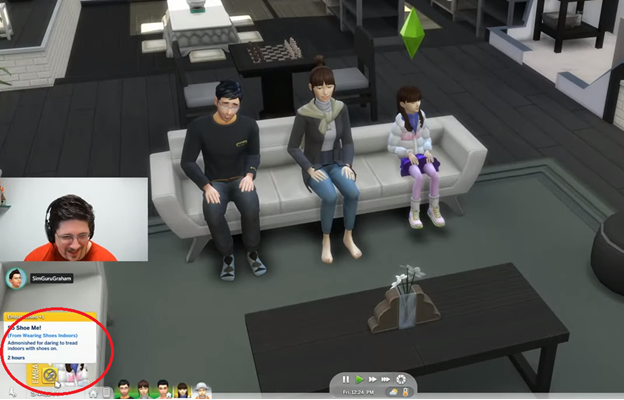 Graham provided a good look at an upcoming highly-anticipated base game free update that provides the ability to create platforms. We get a look at some of the options that will add depth to the cultural scenery such as the sunken genkan. The ability to have different platform heights within a room and on all levels of the build. A new head clearance route fail icon will appear if you build a platform that would cause your Sim to hit their head on a light or ceiling.
Salary Person is a new rabbit-hole style career coming with Snowy Escape. It's a strenuous career with long work hours and long commutes. The career will come with two branches – supervisor and expert. Your Sim will have to balance between bringing their work home and blowing off some steam by either "exercising to decompress" or "dancing to the company anthem" to deal with the demands. The career comes with lots of rewards such as business outfits and a couple of new traits including Legendary Stamina that will help your Sims work even longer.
There are 16 new Lifestyles coming with the pack. While traits make up a Sim's personality lifestyles are the lived experiences of your Sims. As you play with your Sims, make choices, interact and form habits your Sims will develop lifestyles depending on those behaviors.
Some lifestyles will not be obtainable at the same time due to the differences. A couple of examples are "Single and Lovin' It" and "Hungry for Love" or "Indoorsy" and "Outdoorsy". Your Sims' actions will push them one way or the other but can obviously not both.
A huge gameplay feature coming as a free base game update is Sentiments. Sentiments are developed over time and come from shared moments with other Sims. Snowy Escape will include some exclusive Sentiments of its own.
Graham briefly showed another free base game update coming – Sim Profiles. Sim Profile will contain information about the Sim, pets, children, relationships, etc.
Next Graham took his Sim family to the neighborhood of Senbamachi (translation – thousand leaf town). We get a beautiful view of an older looking Japanese town with hot springs spillways and congested buildings.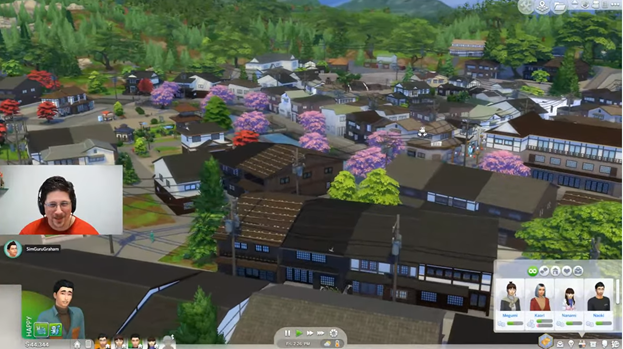 The Senbamachi plaza will house The Festival of Light which will include floating lanterns, unique festival food, fireworks, and other activities that we don't get a peek at just yet.
Graham quickly highlighted another new aspiration, the Extreme Sports Enthusiast aspiration. Some goals for this aspiration include checking the board for activities and skiing down the Bunny Slope.
New vending machines in the pack will provide several new options including items to ward off Denkimushi (if you so choose) or purchasing a Simmi capsule. Denkimushi are giant hornets that can attack your Sim. Simmi capsules are a part of a new household collection available to your Sims. There are 12 new Simmis to collect as well as six rare gold versions. Simmi capsules can also be found in other ways, one which occurs at the festivals.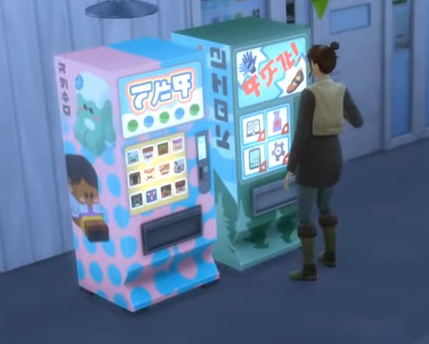 The vending machines may look adorable and harmless but Sims should beware. Shaking the vending machines could result in an injury or after a new death type – "Death by Vending Machine". A new feature to vending machines coming with the pack is the option to purchase hot or cold food to help regulate your Sims' temperature. These items can help your Sim warm up if they are too cold or cool them down if they are too hot, but they won't cause your Sim to die from extreme temperatures.
Taking a hike using the new hiking map can start a new social gameplay aspect of the pack. You'll be able to interact with the map to choose a location and then select who you want to hike with. You'll be able to choose locations such as the Bamboo Forest or the Temple or you can choose to exercise and jog on your hike or take a meditative walk instead.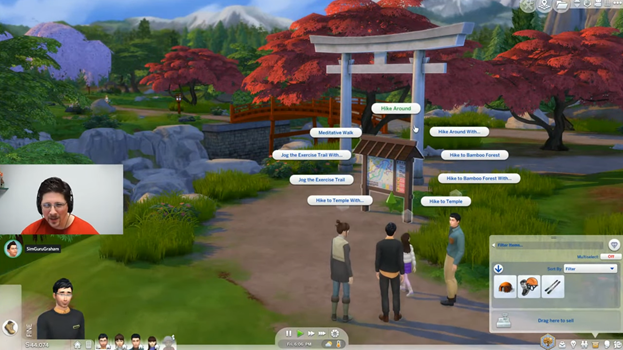 Hiking will be a more group social experience for your Sims as you see them stop for selfies, chat, build relationships,  and take in the scenery together. Jogging on a hike will help increase your Sim's athletic skill while taking a meditative hike can permit your Sim to use a surge emotion interaction that can allow your Sim to enter any emotion they want. There are other ways to use the surge emotion interaction such as using the hot springs, painting, getting a massage, etc. Hiking to the temple we saw a new object, the Ema Board, where Sims can leave a wish.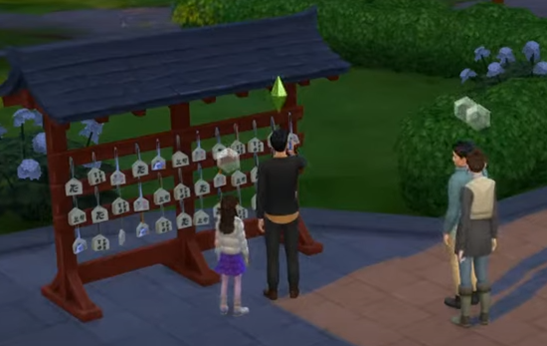 We were able to see another glimpse into Sentiments later when revelated the Sim Profile to show that the family hiking trip had created a Sentiment for one of the Sims.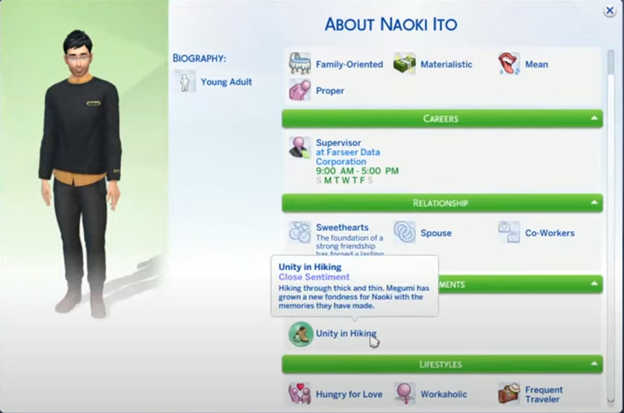 Next, we traveled to the neighborhood of Yukimatsu. Wen rented a vacation home and Graham showed the changes coming to vacations. In the update coming prior to Snowy Escape, all players will be able to vacation in any world. Mt. Komorebi will be unique in that it will come with both permanent and vacation homes already. Other worlds in-game will need to have the new rental lot top added via Manage Worlds so that vacationing in that world is an option. This lot type will be free in the update.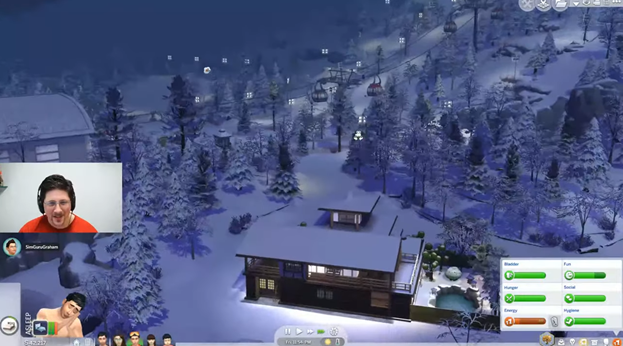 Gathering around the hot pot meal will be a new meal interaction available. We were able to see this feature used in the vacation home.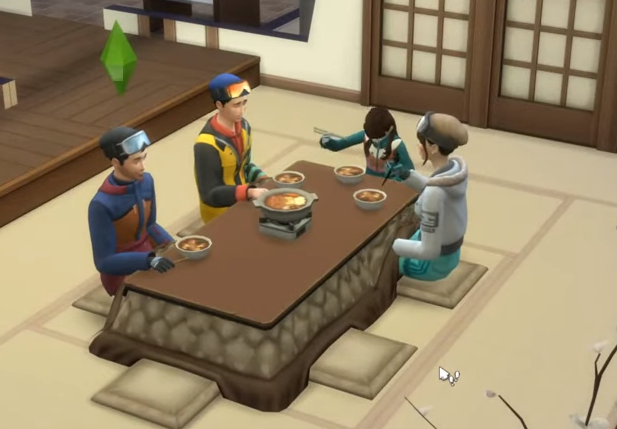 Sims will be able to gather at the table socializing while their food finishing cooking and then dig in with their utensil preference. The hot pot can be used on any table or counter, not just the new kotatsu table. You can also take the hot pot with you. Snowy Escape will include 15 new types of food, recipes, and drinks in addition to the vending machine foods. Healthy recipes have also been added to restaurant menus to support the new Health Food Nut Lifestyle.
Yukimatsu is located on the gorgeous snowy mountainside. You'll find cable cars, vacation rentals, a gondola, a mysterious cave, a frozen waterfall, and a train bringing Sims in to check out the huge slopes or the bunny trails.
Graham used the 'form a group' interaction from a previous pack to take his Sim family for some snowy activities. All members of the family were able to enjoy an activity. Toddlers are carried up the hill for faster, safer travel.
Graham showed several options and activities. Your Sim can sled alone, with another Sim, snowboard, ski and there are options for intensity within those activities. You can also have your Sim use the equipment available, rent, or purchase their own equipment. Using the equipment available can cause some negative effects on your Sims due to the quality. Vending machines offer options to purchase equipment as well.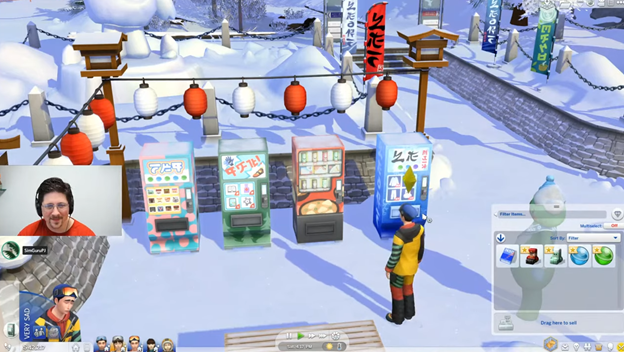 Using an experienced Sim snowboarding, Graham was able to show the options available after leveling up your snowboarding skill. The Sim was able to record a video while snowboarding that could later be uploaded to the Sims' computer. Uploading the video could increase your Sim's fame if you have the Get Famous expansion pack or some simoleons.  Leveling up will also give your Sim access to more intense slopes, tricks or allow them to become Snow Bros with other Sims. Becoming Snow Bros will increase skills for all and other perks such as being able to lower the fatigue of another Sim or making them endure the injuries they've suffered.
Skiing will include options of intensity depending on your Sim's skill level. Choosing a lower intensity may not build the skill as fast but it is a safer option. Choosing a higher intensity will allow your Sim to try more jumps and turns.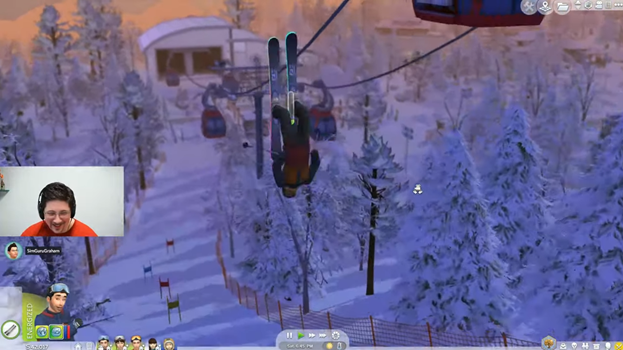 During the live stream, The Festival of Snow came to Yukimatsu. We got a great view of the festival and some of the nice touches, especially at night. Each festival will also include a unique vending machine.
Snowy Escape includes a new Social event called Mountain Climb Excursion. In this event, you'll choose a leader and team members to start. Graham took his Sims on a Mountain Climb Excursion starting at the Sutefani Onsen Bathhouse, a new type of venue in the pack. Enjoying the bathhouse, Sims were able to change into proper attire according to etiquette and take a quick shower before entering the hot springs. A new radio station could be heard playing the new Japanese folk music coming with the pack. Graham added that new music would also be coming to the S-Pop station and added in a free update. He specified the music that came with City Living for the S-Pop station would remain exclusive to that pack and this music would be a free base game addition.
*There are two types of hot springs coming with the pack – a natural and a manmade*
Next on the excursion, the Sims changed into their cold-weather attire for mountain climbing. The Sims are shown walking slowly as they trudge through the deeper snow to reach the mountain.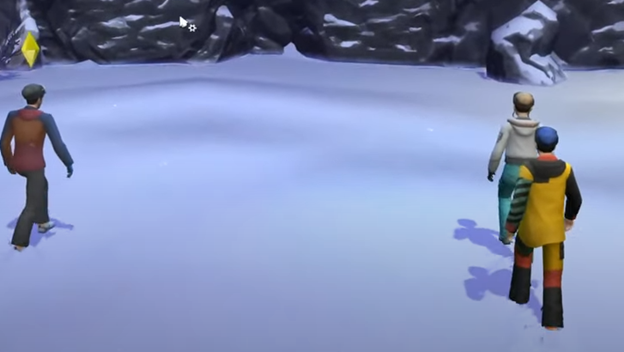 There are a few different options when Mountain climbing that can be accessed depending on skill. There are smaller and larger walls and gear, weather, and skill level all affect the Sim's success at reaching the top. The Sims then traveled to the next spot on the excursion. Different metals, plaques, reward, positive moodlets, and different traits can be obtained during the excursion. The next step of the excursion showed that an injury to one of the Sims increased the likelihood of another or a climbing fail. Thankfully, he made it to the top. We also saw that Sims can inspect the climbing route and chalk their hands to help increase the odds. After a bat attack during the excursion, Graham noted that there are many different random variables that can happen on the excursions to make each trip different. SimGuruJessica added more variables that could change the excursion: a tent may or may not be available, you may find treasure in a cave or other unexpected things. The goal is to have a replayable experience and to have your Sim be prepared for what comes whether that's intense weather, wildlife, falls, or spirits. During the next stop on the excursion, the Sims encountered a thunder snowstorm and icy conditions that made the Sims start falling down while walking through the snow.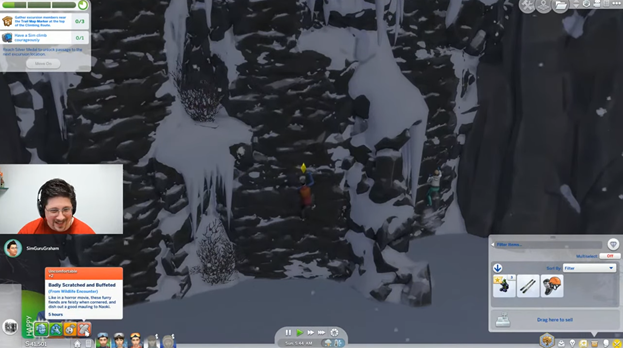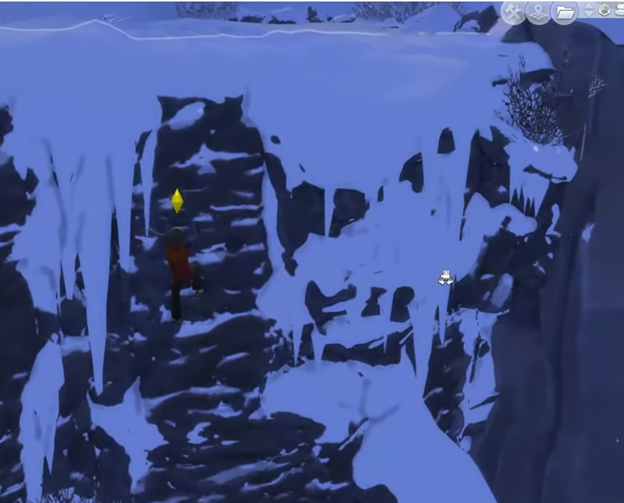 Before showing off an ice cave at the top of the next mountain, Graham noted another new death in the game, Death by Falling. Graham also discussed forest spirits that can be encountered during hikes and if your Sim is quick enough can be caught and collected. Next, Graham showed a new WooHoo spot, the ice cave. Ice caves can also be explored to find rewards and other surprises.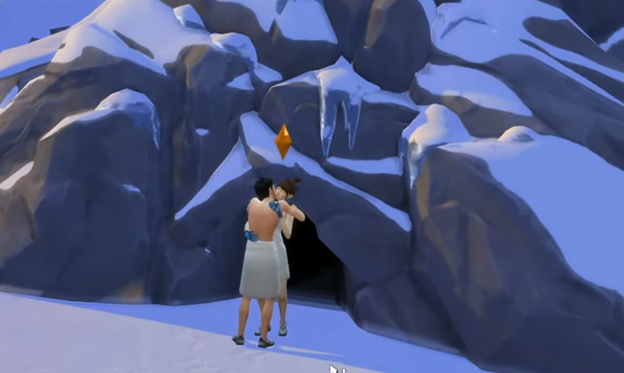 Next, we head to the map marker and head to the last piece of the excursion, the peak of Mt. Komorebi. Clouds and other mountains can be seen from this gorgeous peak. At the top of the peak is a customizable lot that is not accessible by the map. You will have to complete the excursion to revisit this special lot.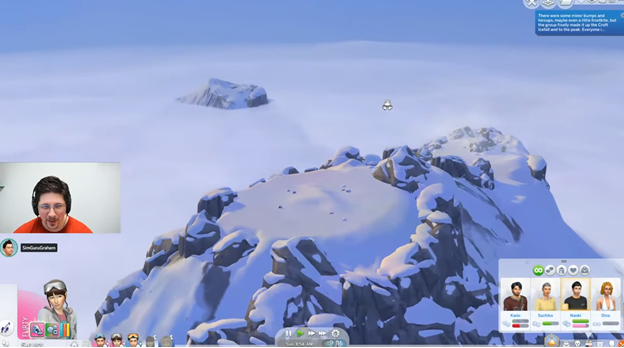 Towards the end of the stream, Graham showed off some building with the platforms. Some special notes:
any room can be a platform with adjustable height
platforms are stackable
stairs can be attached and multiple stairs can be added to different levels
there is a new section of platform trims that will be available
SimGuruAzure noted that you can make stages using the platforms (a piano and microphone are shown sitting on a stage in one of the lots)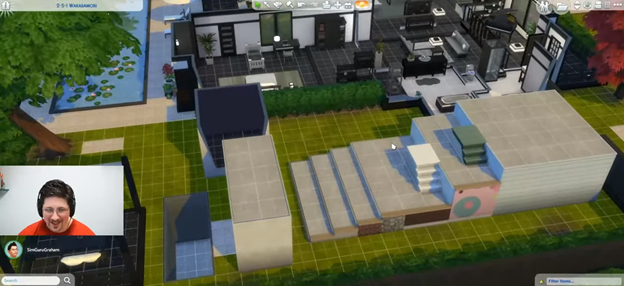 Half-walls have also been expanded:

Lastly, the team answered questions from the live stream chat and Twitter.
Question Summary:
Are sentiments permanent?

No, there are long-term and short-term sentiments. Sentiments can also decay or strengthen. You can have up to four sentiments at a time.

How long can sentiments last?

They can last weeks or can be replaced by other ones depending on the Sim's action.

Are Lifestyles permanent?

They definitely change. They are a representation of how your Sim is currently living. There are also ways to remove them through potions or by going to Lifestyle coaching. There is also a cheat to add or remove Lifestyles.

Is there a way to preset Sentiments or Lifestyles for NPC Sims?

Yes, with the same cheat above.

Can Lifestyles be turned off and on?

Yes, but turning them off will remove all Lifestyles from the game.

Can you have platforms in apartments?
Can you exit and resume an excursion or do you have to do it all at once?

You can save and close your game during excursions.

Will hot pots be available in restaurants?

They are not able to be used *this answer has been changed due to an update after the stream*

Can kitasus be used in restaurants?
Can apartments be used as rental lots?

*This was answered in a tweet after stream – You can't modify the lot type of an apartment, so they can't be changed to rental lots. That said, penthouse lots on top of buildings in San Myshuno can be changed to rentals – perfect for taking a vacation to the city.

Are there new traits?

Yes – adventurous, proper

If I have Sims 4 Seasons what should I expect in terms of weather?

You do not need Seasons to have snow, thundersnow, and ice on the mountain in Yukimatsu. However, you won't see the weather in other neighborhoods of Mt. Ko

If I only have The Sims 4 Snowy Escape what new weather will I see?

Thundersnow and icy conditions

What are the children playing on their phone?

They are collecting Voidcritters. You need ten before talking to Yamachan.

Can I change or remove the Onsen?

You can build an onsen in any neighborhood. You can edit the lot or delete the lot. It's a great place for the Sims to relax and unwind.

Can we now live in vacation worlds?

No, now that you can vacation in any world you can add a rental lot type and place them in any existing worlds but you can not change a destination world into a residential world at this time.

Has the Simstagram changed?
Graham was asked to show off some of the CAS items coming with the pack including hairstyles, clothing, and costumes. We were also able to see a couple of unlockable items including a t-shirt that depicted the climb to the top of the mountain accomplished during the stream.
Graham also showed his favorite build/buy items that will be included in Snowy Escape including windows with either glass or shoji screens. Graham also pointed out some signs from the pack with Simlish writing. The team partnered with an internal employee resource group at EA called ASPIRE (Asian and Pacific Islanders Represent). The group assisted in creating a new version of Simlish that draws inspiration from kanji, hiragana, and katakana.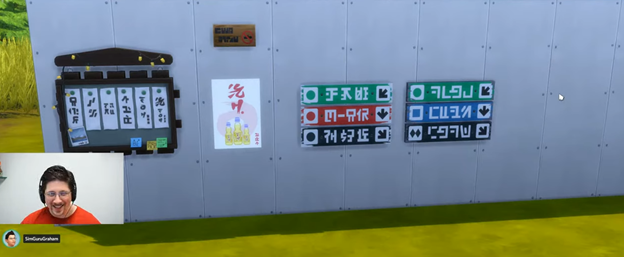 Graham ended the stream with a quick recap mentioning some of his favorite features and emphasizing the beauty and uniqueness of the pack. He advised that it will be a simultaneous release on PC, Mac, PlayStation 4, and Xbox One on November 13th.