Today is the first day of Sims Sessions, an in-game concert series featuring Bebe Rexha, Glass Animals, and Joy Oladokun. These three artists will perform concerts in the game via a special festival setup in Magnolia Blossom Park in Willow Creek through July 7th.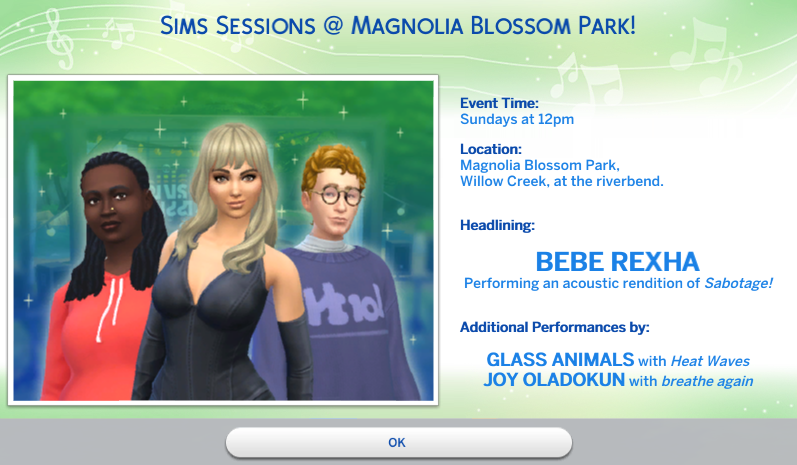 Upon entering the game (whether a new game or saved game), Sims will be greeted by a festival notification that grants a special "Sims Sessions Ticket" to the event found in their inventory. Sims can either wait for the in-game prompt button to head over to the venue, or use the "Go to Venue" interaction on the ticket when it hits 12pm.
❗ The live concert will take place every Sunday (in-game) from 12pm to 12am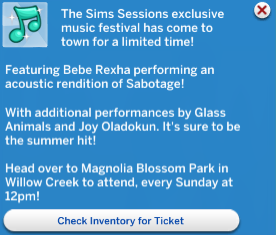 Once you arrive in Magnolia Blossom Park, you'll find several "Sims Sessions" festival signs guiding you to the venue location. Here you will find vendors, festival merchandise, tents, and the artists performing on stage.
The three artists will rotate their performances, and Sims can gather around or dance near the stage and enjoy the free concert. Sims can click on an artist to take photos, cheer, clap, or get hyped over the performance. Using the "Take Photo" interaction will open the in-game photo taker complete with filters.
Sims who attend the concert can even sleep in a tent or purchase food, collectibles, crafts, and Sims Sessions Merchandise. The Sims Sessions T-Shirt merch can be purchased at the festival stall to the right of the stage using the "Buy" or "Buy and Wear" interactions. Once purchased, the items are available for selection in CAS by Adult Sims.
Bebe Rexha T-Shirt (§25)
Glass Animals T-Shirt (§18)
Joy Oladokun T-Shirt (§18)
Sims Sessions T-Shirt (§12)
Summer of Sims T-Shirt (§12)
In addition to the special festival merch, the patch has also added the official Bebe Rexha bodysuit seen in the Sims Sessions promotional images. The bodysuit is available under the "Outfits" category in Create-a-Sim.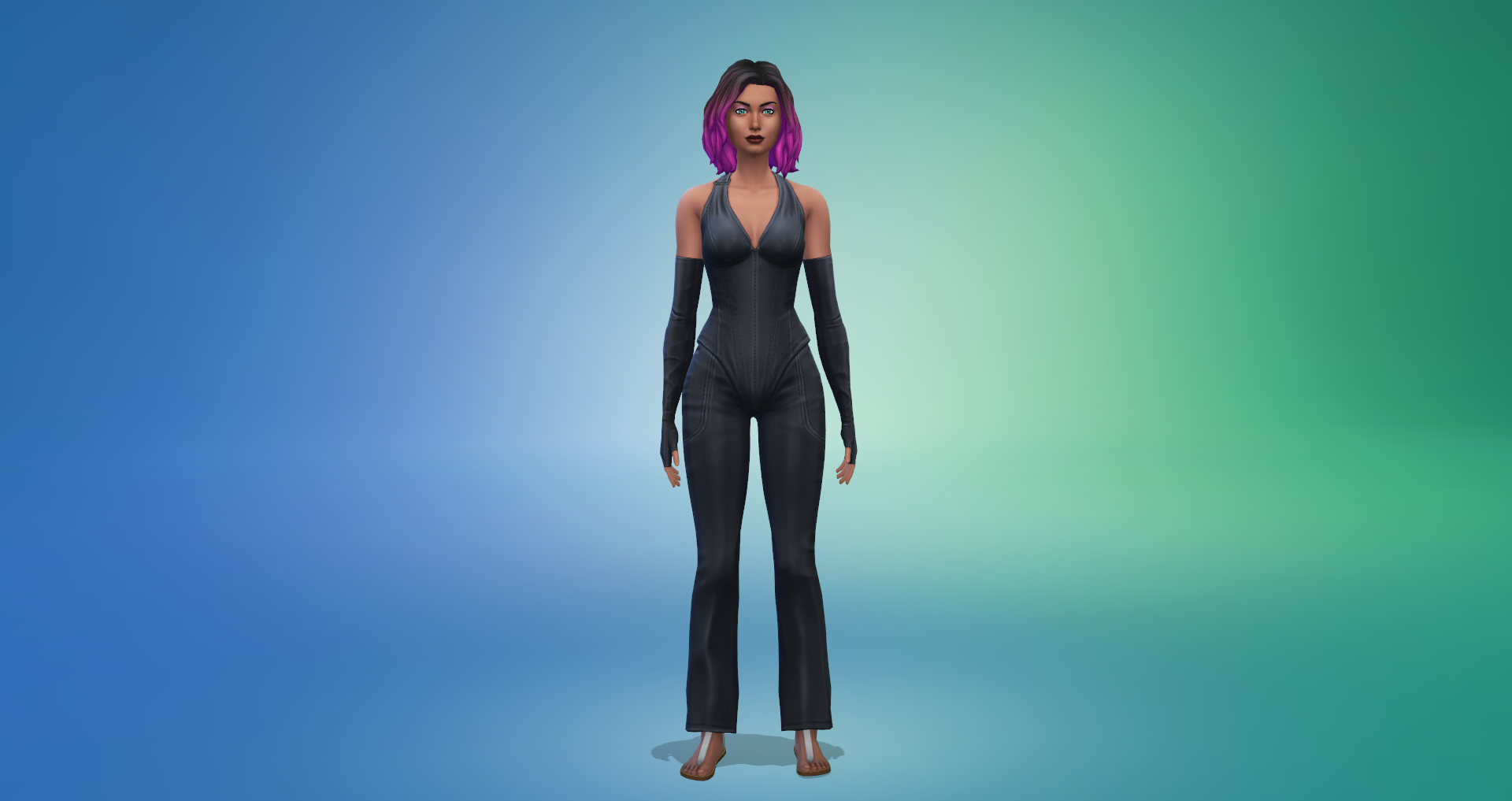 When Sims aren't attending concerts, they are also able to listen to the new music by the artists on the radio. Sims Sessions adds three new songs under the "Pop" genre.