So I had just hopped on Origin to pre order my Katy Perry Collector's Edition, and an "Origin-al Beats 500 Stereo" appeared in my cart as a pre order bonus! After a quick check with the regular Limited Edition, it seems that this will be an Origin exclusive Pre Order Bonus, much like the "Paws and Whiskers" Costume Set for Sims 3 Pets. Any version you order will come with this bonus.
There isn't any word on if this bonus will apply to all previous pre orders, but with past experience at mind, it will apply to all pre orders from Origin.
❗ Just a reminder that any Showtime Pre Order's from Origin, qualify for a free Digital copy of Fast Lane, Outdoor Living or High End Loft.
Thanks to rickycheng for the photo! 🙂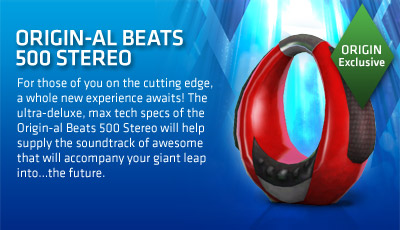 ❗ Description of this item from Origin Spain. Thanks Rincon Del Simmer! 
Here comes a new experience for those who are always in style! Cutting-edge technology and the amazing features of the "Origin-al Beats 500 Stereo" will make life an amazing soundtrack for you to take a giant step towards the future. It has 4 presets and can be customized with Create a Style, provides the same moods and functionality of an expensive stereo (enjoying the music, fun, group activity, sport) … But it's the coolest!