The Sims 3 website will be updating all of our profiles to the new "Showtime Social" look this Monday. In this post you will find help and info, that will allow you to make the proper changes and get used to your new page.
————————————————————————————————————————————————



————————————————————————————————————————————————
❗ Images below have been reduced in size, so click them for a larger view.
Warning
❗ First and foremost, make sure that your Origin ID is not your real name, or any other name that would personally identify you. The new changes are going to tie your Origin ID

and your Sims 3 user name into one account, assuming you have not already linked them yourself. If your Origin ID is something you do not want visible, Origin allows users to change their ID's, so if you need to change it, click here.
According to SimGuruGraham, EA is going to unify our Sims 3 Usernames and Origin ID's. Until the pages go live, and we know for sure which ID will be visible, we stand with our warning regarding Origin ID's.
SimGuruGraham has confirmed that our Origin ID's will not be displayed on the new my pages.

Getting Started
First thing is first! Make sure only the people you want visiting, interacting and seeing your profile can do so. If you have to make any friend changes, now is the time to do that! There is also a new sharing option for Facebook and Twitter, which allows you to link your Sims 3 account and auto-share activity from your game wall.
Click image for a larger view!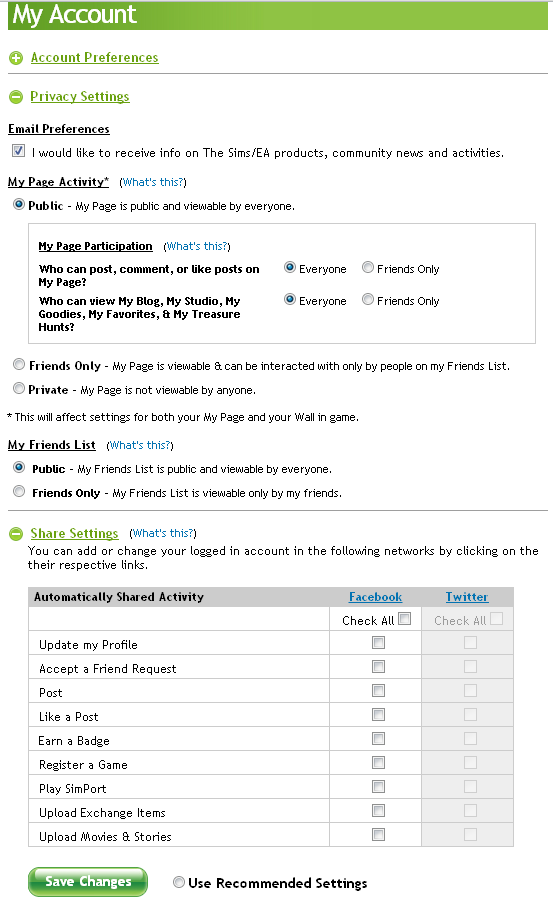 After you have set your privacy settings, become familiar with the new layout. Below is a quick overview of your my page and where to find important updates. Note that any friends you currently have will be able to access, interact and see your game wall, depending on your privacy settings.
When Showtime is installed, any friends with Showtime will also be able to send you Simport Requests. Of course, you will never see/receive them if you do not log into your game and accept, but this is just a warning.
Click Image for a larger view!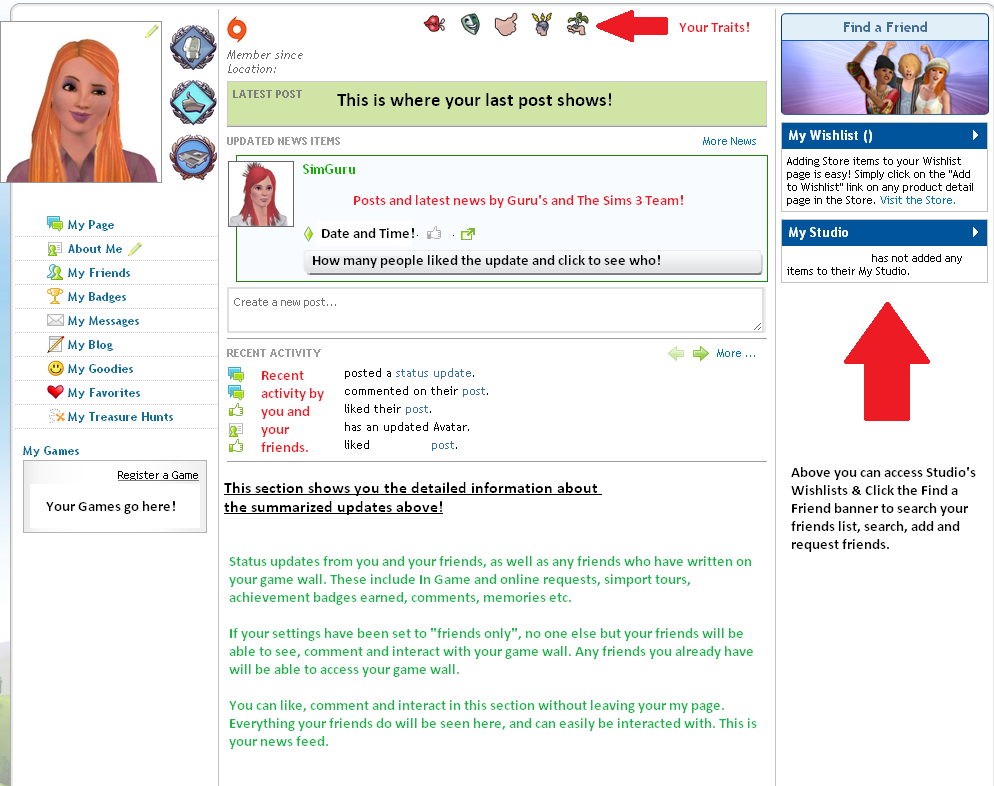 Unfortunately, the customization options we currently have are no longer available with this new layout. You will not be able to customize a background image, stick purchased stickers to your page, or customize any color schemes etc.
Editing Your Avatar and Profile
When editing and customizing your avatar and info page, you can click the pencil on your avatar box, or click the "About Me" tab on the left panel. Once you are in this section, you can change and edit your information, location, traits and avatar.
Click images for a larger view!
Adding/Removing/Blocking Friends
By clicking the "My Friends" tab on your left column, you will land on the default page for adding, pending, and blocking other members. You can search for friends and their friends, however if you are not friends with any member on the site, you will not be able to view their profile information if they have set their privacy to friends only.
To remove a friend, simply click their avatar (or visit their user page) and click "Remove".
Click image for a larger view!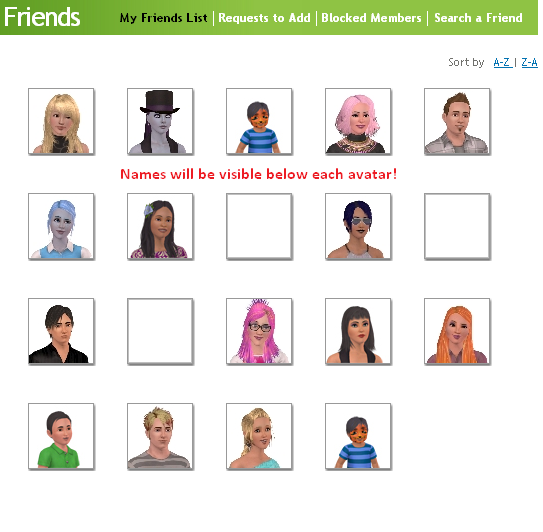 To view basic information for a friend or potential friend, simply click their avatar and their summarized preview will pop up. You can also block and remove friends via this pop up panel.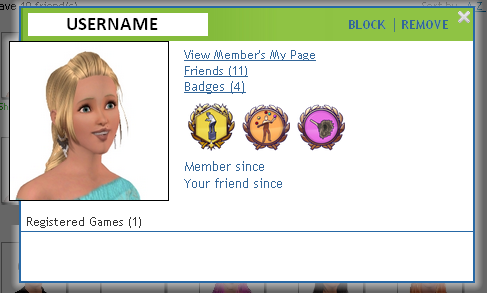 Sims 3 Achievements & Badges 
The Sims 3 has now added achievements that you can complete in exchange for badges. Your latest Sims 3 Achievements will be visible next to your avatar on your my page. At any time, you can check your completed and incomplete achievement badges by clicking "My Badges" on the left side panel. Click here for information and a complete list of Sims 3 Achievements.
When on your Sims 3 Badges Page, you can sort achievements by their type, completion, and date added. Hover over any achievement to check it's information.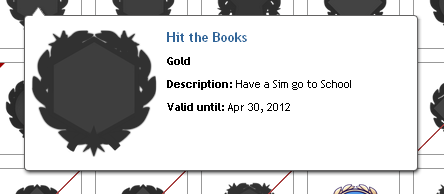 This is pretty much everything you will need to know about your new Sims 3 pages. Once the new layouts have gone live, we will update this post with any changes, and new information that may be available.