The last weeks of summer are upon us. As you relish the moments your sims spend swimming and playing, the thought of sweater weather creeps up. Here are a few decorating tips to transition gracefully into the warm and cozy feeling of autumn (all without mods!).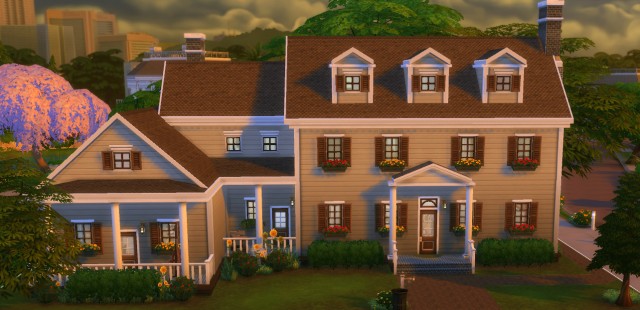 Fall Facelift for your Exterior
Pick your favorite autumn color. Whether it's burnt orange, dark brown, plum, or any other, try to incorporate it into the trim, walls, or roof of your exterior. Stick to neutrals for the other feature colors in order to let your fall color shine.

Ditch the spring blooms in your garden in favor of robust shrubs. Anything that looks like it can survive colder weather is suitable, which means pick thick, low-to-the-ground plants. Other plants in reds, yellows, and oranges can be dispersed for an extra dose of warmth.
Use the terrain brush to get rid of the bright green grass that Willow Creek is known for. Use dirtier textures to create the dying look of grass about to turn in for the winter.
Sturdy materials are king in fall-themed homes. Utilize brick patterns in their darker colors to anchor your home.
When using your favorite details, see if they have color choices that correspond with your designated fall color scheme. For example, the yellow and red flower boxes in the windows carry the colors of the ground flowers upward.

Since there aren't autumn trees in the catalog (yet..), pick trees that look like they're on the verge of changing color. Sparse leaves, deep greens, and evergreens are good choices for fall trees.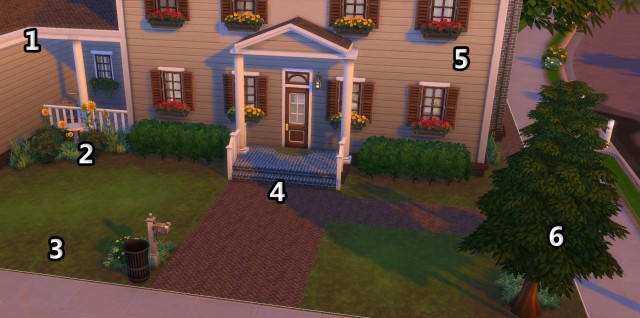 Chilly Outdoor Activities
Trade your thin, plastic lawnchairs for wooden ones that can stand up to the cold. Bonus points if there's a nice fall color or pattern involved.
Fall is the time for harvesting, so place some planters around with gardening tools.
Instead of shading yourself from the sun with an umbrella table, try a picnic table instead. It's sturdier, pairs well with cookouts at dusk, and makes a perfect place to carve pumpkins!

Realistically, this is the time when a pool is covered or drained for the winter, but to create the colder, dingier water, change the wallpaper and flooring to dark colors and take out all of the bright, summery turtles.

If you're a serious fall fan, invest in Outdoor Retreat, if you haven't already. Not only does it have amazing fall swatches and textures (heck, even a whole fall area!), but it also has great campfires that are perfect for curling up. A nifty basegame fire-pit can be made with a flower-pot, a bench, and a bit of terrain paint.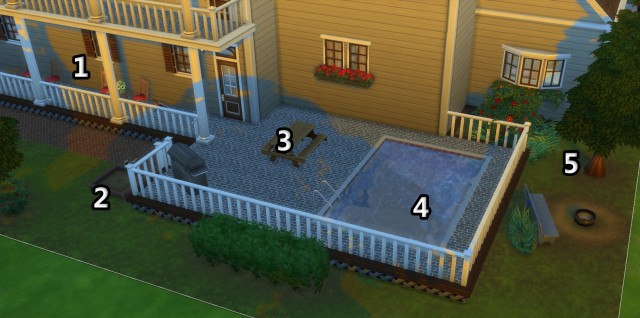 Mini-Makeovers for Old Interiors
If you don't want to create a whole new interior for your favorite home, add temporary changes to mark the change of the season. Things like carpets, curtains, and chair slip-covers can be recolored into great fall colors.
Autumn means back-to-school season, so create an area for lots of backpacks by the front door along with coats, boots, and seasonal sports equipment. Fall-themed clutter indicates that fall-themed activities are happening!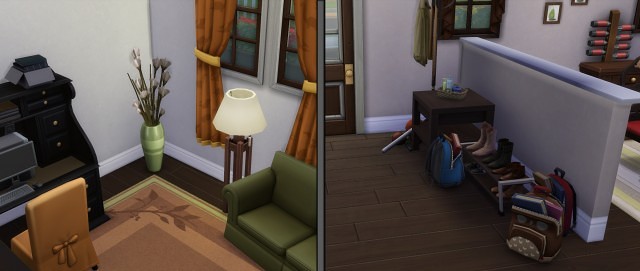 Full Autumn Interior Renovations
While you replace your whites with dark browns, try some fun, warm colors as accent walls. Replacing your greenery with stout plants and branches bring nature's progression into your home. The statues of roosters, cars, and bear-gnomes can add a chilly charm.
If you don't have a fireplace, try making space to add-on for the fall and winter. Your sims will thank you as they get cozy around the fire. The upper levels of the mantle make for great places to put statues.

Trend: This Fall's Decoration Musts

IRL design blogs are tracking two trends this fall in terms of decor: country-chic and globetrotter. Luckily, the base game of the sims have examples of both of these items to make use of this autumn.
When putting rustic items into your home, pair them with structured furniture and blocks of color to balance out the curios. Old, sepia-toned maps pair perfectly with the fall color scheme, but try pairing the traveler's items with a rich emerald-green to update their look.

Trend: Unique Color Schemes

If you absolutely hate red and orange, but would still like to update your home for autumn, this year's trends have you covered! Take a dark neutral like brown or grey as a base with these colors as the feature: mint and black, lavender and heather, sky blue and cream, cornflower and yellow.
The house used in this article is created by me, and is in the gallery under "Autumn Legacy Family Home."