Simmers across the board have been overanalyzing the lack of content given to us in the most recent patch yesterday. But there might be more than meets the eye. Members of the community have found some unlocked male hairs made available to female Sims in CAS.
HowGreatThouArt on the forums posted screenshots of the newly available hairstyles, noting that the second even has a 'weird outline around the ear'. Likely made due to the conversion between male to female.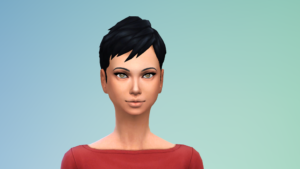 This discovery goes hand in hand with the realization of one Redditor that Create A Sim changes are on their way. This user on The Sims subreddit made note of the strange number the SimGuruGnome had slipped into the patch notes.

SimGuruHouts teased that perhaps "there's something else going on with that number", sending the community into overdrive. Finally, Reddit user bon-aventure pieced together that each number stood for a letter in the English alphabet, making the message say "CAS CHANGES COMING".
A few weeks ago, SimGuruSarah leaked an image on Twitter of multiple unisex conversions. Seems like The Sims team was "just letting a couple hairs hang out" in this patch. Do you think that this means we'll be seeing a content patch soon with more unisex CAS assets?