Gift Bundle Overview

The Sims 4 Base Game: Enjoy the power to create and control people in a virtual world with The Sims 4. Customize your Sims' appearances and personalities. Build them the perfect home, choosing your favorite design and décor options. Create relationships with other Sims; let them pursue careers and develop skills. It's up to you who your Sims will be and the direction each one's story will take.

The Sims 4 Dine Out: Own a restaurant and take your Sims out to eat with The Sims 4 Dine Out. Create and manage a variety of restaurants, hire staff, and set the perfect menu to earn a profit and expand your business. Dine out with Sims to enjoy all-new experimental cuisine and spend quality time with friends and family.

The Sims 4 Movie Hangout: Why go out when you can stay in, relax, and watch movies? Invite some friends over, hang out, and have a movie marathon with The Sims 4 Movie Hangout Stuff. Pop a bowl of popcorn and entertain your Sims with a flick on the all-new projector screen. Chill out and relax with boho-chic outfits and effortless hairstyles.


Box Art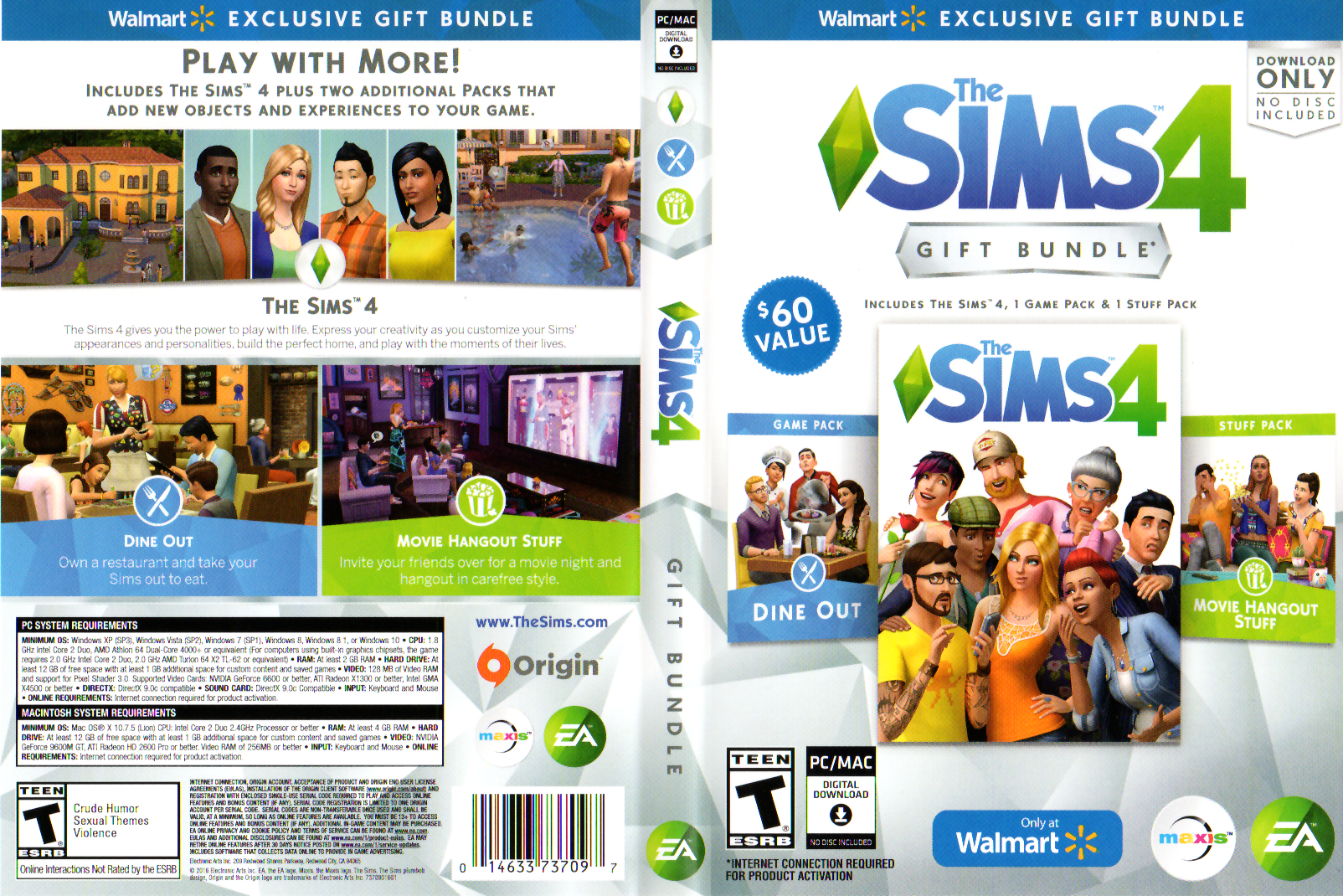 What's Included?
♦ The Sims 4 Base Game*

♦ The Sims 4 Dine Out Game Pack*

♦ The Sims 4 Movie Hangout Stuff Pack*


*Boxes includes a leaflet with a single code to redeem games. (No Disc)
Price and Purchasing Info
The North American version of The Sims 4 Gift Bundle retails for $29.99, and is available for purchase exclusively at Walmart. You can purchase the game in-store or online for a few dollars more.
Additional Comments: The Sims 4 Base Game (Standard) is listed for $29.99 at some retailers. When you purchase The Sims 4 Gift Bundle from Walmart, you're getting a Game Pack and Stuff Pack free with the purchase of the Base Game. This will save you $30.