The Toddlers Stuff Pack was released nearly a month ago. My expectations weren't too high because I knew this was only a stuff pack and it wouldn't bring any major changes to the game. I was super excited when we finally got the toddler update so naturally I'm excited about anything that has something to do with them. I decided I was going to go into the game, create several toddlers and check out this pack. I thought it was so adorable, I just needed to share it with you.
Let's start off with the adorable new clothes!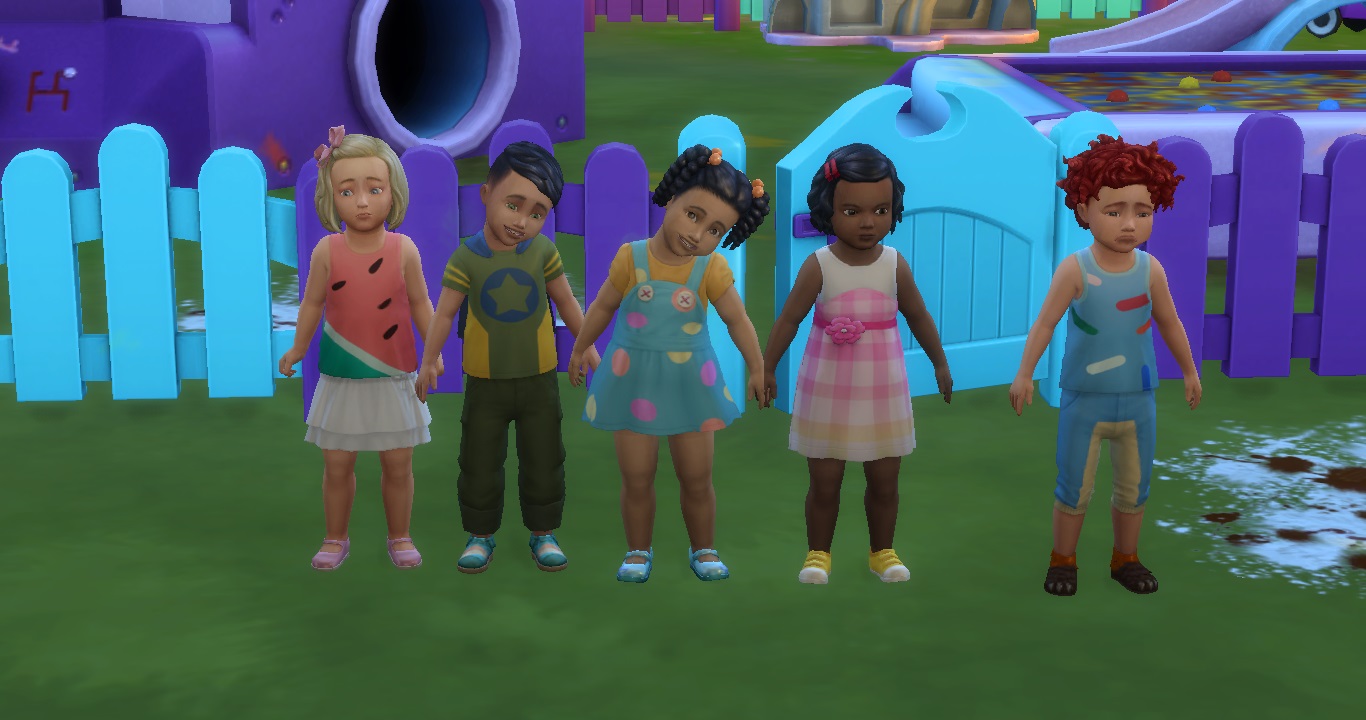 I love nearly every new item of clothing this pack has added! They're all so cute and fun! I specifically love the little bear shoes that Kadence (on the far right) is wearing! There were also a few hairstyles added and they were equally as adorable. I think my favorite is the hairstyle that Peyton has (on the far left) but honestly that was a hard decision because they were all so cute.
I decided to check out the "play date" option next! (keep in mind, you actually have to have toddlers in the game that aren't in your household for this to even work).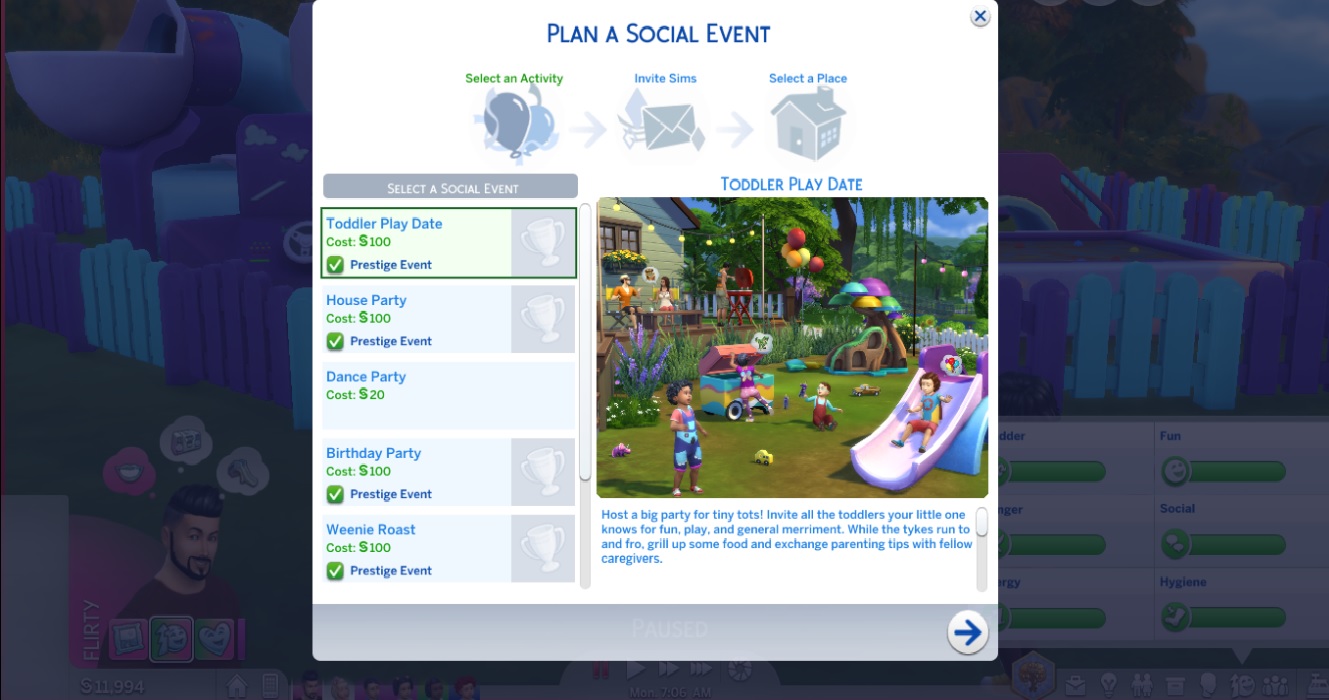 As soon as the event started I was so focused on watching all of the little ones climbing all over the playground and jumping in the ball pit that I didn't even pay attention to meeting all of the requirements for the play date to be a success. Oh well, the kids having fun was what counted and they sure did!
These are the new tunnels that Marc is checking out. They can climb around in the tunnels and play make believe, while gaining movement skill. The parents can also choose to "help" the child climb in the tunnels which of course helps gain movement skill even faster.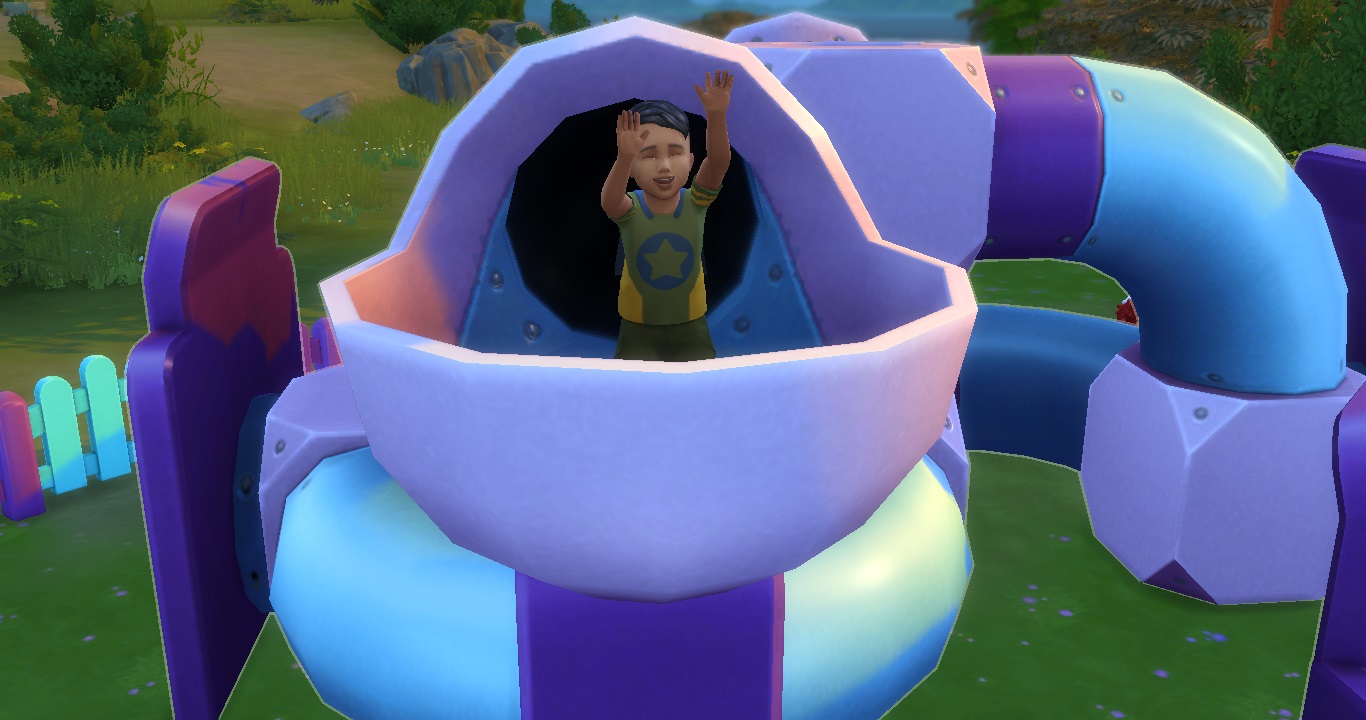 Here is the infamous ball pit that everyone had something to say about when the pack was first released. It didn't look too great but there has been an update that improved the appearance. There can only be two toddlers in the ball pit at a time so if you are having a "play date" make sure you have plenty of other things for them to do. Personally I recommend the slide, especially if you are doing this in your backyard because the slide really doesn't take up much room and it's a completely normal thing to have in your backyard. (I don't see many kids with ball pits in their backyard!)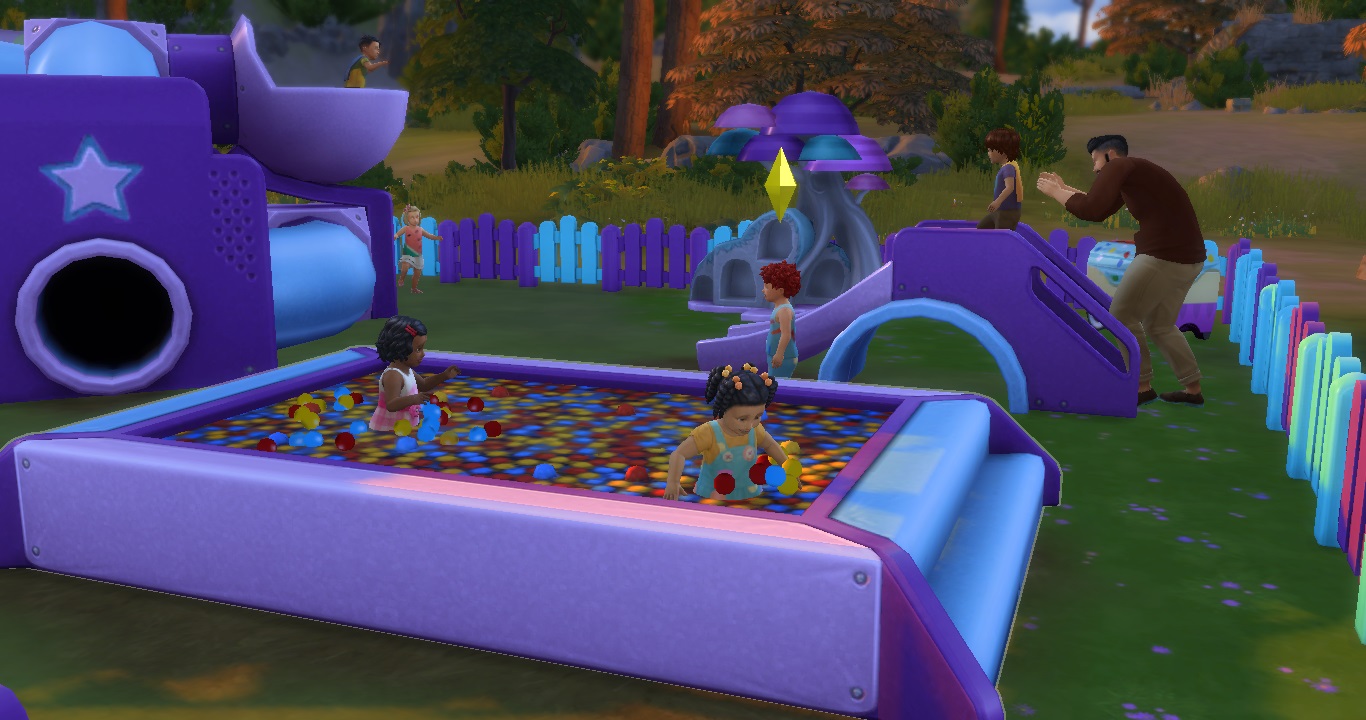 After the several hours of fun they had, It was time to settle down and grab something to eat! Some brilliant adult decided to grill up some sausage and peppers. Not very kid-friendly but I don't think the kids minded! I really wish they would have added new toddler inspired foods! I know they just did the whole "quick meal" thing but I'm talking about smiley face shaped french fries and dinosaur chicken nuggets! I think that would be an adorable addition to these play dates! You also have the option to just pack some sack lunches for the tots and don't worry about having to cook anything.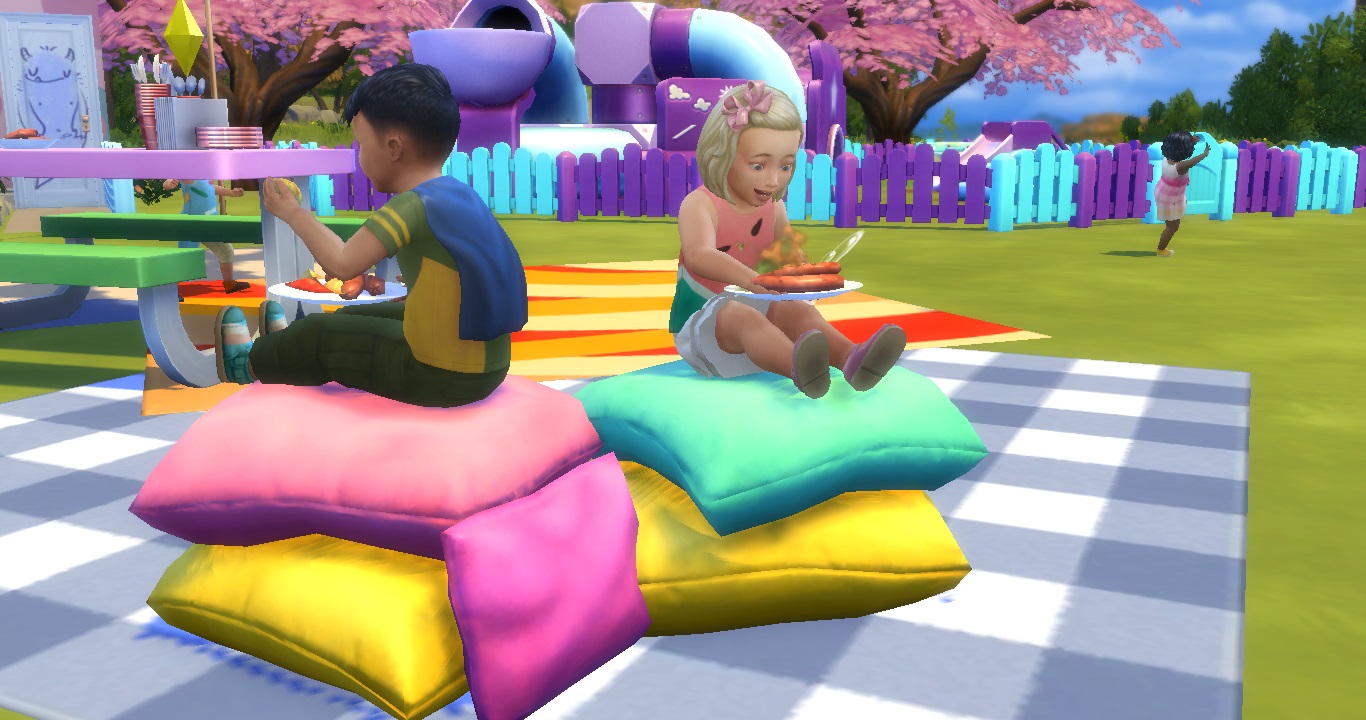 I love these new pillows so much! I think they are just perfect for this stuff pack. They look like something that would be used for the Movie Hangout stuff pack as well. All of the items for this pack are colorful. The new picnic table has several different color combinations that really pop! I wish the actual playgrounds had more choices with colors but I'm a huge fan of purple so I'm satisfied.
These kids never got tired of playing in the tunnels, ball pit, on the slide and with the dollhouse. One thing that never ever gets old is some good old playing with dad!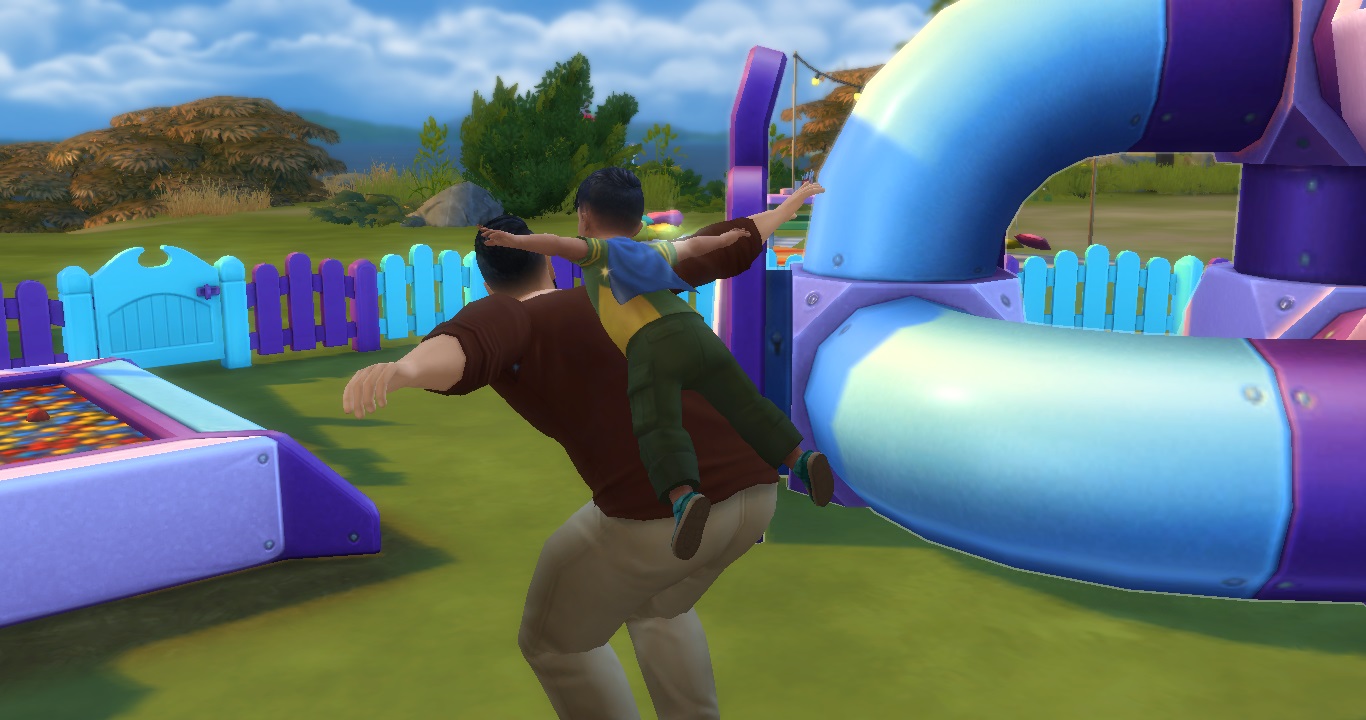 As the day was coming to an end and all the little ones were starting to get sleepy and were done making a mess nearly everywhere, I discovered we only had seconds before the play date was supposed to end so… this happened…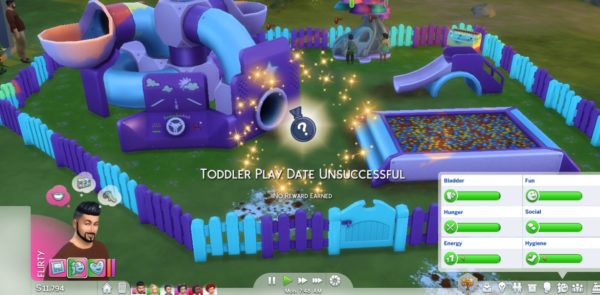 It was more than alright though because I think that these two had already made the decision that the play date was absolutely a success!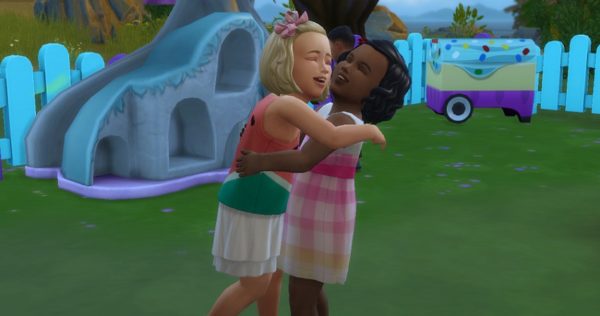 So if you love the toddlers update and you were one of the people that were anxiously awaiting for more toddler related items, then you are in store for a treat! This pack will make for an awesome toddler park and even be a great addition to your own backyard. The clothes and hairstyles are unbelievably perfect and will make sure that your toddler is the best dressed in the neighborhood!