Have you ever watched your sim level up their baking skill and wished it was that easy in real life? In this series I want to prove to you it can be that easy. With a little practice you too can level up your baking skill and impress your friends.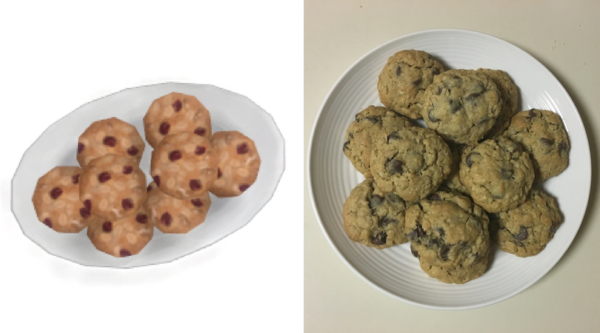 Since pre-mixed brownies are pretty straight forward, it's time to advance to level 2! Today we are going to be making Oatmeal Cookies. If that sounds a little boring or too healthy for your taste, you can try making Chocolate Chip Oatmeal Cookies instead. Like my last post, I'll start with the recipe for the more advanced bakers and then go into more details for everyone else.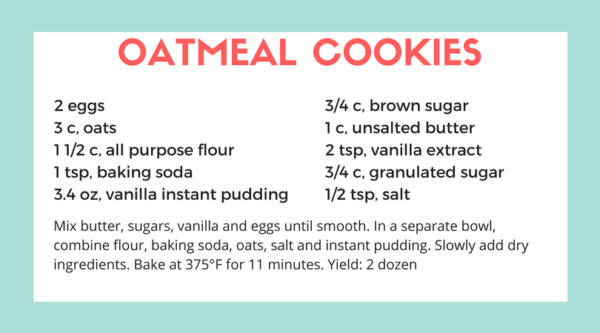 Tip: I recommend using an electric mixer for this recipe, I use a stand mixer but a hand mixer works well too. The dough is quite thick, but if you'd like a good arm work out you can mix by hand.  
1. Preheat your oven to 375°F (I had some feedback on the last post about my units of measurement. All my recipes are in US measurements so I apologize if you use the metric system. If you convert the recipe to metric or know of a great site for easy measurement conversions let me know in the comments. And instead of ignoring the symbols and just using the basic settings, try to learn them to get the most out of your oven. For instance, if you're using a modern Zanussi oven, you can find the oven symbols explained on a zanussi at appliancehunter.co.uk
2. Next, whisk together 1 cup (2 sticks) of softened unsalted butter, 3/4 cup of brown sugar and 3/4 cup of granulated sugar until fluffy.
3. Add 2 eggs and 2 tsp of vanilla extract. Beat until everything is well mixed together.
4. Next, in a separate bowl, combine 3 cups of oats, 1 and 1/2 cups of all purpose flour, 1 tsp baking soda, 1/2 tsp of salt and (the secret ingredient) a 3.4oz package of vanilla instant pudding.
Tip: Always carefully read if a recipe calls for baking powder or baking soda. There is a lot of science to baking and these ingredients cause different chemical reactions. Mixing them up can drastically change the outcome of your recipe. To learn more I highly recommend this article, Baking Powder vs Baking Soda: What's the Difference?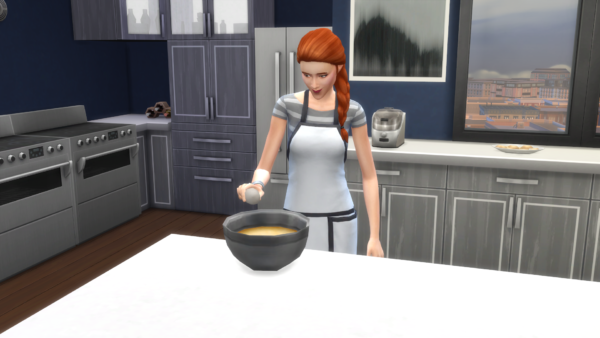 5. Slowly add your dry ingredients to the bowl of wet ingredients. I usually do about 1/3 of the mixture at a time, then mixing well before adding the next third. This is where the batter starts to get ready thick. If you're mixing it by hand you may start to feel the burn. Keep going! You can do this! The reward is cookies!
6. If you've taking this recipe up a level and making Chocolate Chip Oatmeal Cookies you can add approximately a 12oz bag of semi sweet chocolate chips. (If you'd like to save a few chocolate chips to eat while the cookies are baking I won't judge you. You do you.)
7. Scoop out your dough and place on a cookie sheet lined with parchment paper or anti stick baking mats. You'll want to make you dough balls slightly bigger than a golf ball.
8. Bake at 375°F for 11 minutes. Then remove from the oven and allow them to cool down for several minutes. It's hard to appreciate the fluffy goodness if you accidentally burn your tongue.
9. Finally, EAT ALL THE COOKIES! Sharing is optional. 😉
Thank you for reading! I hope you enjoyed this post, if you missed the previous Let's Bake post you can find that here: Let's Bake Sugar Cookies. Let me know how your cookies turn out. I'll be back next Sunday with another Let's Bake post. Happy Baking!