With so much footage coming out of The Sims 4 Cats & Dogs Sims Camp event, we thought it would help our readers to collect images of all the Pet Clothing available in the game.
❗ There doesn't appear to be a clothing category for kittens. Based on video I've seen, it appears that clothing is reserved for adult cats. 

❗ Large dogs and small dogs share some of the clothing and headdresses, but small dogs have a wider range of clothing and headdresses. 

❗ Since Sims have the ability to walk their dogs, Create-a-Pet has a specific section for collars that work for "walking".
Cat Headdresses, Clothing & Collars















Small Dog Headdresses & Clothing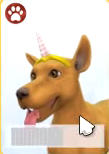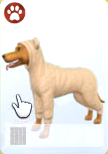 Large Dog Headdresses &Clothing







All Dog Collars





Dog Walking-Specific Collars