In today's Sims 4 Cats & Dogs Vet Clinic Live Stream, SimGurus answered questions regarding Pets in the game. Note that this live stream was only focused on Vet Clinic, and they will be live streaming gameplay and non-vet clinic interactive objects next week. To see the upcoming stream schedule, see this post here.
Previous Overviews: Create-a-Pet
Vet Clinic Info Bits/Q&A
• The team started off the stream showing off the new world map. Brindleton Bay is the world coming with this expansion, and it comes with 4 neighborhoods.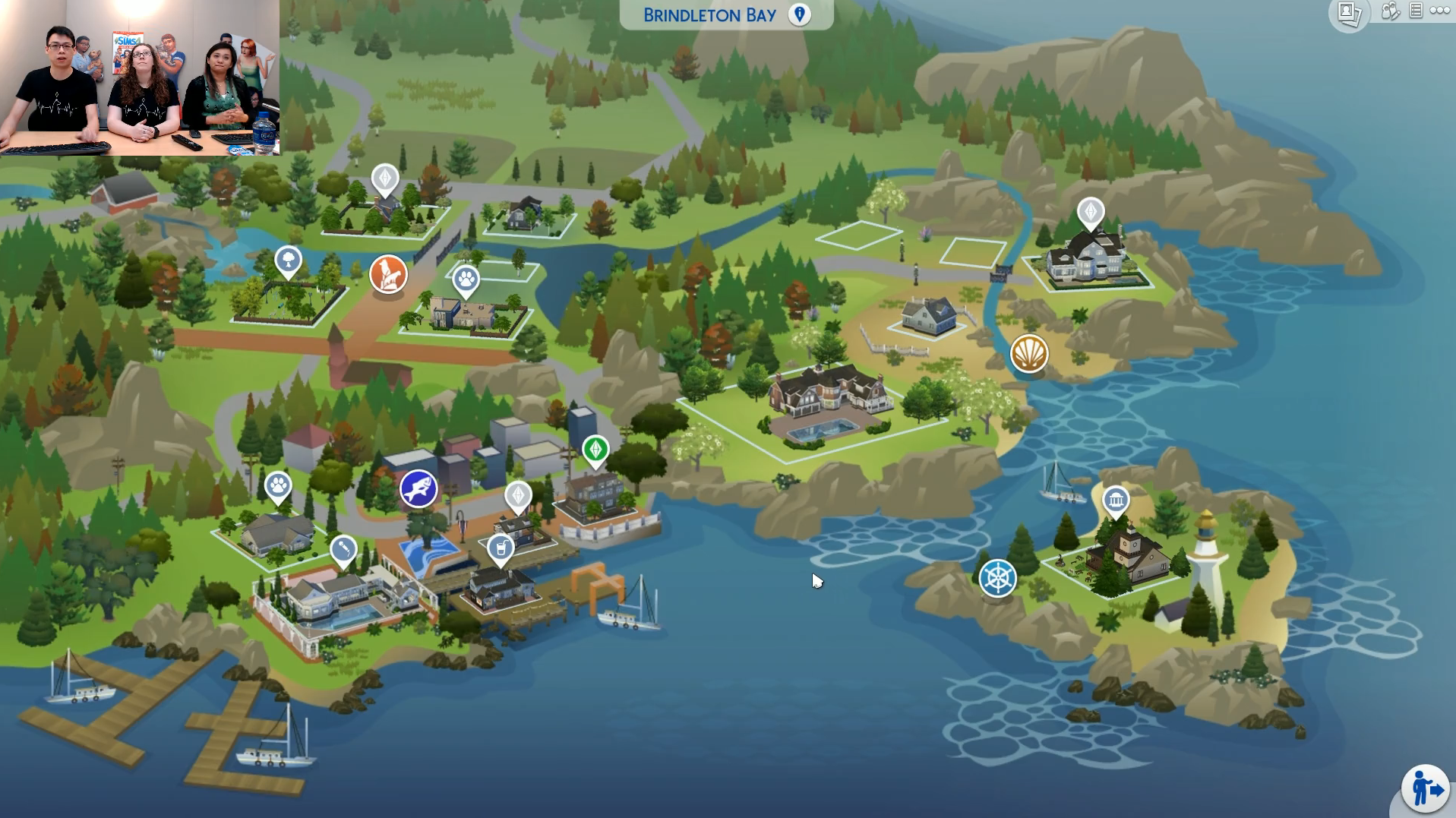 • The venue button will glow in game to indicate that there is a new venue type for purchase. Clicking and selecting the Vet Clinic option will allow you to purchase it.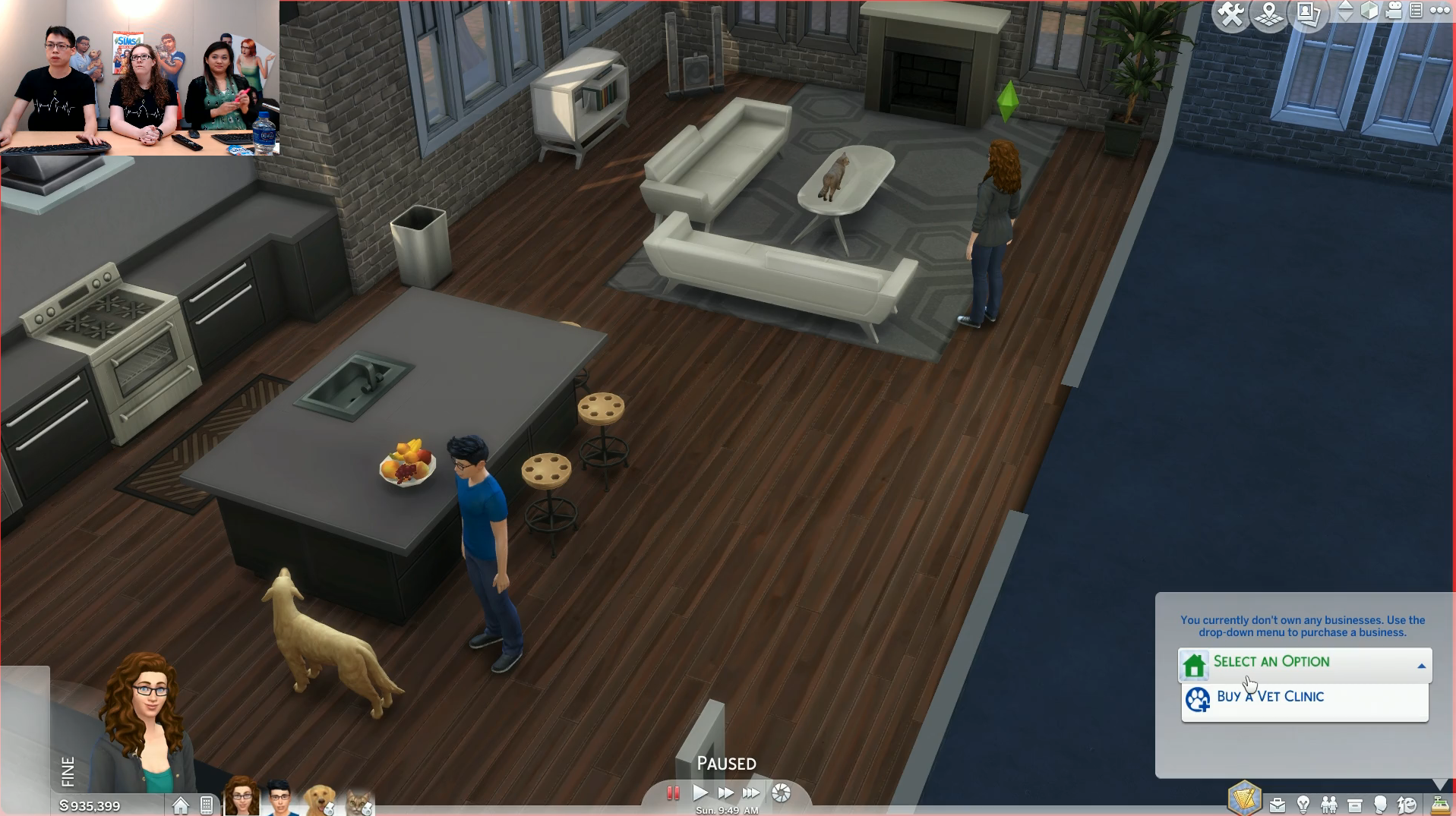 • The Vet Clinic works very similar to Restaurants in the Dine Out game pack. You can buy the business and also staff it with members of your household.
• High End Vet Clinics will cost more, given that their ratings are very high. You can work on your star rating by attending to patients and making their experience great.
• you can hover over the business UI to check and see what areas your Vet Clinic can improve on, and how well they are doing overall. Do this by hovering over the Star Rating. When you close a business you will receive a summary of the day with information like how many clients were served, financials, and the overall mood of employees.
• Once you purchase a Vet Clinic you will be able to transfer household funds to the business in order to purchase and run the clinic. This can be done through the lower right hand corner. The panel shows off Perks, Customer Counts, Service Profits, and all other info regarding the business.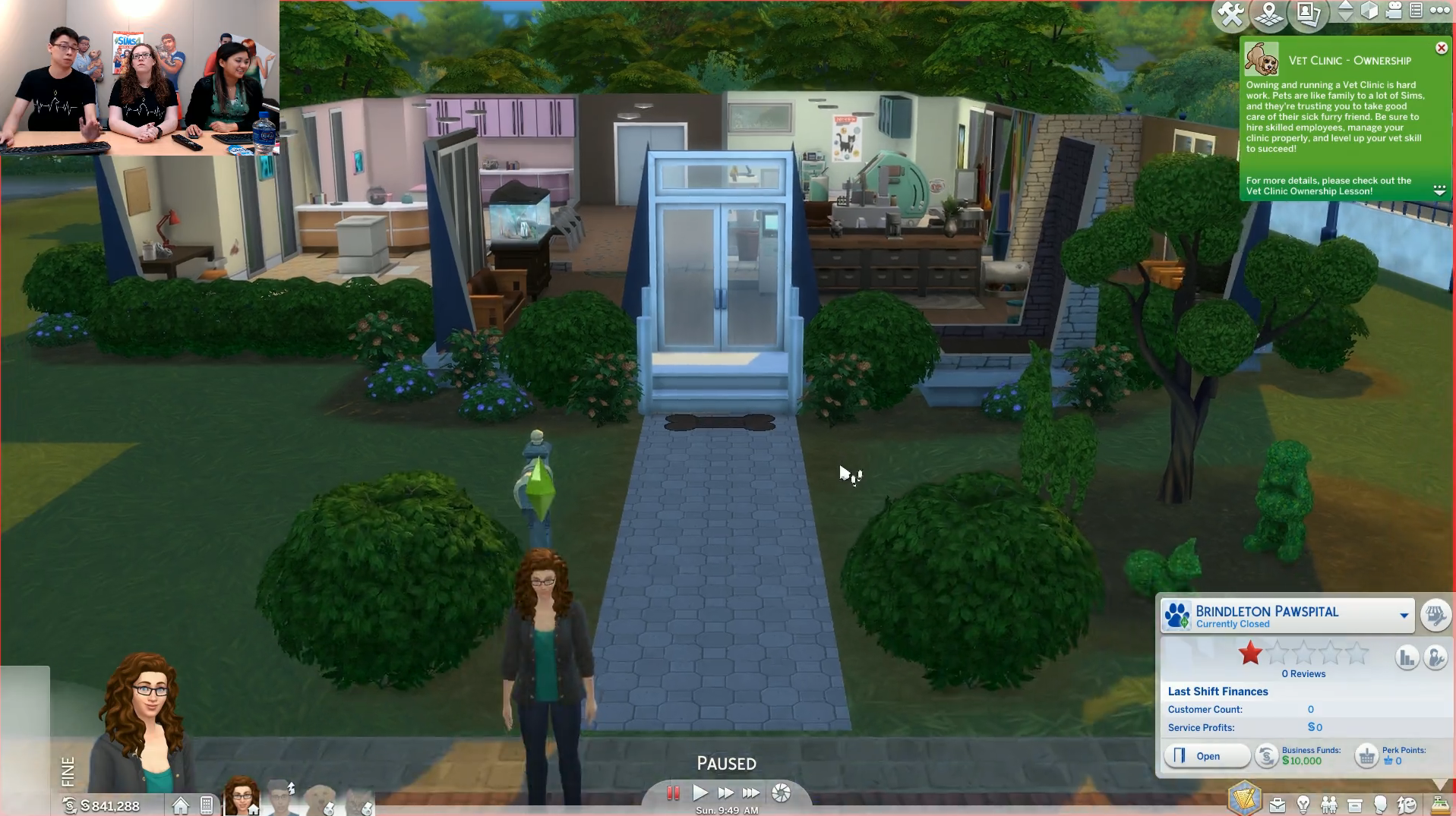 • There are plenty of new objects available in the game. Below they showed off a pre-made vet clinic that is populated with all the new items.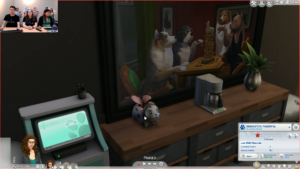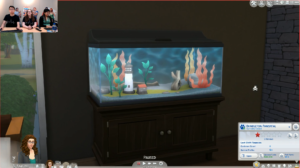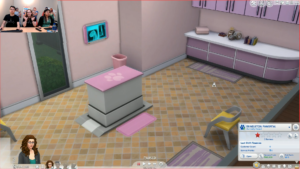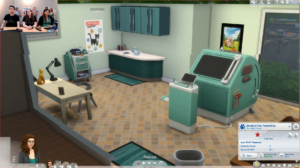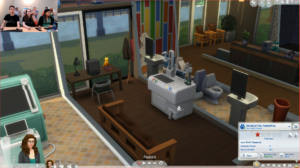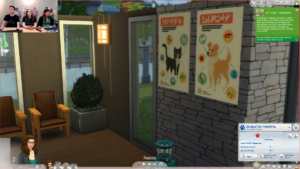 • You will be able to lock doors on Vet Clinic locks to prevent everyone except employees from entering specific parts of the lot.
• You will be able to hire and manage employees through the employee panel. Employees will be listed with their skill set, which includes Charisma, Handiness and the new Vet Skill.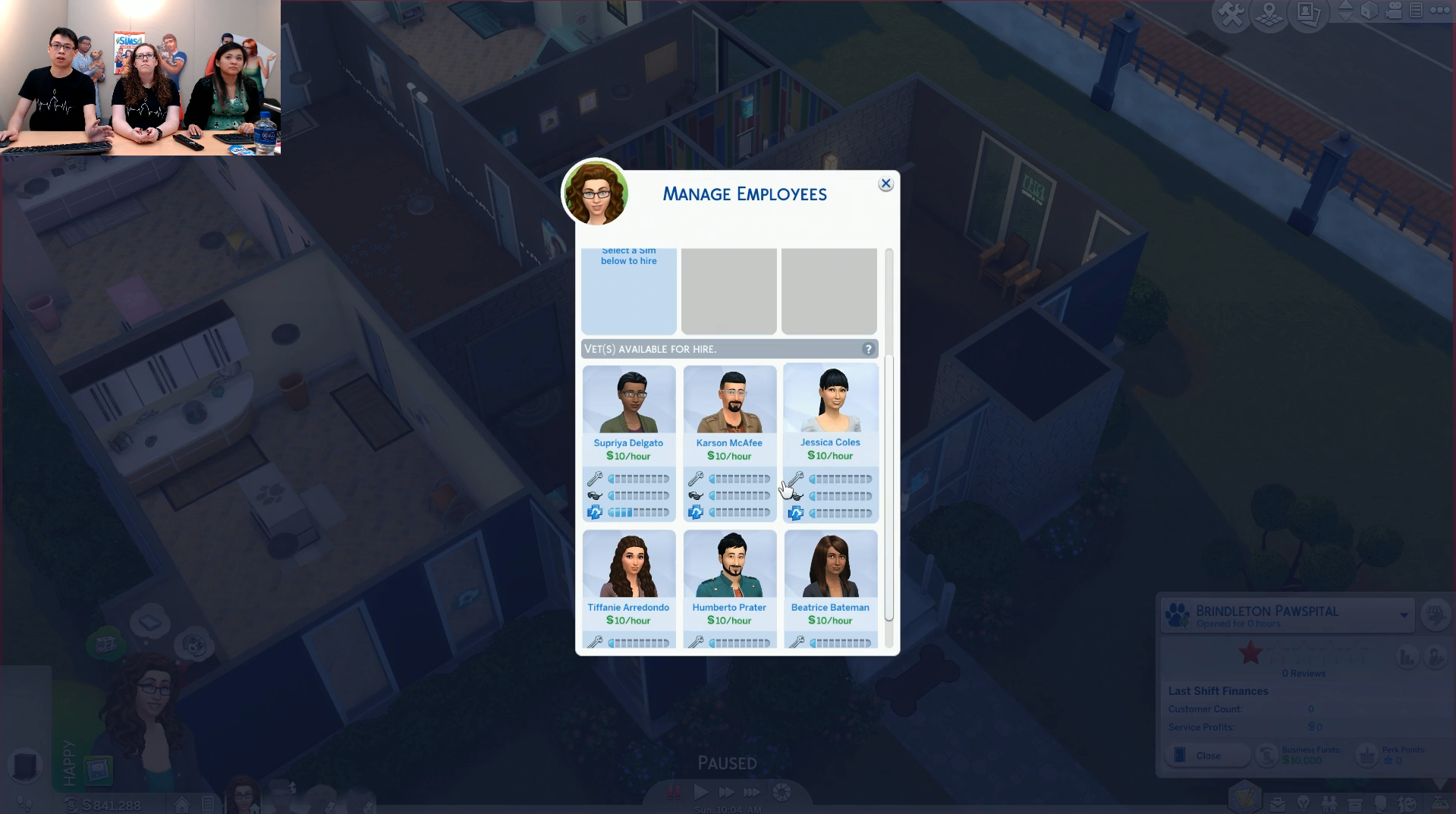 • The Vet Skill is the most important skill for a Vet Clinic. You will want to hire employees who have higher Vet Skill levels. This skill effects how quickly they treat patients, how effectively they treat, and the ratings they will receive from clients. As you treat patients you will level up on the Vet Skill, and also get better at identifying illnesses that different pets have. The better you get the less exams you may have to do.
• The Vet Skill has 10 Levels. With each level a Sim raises their skill, the more interactions will be available to them via exam tables, surgery machine, and crafting table. You will also unlock new decor items as well.
• The Charisma skill is also important especially if the employee is going to be greeting clients that come to the clinic and in the waiting room. It effects the bedside manner rating.
• Handiness is useful for whenever machines break and when you need to upgrade any of the equipment at the clinic.
• It is best to build clientele before hiring more employees.
• The first thing that happens when clients enter the clinic is they will approach the Vet Check in Podium to check in to the clinic. When clients check in they will have a 3-star rating above their head by default, and this can fluctuate up and down depending on how well you greet, treat, and make them wait.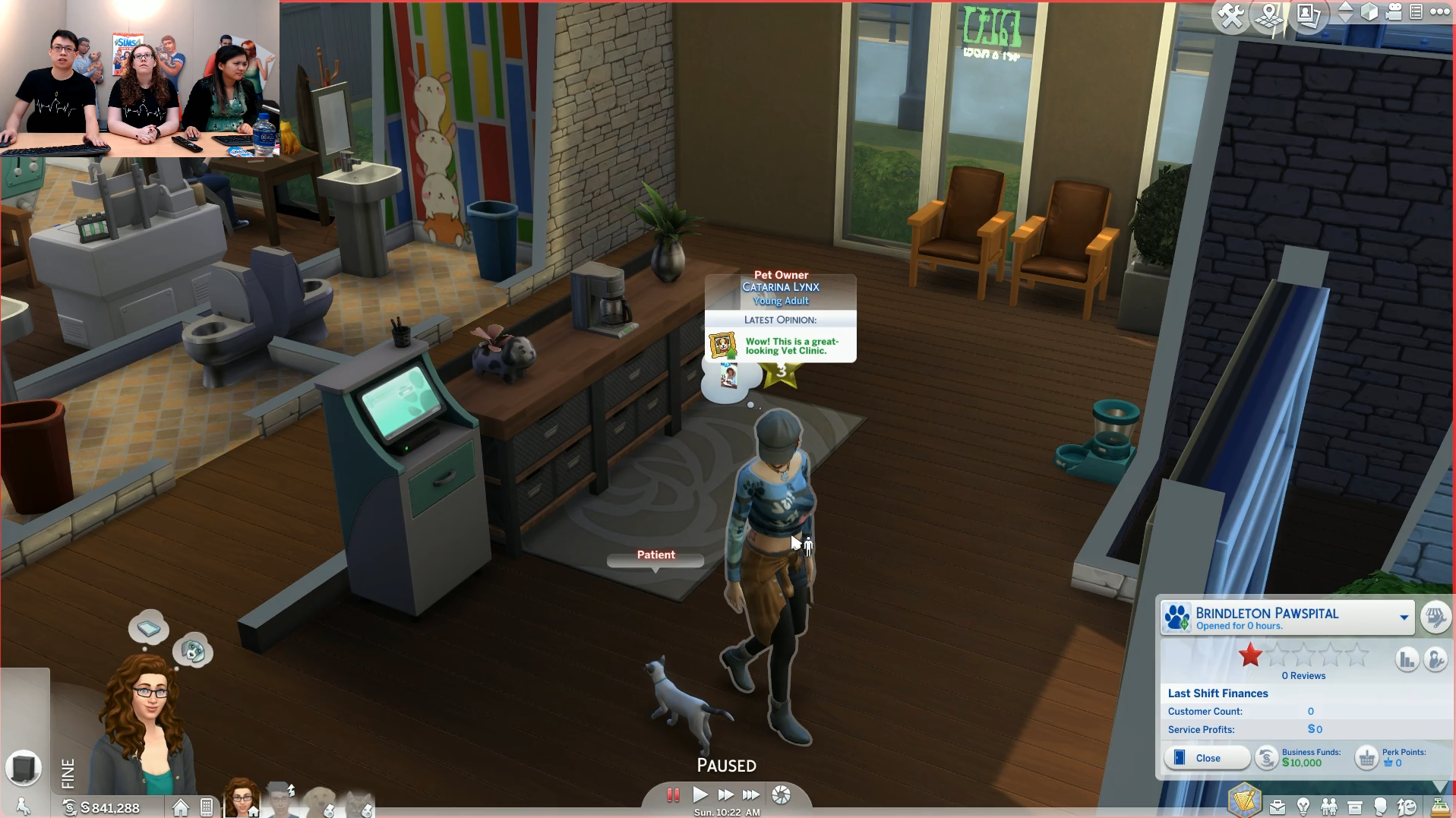 • The star rating that a client leaves the clinic with will count toward your overall clinic rating. Star ratings range from 1 through 5.
• Clients will also have an Ambiance Card above their head that indicates how they feel about the environment of the clinic. Keeping the clinic clean and nicely decorated will increase the ambiance rating for clients.
• Next it is important to greet the clients. You can click either the owner or the Pet for various interactions. You can use the "Greet Patient", "Greet Patient Warmly", or "Greet Patient Impatiently" interactions.
• As the Vet you will be able to tell through the hover info boxes which pets belong to which owners. Hovering over a Pet or Owner will reveal the other through hover tips.
• When you own a vet clinic, you can hire employees to work at the clinic and essentially just own the clinic, or you can play as the vet as well and perform daily duties. You are also not required to hire any employees and run the clinic your self.
• You can use the settings panel to pick and choose what uniforms to set for your employees. From here you can also determine Price Markups (75% – 200%), Supply Quality, and Advertising (Gold Package §240/day – Platinum Package §480/day). You can set uniforms for both male and female Sims.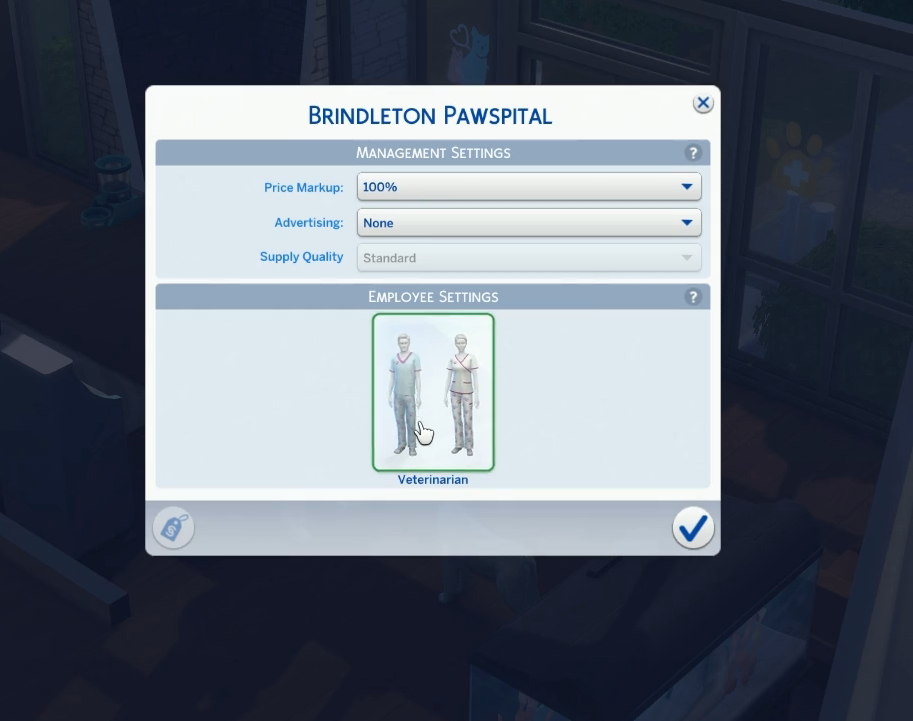 • You can choose to accept or reject to treat a patient.
• Once you begin treating a patient, the UI in the upper left hand side will tell you the Pet's stress level and what you know about the patient (discovery).
• Different illnesses have a different number of symptoms. Most illnesses have 1 to 6 different symptoms, with at least 20 different illnesses.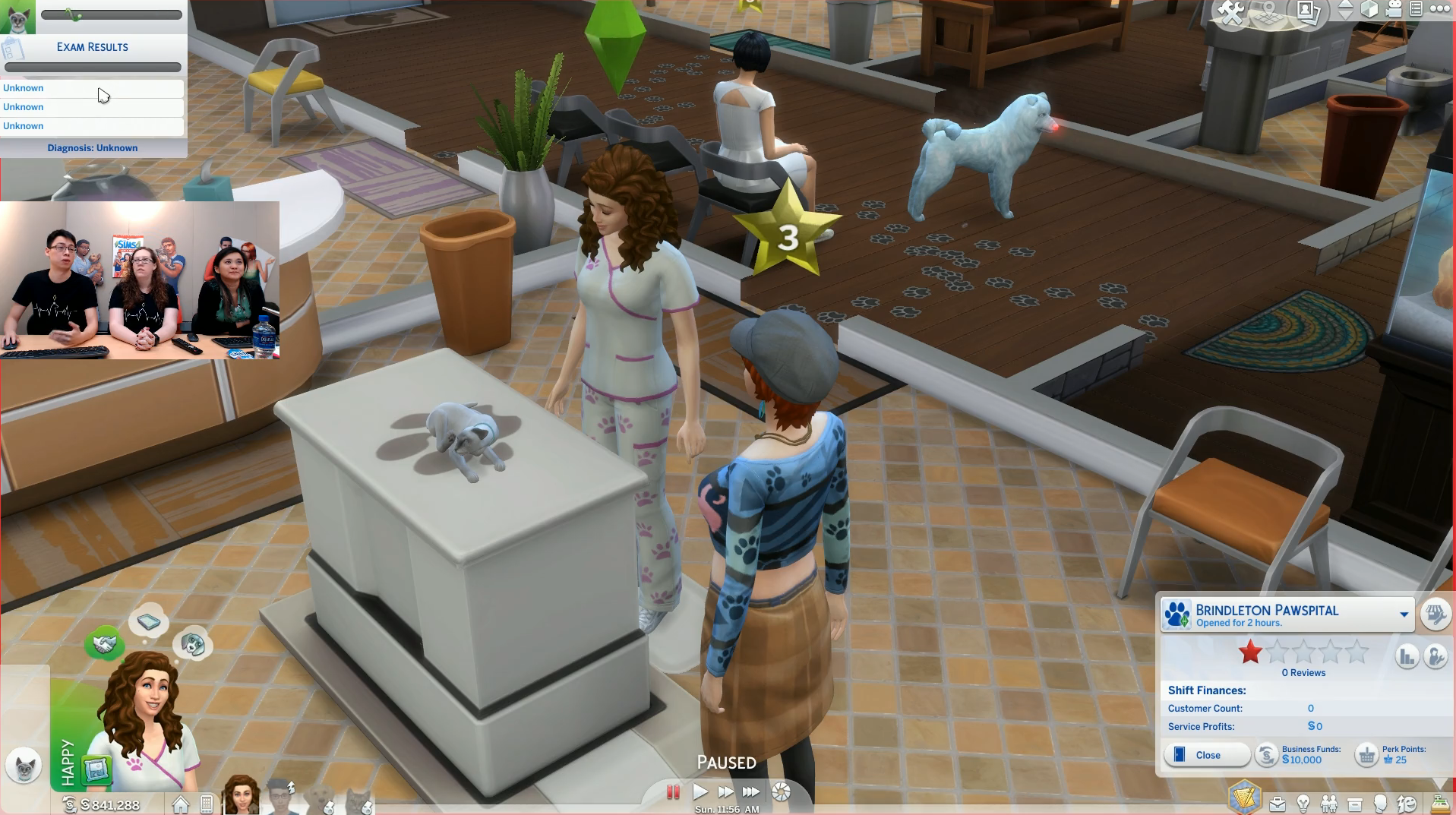 • Clicking the Patient will bring up the following options: Calm Patient, Exam, Treatment, Move to Surgery Station, and End Exam.
Exam Options – Check Chart, Examine Mouth, Eye Exam, Listen to Breathing, Listen to Heart, Skin/Fur Inspection, and Take Temperature.
Treatment Options – Cone of Shame (§30), Administer Antiviral Payload Shot (§25), Administer Eudemonia Concentrate Shot (§25), Anti-fungal Spray (§25), Biscuit with Medicine (§25), Essence of Placebo Treat (§25), Fixitol Treat (§25), Organic Disinfectant Spray (§25), Parasite Killer Spray (§25), Preventative Shot (§25 – For Healthy Diagnosis)
Calm Options – Calm Pet, Give Industrial Strength Relaxation Serum Shot
• Treatments will have question marks until you are able to figure out what is wrong with the patient. Once you begin diagnosing the pet, these questions marks will change to thumbs down or thumbs up, indicating which treatments are best. You can still give patients the wrong treatments if you want to.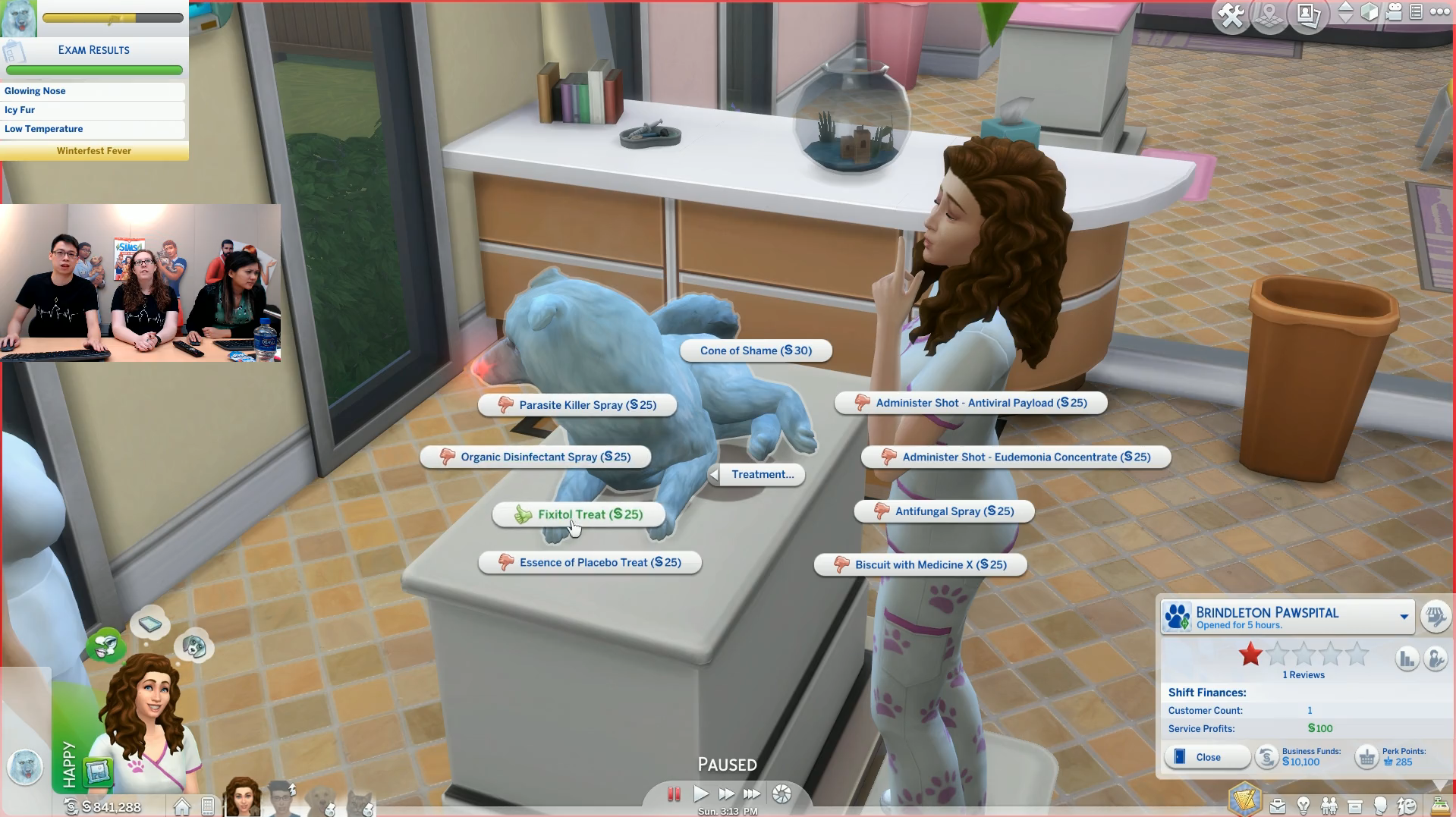 • Sometimes patients who are stressed out will not want to take their treatment, so it is best to calm the patient before administering any treatments.
• Part of being a good vet is how quickly you can treat patients, while also making sure that they don't stress out. Stressing out the pet also causes the owner to be upset with the vet, so it's important to keep the pet happy.
• Illnesses are random. Pets will get sick every few days, but eating bad food will also increase their chances of becoming sick.
• Once a Vet has completed examination and treatment, the Vet will approach the client and receive payment.
• As you treat and check out patients, you will also receive Perk Points. Perk Points allow you to buy a variety of perks for your vet clinic.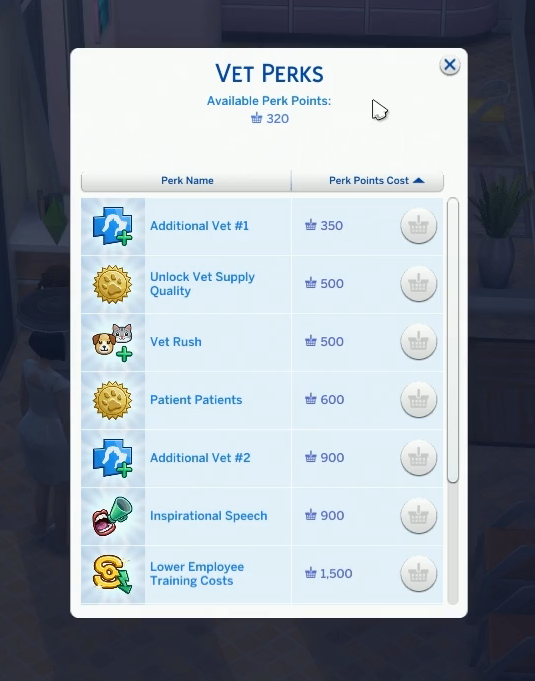 • You can use the Crafting Table to craft a variety of useful items. For example, instead of calming a Pet with love, you can give them the Industrial Strength Relaxation Serum to immediately calm them down. You can also make treats like the Swampwater Taffy which will actually make Pets sick. (there's good treats too) As Sims level up in their Handiness Skill they will be able to craft even more items.
Treats – Cooler Than Liquid Nitrogen Nutrition Bar, Swampwater Taffy, Scorching Cinnamon Chew, Wellness Treat, Age Up, Age Down, Ambrosia Treat, Poop Randomizer, The Stinkinator.
Exam Table –  Industrial Strength Relaxation Serum (§12),
Surgery Station – Belly Rub Simulation Gel (§12), Catnip-Based Calming Agent (§13)
• The Surgery Station is a more powerful version of the exam table. You can move patients there at any time during an exam. There are some high level and rare illnesses that will require a surgery station, even though the surgery station is not a required object for vet clinics.
Surgery Station Options – Upgrade, Scans, Surgeries, Begin Examining, End Scans, Give Belly Rub Simulation Gel, Move to Exam Table, Neuter/Spay.
Surgeries – Extract Excess Cuteness (§50), Refill Nose Hydration Reservoir (§50), Tum Tum Tickletangle Readjustment Surgery (§50), Unblock Kibble Shoot Blockage (§50)
Scans – Brain Scan (§20), Intestinal Scan (§20), Vascular Scan (§20).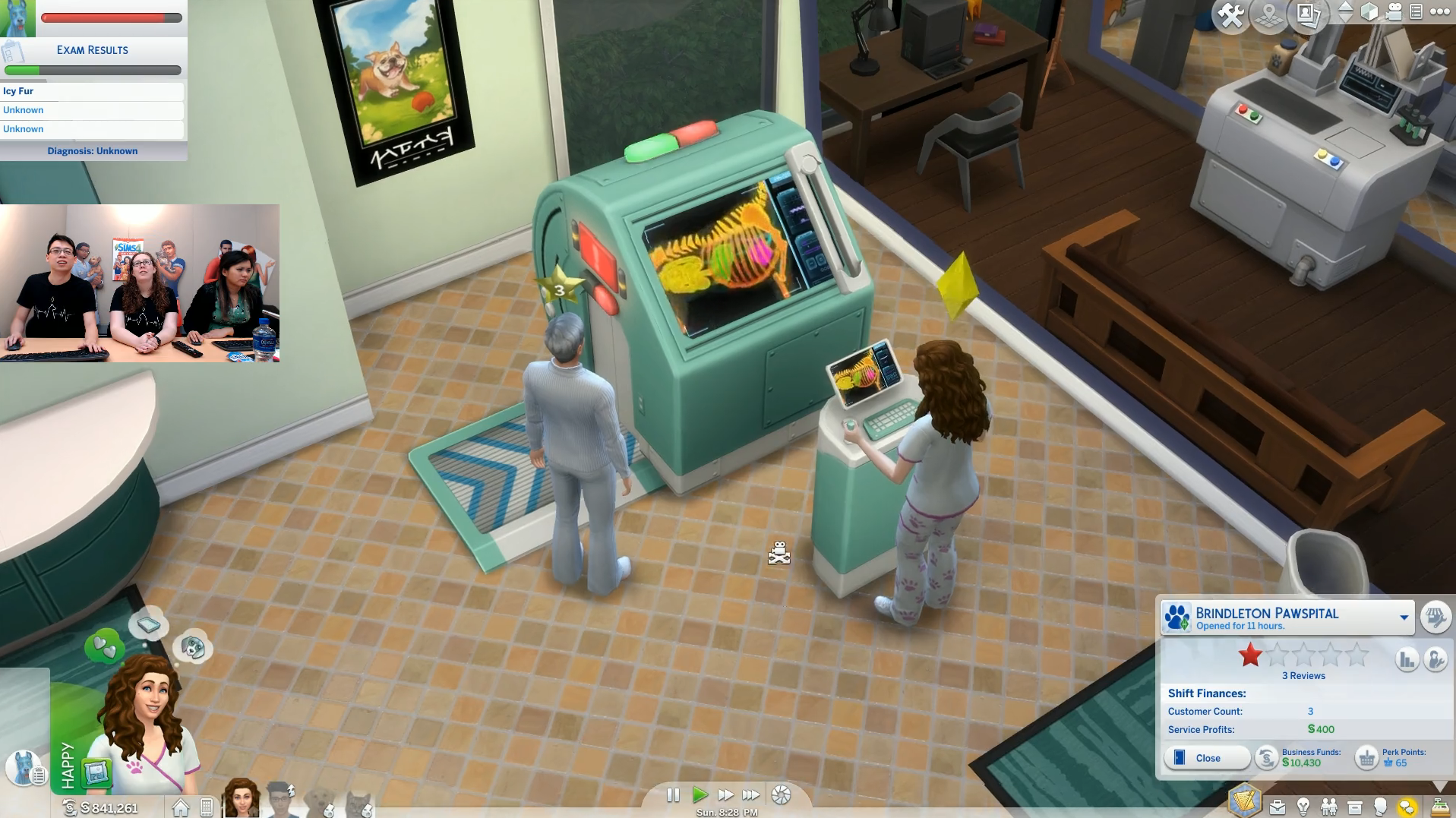 • The Surgery Station will cause Pets to stress. The station can also malfunction.
• You can Neuter/Spay animals without the consent of owners.
• Pets will have a "Sad" walk style
• Sometimes patients will come to the vet clinic for a regular checkup, and not necessarily because they are sick. You can choose to end the exam or give the patient a Preventative Shot.
• There is a new Vending Machine that you can fill with treats from the crafting table, and clients will randomly purchase items from the vending machine. This is another way to increase revenue for your business.
• You can only hire 3 non-household employees to work at your Vet Clinic, however, this does not include members of your household. You can have as many members of your household working at your Vet Clinic no matter how many Employee Slots are open.
• You can bring Pets to work with you to treat them. It is up to you to treat your Pet as employees will not attend to your household Pets.
• Owners will come over and watch their Pet being treated, and will even react if you treat the Pet badly or not.
• You will be able to go to the vet as a player even if you do not own or work at a vet clinic. There will be NPC vets to attend to your Pet. You will have to pay to treat. To do this, click your Pet and use the "Take to Vet Clinic" interaction. You will then enter a Vet Clinic that is run by NPC Sims. You will need to check in at the Kiosk and select your reason for bring your pet in. You can choose Spay/Neuter, UnSpay/UnNeuter, Checkup, or Curing Sickness.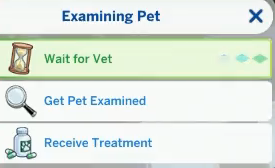 When your Pet is examined by a Vet at the Clinic, a pop up will let you know what the doctor has diagnosed your Pet with, and you can make the appropriate choices from there.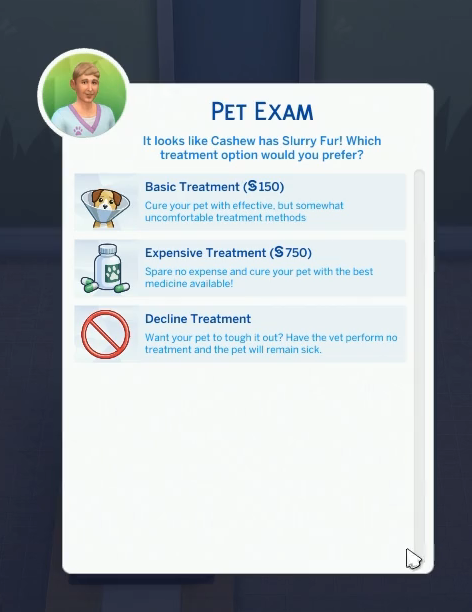 • There is no pre-made Rooms with exam tables, but there are plenty of new lots available in your "My Library" in the Gallery. There will also be a pre-made Vet Clinic in the World.
• Vet Items will be unlocked immediately. Leveling up the Vet Skill will unlock new interactions, decor items, and socials.
• From what SimGuruEmory stated, you can give your Adult pets Age Up and Age Down treats, that can turn a dog into a puppy again. Same with kittens.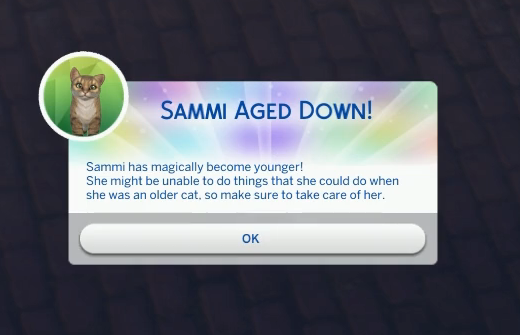 • The Ambrosia Treat will allow you to bring a dead Pet back to life again.
• You can use your own equipment at home to treat your Pets. Pets will change their behavior to let you know that they are not feeling well. You can also ask your Pet what is wrong with them.
• There is an option when clicking on Pets called "Simstagram Pet"
• You will not be able to run a Home Business Vet Clinic. You can place vet clinic items on your residential lot and treat your own pets, but you cannot enable customers and a full blown vet clinic.
• The Wellness Treat allows you to give your Pet a treat that can cure their ailments. This costs less than visiting a vet, but does not cure all illnesses.
• Treats can only be purchased from a Vet Clinic's Vending Machine, or by having a Sim craft them at home on the crafting table. Crafting treats is dependent on your Vet Skill.
• At one point in the stream the household Sim had an uncomfortable moodlet with a Skunk icon. The gurus said he "smells skunk".
• The Cone of Shame will eventually fall off on its own, or you can remove it after the appropriate amount of time passes.
• When pets have the "Golden Poop" illness, they will poop out random bars of gold that have a high value to them. You can sell the Golden Poop for §50 simoleons, and the Golden Bar for §6,006 simoleons.
• You can prevent Pets from getting sick often with regular checkups, wellness treats, and getting preventative shots from the vet.
• Pets can give birth at home or at the Vet Clinic, and there is NOT a special bonus for having their litter at the Vet Clinic.
• Vets will gain relationships with employees clients, and patients if they choose to socialize and make friends.
The following symptoms and illnesses were seen while the Gurus played the game…
Negative Symptoms Available – Rainbow Poop, Rapid Heartbeat, Glowing Nose, Icy Fur, Low Temperature, Overly Moist Skin, Golden Poop.
Positive Symptoms Available – Normal Temperatures, Healthy Cuteness Levels, Responsive Ears, Clean Nose, Standard Smelly Breath.
Illnesses/Diagnoses Available – Winterfest Fever, Ice Box Fever, Healthy!, Slurry Fur.
Objects
The Gurus went through objects in Buy Mode, and I have screen captured the icons and items shown during the stream. It's worth noting that many of the Vet Clinic items come as both "lower end" and "higher end" quality. This allows you to create a starter clinic.