As reported last week, EA and Maxis have pledged $20,000 to the SPCAI. Each week for one month, The Sims team will release a "challenge" on EA's Sims 4 Hub, giving players a task to complete for the week. Last week's challenge has ended, and a new one has begun.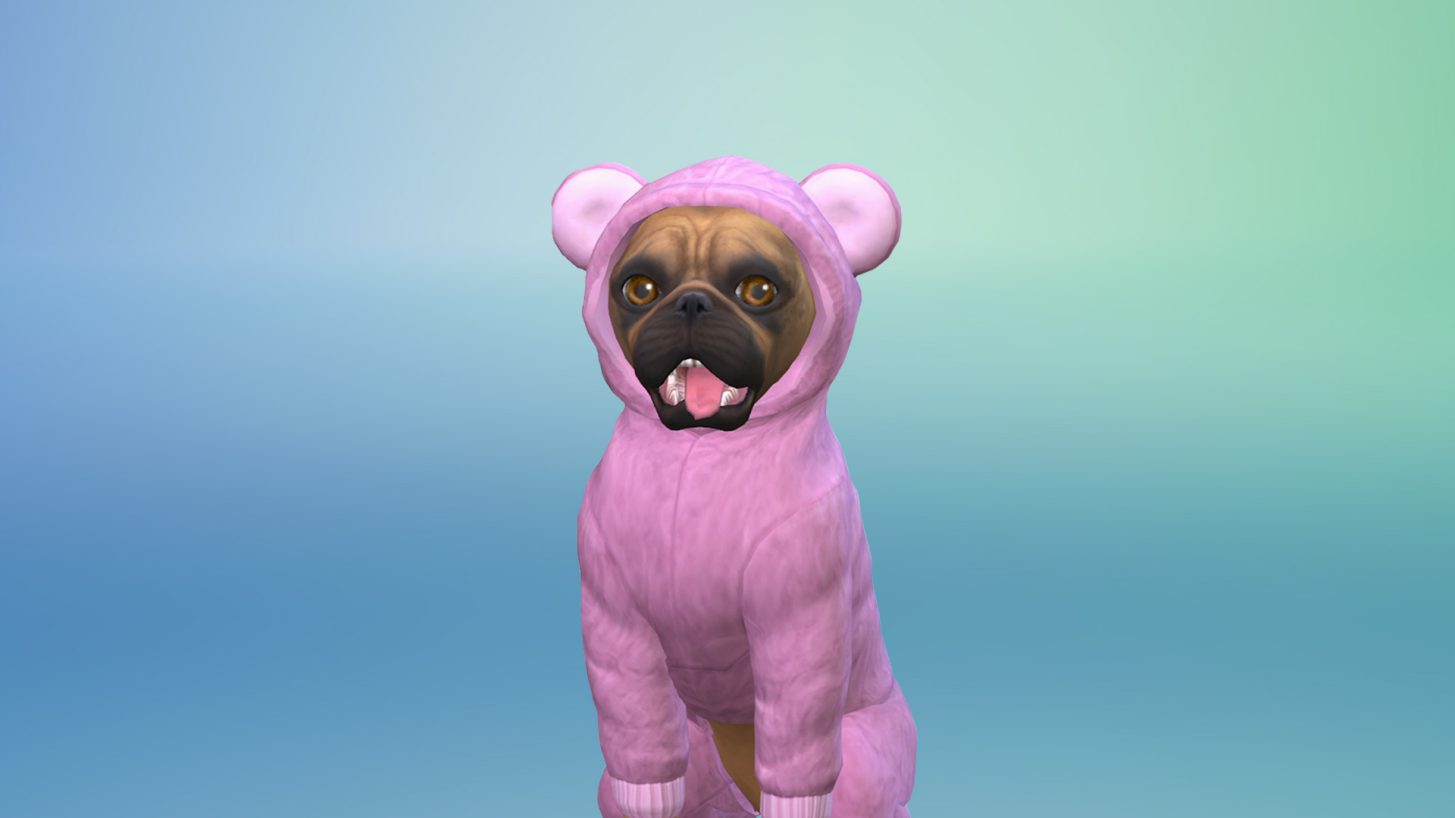 This week The Sims team is asking that you create your own furbaby and share them to the gallery. Once you create your pet, be sure to put "MyPet" at the beginning of the title of your creation. Pets you make and share will be featured in the EA Web Hub.
The Sims™ has teamed up with the wonderful folks at the SPCAI to help support some of their amazing programs.

Last week we challenged you to help our little doggo Ruby find the best outfit, and we are thrilled to reveal that your choice was the Ruby Bear.

After our Ruby challenge, we wanted to shift gears a bit and share the spotlight with some of our amazing community creators (many of whom are already creating some amazing cats & dogs in the gallery). Our focus this week is on your cat or dog; we encourage you to create your actual pet using the Create a Pet tool in The Sims 4 Cats & Dogs Expansion Pack and share on The Sims 4 Gallery.

For reference, this pet could be a cat or dog that you own, or it could be a pet that you would love for your Sims to adopt into their own family. Once you create your pet, be sure to put "MyPet" at the beginning of the title of your creation, when uploading to the gallery. Your pets will then be featured on our web hub for others to like and download for their own Sims homes as well!

In the meantime, we teamed up with some of our creators from around the globe to help us get started by creating pets for you to download today! Check out these amazing furbabies:

CuteCoffeGal – Miles (after Miles Davis) was adopted in 2007. A rescue of unknown breed, he's part Tuxedo and part Siamese? Burmese? One of his favorite spots is to perch on top of a 10 foot tall cabinet in my bathroom! He's always been a loving cat, but he's been my little shadow since his brother Oscar passed, constantly following my every move. Miles's favorite toy is a plush cupcake my mother gave him for Christmas years ago, and it's funny to watch him hunt, kill, and then bring me his cupcake each night!

Miss Violet – Masha (2 years old) and Lumpi (9 years old) are my two long haired Chihuahuas. Masha is like a little tornado with the energy of 10 big dogs while Lumpi is a glutton for food and loves to follow me around no matter where I go, including the bathroom. I adopted Lumpi from a shelter (along with his sister who passed away) when he was 5 years old, he is the most loyal and loving dog I have ever met. While Lumpi loves to follow me around Masha is miss independent, except when she decides its cuddle time, and she just has to comment on every noise with a bark. While they have very different personalities they still match each other perfectly.

MsGryphi – I adopted Reo from a shelter when he was just a kitten and they weren't sure of what his breed was, but this 15lb bundle of fur is a lover of attention. He is very much a glutton, loves to hold conversations with you, and can be quite mischievous when he wants to be. One of his special quirks is that he likes to bite your arm if you don't play with him with his lazer light haha.

Meggs – Oolie is my spoiled rotten purebred Shih Tzu. She just loves to wear a shirt, or sweater, and have her hair up in a top knot or pig nails. She has a plush pumpkin, her absolute favorite toy, that she enjoys laying on when she snoozes on the couch. Oolie is very proficient in speak, high five, paw, dance, and "leave it" and will perform any of them for a tasty treat. She is a huge lover of people, though she is skittish around other dogs, and just loves to join in when people sing at birthday parties or when I practice my choir music or flute (though she isn't a fan of the flute).

Don't have The Sims 4 Cats & Dogs Expansion Pack? Don't worry! You can still participate by liking and sharing your favorite pets created by others in the community.