The Sims 4 My First Pet Stuff has drawn plenty of criticism from the community since the announcement last week. With EA adding in one type of "small pet" just three months after the release of The Sims 4 Cats & Dogs Expansion, many players believe it was deliberately pulled from the expansion pack to be sold separately for more money.
The newest stuff pack also requires that players have The Sims 4 Cats & Dogs expansion to unlock all the content available in the game, making it a first for The Sims 4.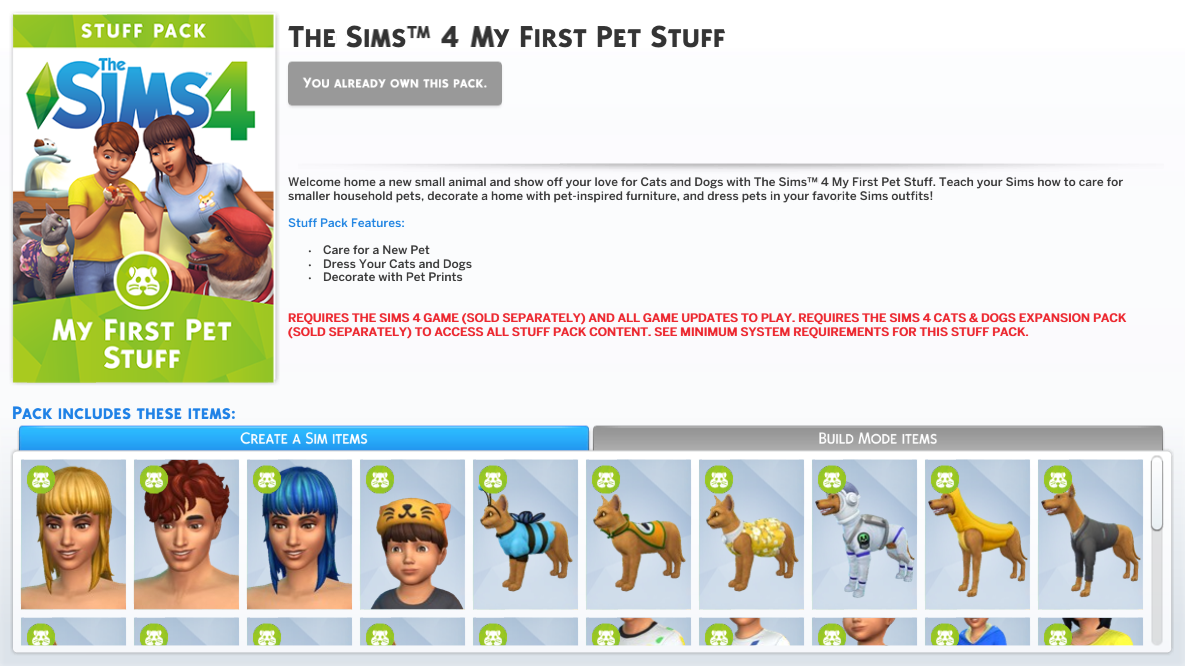 Aside from that, the stuff pack also includes recolors of content that is already in the game from other packs or the base game. Let's start with Create-a-Sim. All the assets that are sold with this stuff pack are recolored duplicates, with the exception of the Hamster outfit which one could argue is just a refaced bear or raccoon suit. Some of the items were even patched in as "freebies" and are now being sold as new content.
The following 2 shirts for Toddlers and Adult Male Sims are exact recolors of the free shirts we received both this year and last year as free anniversary content.
They also match some of the other base game and expansion shirts as well. 
The following assets are either base game or expansion/game pack recolors. The one from Outdoor Retreat is the same T-Shirt with the long sleeves removed.
The same goes for pets. Large Dogs, Small Dogs, and Cats have 4 recolored outfits from the Cats & Dogs Expansion. (Thank to Marty for bringing these to my attention!)
Once you get into build and buy mode, there's evidence that some items were withheld to be resold. A prime example is a chair and desk combo that matches a Sims 4 Cats & Dogs bedroom set. They have the same color swatches and the same drawer knobs.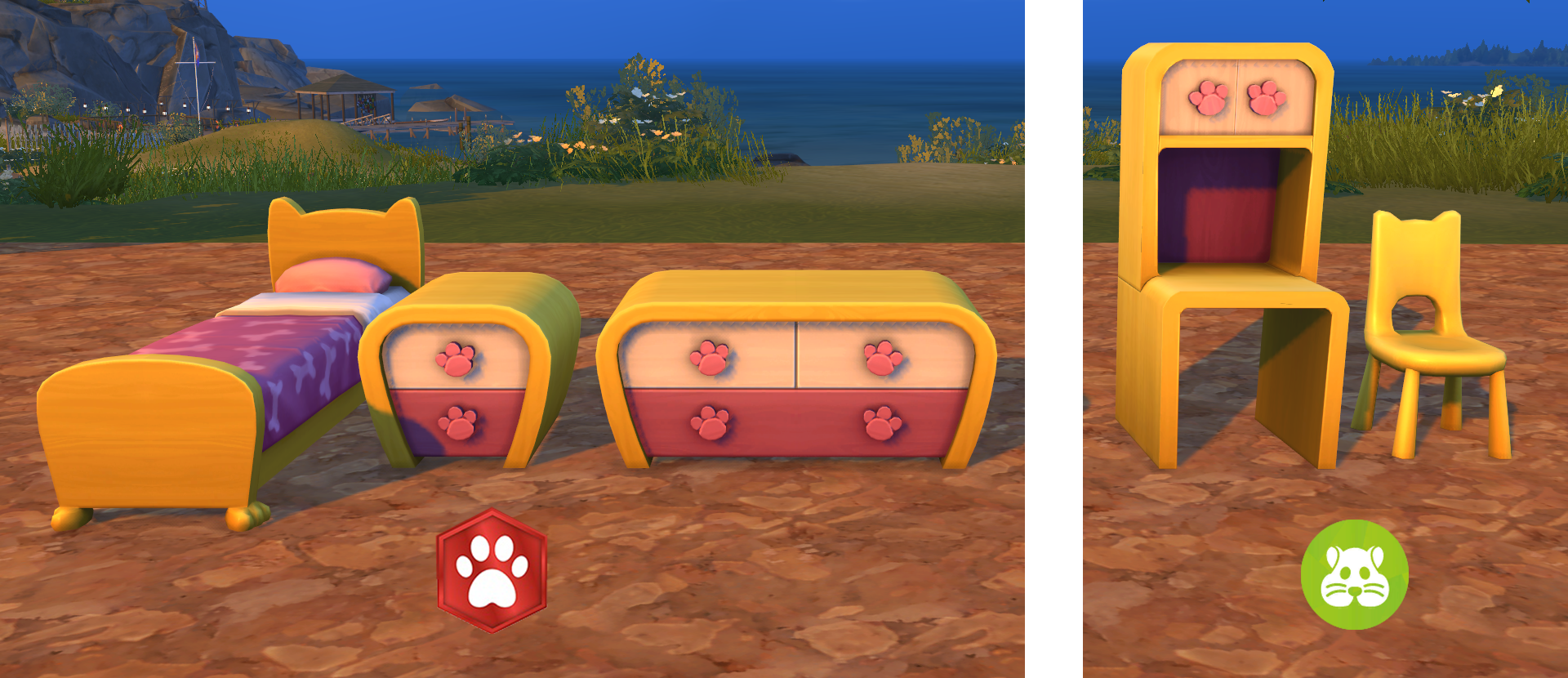 Lastly, the new objects added for pets look similar to content from Cats & Dogs content and players believe that they should have been included with the expansion to begin with. The photo shows Cats & Dogs content on the left, and My First Pet content to the right.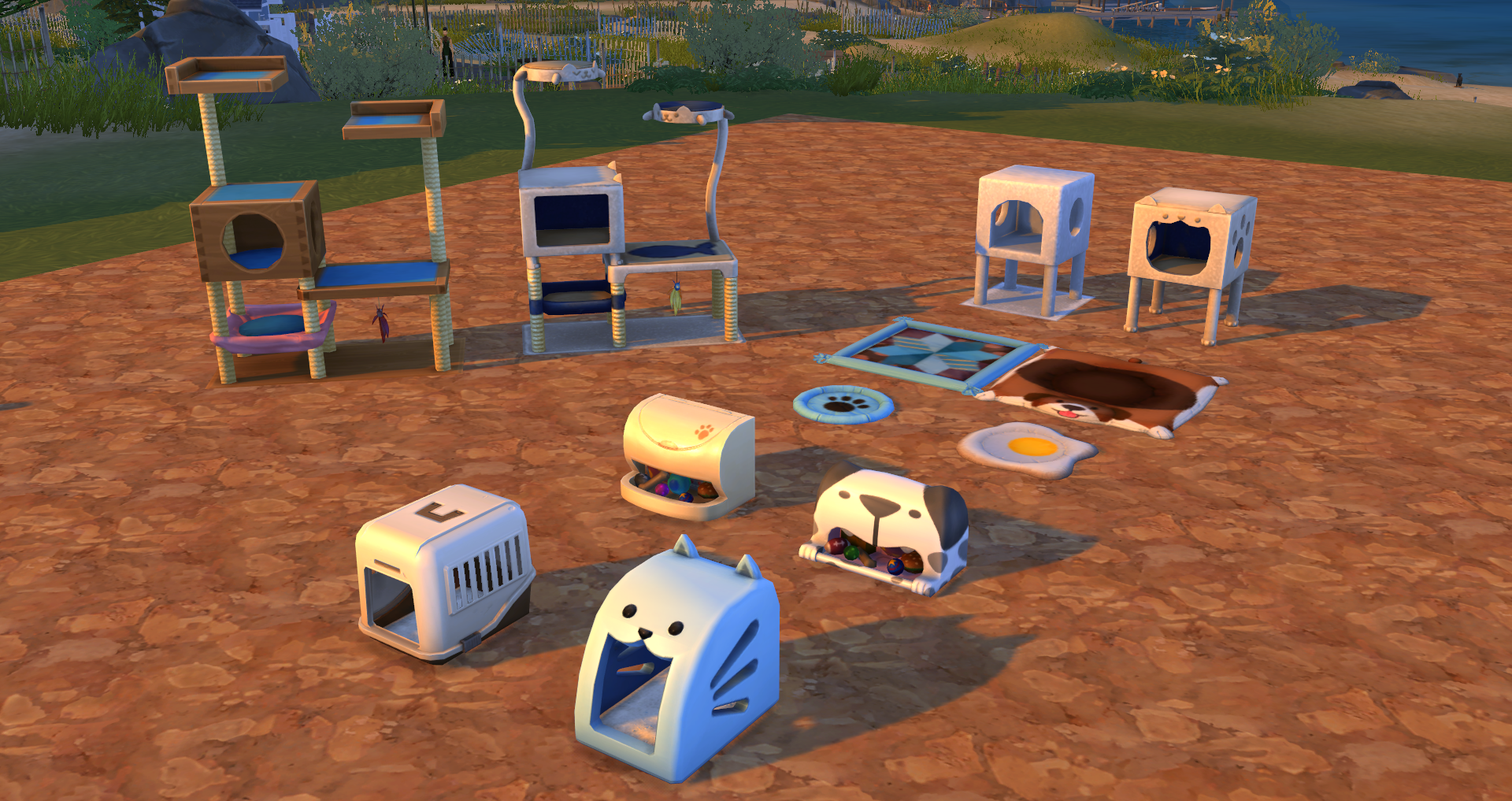 I'm sure this is not the first time they have recolored an object or duplicated something we already have in the game, but never has it been so blatantly obvious. Aside from rodents, the rest of the content that makes up this stuff pack is pretty much recycled.
What are your thoughts on this? Do you feel that this is a cash grab? Is this good enough as a filler pack? Let us know your thoughts below!
Feel free to check out the My First Pet Game Guide for detailed information on the game.