There's a new quest in The Sims Mobile! The Spring Egg Hunt Quest is now available for a limited time, giving players 7 days to complete the necessary steps that will reward them with 5 decorative Eggs and the interactive "Bun Bun the Bunny" item.
To begin this quest, select the "Quests" tab on the right side of your screen. If you do not see the Limited Edition Spring Egg Hunt Quest, restart your game. It is required you have the latest game update in order to complete this quest.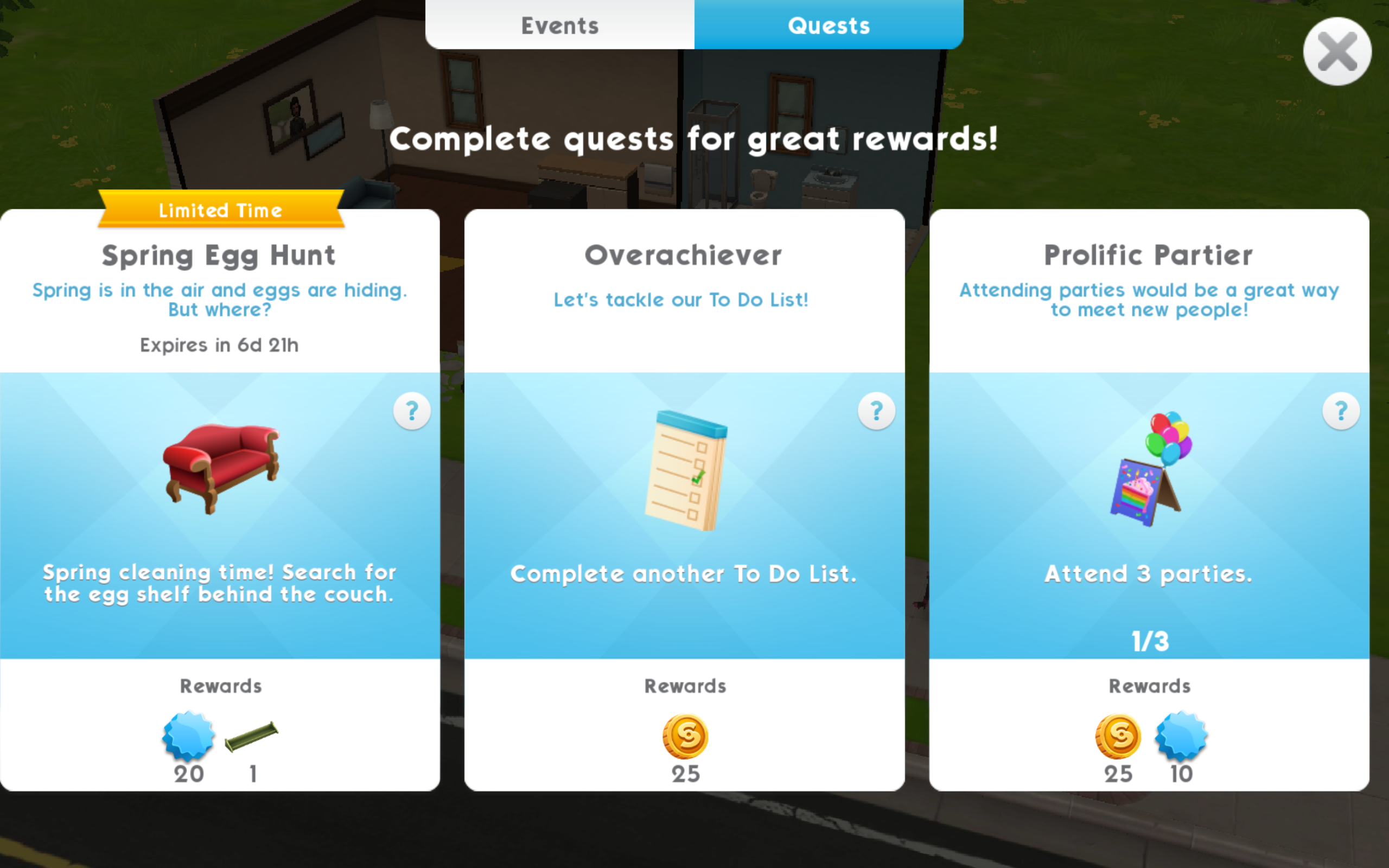 To complete the Spring Egg Hunt, you will be required to complete 14 individual quests in the game. You will receive the decorative eggs along the way, and be rewarded with Bun Bun the Bunny once you complete the final quest. Below is the list of quests (in the order they appear) that you need to complete, along with rewards and requirements.
Tips and Misc Info
Quest related interactions will bring up a blue colored option in the right panel
The "Sim Tickets" quest can be completed by earning or purchasing tickets
The "Simoleons" quest can be completed by earning or purchasing Simoleons
Vanities can be purchased in the bathrooms section
Be sure to have at least 6 stickers available to complete both quests
Decorated Eggs can break, so have some spare Simoleons for repairs
Decorative Eggs and Bun Bun the Bunny
The 5 decorative eggs will be rewarded when you complete the 3rd, 5th, 7th, 9th, and 12th quests. These items will appear in your Sim's inventory and you can place them anywhere on your lot. The only available interaction is "Admire".
Bun Bun the Bunny is rewarded with the 14th and final quest. This item will also be found in a Sim's inventory. This item has several interactions attached to it regardless of age.