UPDATE: The description of Tropical Paradise was taken from ideas on the official forum. The description itself is now debunked, and likely the entire rumor, as Instant Gaming has in the past listed things based on fansites/player threads.
As always, without official announcements or info by The Sims Team regarding the next Sims 4 Game Pack and release date, consider this to be an unverified rumor until proven otherwise. 
Gaming retailer Instant-Gaming.com has published a listing for what may likely be the 7th Expansion Pack, titled "The Sims 4 Tropical Paradise" The listing also includes some details down in the info tab, including radio stations, dance moves, and harvestables.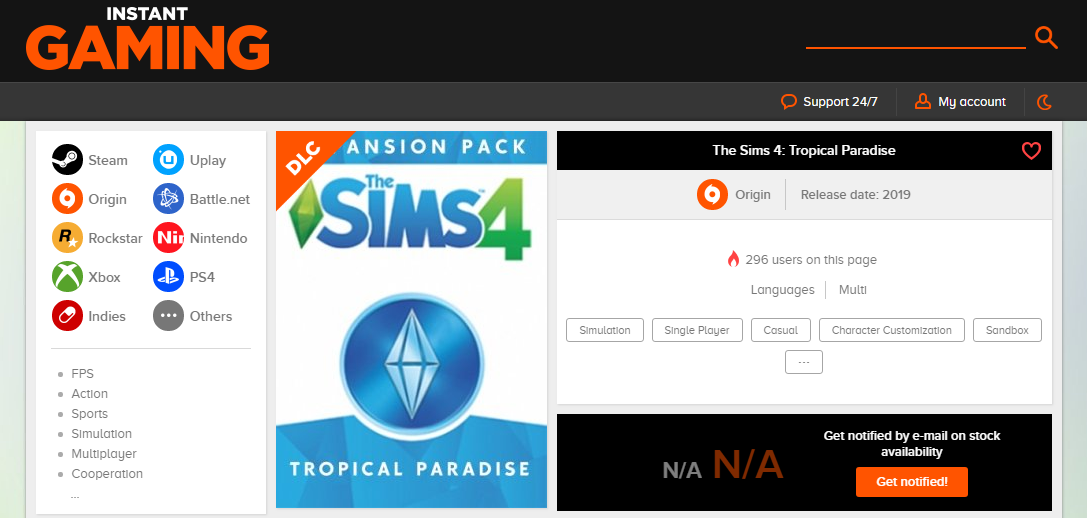 Instant Gaming has been known to publish accurate listings in the past, but has also been wrong a few times as well. Dutch retailer Gamesync.nl has also listed Tropical Paradise for pre-order, stating that the game will be released in June, so this may add some validity to the listing from Instant Gaming. We'll have to wait and see how this plays out.
UPDATE: The description, and likely the entire listing was inspired by a player's wishes on the official forums for what they hope the next expansion may be. 
According to the listing on Instant Gaming, The Sims 4 Tropical Paradise includes:
-A new beach world based on Spanish/Caribbean islands and Hawaii
-New radio stations – Reggae and calypso
-New harvestables – Pineapple and coconut
-New dance moves – Hula dance
-New objects – Lounge chairs and surfing station
-New skills – Surfing, hula dancing
-New aspirations – Surfer
-New traits – Loves water, hates water
Whether or not these two listings prove to be true, we do know that Maxis and The Sims 4 team are likely to make an announcement soon with EA Play just a few weeks away.
Hat Tip: Evan Le