Magic has finally made its way back into the Sims! Spellcasters (and their familiars!) can now be found wandering the many worlds of The Sims 4. With two new worlds to explore, skills to learn, and irritating neighbours to hex, Realm of Magic includes plenty of Gameplay to keep you and your Sims occupied. But what exactly does this bewitching Game Pack have to offer the builders of The Sims 4 community? Using all of the new objects added with Realm of Magic, I have created a series of builds to show you just a few of the ways you can make the most of Build Mode in The Sims 4 Realm of Magic.
Spellcaster's Sanctuary 
As soon as I downloaded this Pack I knew I had to try my hand at building a house worthy of a Glimmerbrook Spellcaster! I wanted this home to fit well within the new world and so the exterior style is inspired by the other properties found in Glimmerbrook.
Even though I was building in Glimmerbrook and not The Magic Realm, I still wanted this home to feel somewhat mystical. One of the ways I achieved this was by using the Advanced Roof Manipulation Tools. Selecting a roof and pressing Shift + C will allow you to alter how much the roof bows at two separate points. This can be used to create a variety of interesting shapes and is an easy way to transform an average looking house into something a little more whimsical. For more information on using the Advanced Roof Manipulation Tools Click Here to see our Roofing Guide.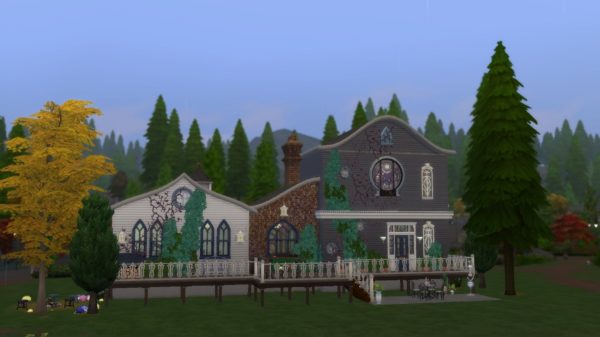 One of my favourite things about this Pack are the new windows! It's amazing to have some more stained glass options in the Game and these are particularly beautiful – I knew I had to use them. I interspersed the new windows with some slightly plainer windows from Cats and Dogs, StrangerVille, and the Base Game. I opted for dark and light blue frames and used a variety of different shapes and sizes to keep the build feeling eccentric.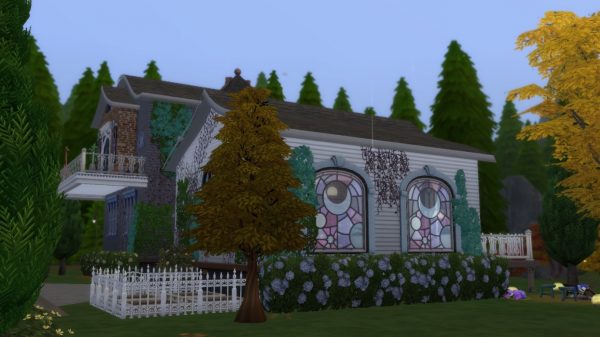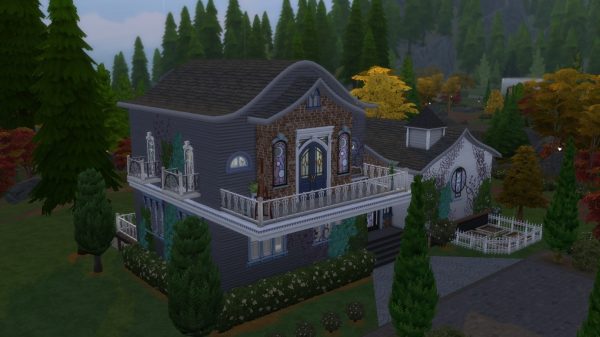 So that my furnishings and décor would match the stained-glass windows, I decided on a purple colour scheme. Luckily, many of the new objects included with this Pack have a purple colour-swatch available so I was able to ensure my build looked co-ordinated throughout!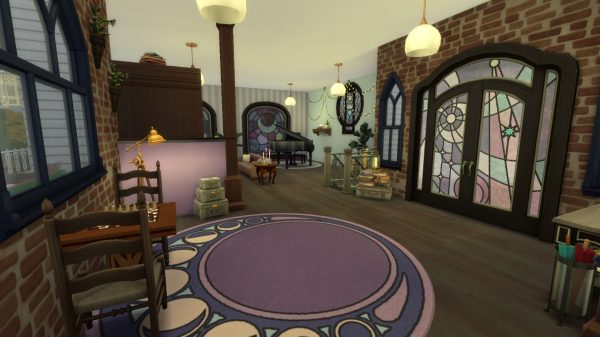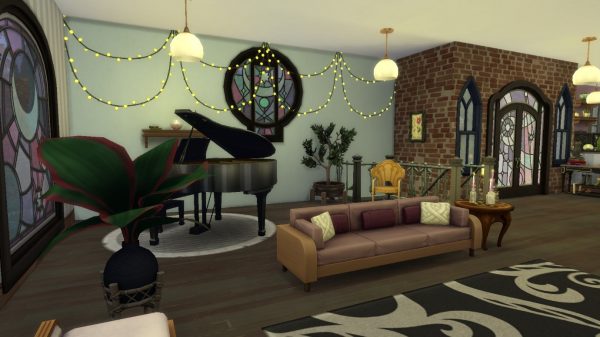 Realm of Magic definitely lends itself to a more traditional style of building. The new kitchen counters, cabinets, tables, and chairs have a classic design and would fit perfectly in an elegant manor house. For this build, however, I wanted to go in a different direction. Using bright colours, lots of clutter, candles and string lights, I was able to create a slightly more casual aesthetic whilst still utilising the new objects from Realm of Magic. I'm really happy with the end result!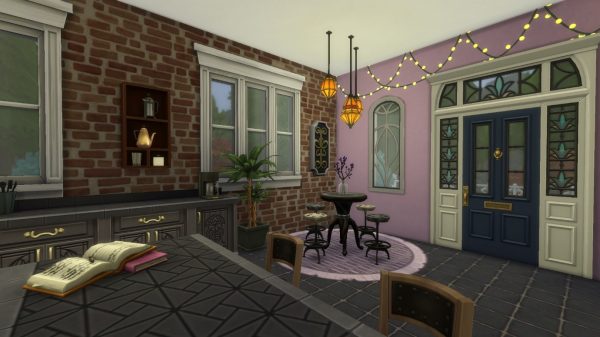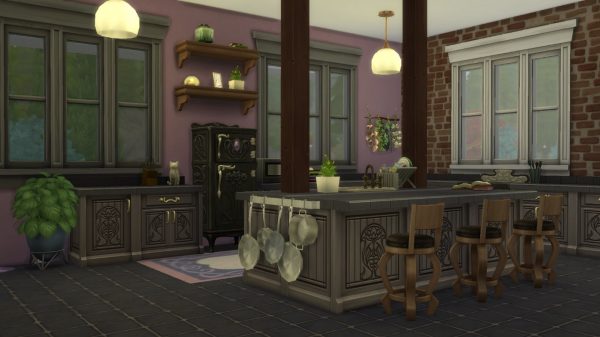 Because I used stained-glass windows on the upper floor as well as the ground floor, I continued the purple theme upstairs. To add a bit of variety, however, I incorporated light blue into the colour scheme.
Whilst there are a few clues to the magical identity of the Sim who lives in this house on the ground floor and upper floor, the majority of magical items can be found in the basement. I loved the idea of creating a secret space for my Sim to use to practice their magic, store their potions and herbs, and keep all of their magical textbooks.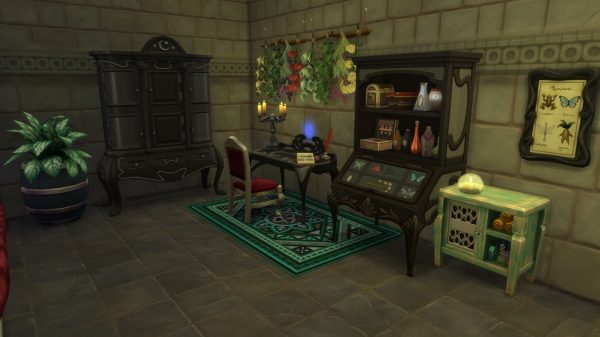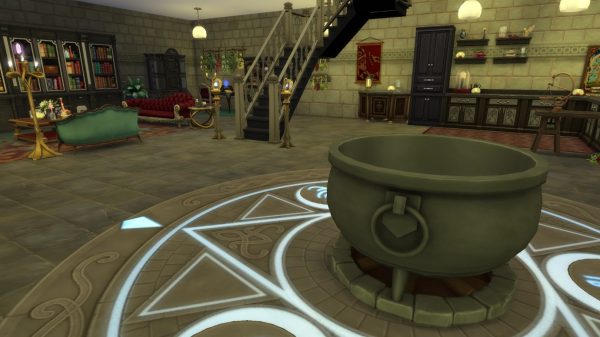 Clutter was key in this space. I added in multiple shelves and tables and filled them with a variety of items. The Sims 4 has plenty of decorative objects that work well in a magical basement (in particular I ended up using a lot of objects from Vampires). Whilst decorating this room, I went to the Decorations category of the Buy Mode Catalogue and worked my way through all of the items, pulling out any that I thought would look good in this space.

Enchanted Chamber
For the most part, the magical objects included with Realm of Magic fall into two categories. There are a number of plainer, more realistic looking objects and several items that would fit perfectly into a medieval fantasy world. As I wanted the build to feel at least somewhat contemporary, I opted for the more realistic items when building my Spellcaster's Sanctuary. With this Enchanted Chamber, however, I wanted to show that it is just as easy to create a more traditional fantasy build using Realm of Magic.
This build is largely based around the cauldron and fireplace – I really love these items and couldn't wait to create a space that would show them off well. This cauldron comes in a variety of colours but I was particularly drawn to the green and gold! I love the way these colours look alongside the wood tones, overgrown ivy, and moss-covered stone.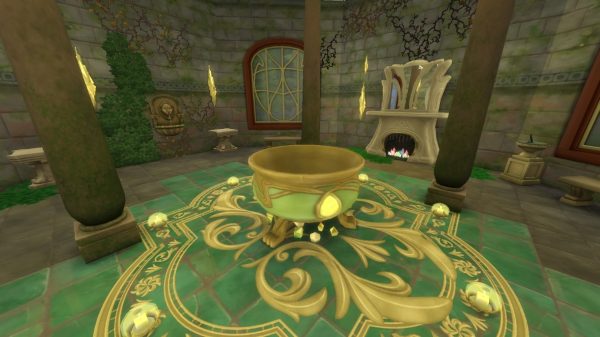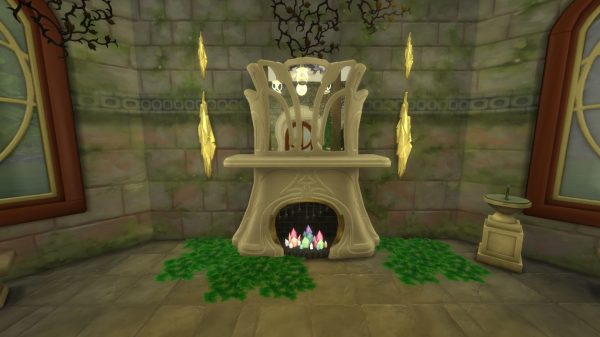 These wall lights from City Living are a perfect addition to this space. Although they are not intended to act as magical illuminations, they look great alongside the glimmering crystals found elsewhere in this Enchanted Chamber!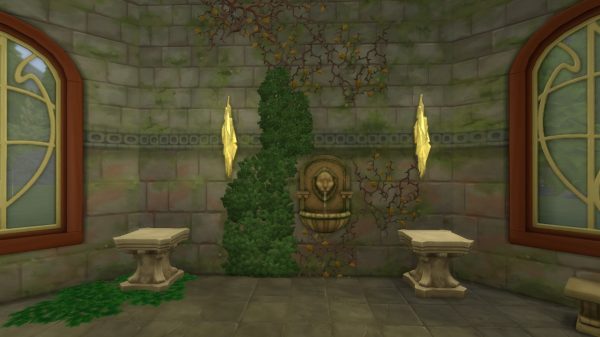 I ended up using a lot of objects from Jungle Adventure whilst building this room. The flooring and wall covering were both added with Jungle Adventure, as were the glyphs pictured below. If you're building a fairy-tale castle or a magical sanctuary, I would definitely recommend filtering your Buy Mode Catalogue by Jungle Adventure. As Jungle Adventure included a lot of items intended to be used to create ancient temples, this Pack works really well alongside Realm of Magic.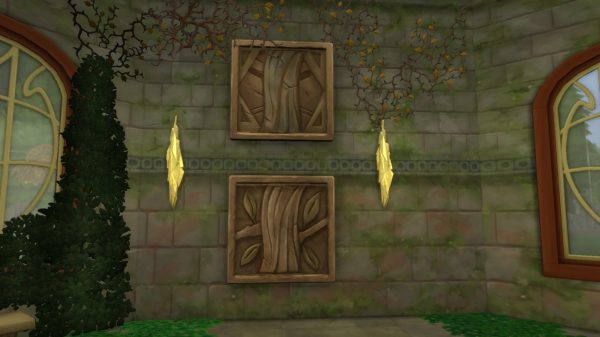 Luxury Bathroom
If supernatural gameplay isn't your style, there's still plenty of fun to be had with this Pack's Build Mode. A lot of the new items included with Realm of Magic have a grand and opulent aesthetic. The doors, windows, wooden flooring, and many of the furnishings added with this Pack would look right at home in a palatial villa or classy apartment!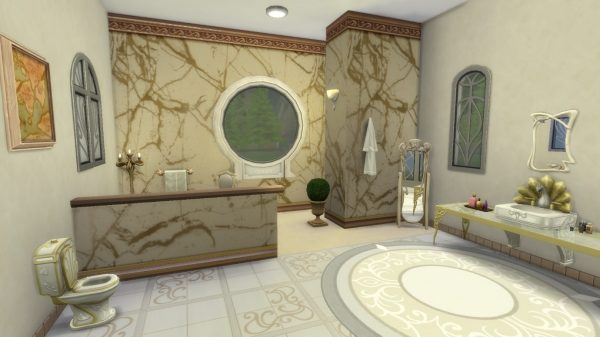 I was inspired by the new toilet, sink, and shower to create a luxury bathroom perfect for the most well-to-do Sims! Unfortunately Realm of Magic does not include a new bathtub. Whilst this is disappointing, the porcelain and gold tub from the Base Game matches really well with the new objects.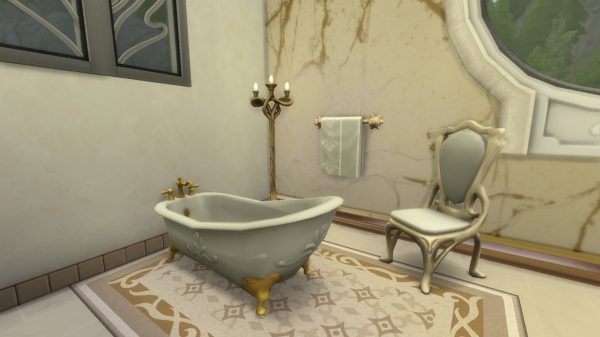 Whilst furnishing this room, I found myself using multiple items Get Famous. This marbled wallpaper looks great alongside the new wooden flooring added with Realm of Magic and helps add some majesty to the space.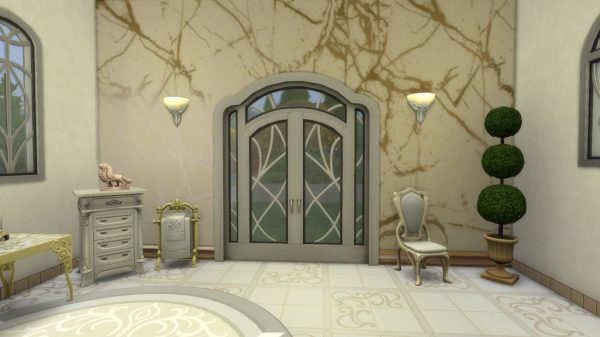 One of my favourites sections of this bathroom is the sink area. I absolutely love the new sink and knew I had to use in somewhere! Although the peacock faucet is eccentric and could easily appear fantastical in the right surroundings, it does not look out of place in this space. With MoveObjects enabled, I placed this beautiful glass table from Get Famous underneath the sink. These objects match perfectly and look as if they belong together!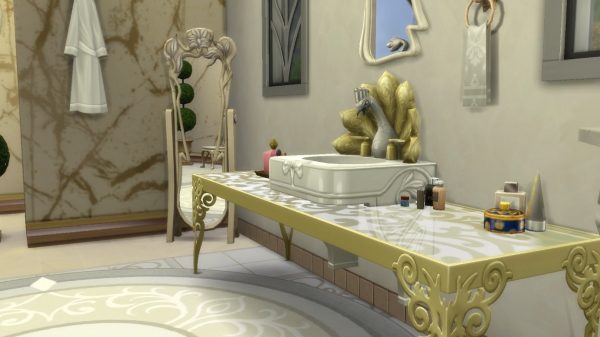 Larger bathrooms can often be difficult to furnish. As sinks, showers, and baths are relatively small objects, it's easy to find yourself with tons of empty space. Dividing up your bathrooms with walls and half-walls is a simple and effective way of making the most of a bigger room. For this bathroom I decided to partially enclose the shower with full-height walls. Not only does this take up four grid squares instead of one, but it makes the room feel more lavish and extravagant!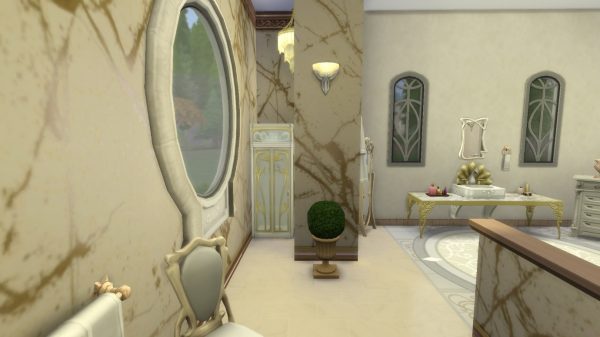 I also placed a half-wall in front of the bath. This serves to add a bit of privacy to the room but also helps to break up the space!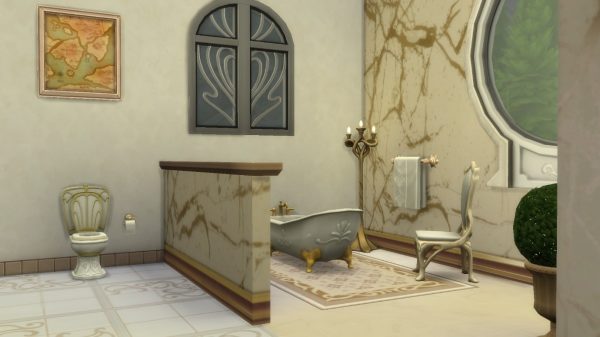 Hopefully this has given you some ideas and inspiration for building with The Sims 4 Realm of Magic. Although Game Packs don't bring as many new objects to the Game as Expansion Packs, there is still a lot of fun to be had experimenting with the items on offer! Happy Building!
Click Here to Download the Spellcaster's Sanctuary.
Click Here to Download the Enchanted Chamber.
Click Here to Download the Luxury Bathroom.