The Sims 4 Eco Lifestyle is here! Say goodbye to frivolous waste and excessive electricity usage – your Sims' actions now have consequences…
Eco-centred gameplay isn't the only thing this Pack has to offer, however. From wind turbines and solar panels, to eco-friendly furniture and a record-breaking number of beds, there are plenty of new Build Mode features to get excited about! Using everything this new Pack has to offer, I have created three builds to give you some inspiration, tips, and tricks for making the most of Build Mode in The Sims 4 Eco Lifestyle!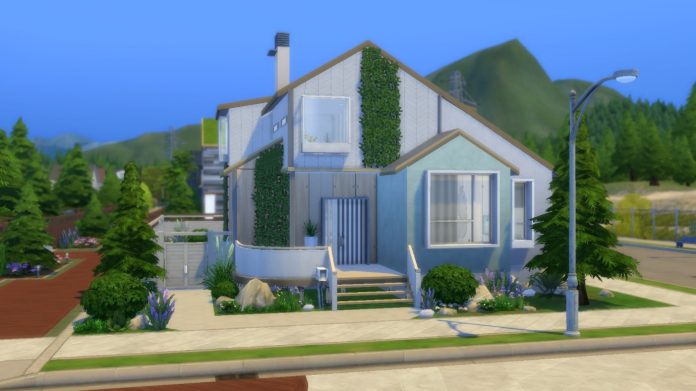 As most of the new objects included in this Pack are modern in design, it seemed only right to start by creating a contemporary build!
I had loads of fun designing the exterior of this build. I took a lot of inspiration from pre-fabricated, eco-friendly homes – opting for wood panelling, clean lines, and geometric shapes. I especially like the wall-covering you can see on the back of the of the house. It really gives the impression that the walls of this home have simply been slotted together!
One of my favourite features in this build are the skylights. Since the addition of Glass Roofs to the Game in 2018, I've loved adding skylights to my Sims' houses and Community Lots – they're a great way to quickly and easily add some architectural interest to a boring roof!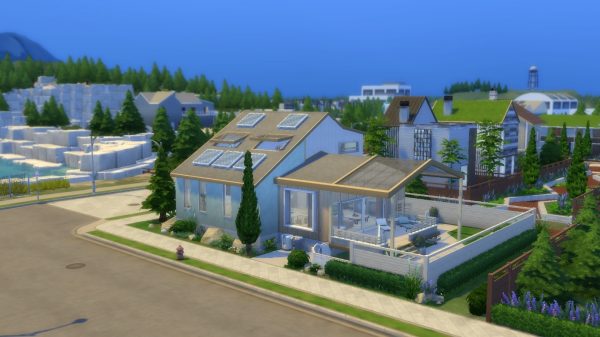 To create these skylights, I first began by adding a Gabled roof to the upper floor of the build.
Once this was in place (and at a height I liked), I grabbed out a Half Gabled roof from the catalogue. Using the arrows that appear when you select a roof, I changed the size of this roof so that it fit snugly on the far left-hand side of the house.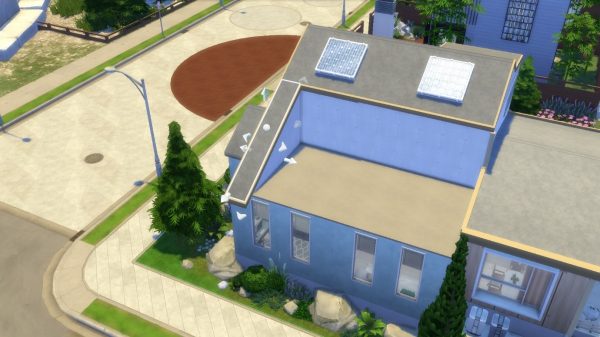 I then used the copy tool to place an identical roof piece on the opposite side of the house.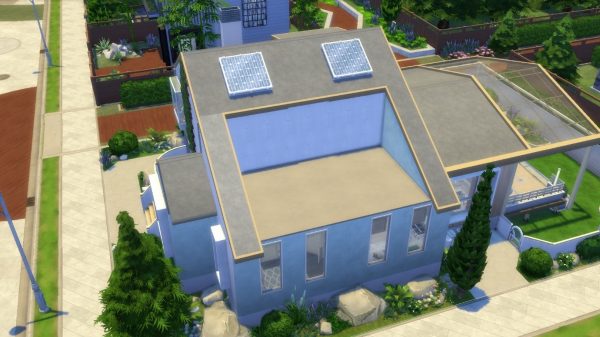 Using four more Half-Gabled roofs, I filled in the space between and in front of the area I wanted the skylights to be placed. The aim with this step is to make it look as if all the individual roof pieces you have placed are a singular structure. This is easily achieved by changing the height of each roof piece so that they sit flush with one another.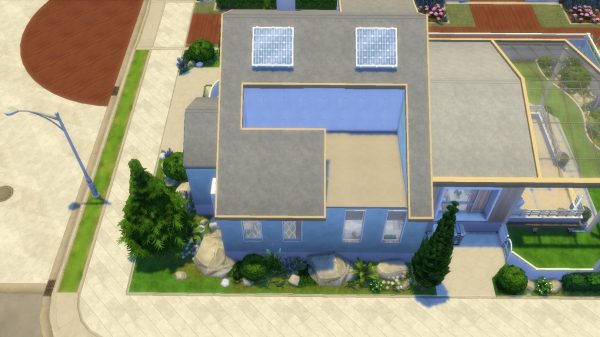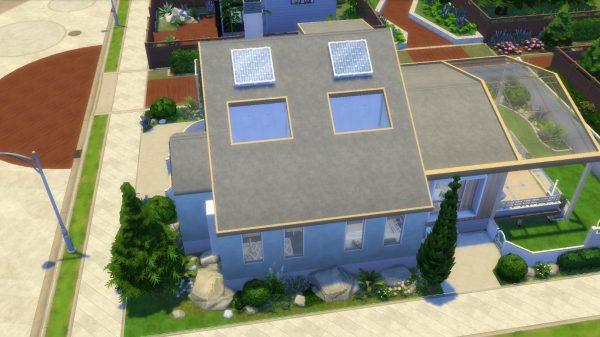 Next, grab out another Half Gabled roof piece and place it on the ceiling of the upper floor. It should sit inside of the Gabled roof you built earlier.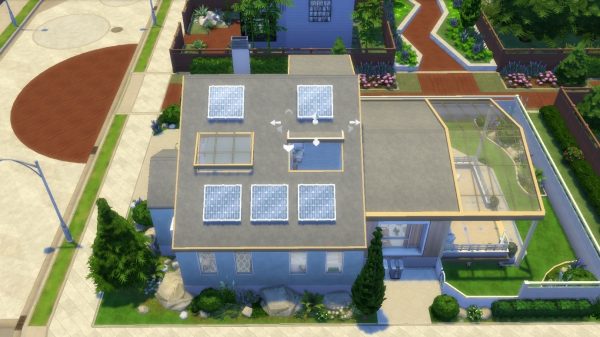 When the roof is in place, drag out the eave on the front of the roof until it is in the correct position. Holding down Shift whilst you extend this eave will prevent you from also extending the eave on the other side of the roof piece.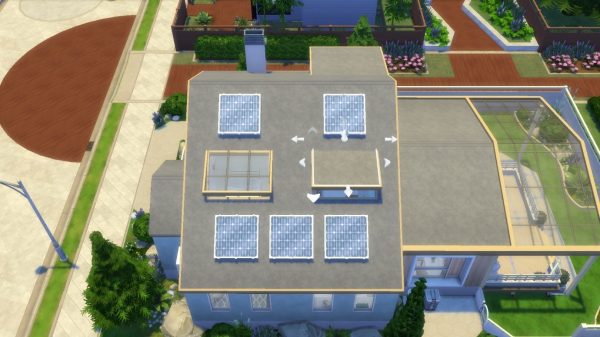 Once you've recoloured the roof to a glass texture and added a trim, you should be left with something that resembles a skylight!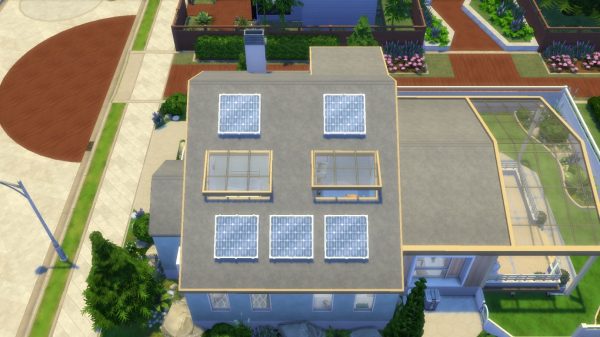 For more information on roofs see our Roofing Guide and our Glass Roofs Tutorial.
I actually really like the style of most of the new objects included with Eco Lifestyle. This Pack is full to the brim with neutral colours, clean lines, and simple furnishings. There are tons of items that make it really easy to create something that looks contemporary and fashionable.
If you're going to attempt an Eco Lifestyle build, I definitely recommend using the BuydeBug cheat. Opening the cheat bar and typing bb.showhiddenobjects will unlock a whole host of items that are usually only accessible through gameplay. As a large number of furniture items can be crafted in Game using the new Fabricator, a good percentage of the furnishings added in this Pack are hidden behind the BuydeBug cheat wall. Enabling BuydeBug will nearly double the Buy Mode items available!
As fabricated items are designed to look as if they've been manufactured using eco-friendly materials, they really suited the overall aesthetic of this family home! Almost every room in this build features a fabricated item or two.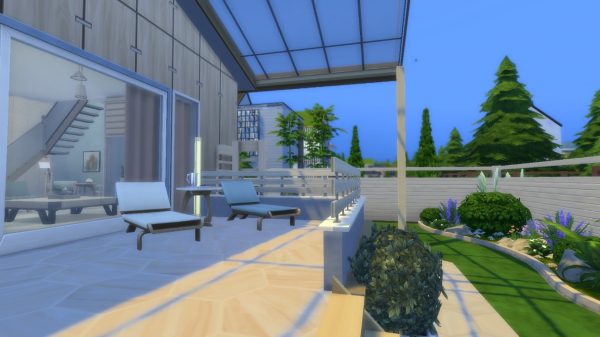 Although the wooden slat wall decorations you can see featured in the screenshots below are designed to be used on the exterior of a build, I really enjoyed using them inside! My aim with this build was to create an ultra-modern and ultra-clean looking space – I wanted everything to match perfectly! One of the problems with this plan was that barely any of the Game's wall decorations looked good alongside my light, bright and neutral furnishings. Although I did find a couple of paintings and décor items I liked (you'll notice the square painting from Tiny Living Stuff appears in almost every room), I was still left with quite a few empty walls. Adding in these wooden slats helped to make some of the home's plainer walls look much more interesting without sacrificing my colour scheme.
The new toddler bed added with this Pack has to be one of my favourite items in the entire game! I was so happy to see the Sims team adding new furniture for toddlers – we were definitely in need of a contemporary bed and this one is especially cute!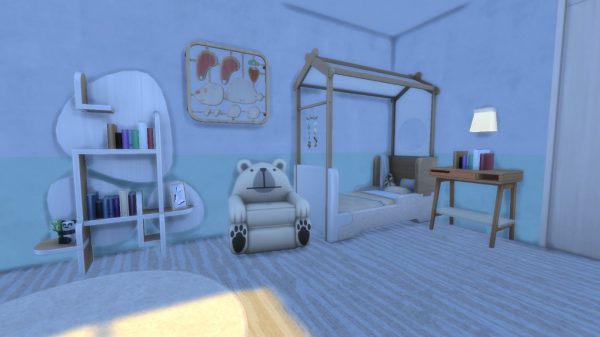 In general, I found Eco Lifestyle to be really useful when it came to furnishing children's rooms. I've often struggled to create a bedroom for a child or toddler that actually looks modern – this Pack has made that task a lot easier! The cardboard dolls house, all of the single beds, and even one of the new side-tables are items that I know are going to become staples in my family homes!
2
Shabby Shipping Containers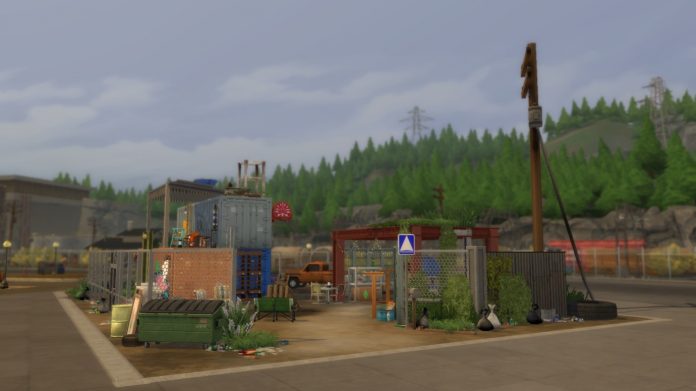 As soon as I saw the trailer for this Pack, I knew I would have to try my hand at creating a shipping container build! The Sims 4 Eco Lifestyle brings with it two new wall coverings and two new floorings specifically designed to allow you to create realistic looking shipping containers.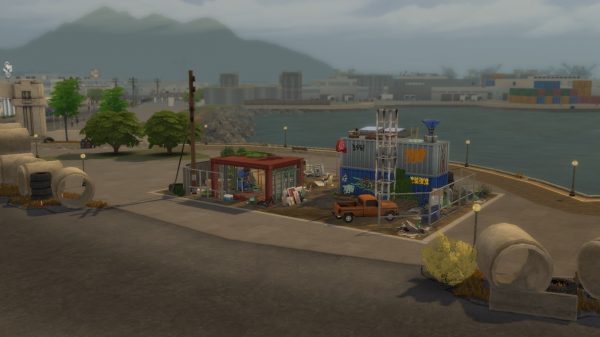 I've seen a lot of Simmers build some really amazing shipping container homes but almost all of them were revamped, modern and stylish – I wanted to create something a little different! I was really excited by the idea of creating an abandoned shipping yard. What would a shipping container home look like before it was renovated?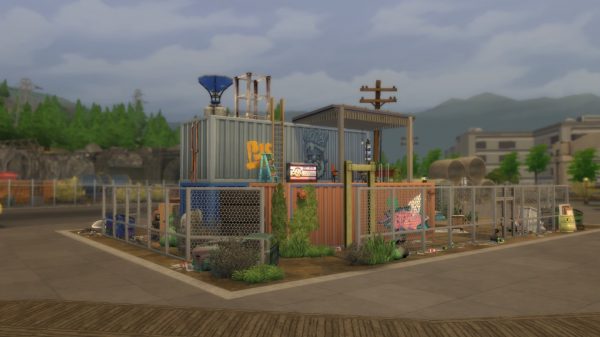 Whenever I want to create a deserted house or a dingy apartment, I reach for the objects from City Living, Vampires, and Strangerville. I will now be adding Eco Lifestyle to that list! All of the piles of rubbish, discarded appliances, and empty pizza boxes you can see littered around Evergreen Harbour are available in the Build Mode catalogue for you to use.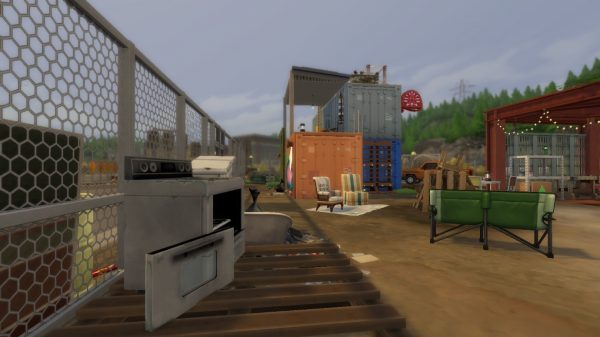 Some of these objects can be accessed simply by entering the BuydeBug cheat but most are only available after you type bb.showliveeditobjects into the cheat bar. As well as all of the piles of rubbish, after enabling bb.showliveeditobjects, I found some wooden pallets, signposts, and an electricity pylon. Using these items made it really easy to create a realistic looking junkyard!
As there isn't a huge amount of space in a shipping container, I decided to create a small canopy for my Sim to use as a secondary living space. I wanted to keep with the theme that this lot had been abandoned a long time ago and so I covered this canopy in overgrown foliage and added a giant hole in the roof!
Creating the impression of a broken roof is really simple! All you need to do is select the Custom Wall Tool and create an oddly-shaped room (make sure to use lots of diagonals and weird angles). Once you're happy with the shape you've created, simply delete the room's walls, ceiling, and floor – you'll be left with a build that looks like it could use some TLC!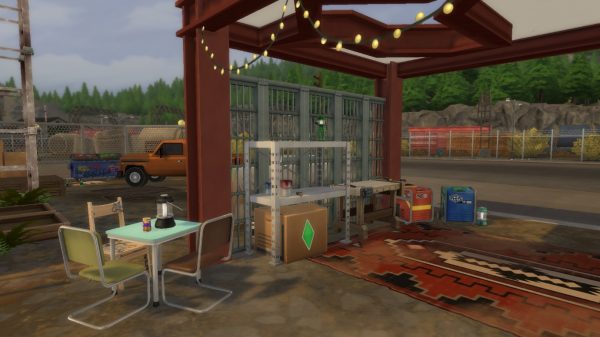 I was really happy with how this section of the build turned out. The canopy is the perfect place for my Sim to house their barbeque, dining table, and some skill-building objects!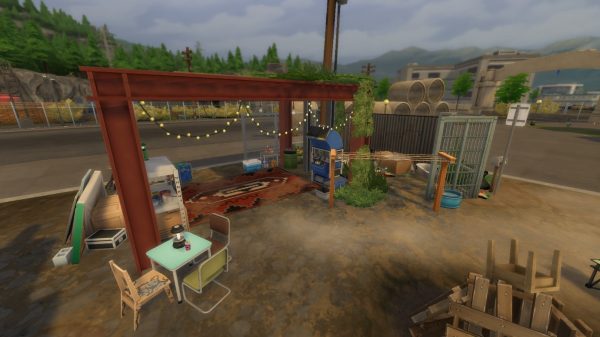 The interior of this build was definitely a challenge. I didn't want it to look as if the shipping containers had been renovated but I still wanted this to be a relatively nice place for a Sim to live. I tried to choose items that looked as if they could've been found and upcycled and furnishings that were a little worse for wear!
As the colours of the shipping containers were super bright, I decided to go for a slightly more eclectic style. I really like the mismatched objects and clashing colours found in this build!
Both the bed and the TV (which some veteran Simmers may recognise from the Sims 1) used in this build are BuydeBug items that can usually only be found by dumpster diving. I absolutely love the style of both of these objects – they really help to sell the idea that this home is full of objects that other Sims have thrown away.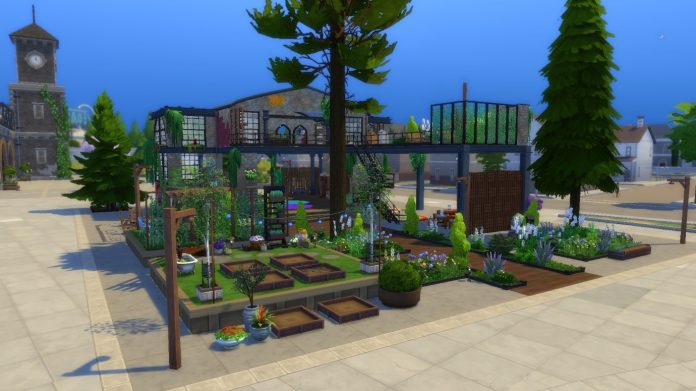 I really wouldn't be making the most of Build Mode in The Sims 4 Eco Lifestyle if I didn't attempt to create one of the new Community Lot types. This Pack includes three new Lot Types – Marketplace, Maker Space and Community Garden. It was difficult to choose which one to feature in this article (I would've loved to design all three) but, as I was yet to fully utilise all of the new plants and greenery, I eventually settled on a Community Garden.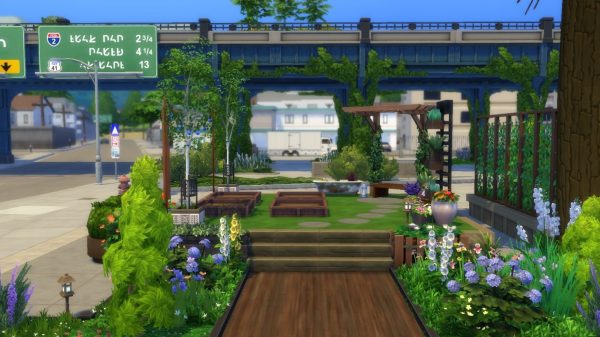 This garden takes most of its inspiration from the old train station in Evergreen Harbour. I really liked the idea of creating a building that was once a part of the train station – say a ticket office or waiting room – that had been left abandoned when the station closed down. I chose a similar wall-covering to the one found on Conifer Station and tried to mimic the station's build style.
To give the impression that this build has slowly decayed over time, I used a mixture of different wall heights and half-walls, left large gaps in the structure, and deleted some of the roofs. I also decided to add in a few archways. I really wanted it to look as if a couple of the windows on this lot had been broken at some point in the past – the arches you can see on the upper floor of this build definitely have the appearance of glassless windows!
Once I was happy with the general shape of the build, I went through and added in some more modern features. The addition of a glass roof, contemporary fences, and wooden walkways really helped to create the impression that the Community had put a lot of money into revamping this space.
I'm really happy with the way the front of this lot looks! I was absolutely desperate to use the new Archway Sign from Eco Lifestyle –  it is ideal for a Community Garden! Unfortunately, as the arch is, by default, quite small, I struggled to find the perfect spot for it. I had all but given up on including it when I decided to try sizing it up. This turned out to be a great idea. I was able to solve two problems at once – I finally found the ideal location for the archway and managed to create an impressive entrance.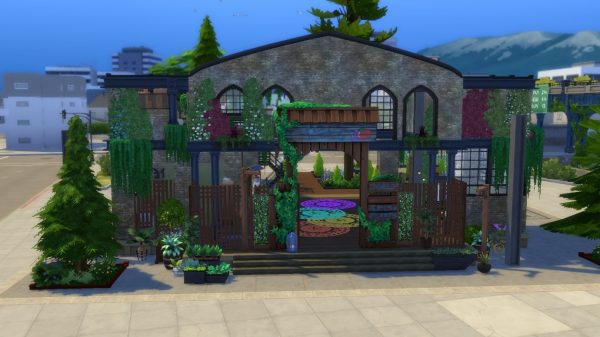 The old rule "Less is More" definitely did not apply to this build. I spent a lot of time placing ivy and hanging plants throughout this lot. Not only does this make the lot feel slightly overgrown and unkempt but it adds to the bright and inviting vibe I wanted to create.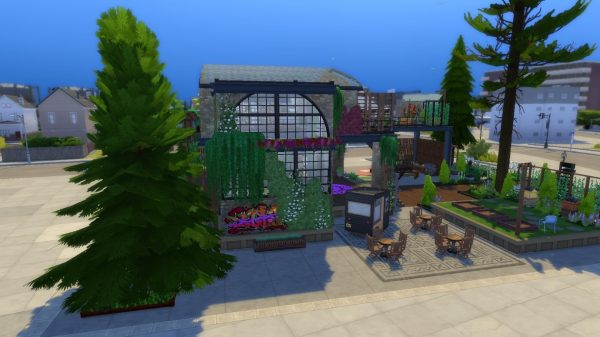 The new vertical planters have to be one of my favourite parts of this Community Garden; they really help to add some variety to the space and take up much less room than the Base Game planters! If you're building a Community Garden (and you have Seasons installed), I would recommend adding in a flower-arranging station and some beehives. These objects suit this Lot Type perfectly and look great alongside Eco Lifestyle's insect houses and planters.
Hopefully this has given you some ideas and inspiration for building with The Sims 4 Eco Lifestyle! Making the most of any Pack is all about exploring what's on offer and experimenting with how objects can be used! Try not to feel restricted by the Pack's themes, be innovative, get creative, and attempt something new. Happy Building!
Click Here to Download the Ultra-Modern Eco Home!
Click Here to Download the Shabby Shipping Containers!
Click Here to Download the Community Garden!