The latest community voted Stuff Pack has finally arrived! Bringing rocking chairs, bright furnishings, and all manner of homemade decorations, The Sims 4 Nifty Knitting Stuff is the perfect Pack for your colourful, craft-obsessed Sims.
Although Stuff Pack's don't often contain enough items to decorate an entire home with, they can be a great source of inspiration. Challenging yourself to create a build centred entirely around a specific theme (in this case knitting!) can be a lot of fun and is a great way to test your building skills. Using almost everything Nifty Knitting Stuff has to offer, I've created a cosy cottage ideal for your crafty Sims!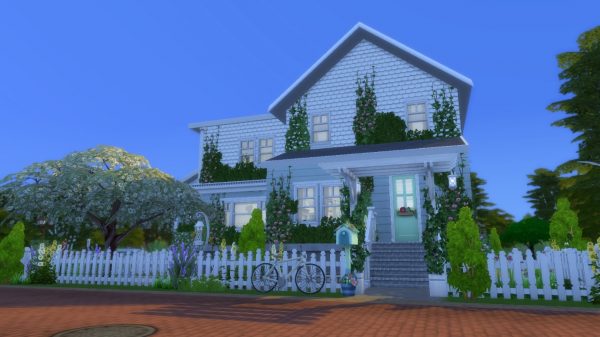 After having a look through all of the items included with Nifty Knitting Stuff, I was pretty sure that I wanted to create a traditional build. The "shabby chic" aesthetic of many of the Nifty Knitting items definitely lends itself to slightly more old-fashioned homes.
Although this build would probably look right at home in Willow Creek, or Magnolia Promenade, I decided that Brindleton Bay would be the ideal location for my crafter's cottage. As Brindleton Bay is a seaside world, I felt it would complement the light and bright aesthetic of Nifty Knitting Stuff perfectly.
During the building process, I took a lot of inspiration from the other houses in this neighbourhood. I really enjoyed trying to combine the Nifty Knitting style with Brindleton Bay's wood-panelled, colonial homes.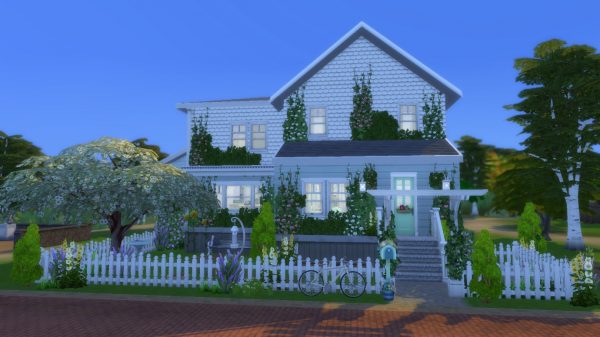 I knew I wanted to cover this lot in colourful flowers, trees, and shrubbery, and so opted for a more neutral colour scheme on the house itself. White and mint-green complement one another perfectly and don't clash with any of the bright flowers I've added around the lot.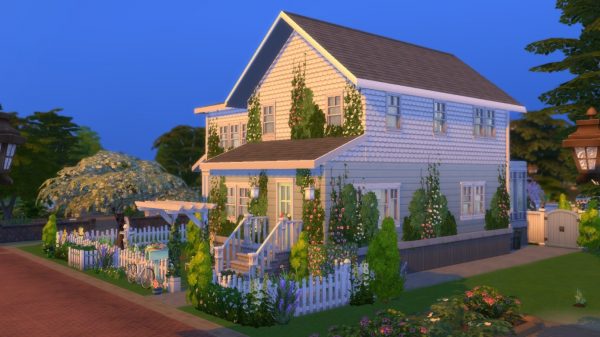 They also look great next to the new Nifty Knitting door!
The family I imagine living in this house are all about crafting and DIY. Whilst there are plenty of skill-building objects inside this crafter's cottage, I thought it would be nice to include some outdoor activities as well! Despite the garden's small size, I was able to fit in a couple of planters, some beehives, and a flower-arranging station.
This living room makes use of the new sofa and armchair from Nifty Knitting Stuff. Although the swatch I've used here is extremely bright, I was pleased to see that the Sims team included some more neutral swatches as well. It's always useful to have a new, contemporary-looking sofa in the Game; I can definitely see myself reaching for this one time and time again!
It wouldn't be a Crafter's Cottage without a dedicated crafting room. I really enjoyed playing around with the new Nifty Knitting items in this space. As is perhaps to be expected from a knitting-themed Pack, most of the items in this Stuff Pack are designed to be used in a space like this. There are plenty of desks, side-tables, and cabinets for you to choose from, as well as a whole heap of new decorative objects!
The dining table you can see in this space is the only dining table in the house. I really liked the idea of designing a space for a Sim who prioritises crafting over everything else. Rather than using their dining table for family dinners, it functions solely as extra crafting space!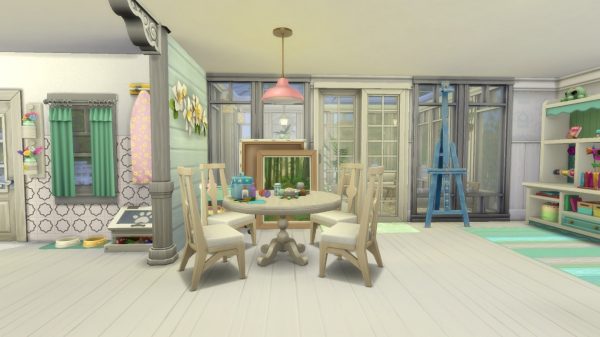 My favourite part of this home is definitely the kitchen. Nifty Knitting Stuff doesn't really include any kitchen-themed items and so, in order to ensure that this room matched the rest of the house, I had to get creative with the objects I was using. Filtering the catalogue by specific colours was a great help! Being able to quickly see all of the pink, blue, and yellow items in the Game made furnishing a lot easier.
I was so happy when I found out that The Sims team were adding hanging planters to the Game. They're a fantastic way to add more detail to a space and look great in all manner of different builds.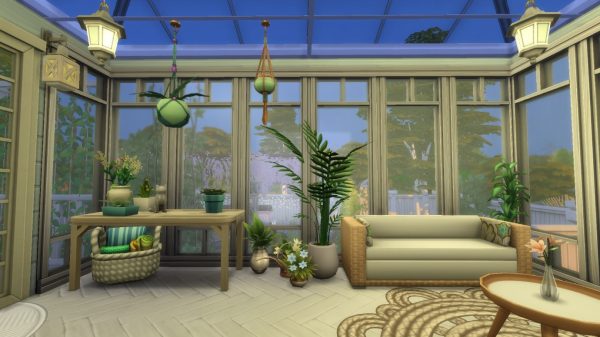 Like quite a few of the Buy Mode assets that came with Nifty Knitting, the hanging planters have to be unlocked through Gameplay before you can use them in your homes. Fortunately for us builders, there is a way to access these items without spending hours maxing out your Sims' knitting skill! Some of these objects can be accessed simply by enabling the BuydeBug cheat but most are only available after you type bb.showliveeditobjects into the cheat bar.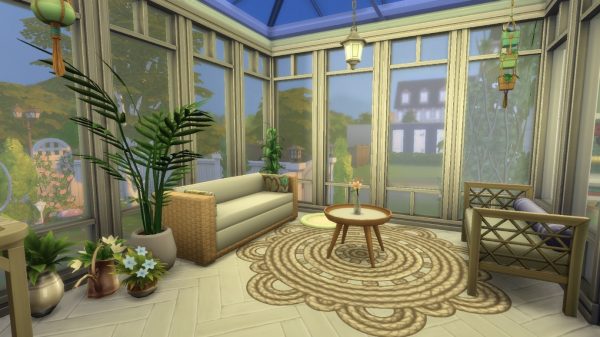 Quite a few of the objects in this home have been accessed using cheats. The Nifty Knitting rugs, and the mailbox, can all be found in the BuydeBug catalogue.
Most of the cuddly toys and crocheted decorations you can see in this kids bedroom have also been unlocked using bb.showliveeditobjects. These new craftable objects definitely make great additions to children's rooms; I just know they're going to become a staple in my family builds!
For the master bedroom, I decided to take the "shabby chic" style to its extreme. Most of this build's rooms are at least somewhat contemporary, but, when it came to the master bedroom, I was inspired to create something that was slightly more traditional.
This whole room was designed around one of the new rocking chairs included with Nifty Knitting. I really like all of the swatches available for the rocking chairs, but I'm particularly in love with the white wood and mint-green cushion combination. Taking inspiration from the chair, I used greens and yellows throughout this room. This isn't a colour scheme I would usually opt for but I'm super happy with the end result!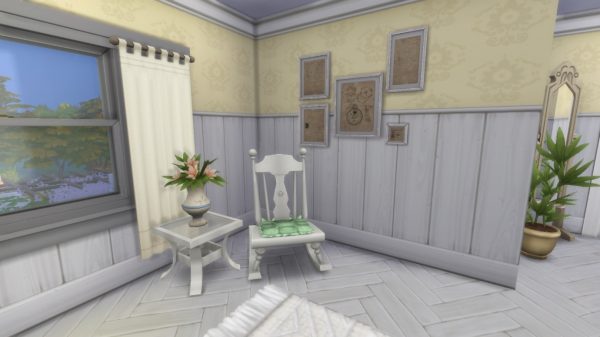 Hopefully this has given you some ideas and inspiration for how you can use Nifty Knitting in your own builds! Happy Building!
Click Here to Download this Build!