Bringing spectres, ectoplasm, and (more importantly, if you're a builder) a new lot type to the Game, Paranormal Stuff is the latest supernatural addition to The Sims 4. With this Stuff Pack you can try your hand at ghost-hunting, host a séance, and create your very own Haunted House. I've always been a huge fan of supernatural gameplay in The Sims so I was super excited to jump into my Game and get building!
My main inspiration for this build was the beautiful, old, colonial houses you find in cities like New Orleans. It's clear that The Sims 4 developers have designed Paranormal Stuff around an eclectic, "Queen Anne" style of interior design. I'm actually really happy that this is the direction the Sims team went with this Pack. It's nice to see a different take on the paranormal theme.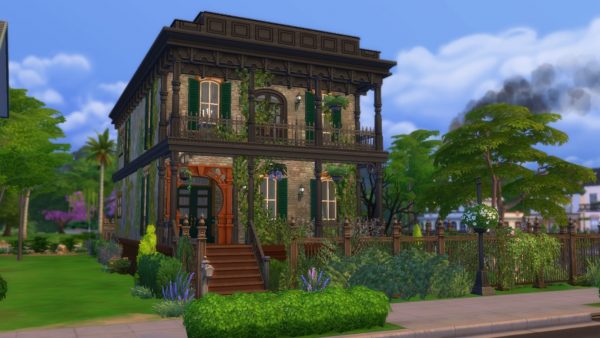 That being said, there are no requirements for the Haunted House Lot Type (you don't even need a séance table). This means it really is up to you to design your haunted houses however you like! If you'd like some inspiration for a more traditional haunted house, Click Here to check out my article on spooky builds from a couple of years ago!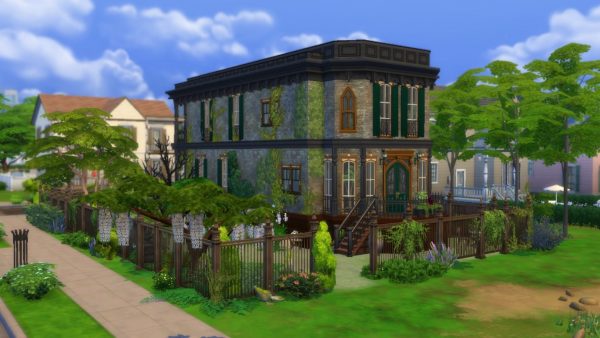 I always find that searching for reference images of different homes can be a great way to get your creative juices flowing. It's a lot easier to start building in The Sims if you already have a basic idea of the kind of look you want to achieve! Before beginning this build, I spent a while getting a little more familiar with New Orleans architecture. The wrought iron balconies, shuttered windows, and staggered, art-deco roof you can see in the screenshots were all features I saw on real life houses and decided to incorporate into my build.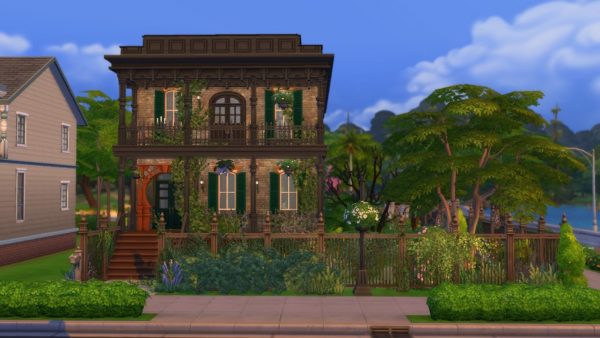 It was easy to decide which world I wanted to build in. Willow Creek is the perfect location for Paranormal Stuff builds! The swampy creeks, bayous, and traditional architecture provided a fitting backdrop for my Haunted House.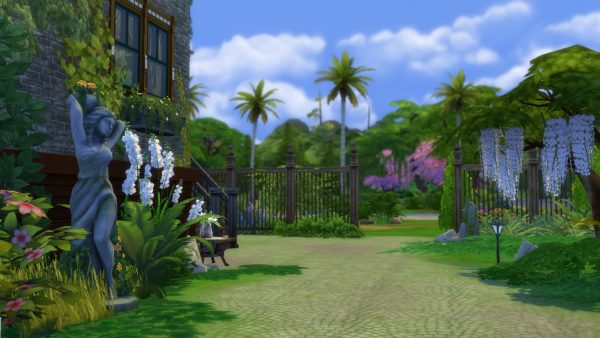 This build definitely benefitted from the use of Debug items. A lot of the greenery you see on this lot was found in the Debug menu. Opening the cheat bar and typing bb.showliveeditobjects will provide you with access to many of the items you can see around The Sims 4's worlds.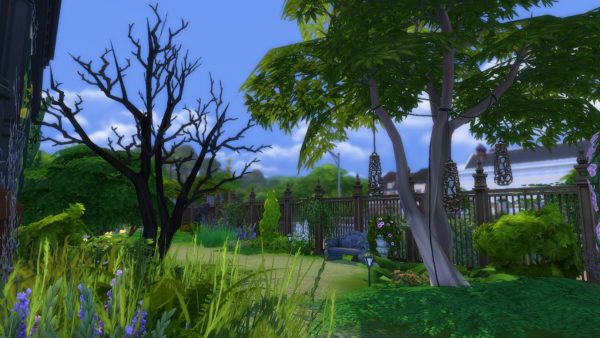 Discover University added quite a few climbing ivy plants (you can see these all around Britechester). Although they're not in the default Buy Mode catalogue, bb.showliveeditobjects gives you access to them. I absolutely love these items. They look a lot more realistic than some of the other options in the Game and really helped this build to feel overgrown and a little eerie!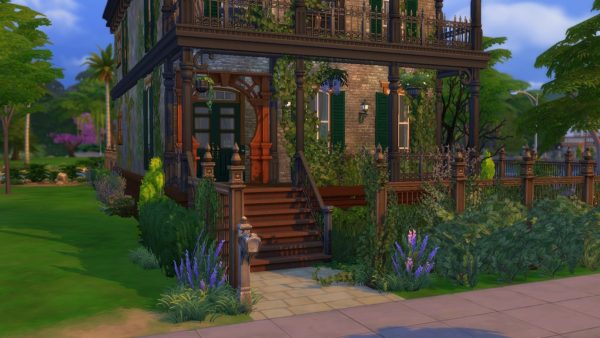 The inside of this house is also heavily inspired by traditional, New Orleans interior design. I was keen to create a build that felt authentically old-fashioned. I had a lot of fun adding in some small, unconventional details. This build features cast iron radiators, the new parquet flooring added with Paranormal Stuff, and radios and turntables rather than TVs and stereos!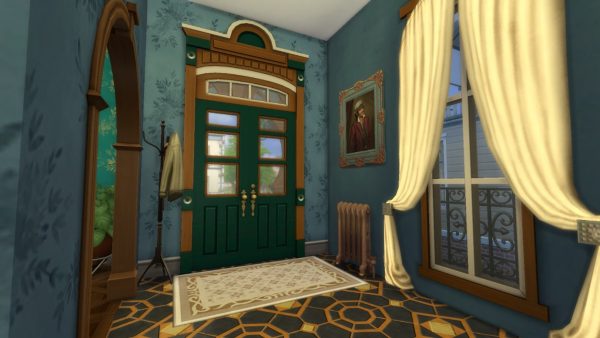 One of my favourite rooms in this house is the living room. The colour scheme for this room is entirely based around the turquoise and gold wallpaper that was added with Paranormal Stuff. This Stuff Pack added a lot of saturated colour options. The desk, side board, shelf, and end table included within this Pack are really fun objects. They look like they might have been scavenged from a thrift store and repainted!
I especially like the new desk and shelf. I think they look great together in this area of the room!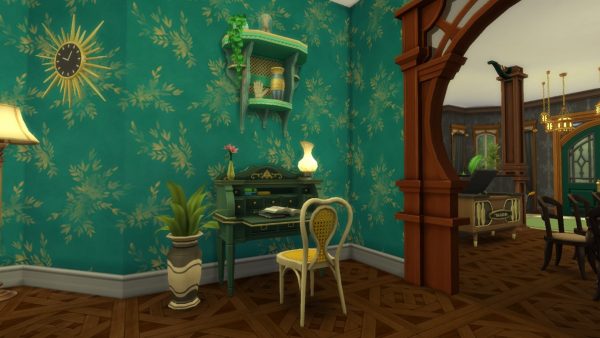 You'll notice that although this room feels bright and colourful, I've actually only used a couple of different colours. By mainly sticking to blue, yellow, and gold, I was able to create a space that felt vibrant but wasn't overwhelming. Choosing a white couch and armchairs also helped tone down the vibrancy and made the space feel a little more cohesive.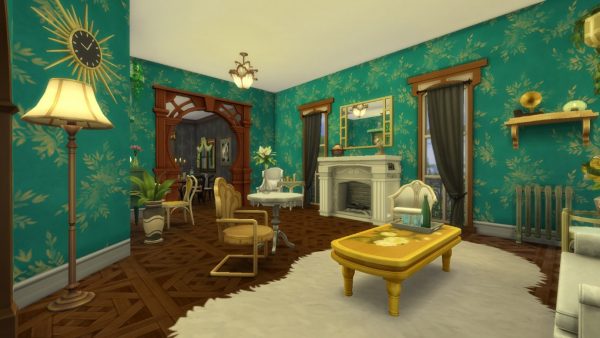 You enter the dining room through this amazing archway from Realm of Magic. This archway is perfect for this house. Not only does the colour (thankfully) match super well with the Strangerville windows I've used throughout this build, but the glass inlays at the top of the arch have an art deco aesthetic.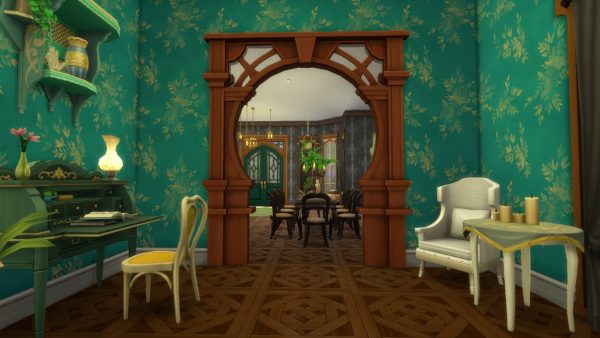 The blacks and greens of the kitchen/dining room are quite a contrast from the lighter tones of the living space. Even though I opted for a darker colour scheme, I still wanted this room to feel grand and lavish. This room features lots of gold accents and opulent-looking furniture.
One thing I noticed when decorating this house is that plants are a great way to create a vintage, 1920s aesthetic. The new palm tree and hanging planter really helped to bring this room together!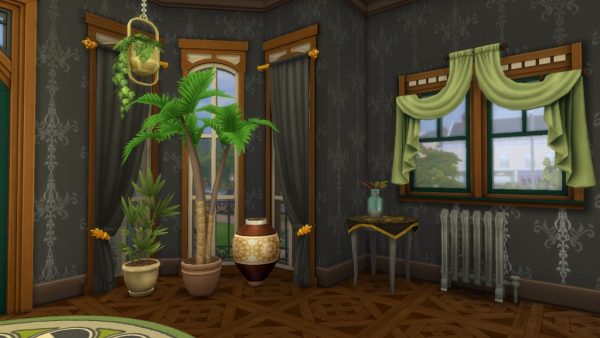 You might also notice the globe-shaped drinks cabinet that was added to the Game in Vintage Glamour Stuff in this room. I ended up using quite a few items from Vintage Glamour in this build. One of the things I like about Paranormal Stuff is the fact that the Build Mode items pair well with a lot of different Packs. Vampires, Strangerville, Realm of Magic, Vintage Glamour Stuff, Spooky Stuff, and Romantic Garden Stuff can all be used extremely effectively alongside the new items. If you don't have any other DLC, the Base Game also works well with this Stuff Pack. Filtering the Buy Mode catalogue by "Queen Anne" will show you a variety of Base Game objects that really suit the aesthetic of Paranormal Stuff.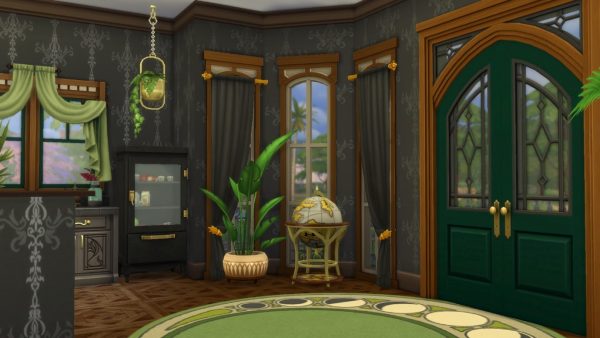 This haunted house wouldn't be complete without a séance room. It was important to me that this space felt just that bit more spooky than the rest of the house. Usually, I like to fill my builds with lights so I can see exactly what's going on. In this room, however, I deliberately chose dimmer and more intimate lighting, and covered up the windows with the new Paranormal Stuff curtains. This changes the feel of the room and sets it apart from the residential areas of the house.
The séance table itself is the focal point of the room. I opted for a burgundy colour scheme so that everything would match well with the table. This object is really nice; I actually ended up using it in a couple of other areas of the house as a side table! In this space, I used the new wicker chairs that were added with Paranormal Stuff, but the séance table will work with any of the dining chairs in the Game!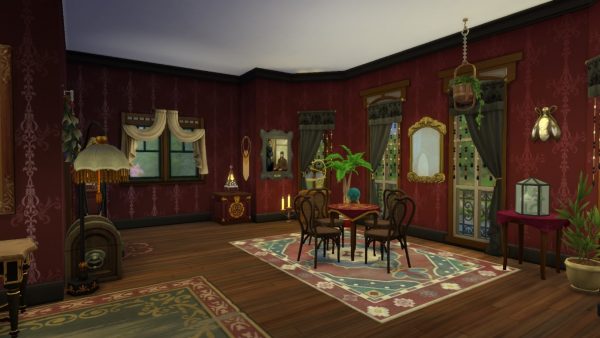 Clutter was absolutely key in this space. Luckily, Paranormal Stuff doesn't disappoint when it comes to clutter. There are loads of little objects perfect for adding detail to your builds. I liked the idea of absolutely filling this space with items. Over the years, The Sims 4 has added quite a few curious objects to Buy Mode. It was fun to filter through the catalogue and pick out the weirdest things I could find!
Most of the rooms in this build are covered in wallpaper. Ordinarily, I would use wallpaper on one or maybe two walls in a room. In this eclectic, vintage home, however, I decided to go all out. This busy, black and white wallpaper probably isn't to everyone's taste, but I'm really happy with the way this room turned out.
Unfortunately, Paranormal Stuff doesn't come with a new bed so I was forced to look through the catalogue and use something from another Pack. One of the best tips I can give you for furnishing bedrooms is to choose the bed first. In The Sims 4, it's unlikely that you'll be able to find the perfect bed for your space. If you start with the bed first, however, you can specifically choose furnishings and décor that look good alongside it!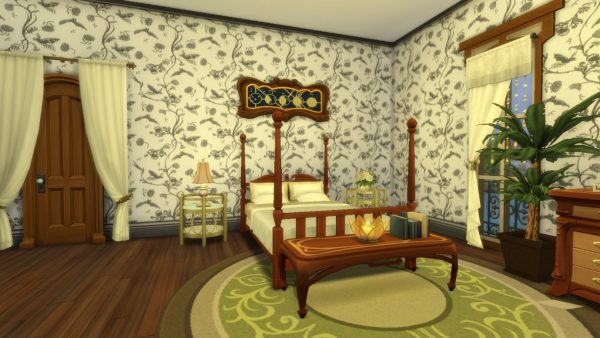 This bed from Cats and Dogs had the perfect vintage vibe. Although Vintage Glamour did add an art deco style bed, I found that it looked a little too clean and polished for this room. Paranormal Stuff has a shabby, thrift-store-esque feel to many of the items; I wanted to make sure that any furnishings I used matched that aesthetic.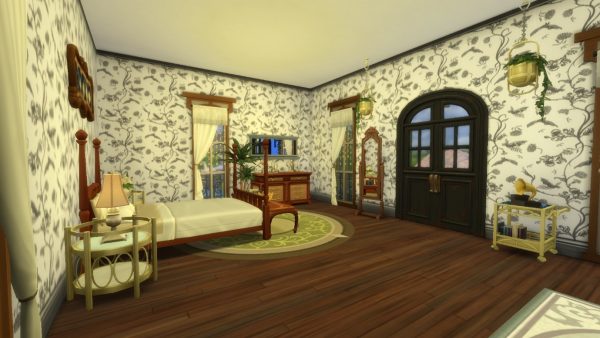 Bathrooms can often be an afterthought for builders. They're seen as boring, formulaic, and difficult to furnish in an interesting way. Although bathrooms can be a bit of a challenge, I really enjoy creating super stylised bathrooms. Bathrooms don't have to be bland spaces with white tiles and a white suite. Get creative with colours and patterns! I guarantee you'll be way happier with the end result.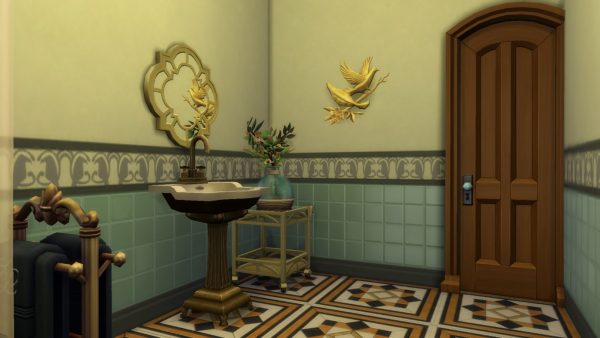 This bathroom features clashing patterns, artwork, and lots of small details. Again, I chose slightly more traditional looking items. I decided to utilise the bath-shower combo from Vampires, as well as a mirror and table from Vintage Glamour Stuff.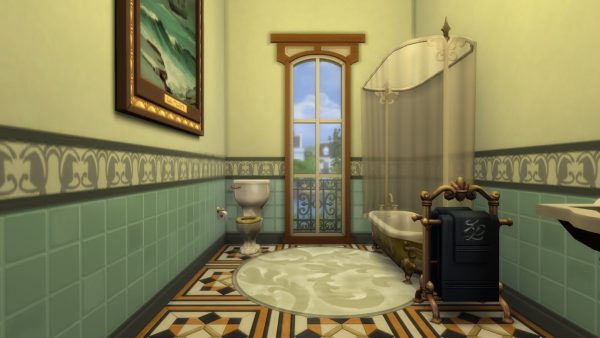 Hopefully you've enjoyed this little look into my building process and found some of my tips and tricks helpful! Happy Building!
Click Here to Download this build!