The Sims team has announced Sims Sessions, a social media and in-game experience that will be free for players who own The Sims 4. Maxis has launched the Sims Sessions web page with details and information on the music artists featured in the event.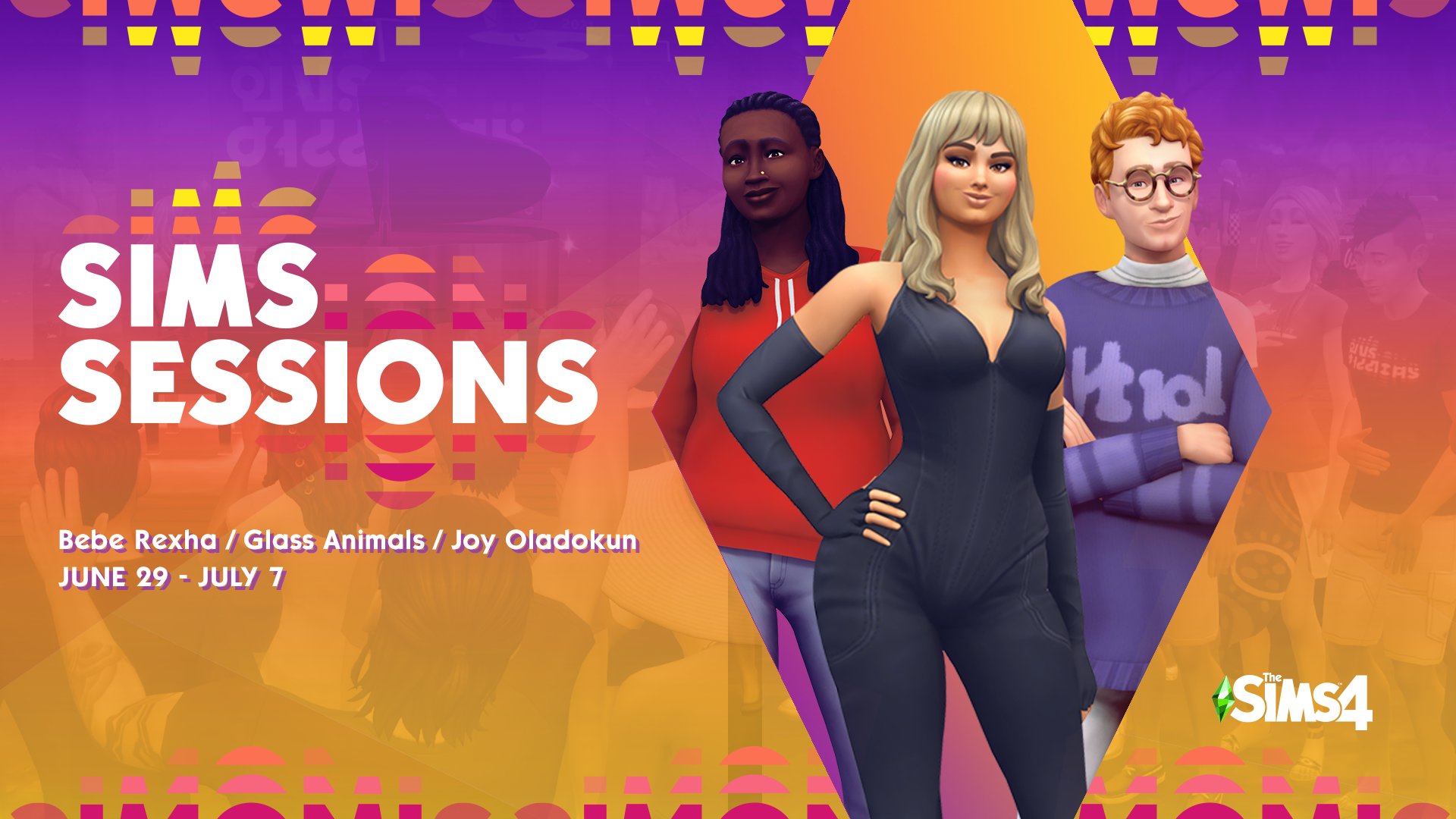 Sims Sessions (Key Features)

Light up your summer with the hottest tracks from your favorite artists. Experience Bebe Rexha, Glass Animals, and Joy Oladokun for the first time all over again—in Simlish! Catch the live event from June 29 at 10 a.m. PT to July 7 at 10 p.m. PT.

Shop the Festival – Buy artist-themed merchandise, run your own craft sales table, or snack like a rockstar at a food stand!

Camp Out – Festivals are fun but exhausting! Get some sleep in one of the tents—or Woohoo to the music.

Enjoy the Show – Gather around the stage to watch, dance, and cheer on the performances!

Perform on Stage – After the performances, go on stage and keep the tunes flowing. Jam on the piano and sing your heart out.

Sims Sessions (Featured Artists)

Bebe Rexha

Diamond-selling and two-time GRAMMY®-nominated New York City native Bebe Rexha is a musical force to be reckoned with. Her RIAA Platinum-certified debut album Expectations (released June 2018 on Warner Records) contained the Platinum single "I'm a Mess" and the global chart-topping smash "Meant to Be" (featuring Florida Georgia Line), now RIAA Certified Diamond. "Meant to Be" held the #1 spot on the Billboard Hot Country Songs chart for a record-setting 50 straight weeks, the longest reign ever by a female lead artist, and won Top Country Song at the 2019 Billboard Music Awards and Best Collaboration at the 2018 iHeart Radio Music Awards. It was subsequently nominated for Best Country Duo/Group Performance at the 61st annual GRAMMY Awards® in February 2019, where Bebe was also nominated for Best New Artist.

Early in her career, Bebe won the National Academy of Recording Arts and Sciences' Best Teen Songwriter Award, and then formally burst onto the scene when she wrote "The Monster," a worldwide hit for Eminem and Rihanna that was certified 6x Platinum by the RIAA. Bebe went on to co-write and carry the instantly recognizable hook for the 3x Platinum "Hey Mama," by David Guetta, which was nominated for a Billboard Music Award for Top Dance/Electronic Song. Bebe also hit #1 on the Billboard Pop and Rap charts with her 5x Platinum "Me, Myself & I" with G-Eazy. In 2017, Bebe released the critically acclaimed EPs, All Your Fault: Part 1 (with the Platinum single "I Got You") and All Your Fault: Part 2 (with "Meant to Be"). In conjunction with GRAMMY® Week 2019, Bebe launched the GRAMMY® Music Education Coalition's (GMEC) national campaign on behalf of its new All-Star Ambassador program. Better Mistakes, her new album, includes the hit singles "Baby, I'm Jealous" feat. Doja Cat and "Sacrifice." To date, Bebe has amassed over four billion YouTube views and over 12 billion total global streams.

Glass Animals

Since 2010, Glass Animals have redefined alternative pop with their experimental sounds, cinematic visuals, and narrative lyrics. The Platinum-Certified UK quartet—Dave Bayley [lead vocals, guitar], Drew MacFarlane [guitar, keys, backing vocals], Ed Irwin-Singer [bass, keys, backing vocals], and Joe Seaward [drums, backing vocals]—first presented their signature style on their 2014 breakout debut, ZABA. It yielded the Platinum single "Gooey" and elevated the band into the global spotlight. 2016's How To Be A Human Being notably garnered a nomination for the prestigious Mercury Prize. However, Glass Animals lifted off to a new stratosphere with Dreamland in 2020. It marked their first Top 10 debut on the Billboard Top 200, while their global smash hit "Heat Waves" has amassed millions of streams to date, went Platinum in numerous countries, gave the band their first #1 on the U.S. Alternative Radio Chart, Top 15 at Top 40 Radio, and hit Top 10 on Spotify's US Chart. Skyrocketing to the forefront of popular culture, they garnered nominations in the categories of "Top Rock Song" and "Top Rock Album" at the 2021 Billboard Music Awards, delivered knockout performances on Billboard Music Awards, The Tonight Show Starring Jimmy Fallon, The Late Show with Stephen Colbert, The Late Late Show with James Corden, and Ellen, and lined up global headline dates for the 2021 Dreamland Tour everywhere from legendary amphitheaters such as Red Rocks to Bonnaroo, Life Is Beautiful, Outside Lands, and more. The band sold over 130,000 tickets in three days for their 2021-2022 North American tour, with the majority of the tickets selling out instantly. All the while maintaining their unique connection to their fans by creating their open sourced website where fans can create artwork based on the world of Dreamland, putting on a "Live In The Internet" concert that sold 25,000 tickets worldwide, and more. They created unique music videos during the 2020 pandemic by DIY-shooting solo in Dave Bayley's apartment directed solely over Zoom ("Dreamland"), asking neighbors to shoot on their iPhones while Dave walked down the street ("Heat Waves"), and inviting fans to take 3D scans of their heads ("Tangerine"). Racking up billions of streams across their catalogue, they even made history as "the first UK band to capture #1 on Triple J's Hottest 100 since 2009" with "Heat Waves" down under in Australia, leading to the longest run at #1 in 2021 on the ARIA Official Singles Chart. Ultimately, Glass Animals continue to redefine what alternative can be, while they quietly overtake the mainstream.

Joy Oladokun

With a guitar in hand, baseball cap over her eyes, and hooded sweatshirt loose, a woman sings with all of the poetry, pain, passion, and power her soul can muster. She is a new kind of American troubadour. She is Joy Oladokun. The Delaware-born, Arizona-raised, and Nashville-based Nigerian-American singer, songwriter, and producer projects unfiltered spirit over stark piano and delicate guitar. Her music and story galvanized a growing fan base as she completed a successful Kickstarter campaign to release her independent debut, Carry. Her song "No Turning Back" soundtracked a viral baby announcement by Ciara and Russell Wilson, opening up the floodgates. She landed a string of high-profile syncs, including NBC's This Is Us, ABC's Grey's Anatomy, and Showtime's The L Word: Generation Q. On the heels of in defense of my own happiness (the beginnings), she garnered unanimous critical praise. Billboard touted the album as one of the "Top 10 Best LGBTQ Albums of 2020," while NPR included "i see america" among the "100 Best Songs of 2020." Predicted as on the verge of a massive breakthrough, she emerged on various tastemaker lists, including Spotify's RADAR Artists to Watch 2021, YouTube "Black Voices Class of 2021," NPR's 2021 "Artists To Watch," and Amazon Music's "Artist To Watch 2021." Not to mention, Vogue crowned her #1 "LBTQ+ Musician To Listen To." She kicked off the new year by making her television debut on NBC's The Tonight Show Starring Jimmy Fallon with a stunning and stirring performance of "breathe again."After attracting acclaim from Vogue, NPR, and American Songwriter, her words arrive at a time right when we need them the most.