There is new Premium Content in The Sims 3 Store! Warbling Wind Chimes! Not sure if they are anything spectacular, but I will update this post soon as I get in my game with more info. 🙂
Thanks to Joe T for the email!
Warbling Wind Chimes ( 250 SP)

Kick back and relax with the soft melodic charm of these beautifully hand-crafted wind chimes. Guaranteed to spin and dance in even the slightest breeze, these chimes will delight and fascinate Sims of all ages!
♦ Update with In Game Info ♦
Please let me advise anyone who is thinking of purchasing this item, not to waste your points, unless you must have it.  I always buy all store content, and quite frankly this is the most useless piece of "Premium Content" in the store.   Sure it adds a "chime" to your home, but it should not be $3.00 worth of point.
You can find your Wind Chimes in the Misc Decor section in buy mode. The item can only be placed indoors (where there is a ceiling) <– *facepalm* , or you can use the "Moveobjects on" cheat and place it outdoors.
This object does not give any moodlets to your Sims, but it does give a +3 Environment Boost.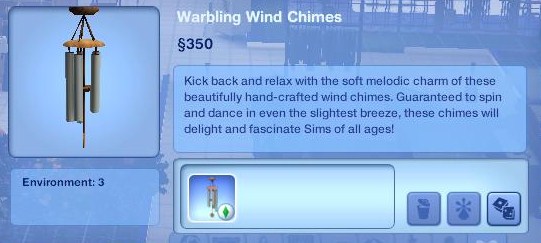 Excuse the Horrible Quality of the video, but I am using my office Computer. Got the good one at home 😛