♦ Update #2 ♦ 12:00pm 9/10/11 – Crinrict has provided us with info that the patch did create two new files in the Documents Folder.  "ContentPatch" &  "ContentPatch_0000.part" Also, based on what a AznSensei has listed here, seems the only fixes are for meshes & textures.
♦ Update #1♦ 10:00pm 9/9/11 – After getting home, I just tested to see if this patch exists and there is no connection between EA's Servers and the computer.  With this I conclude that there will be a patch released at some point, but for now it is only a prompt.  
😯 So there seems to be a new patch out in our lanchers today, surprisingly for Store Content!  Thanks to Kerry D from our Facebook page for pointing it out.
To get the option, simply open your Sims 3 Launcher and you will be greeted with this…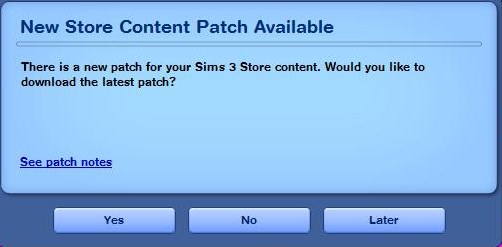 I tried clicking "See Patch Notes" (nothing happen) so I went ahead and clicked Yes and was greeted within seconds with a second message.  If anyone is able to see these patch notes, please screenshot them and send them my way!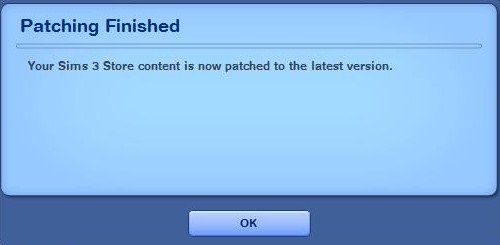 I will keep an eye out on the site for a possible Patch Note page on this patch and will update with more info here in this post when it becomes available.  I would suggest waiting a bit on installing this patch as it seemed rather quick for a patch install (2 seconds).  Perhaps this was released accidentally, or no patch exists.  We'll have to wait and see.