There is a new Store Set & Premium Content in the store today! This set includes a Premium Content which can be bought separately, or the full set if you want!
Thanks to nerdiella for the tip!

Future Shock Bedroom ( 1000 SP)– Sharper Sims' Super Sleeper, guaranteed to have your Sim sleeping in style and refreshed in around 4 hours! As an added bonus you can also bring home the latest in futuristic décor with the Futureshock Bedroom collection. The future is here, now make it yours!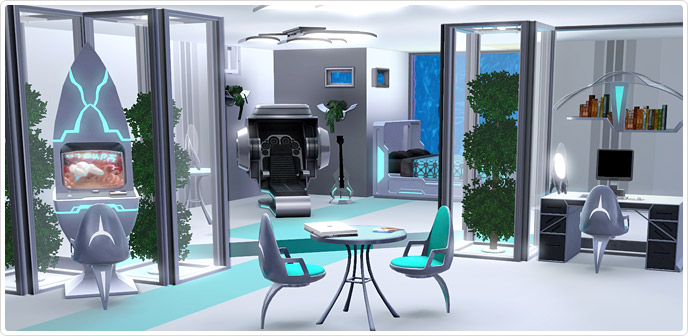 Sharper Sim's Super Sleeper (400 SP) – Bubble bars and power lunches are so last year; the new thing is napping with style! Sharper Sim's Super Sleeper has been specially designed to cater to the power napper. With a superior sound system that lets soft sounds gently relax your Sim's whole body by emitting low-frequency vibration that induces their mind to drift through different stages of relaxation, the Sharper Sim's Super Sleeper lets your Sim experience a high level of rest and relaxation in a relatively short time. Spoil your Sim today with this all new Super Sleeper, brought to you by your friends at Sharper Sim!