To start off, here are a few in game screens of the newest African themed clothing, hairstyles & of course, the furniture. Each piece of clothing, hair and furniture can be completely customized to your liking. Besides all the fun clothing for adults, there is also a jumper suit for Female Children.
The Adventure Rock Wall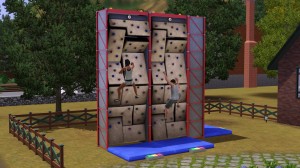 The newest Rock Wall from the Sims 3 Store is a very entertaining object for your Sims! Not only does it provide endless entertainment for your Sims (Teens – Elders), it also serves as a brand new way to gain the Athletic Skill. The in game cost of this object is $1800 Simoleons. You can place the object on your home lot –if you have room for it-, or you  can place the object on community lots.
There are 3 interactions available on the rock wall, all of which increase the Athletic Skill.
♦ Climb (Easy, Medium, Hard)

♦ Race (Easy, Medium, Hard) – You have the option to choose any sim on the active lot to race.

♦ Train – Increases the Athletic Skill
The higher your Sims' Athletic Skill, the better chance he/she has to win this race. Winner of the race receives $100 Simoleons and bragging rights. 😛  Any two sims who race are subject to a fall once in a while. Not every Sim will make it to the top, and the one who touches the star at the top of the wall wins.
❗ Once a Sim falls during the race they cannot jump back onto the wall and try again. He/She who falls will have to deal with the embarrassment.
This is all the rock wall has to offer. I think it's a "cool" addition to any game if you have the spare $$$'s, however I do think there is other premium content in the store which offers a whole lot more to do. Is it worth it? Probably…but I would definitely wait until it gets listed solo. If the rest of February's Adventure Set is not your thing, then just wait it out. There isn't any added gameplay not worth the wait. 🙂