Welcome to Oh My Plumbob, our new bi-weekly original column. We're here to help you learn something you might not have known about the game, but in a fun, comical way. We're helping you learn something, but also hopefully helping you have fun in the game!
From time to time, everyone feels a little under the weather. You can start to feel really rough when there's flu going around! Luckily, we spoke to a local doctor, Mortimer Goth, about how people can combat that beach-ball feeling.
According to Mortimer, there are plenty of ways to cure bloaty head, including this new miracle medicine! To get it, Mortimer tells us that you need to go online to your local hospital's website and search for something that is simply called "Medicine".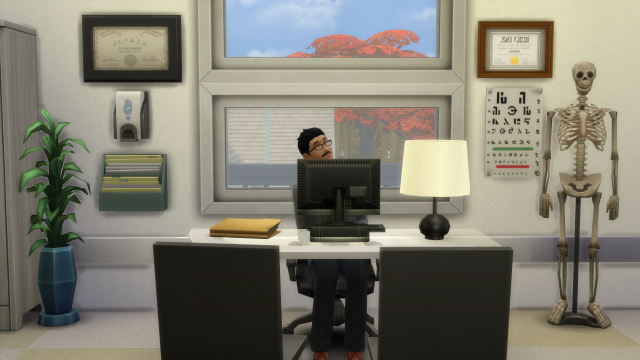 Mortimer also tells us that you have to go online for this – a cell phone or a landline simply won't work! (Speaking of which, has anyone seen a landline being used for a while?) However, Dr Goth also warned us of the implications of taking this medicine when you aren't ill – it will end in disaster.
"There are plenty of natural remedies, too," says Mortimer. Herbal teas do wonders for curing illnesses such as bloaty head. They work a bit slower, but you are often left feeling better having cured yourself with a nice hot tea. All types of tea work, but Bella (Mortimer's wife) recommends Steaming Ginseng tea. "It has a great punch to it," she tells us.
Finally, there's one other option for you when you get desperate – the good, old-fashioned day off. There's no shame in taking a sick day; just call up your work using your mobile phone to call in sick. Spend your day off in bed, and perhaps take a nice, warm bath – it's what you deserve.
Did any of our tips make you say "Oh My Plumbob!" ? Next time you're feeling under the weather, be sure to follow the doctor's orders – Dr Goth, that is.