It's been a few weeks since the release of The Sims 4 Backyard Stuff and we've settled into the usual lull of stalking our favorite SimGurus once more. What have they been up to, you ask? Chatting away through social media, of course. Here's what they've had to say!
Cheats for Dominant Hands
Not happy with the way your Sim was generated? Well, take matters into your own hands! SimGuruDaniel said that you can change a Sims' dominant hand all you want by using these handy little cheats with the console in-game.
Fun cheats to make your Sim left-handed:

|traits.remove_trait trait_handedness_right

|traits.equip_trait trait_handedness_left

— Daniel H (@SimGuruDaniel) July 29, 2016
Backwards Mourning
Daniel has also been active on Reddit lately! One fan on The Sims subreddit pointed out that they felt the way that Sims in The Sims 4 mourned was wrong. The thread was originally created with the topic "Something driving me crazy: Sims mourning the graves of people they've never met" to which SimGuruDaniel replied that it was something he should look into. Continuing on the topic, he also agreed to poster Arthurstone that Sims should visit graves because they are sad, not the other way around.

Gamescom Community Event
SimGuruDrake made a last call earlier this week for anyone interested in attending the Gamescom community event. The small 'get together' on Thursday, August 18 is limited to only Simmers who are 18 years or older.
It's important to remember that there won't be any official announcements for The Sims at Gamescom. However, if attending a small community focused event hosted by Ms. Drake is something you're interested in, feel free to contact her. It seems the easiest method would be to contact her through Twitter currently. Just remember, there is limited space so hop to it!
Last little reminder: Going to Gamescom? 18+? Let me know if you'd like to attend our panel on Thursday, Aug 18!

— Account No Longer Updated (@SimGuruDrake) August 4, 2016
Quarterly Teasers
Meanwhile, a result of the poll hosted not long after the most recent quarterly teaser, SimGuruDrake has confirmed that the team admits that it "just isn't the right visual to use in the future". This might mean that we'll see video quarterly teasers return like the first, or perhaps something a bit more different since most responses wanted 'more information'.
Gurus Expansion Pack Team
Curious Sims fan Bellguru inquired about the Expansion Pack team's roster. Thankfully, SimGuruMegs replied with a list:
SimGuruDaniel
SimGuruRomeo
SimGuruSteph
SimGuruSparks
SimGuruHouts
SimGuruJill
SimGuruJM
As with most of the team, these gurus often interact with fans via their Twitter and forum accounts. Have a question or idea for an expansion pack? These are the people to talk to! (But please try to remember that they can't talk about future content until allowed.)
Picture Perfect
Senior Producer SimGuruLyndsay reuploaded a group picture with the Girls Who Code and tagged all of the SimGurus. While it's not necessarily newsworthy, it's a cute look into the team's personality. And now we know SimGuruGrant's favorite hiding place.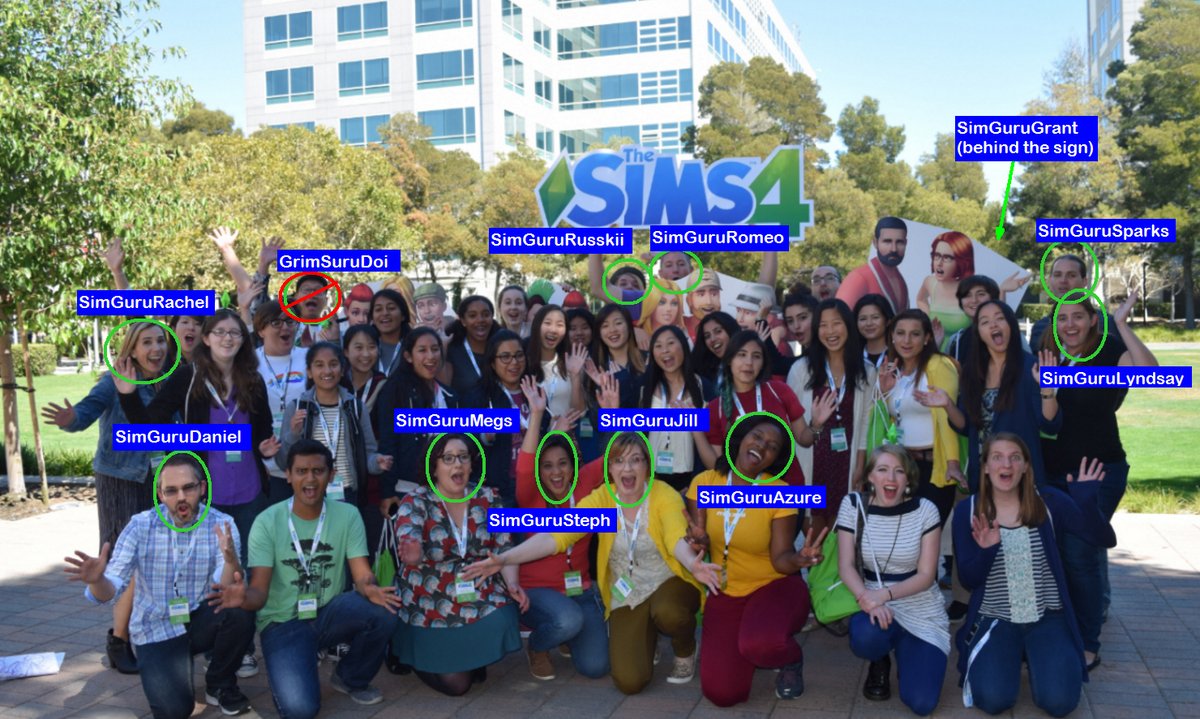 It's been a relatively easy going week. While some Simmers are happily playing out their Summer themed stories, others are taking their magnifying glass towards every media shared by our favorite developers.
How have you guys been keeping yourselves busy this week?