SimGuruSteph and SimGuruJM started the stream just a little late thanks to some technical errors. But it wasn't a long wait before we were introduced to the Spice Market, a new neighborhood noted as 'family friendly, affordable, and home to the spice festival' as SimGuruSteph put it. It has an old city feel with access tot he docks not far away.
One of the apartment venues there is the Caulpepper House (maybe not spelled right). It is a four unit brick apartment building.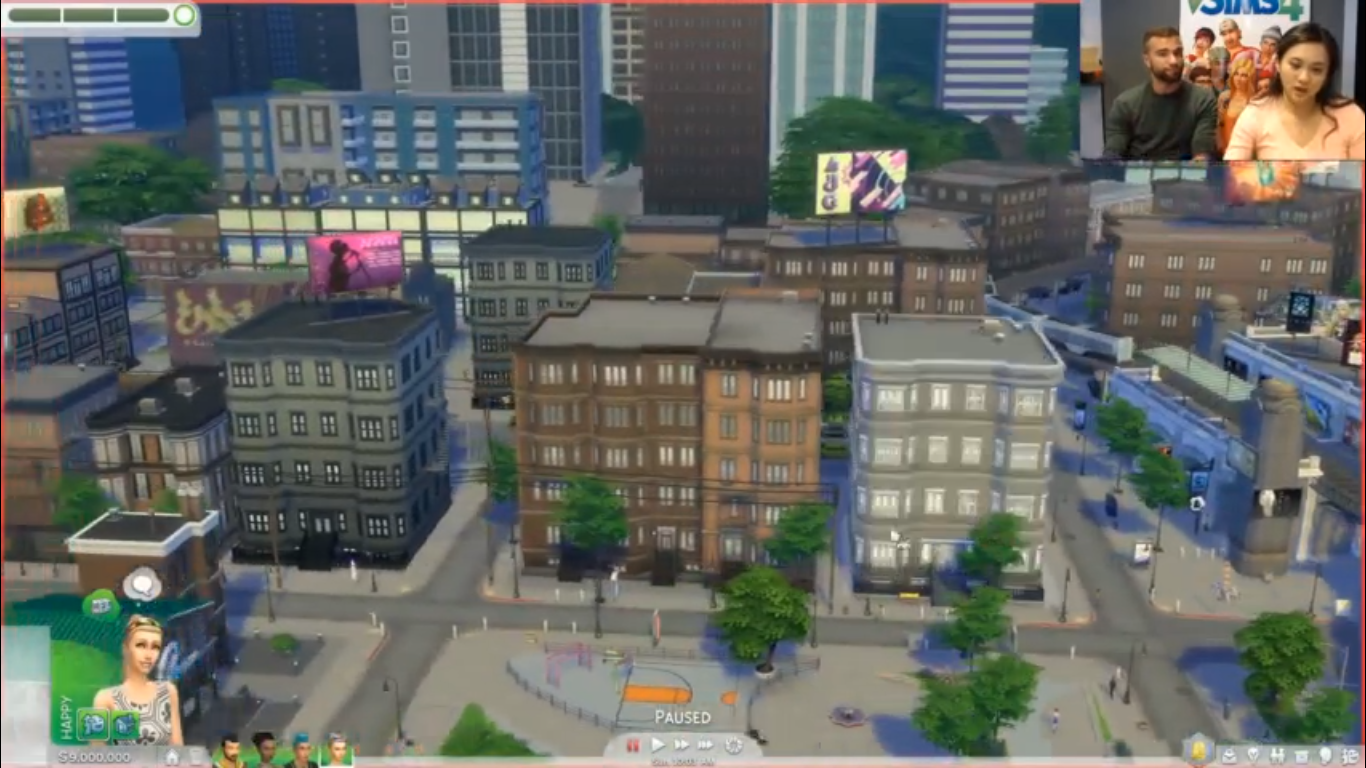 As we zoomed into the common area, the gurus explained more about what the space could do. The common area contains a mailbox, trash chute, elevator, and bulletin board. Neighbors (that are randomly generated or placed by yourself) will come into this common area (as they would on streets) which is visible from your apartment. They can be seen checking the mail, looking at the bulletin, and taking the trash.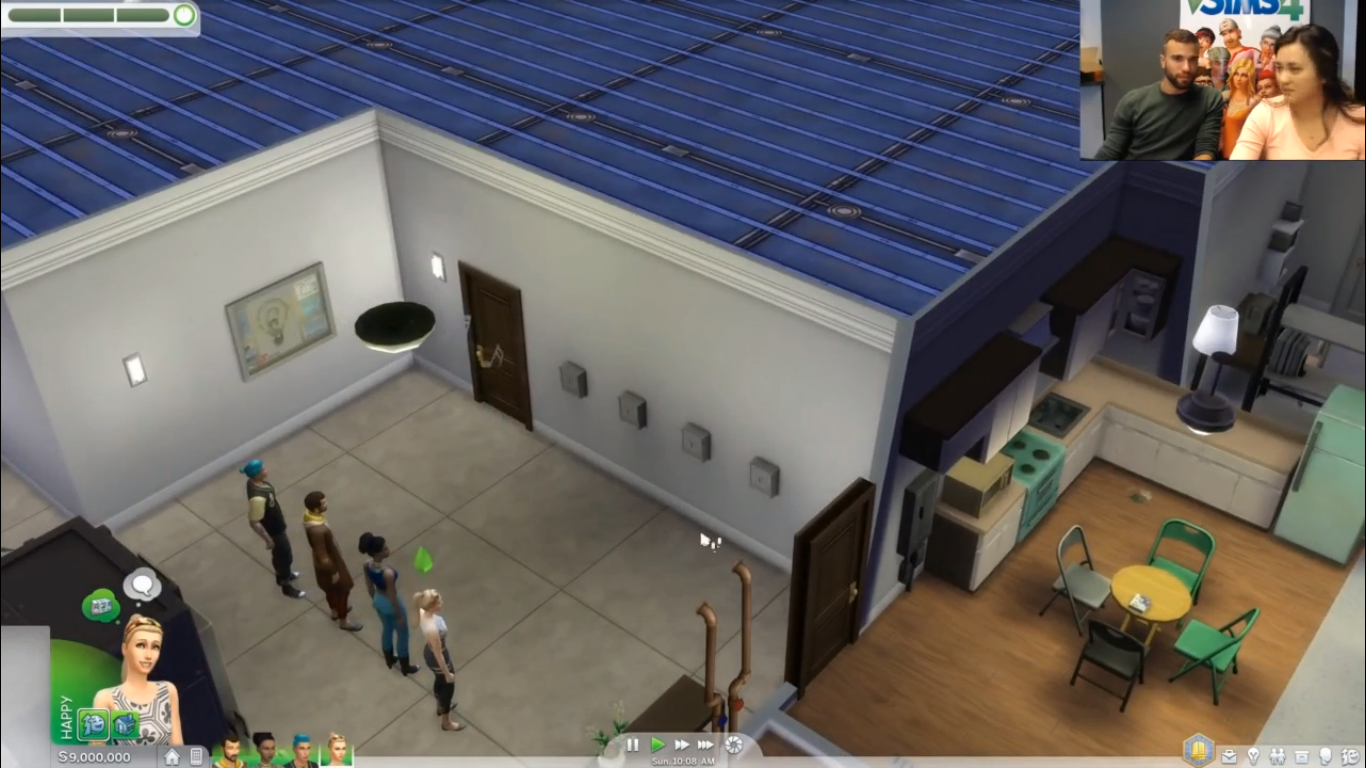 If a neighbor is causing a ruckus such as partying, you are able to click on the door to interact with them. There are choices to handle asking them nicely or to be more aggressive. Also, you can leave notes on the bulletin board as a way to interact with neighbors. If your Sim is nonconfrontational, you can leave passive aggressive notes for them to find. Depending on your relationship status with your neighbors, they will react differently.
Pipes and electrical fuse boxes are attached to the shell. If they malfunction, you have two options to take care of the problem. You can either choose to attempt repairing it yourself with handiness or you can complain about the problem to your landlord. Relationships will determine how the landlord interacts with you, so if you aren't in good standing, your landlord won't fix your apartment.
Lot Traits
The lot trait system is accessible through the lot info panel in build mode. According to the stream, this button has been moved to the top left-hand corner of your screen to house all the information it now houses. (Pun intended!) Some lots come with predefined traits but they can have up to three, allowing you freedom to customize your apartment. The Needs TLC trait seems to come with low rent apartments and cannot be removed. More lot traits will be added more as more content is created for The Sims 4.
Here is a list of Lot Traits:
Chef's Kitchen
Quake Zone
Good Schools
Mean Vibe
Home Studio
Sunny Aspect
Cursed
Grody
Gremlins
Penny Pixies
Party Place
Filthy
Haunted
Romantic Aura
Great Soil
Child's Play
Homey
Fast Internet
Great Acoustics
On Ley Line
Science Lair
Convivial
Natural Light
Gnomes
Bracing Breezes
Private Dwelling
Build Mode
Builders will rejoice for a new tool that was unexpected. When selecting a room, roofs, stairs, etc. you will see a new button that will let you copy the room easily. You'll be able to drag and drop it wherever you want on the lot just like placing the room.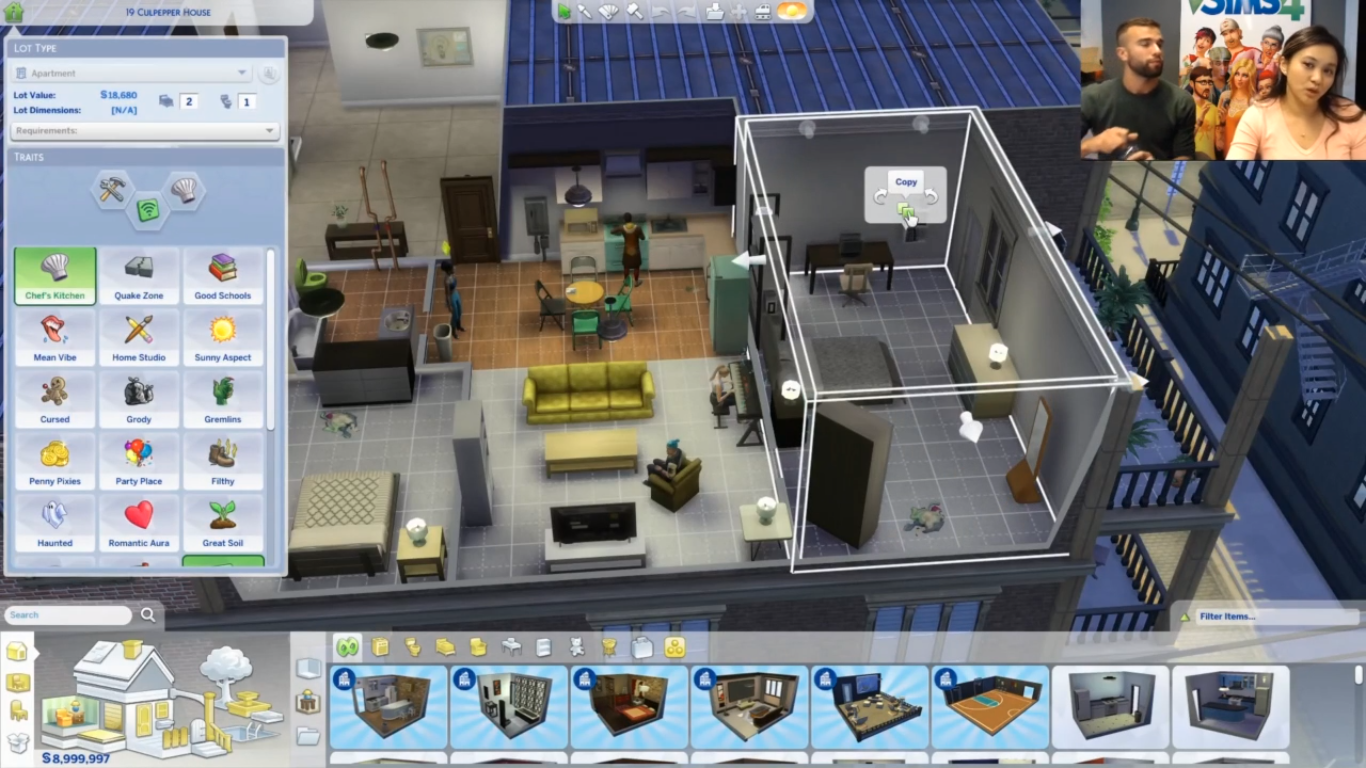 Also, here are the premade rooms from City Living: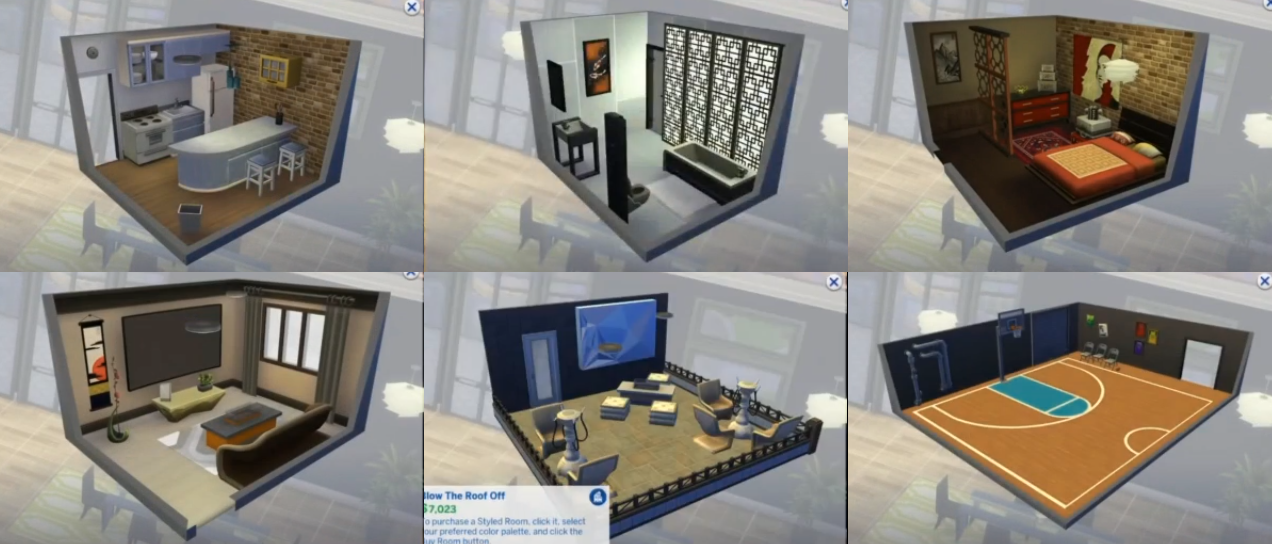 San Myshuno Map View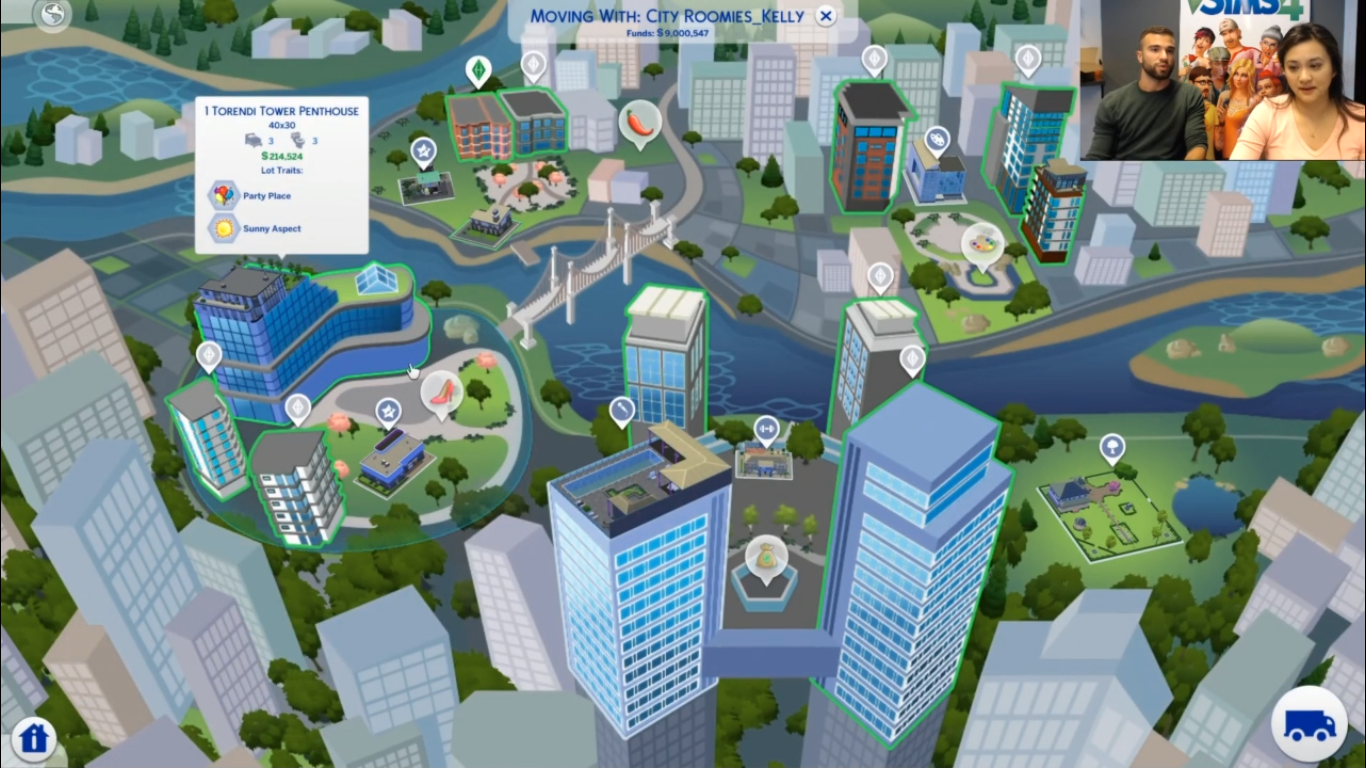 Penthouses
Fashion District is urban and trendy with a little bit of a Little Tokyo feel. It is very modern and homes the Torendi Tower with a penthouse on top of it. You can build penthouses up multiple floors. You can turn them into a bar, restaurant, and other venues. You can also add pools into the first floor of penthouses as well.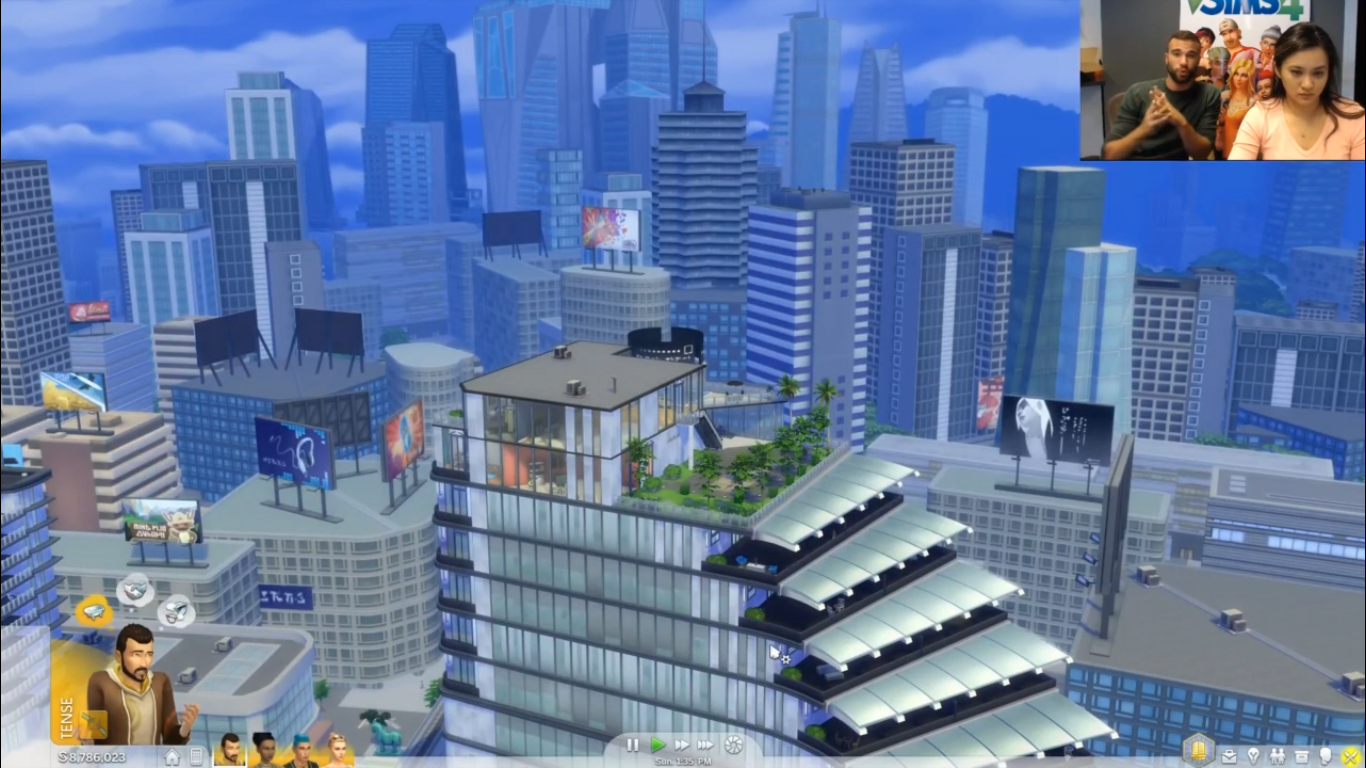 New Objects
One of the new objects is the talking toilet. As a super high tech toilet, it has advanced AI that you can have conversations with. There's a lot of customization for the toilet such as being able to change the AI to male or female, tell jokes, build a relationship, fight with it. It even displays holograms: Waterfalls, Disco ball, News Feed, and Splash. Your Sims might feel a bit uncertain and need to discover how to use it at first.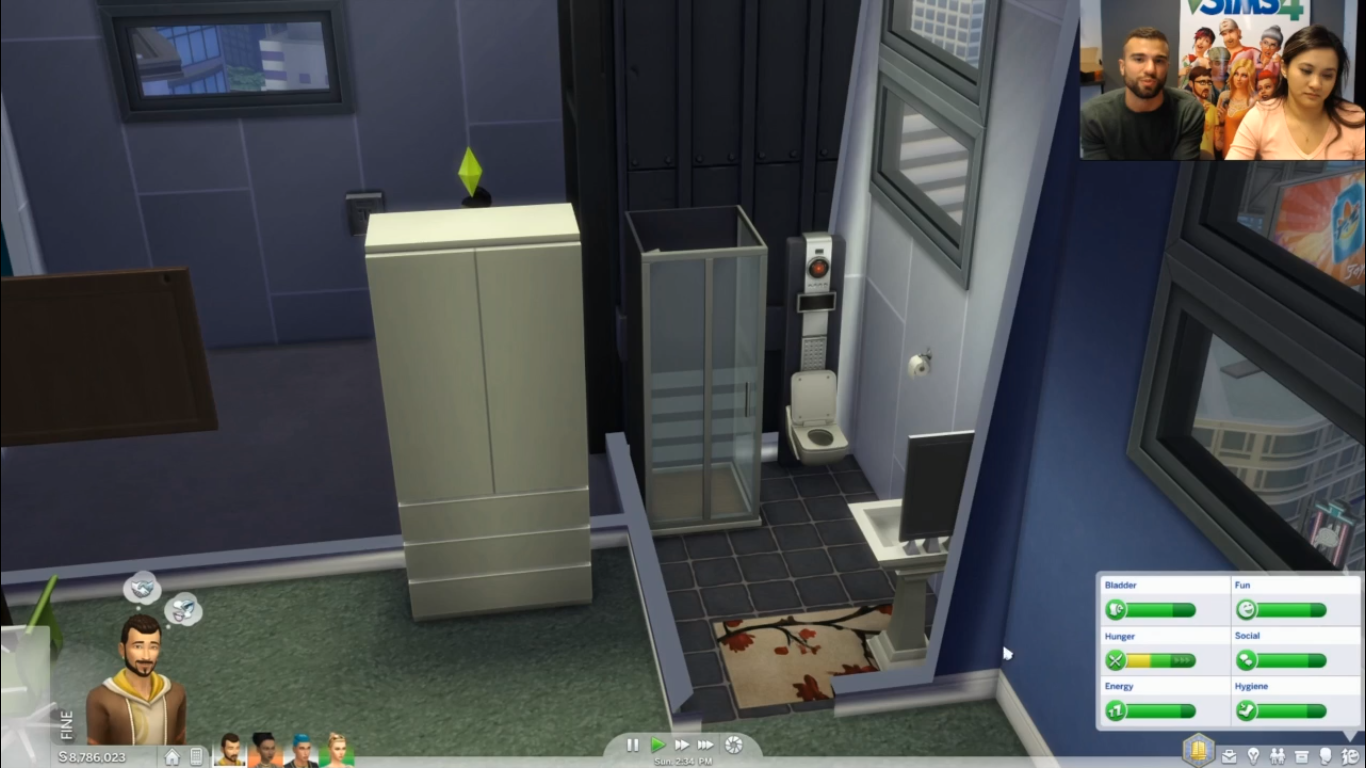 The new gaming console 'connects' to the TV where you can select games from clicking on the monitor. It allows up to four players simultaneously. Of course, you can play multiplayer online with Sims that aren't currently present and enter gaming tournaments as well. There are four games total with My Sims Racing, Party Frenzy (a multiplayer mini game arcade with bowling, basketball, golf, etc.), a single player action RPG, or a genie themed platformer.
Singing sounds like it's a new skill for the Karaoke Machine. It has 16 songs in total (4 duets and 12 solo songs) that will unlock based on your skill.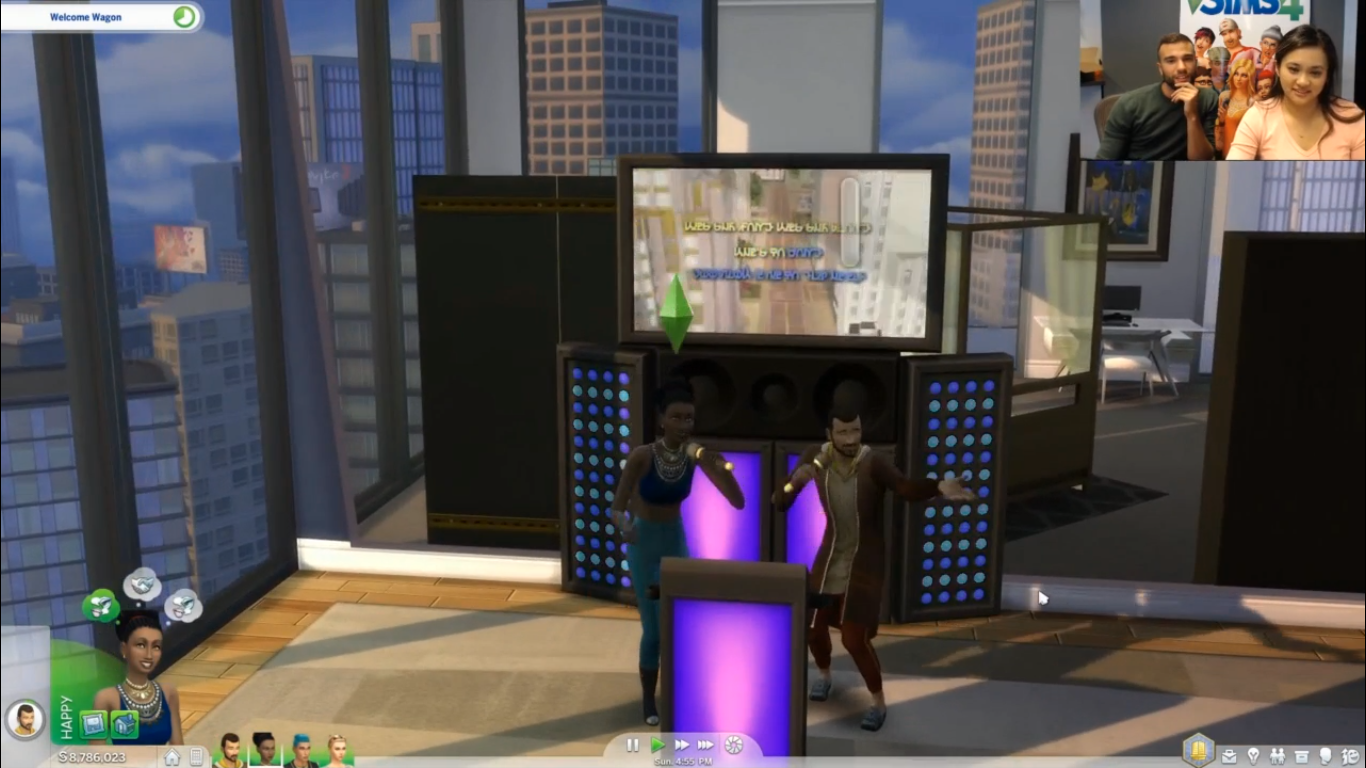 The livestream only lasted for 30 minutes, but it was short and sweet. Did you see anything during the broadcast that got you excited? Share in the comments below.