UPDATE: Electronic Arts has forced DotSim to remove the Q&A from their website. Here is their official statement on the matter: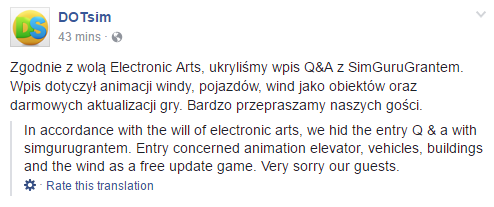 After a disappointing announcement from The Sims team back in June 2014, many players have wondered if Toddlers will ever return to The Sims 4. Since that announcement, The Sims team has been tight lipped about any plans for Toddlers in the future.
Few signs of hope have come in the form of a "Unique Rendering", a "Stickied-then-Unstickied" forum thread, "Unofficial" statements, more of the same, and finally, evidence that toddlers might be on the way per community modders.
With today's Sims 4 City Living info dump, the latest update comes from SimGuruGrant's Q&A at the event in Poland. When asked by players why Toddlers have yet to make it into The Sims 4, he responded with the following non-answer:
(Via DotSim) "Grant did not directly answer the question, but instead stated that The Sims 4 is a unique game that has been updated with free content regularly over the last two years. He also added that not every publisher operates the way the Sims Studio does, and unlike Maxis, other developers tend to abandon the game a few months after release'"