Gift Bundle Overview

The Sims 4 Base Game: Enjoy the power to create and control people in a virtual world with The Sims 4. Customize your Sims' appearances and personalities. Build them the perfect home, choosing your favorite design and décor options. Create relationships with other Sims; let them pursue careers and develop skills. It's up to you who your Sims will be and the direction each one's story will take.

The Sims 4 Luxury Party: Your Sims are gettin' fancy with The Sims™ 4 Luxury Party Stuff! Throw a luxurious party with a variety of extravagant décor. Upgrade your Sims' wardrobes with dazzling gowns and chic formal wear. And don't forget to put together the perfect centerpiece for any event with the all-new Banquet Table, and serve tasty dishes to your Sims!

The Sims 4 Perfect Patio: Lure your Sims outside with hot tubs, new furnishings, décor, hairstyles, and more in The Sims™ 4 Perfect Patio Stuff. Fire up the grill and change into something more casual so you can lounge in style. Serve up tasty refreshments with the new patio bar and unwind to the soothing bubbles of the hot tub – it's hot, but not too hot.
Box Art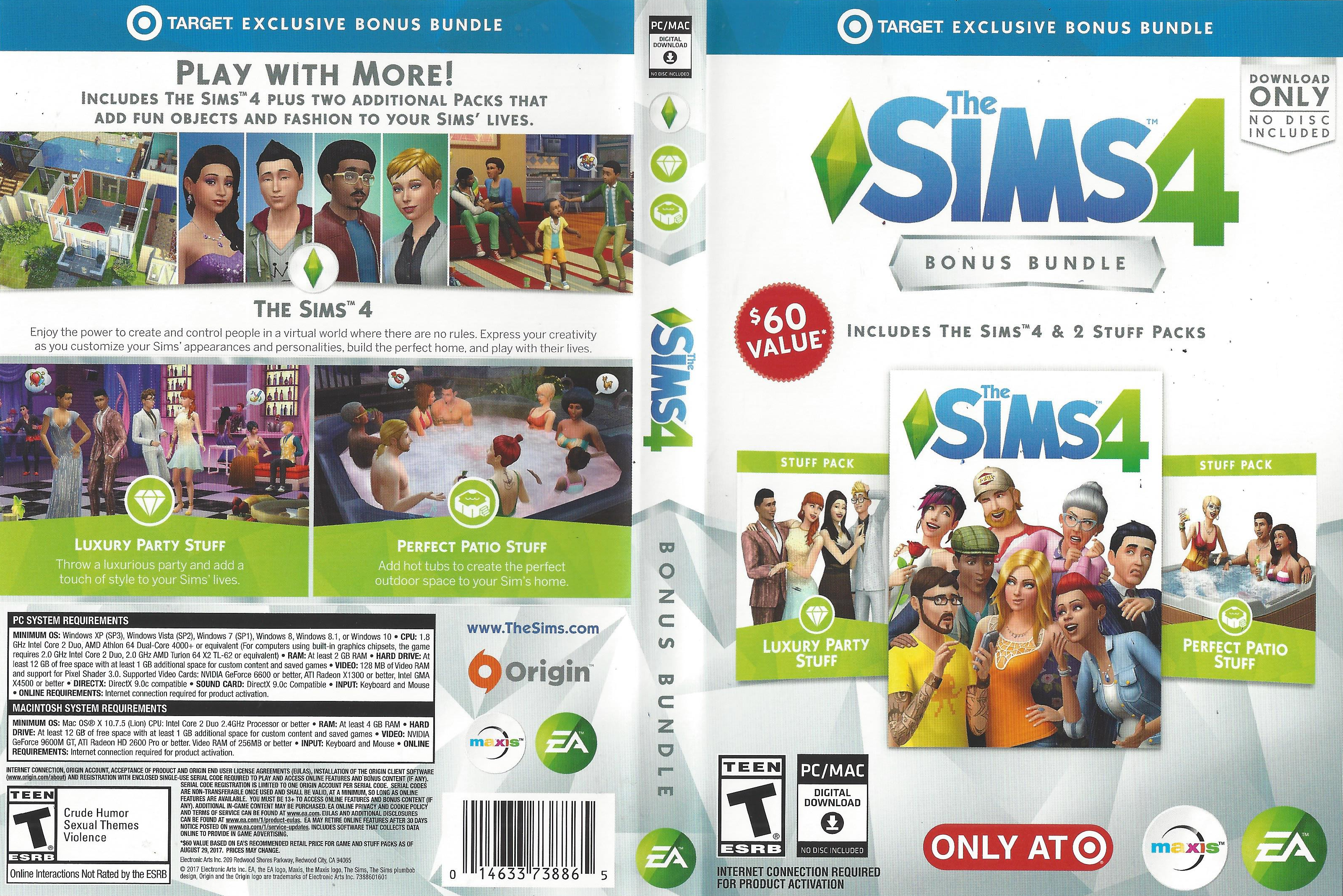 What's Included?
♦ The Sims 4 Base Game*

♦ The Sims 4 Luxury Party Stuff Pack*

♦ The Sims 4 Perfect Patio Stuff Pack*


*Boxes includes a leaflet with a single code to redeem games. (No Disc)
Price and Purchasing Info
The North American Sims 4 Bonus Bundle retails for $49.99, and is available for purchase exclusively at Target. You can purchase the game in-store or online.
Additional Comments: The Sims 4 Base Game (Standard) is listed for $29.99 at some retailers. When you purchase The Sims 4 Bonus Bundle from Target at full price, you're not saving any additional money.
If you purchase this bundle while Target has it on sale for $24.99, you will save $25 and get both stuff packs for "free". After the sale, there's no money to be saved. I would highly suggest looking into the Walmart Gift Bundle for actual savings.